Love golf? There's nothing quite like getting away by yourself, surrounded by nature, and playing a round where it's just you against you. Or spending a few hours with like-minded golfing friends, a bit of friendly competition. 
But sometimes, the occasion calls for a family-friendly outing. If that's the case, the good news is that you don't have to steer clear of golf—golfing with kids in Minneapolis Northwest is perfectly possible. 
If you haven't already started teaching your kids how to play the game, now is the time! Golf can help them develop strategic thinking skills, learn to take calculated risks, and understand the value of practice and hard work. 
Here are some kid-friendly golf courses in the Minneapolis and Saint Paul areas. Next time you're feeling like a round of golf, take your kids along. You'll make memories, bond, and boost their physical and mental health at the same time.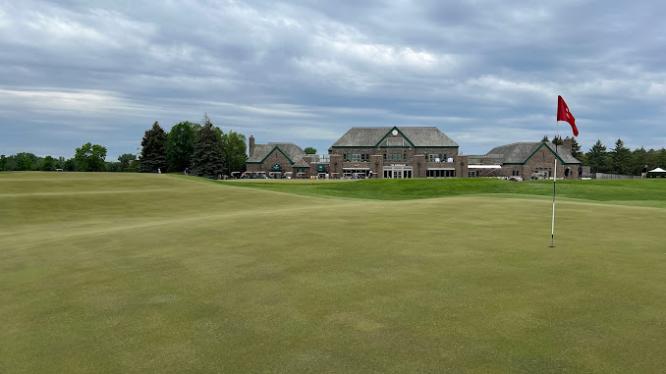 Edinburgh USA Golf Course, Brooklyn Park 
If your kid is still learning, Edinburgh USA features a superb practice area that includes a driving range, a putting green, and an area in which you can work on your short game. It's the perfect place to really hone their skills, and once they're comfortable, you can move out onto the course. 
The course shouldn't be underestimated! It's a challenge, even from the closest of the three sets of tees. But it's also an exciting one, featuring a tricky mix of curvy fairways, water hazards, sand traps, and small greens. Once your kid can play well here, they'll be prepared for the challenge of difficult courses. 
Highland National Golf Course, Saint Paul 
Charles Schulz, the creator of the Peanuts comic strip, learned to play golf here! In fact, the signature 15th hole features a large Snoopy-shaped bunker in his honor. With four sets of tees, younger golfers have a good chance on this course. 
There's a fair bit of challenge involved, including water hazards on multiple holes. But it's a decent course for younger golfers to learn on, and there are also two practice putting greens for working on getting the ball in the hole. They also offer tuition, camps, and golfing clinics for juniors. 
It's also worth noting that under-18s pay junior rates any time they're playing with an adult.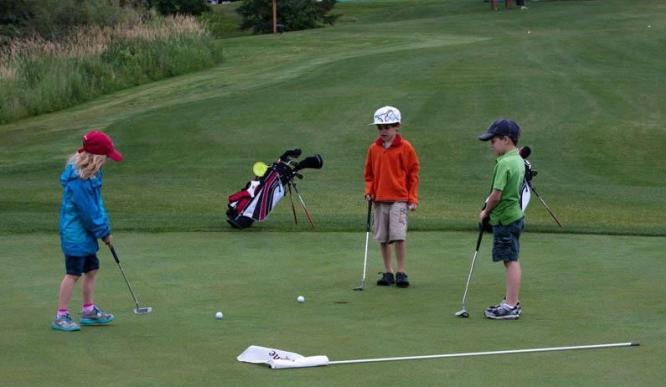 Rush Creek Golf Course, Maple Grove 
If your junior is getting serious about their golf, Rush Creek is an excellent spot to play a round together. It's one of the top-rated courses in the state, so expect a challenge—it's probably not going to be a good choice for kids who are still wrapping their heads and hands around the basics. 
However, less experienced kids can join a junior golf program to improve their skills. They have options for kids and teens, and once your youngster is confident enough, they can join a junior league. 
Phalen Park Golf Course, Saint Paul 
Phalen Park is a championship course that's surprisingly suitable for kids and teens who've been playing for a while. The holes are a mix of tricky and fun, and it's a beautiful place to spend some time with the people you love most. 
Kids looking to learn the basics can join a junior golf program or clinic. Bring them to practice on the driving range and putting green until they feel confident enough to hit the full course. In winter, you can bring them to enjoy a golf simulator experience.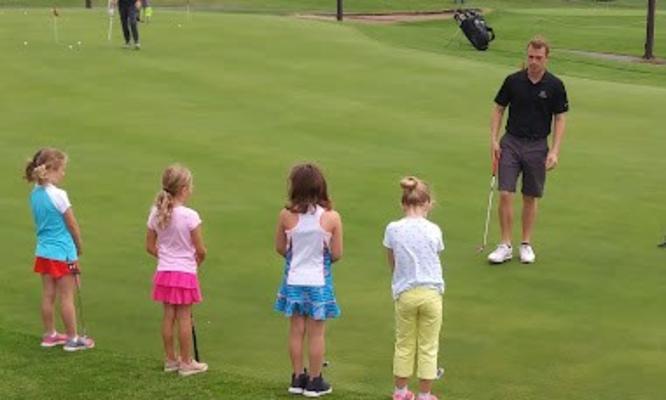 Eagle Lake Youth Golf Center, Plymouth
This is a youth-specific golf center, perfect for kids and teens. Adults can join their kids for a round, but it's got a definite youth-oriented vibe. It features a 9-hole, par 31 Eagle Course and another 9-hole Birdie Course, which is lit for evening play in the summer months. 
Plus, there's a 40-bay natural turf driving range and practice area, which is lit. They also offer a variety of clinics, group lessons, and summer camps for kids who want to get better at their game. It's the perfect place for kids to start their golfing journey and gain confidence before getting out on the full course.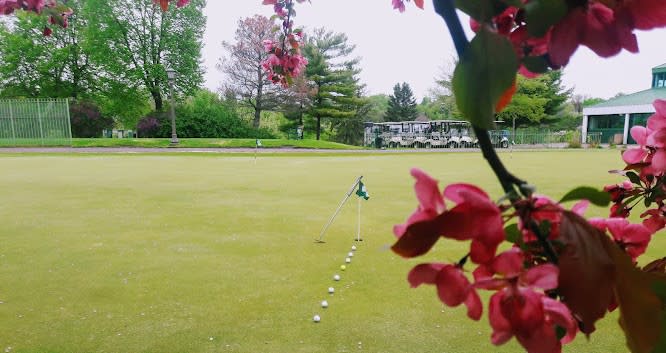 Como Golf Course, Saint Paul 
This 18-hole course is shorter than average, which makes it a great choice for young golfers who aren't quite used to the length of a full course yet. The greens are a challenge, though, with curves that can lead you astray. Best warn your youngster beforehand. 
Centerbrook Golf Course, Brooklyn Center 
This 9-hole course is the perfect length and difficult level for kids and teens who are still working on their basic game. Featuring only par-3 holes and three sets of tees, the entire course can be played in under 2 hours, so it's ideal for families with younger kids. 
It's a fun course, which offers enough exciting challenges for less experienced players but still manages to not be boring for more advanced players. The club also offers "Youth Basic Fundamental Golf Lessons", which is a group class where your kid will better their game using training aids and lots of fun practice. 
You can also sign up for "Parent/Child Pair Golf Lessons", which can be done with kids between the ages of 6 and 17. The perfect way to bond and have some golf-related fun together.
Brookland Golf Park, Brooklyn Park 
Another 9-holer featuring two tee sets, Brookland Golf Park is an inviting little course that's great for parents and children to play together. There are no water hazards, few sand traps, and the holes are pretty much straight, so it's a great choice for newbies to gain confidence. 
The club atmosphere is extremely casual. There's no fancy dress code here, and they're all about having a good time and relaxing. Beginning with 6 par-3 holes and ending with three par-4s, this course builds in the challenge but provides a fun test for almost anyone. 
Getting your kids into golf early has a ton of benefits. It's an excellent way to engage both the mind and the body, help them develop critical thinking skills, and cultivate a healthy and fit lifestyle from a young age. Plus, it gives them somewhere beautiful and tranquil they can go as a young adult when they need to clear their head, calm down, or just get away from everything. 
When they're young, it's also a great opportunity to spend time together. If you're a golf lover yourself, don't miss the opportunity to go golfing with your kids in the Minneapolis Northwest area. It's got a bunch of family-friendly golfing experiences, and you'll look back on these memories with fondness and love one day! 
About the Author
Jordan Fuller is a retired golfer and businessman. When he's not on the course working on his own game or mentoring young golfers, he writes in-depth articles for his website, Golf Influence. 
Please follow us online! #WeLoveMNW