Twin Cities Harvest Festival & Maze
Open Sept. 23 - Oct. 29, 2023!

While the fall colors are on display, you won't find a more authentic autumn experience than at Twin Cities Harvest Festival and Maze in Brooklyn Park. This annual event is packed with the best of the best in fall family activities, entertainment and food. The festival opens Saturday, Sept. 23, and is open daily through Sunday, Oct. 29, 2023. 

The festival's main attraction is the expansive corn maze – one of the largest in the state! Each year, the 20-acre maze takes on a new theme and design, and themed trivia is scattered among the corn stalks. Wander the maze as you search for the trivia signs, and don't worry about getting lost; that's part of the experience! Turn in your completed trivia sheet for a chance to win prizes and gift cards. Please note: the corn maze is only open on weekends and MEA weekend (Thurs-Sun).
Entrance to the festival grounds is free, and leashed pets are welcome. Stroll the fall marketplace with all kinds of fall goodies for sale, including mini pumpkins and decorative gourds, apples and honey, corn stalks, hay bales, and beautiful fall mums. Take fun family photos with the clever photo boards and the antique tractor. Finally, pick out your pumpkins to take home and carve!
Kids can bounce on inflatables, zoom down the giant gunnysack slide, go for hayrides, get their caricature drawn, and frolic around a straw bale maze. And all kids love the giant corn seed pit where they (and even some adults) can jump and swim through the golden kernels until their heart's content. Please note: an Activity Ticket is required for these activities. One ticket includes access to all areas, including the corn maze. Tickets are $13 per person.
Typically, the harvest festival features a tented petting zoo with familiar animals like goats and rabbits, and exotic ones like kangaroos, camels, and lemurs. Bowls of feed are available for purchase and give kids a chance to interact with the animals.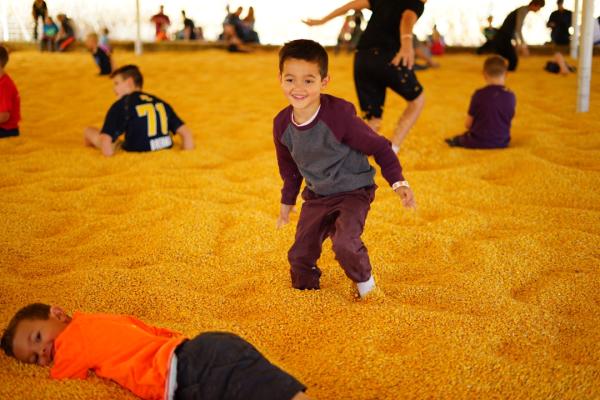 Music radiates from the speakers, and the smell of your favorite fair foods waft through the air. Warm up and refuel with hot chocolate and classic cinnamon-sugar mini donuts. Expect to also have corn dogs, cheese curds, hamburgers, and rotating local vendors.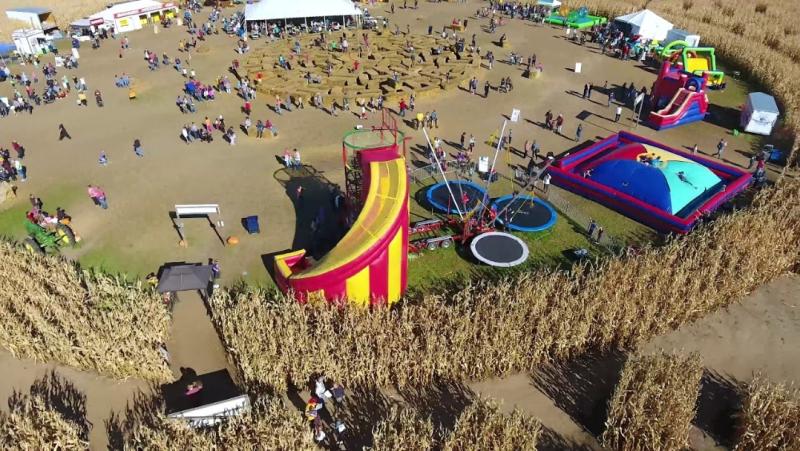 This beloved annual festival is operated by the Bouwman family, who also run Twin Cities Spring Babies Festival. The family owns the farmland that hosts these events, and they love bringing the community together every fall season. The festival grounds are located at 8001 109th Ave. N in Brooklyn Park, just off Hwy 169. You can't miss it!
Twin Cities Harvest Festival and Maze is Minnesota's greatest fall festival. Check out this beloved autumn event and other seasonal events.