Kayaking, Canoeing & Paddleboarding
Home to nine pristine lakes, and within easy reach of dozens more, Minneapolis Northwest is a perfect spot for those who enjoy (or want to try) kayaking, canoeing, and paddleboarding. Appreciate the benefits of our smaller lakes on the outskirts of the metro area with less crowds and boat traffic, and more wildlife and serenity.

Area lakes with public access include Cedar Island, Eagle Lake, Fish Lake, Rice Lake, and Weaver Lake. Cedar Lake and Rice Lake are carry-on only. Rent paddleboards at Fish Lake, including a SUPsquatch – a paddleboard made for 6-10 people – or paddle under a full moon during the summer. Bring your binoculars as these areas are teaming with hawks, eagles, egrets, loons, and cranes. 

Minneapolis Northwest also provides shoreline access to the Mississippi River via Mississippi Gateway Regional Park, North Mississippi Regional Park, and River Park. From these sandy carry-on spots, you can take a leisurely paddle down one of America's longest and most famous rivers.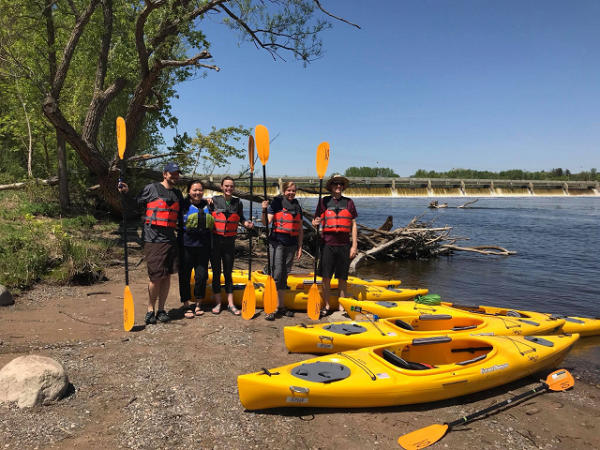 Mississippi River Paddle Share is a unique recreational and transportation opportunity for people don't own a kayak or canoe but would like a safe and enjoyable river experience. Simply reserve your kayak for a specific date and time, pick it up at the selected rental station, and return it to the designated return station when you're finished. Both single-person and tandem kayaks are available. This program offers several routes that start or finish in Minneapolis Northwest.

Minneapolis Northwest is also a perfect home base for exploring lakes in the Twin Cities, including Minneapolis' famous Chain of Lakes. We're just a 15-20-minute drive to Cedar Lake, Lake of the Isles, Bde Maka Ska, and Lake Harriet. Each are popular destinations for a variety of water sports. Rent canoes, kayaks, paddleboards, and paddle boats at Bde Maka Ska, Lake Harriett, and nearby Lake Nokomis.   
Minnesota may have 10,000 lakes, but they're not all found up north. Right here in Minneapolis Northwest, visitors can take advantage of several pristine bodies of water.
Did you know that Minnesota has 90,000 miles of shoreline? That's more than California, Florida and Hawaii combined! And that's a lot of water to fish on.