As Main Street at Arbor Lakes is transformed into a vibrant art collage for the annual Chalkfest at Arbor Lakes, one family trio of artists will be taking the festival by storm with their unique combination of unforgettable creations! Ken Mullen has been chalking for 20 years, but this year both his daughters Aine and Aislynn will be joining him to come up with their own mind-boggling street art!
For two days in June, the Mullen family will join nearly 50 other talented artists from around the world at Chalkfest at Arbor Lakes, one of the largest street art festivals in the Midwest. And while it will be the first time they will all be creating art at this unique festival, the family patriarch is no stranger to the event as a third time returning artist with more than 20 years of experience creating chalk art.
Any artist or visionary knows that the road to success is paved with plenty of learning experiments. Ken knows this all too well from his first chalk painting, as a collaboration with Hector Diaz, as The Chalk Guys, at the 1997 Lake Worth Street Painting Festival.
"It was a sad recreation of John William Waterhouse's 'The Shrine," Ken said. "Retrospectively it looked awful, but we both had a good time with the process, and we officially caught the chalking bug."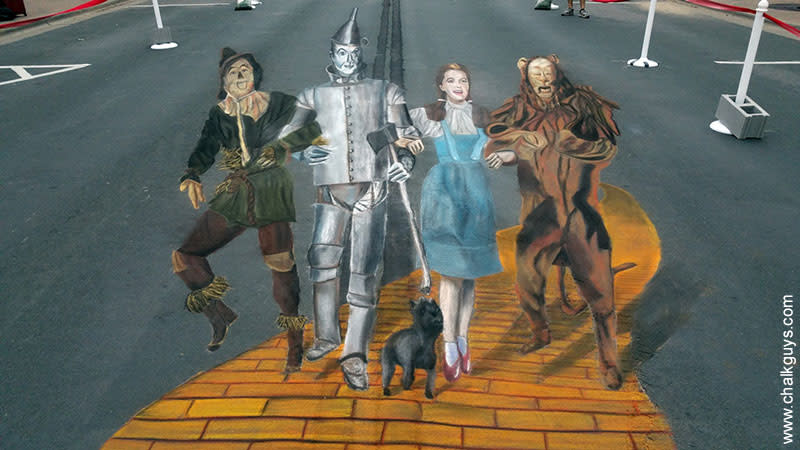 As Ken continued to share his new, and improved, creations at various chalk festivals along with Hector as The Chalk Guys, he discovered a new artist collaboration in his own home! Ken and his daughter Aislynn, just 14 years old at the time, began chalking together as a special once-a-year father/daughter event, with the two of them working as a duo, or in collaboration with Hector as The Chalk Guys.
"Little did I know then that we would still be working side-by-side all these years later," Ken said. "It's been incredible to see her growth over time."
Aislynn, now 25, will be showcasing her chalk art on her own as a first-time professional artist at the Chalkfest at Arbor Lakes. Her passion began when she was working with Ken at their hometown festival in West Palm Beach, Florida, which is also the same festival where Ken had got his start back in 1997, the Lake Worth Street Painting Festival.
"I thought I might as well try it out with my dad, and I haven't missed a chalking opportunity since," Aislynn said.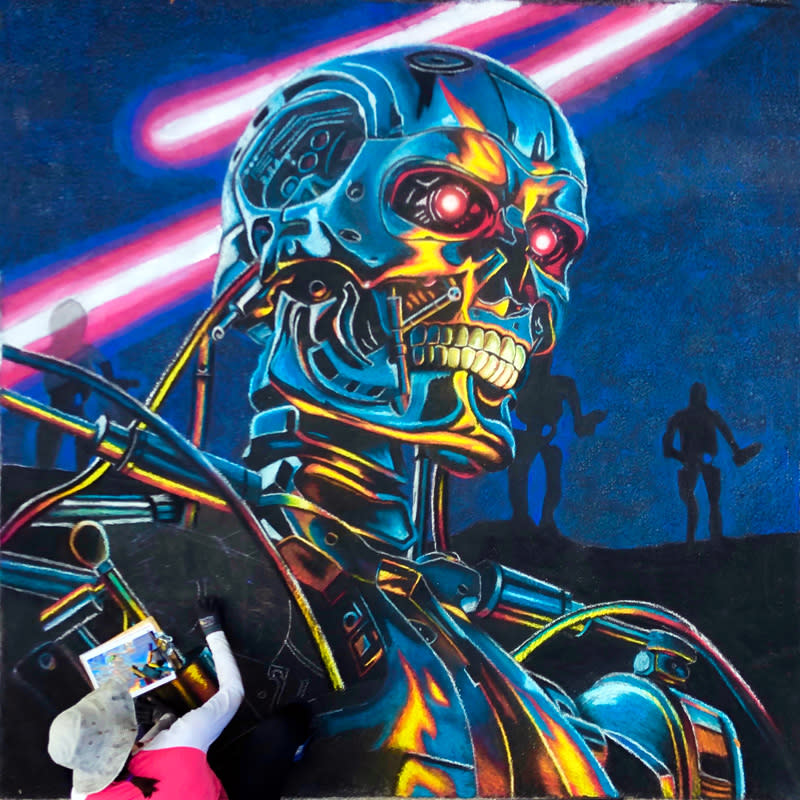 Over the last couple years, Aislynn has branched out and paved her own path as an artist, now primarily working on her own, but still occasionally with her dad. Their love of art continues to bring them closer together, whether they are collaborating or not.
"Either way we usually end up traveling to the same festivals, so we are still working together," Aislynn said.
Like his daughter, Ken enjoys creating a wide variety of work, both as a solo artist and as a collaborator. When he is not serving as one half of The Chalk Guys, he creates art under his solo project name, Mellow Monkey Art. While The Chalk Guys specialize in large scale 3-D artwork, often using pop culture or other light-hearted subject matter as inspiration, Ken's solo work focuses on smaller scale and 2-D portraits.
"I enjoy the challenge of translating something familiar to the pavement, and with a portrait, you have to get it right," Ken said. "It's that attention to detail that keeps me engaged."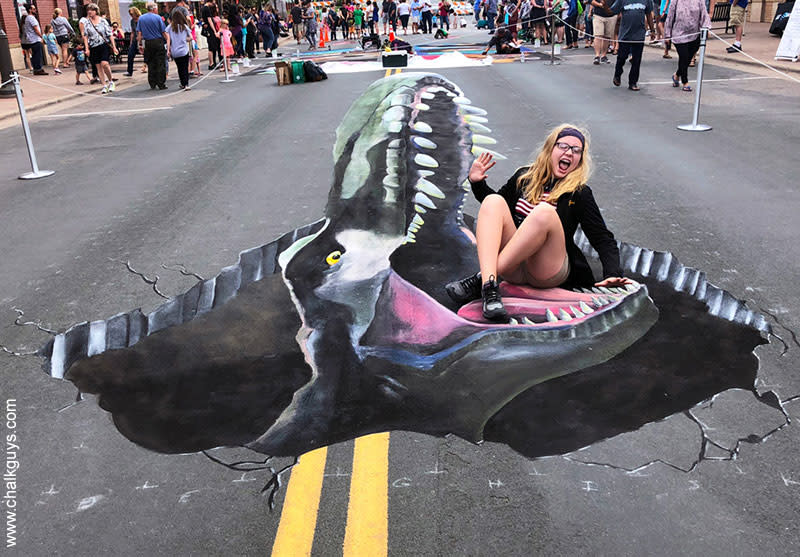 As seasoned chalk artist, Ken has participated in his fair share of chalk festivals, but he holds Chalkfest at Arbor Lakes especially near and dear due to the welcoming and supportive community, with incredibly talented artists who have become his close friends. These dedicated and talented artists are what makes the event a success, despite the unpredictable weather, something that has provided vivid memories of his first year at the festival.
"The weather was awful on the second day, with a seafoam green sky that brought on torrential rain and hail," Ken said. "It looked like the festival was going to be a washout, but when the skies cleared, all the artists went back to work. Most managed to finish their paintings, regardless of the weather, and I thought it showed a lot of character and dedication. It was great to see the crowds come back and make the festival a success even against adversity."
This atmosphere has provided the perfect space for Ken to welcome both his daughters to this year's festival. In addition to Aislynn, his younger daughter, Aine, will be showcasing her chalk art too! At just 14 years old, it can be difficult for Aine to attend chalk festivals throughout the school year, so she is excited to attend Chalkfest at Arbor Lakes for the first time this summer. But don't let her age fool you, she has been creating chalk art, off and on, for the past five years! She has attended their hometown chalk festival helping out her dad and sister, but is looking forward to creating her own piece this time.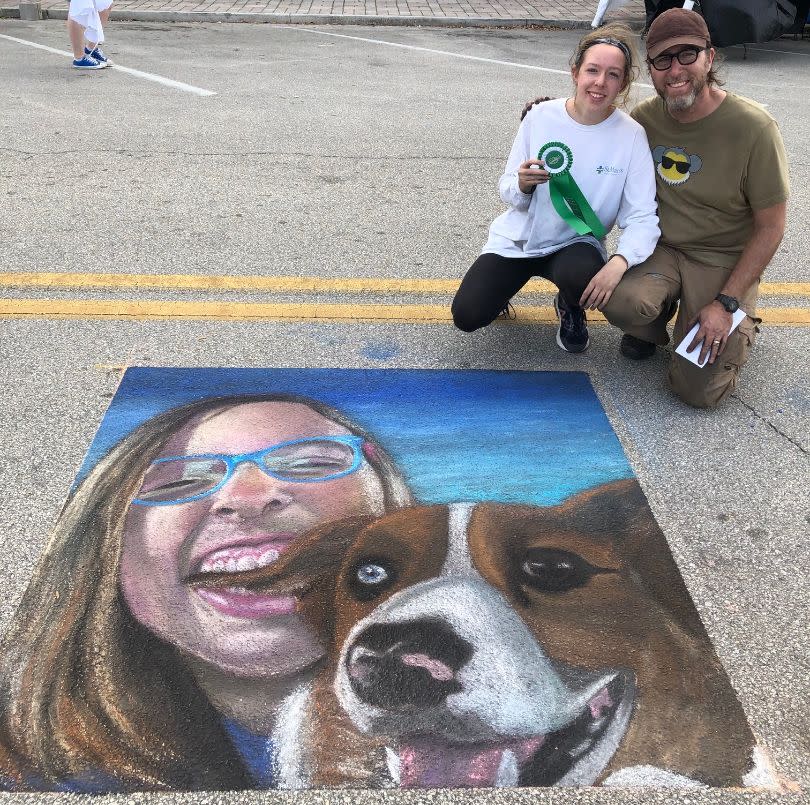 Both Ken and Aine are still deciding what kind of creations they will be orchestrating for the June festival. Aislynn enjoys creating pop culture pieces, just like her father, and plans to create a piece honoring the local music icon, Prince. No doubt, her piece will draw plenty of fanfare, but it will be appreciated the most by her biggest fan — her dad.
"It's made me proud to see Aislynn develop her talent with that same attention to quality," Ken said. "When she was younger she used to cut corners at times, but these days she invests more in her work, and takes pride in what she creates. She is a much better artist than I was at her age, and if she continues to grow, I think that she has a bright future ahead."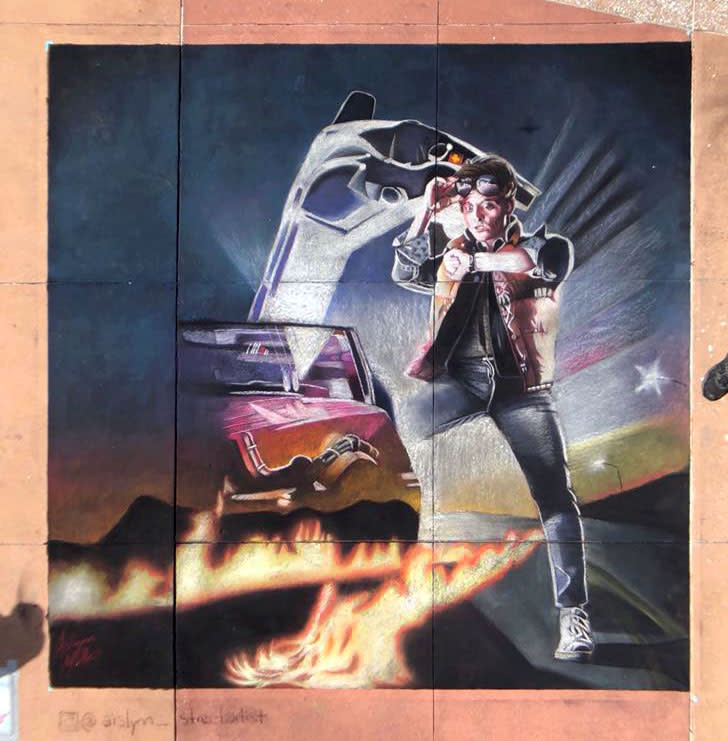 Learn more about the visually stunning and mind-boggling art festival that is Chalkfest at Arbor Lakes, by visiting our Chalkfest page. Share your adventures at Chalkfest at Arbor Lakes with us on Facebook, Twitter and Instagram with the hashtag #WeLoveMNW.