If you're looking to add a little variety to your next corporate event, consider the impact you could have by volunteering with your team or attendees.
Corporate team-building service projects are a great way to build comradery while helping a good cause. From environmental causes to educational causes and everything in between, there are many ways you can take your event to the next level and inspire others. Also, consider partnering with other community organizations and partners to make a bigger impact.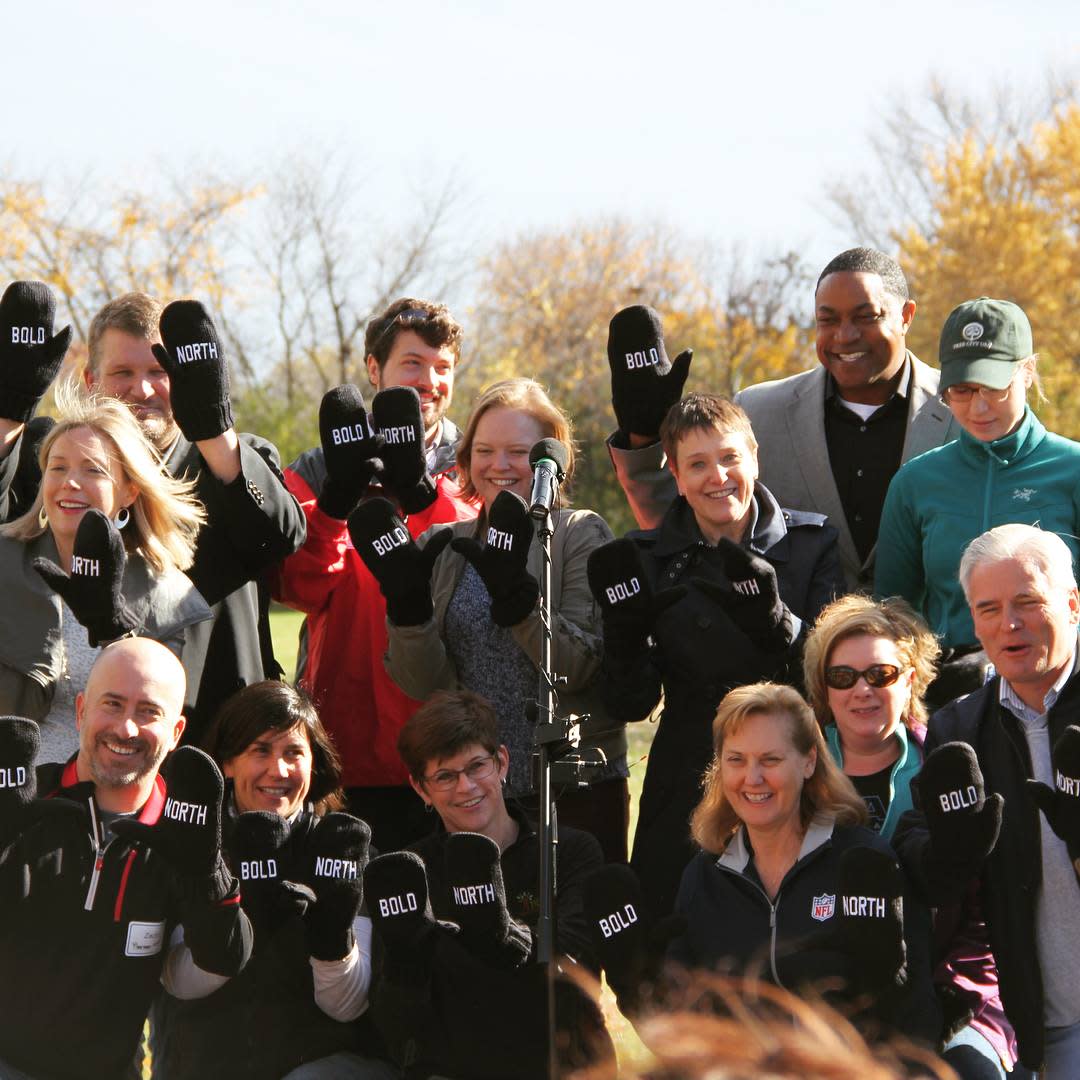 One great example of corporate volunteerism at work in Minneapolis Northwest is the recent tree planting event at Norwood Park in Brooklyn Park. The City of Brooklyn Park along with corporate partners; Tree Trust, NFL, Verizon, Anderson Corporation and the Minnesota Super Bowl Host Committee planted 65 trees in Norwood Park (8100 Newton Avenue, Brooklyn Park) this fall. The event also included a call to action to residents to volunteer to assist in the planting, extending the reach of the project throughout the community.
Brooklyn Park staff and Tree Trust began talking about doing a tree planting event shortly before Emerald Ash Borer was discovered in the city in August 2017. Norwood Park was selected as the location for this planting event because the park has more than 50 ash trees that will eventually need to be removed.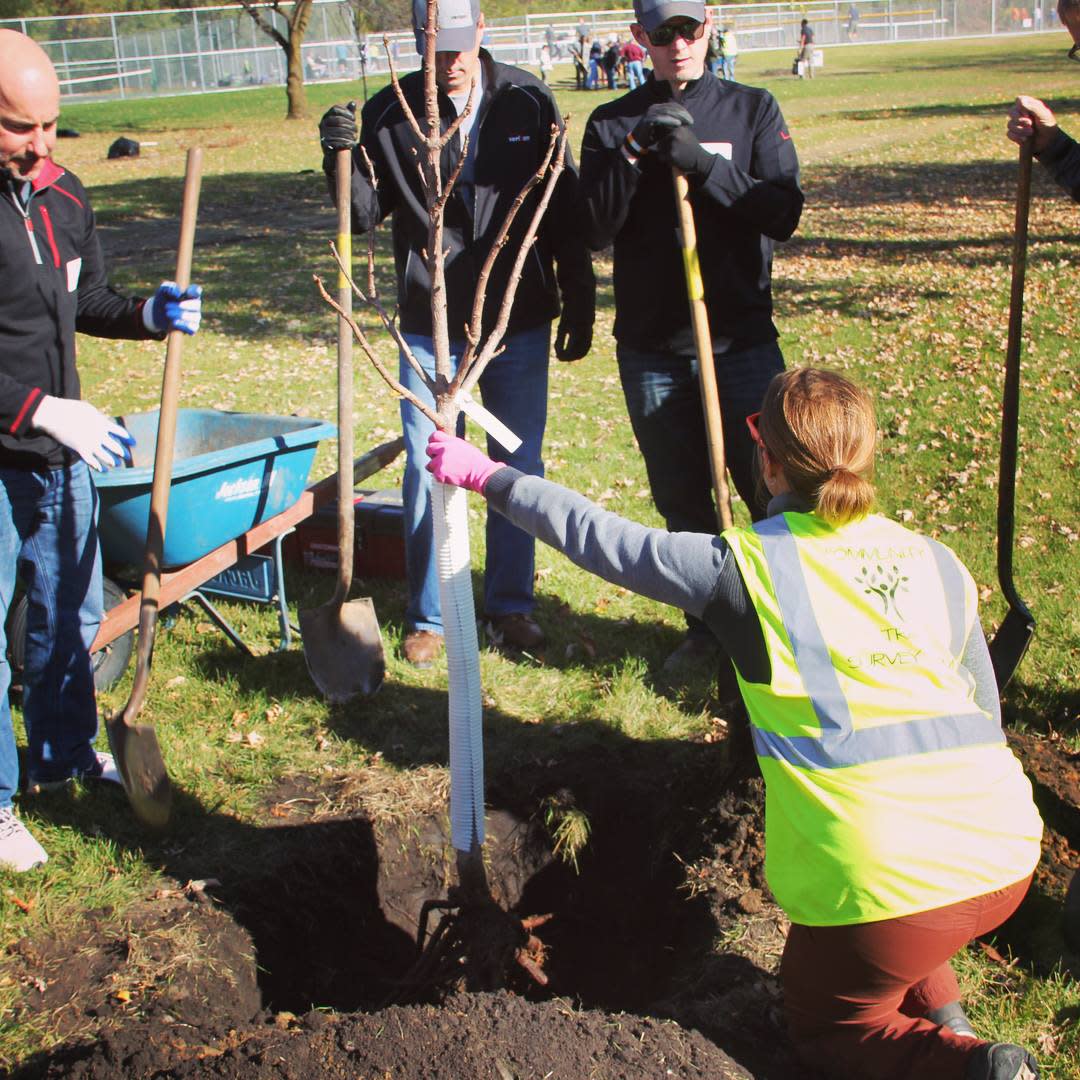 The project in Brooklyn Park is part of the NFL's Super Bowl Urban Forestry Project, since Minneapolis will be hosting Super Bowl LII. The NFL has been working with the host committee to make "green" improvements throughout the Twin Cities and greater Minnesota.
"The NFL Environmental Program is committed to leaving a lasting 'green' legacy in every Super Bowl host community," said Susan Groh, associate director of the NFL Environmental Program. "We work to have a positive community impact and urban forestry is part of that. Trees provide a lasting benefit that ranges from beautification to habitat restoration. More green space has also been shown to encourage children to play outside more."
This year in Minnesota, the NFL teamed with the Minnesota Super Bowl Host Committee, Verizon and Andersen Corporation for 14 urban forestry projects in nine communities.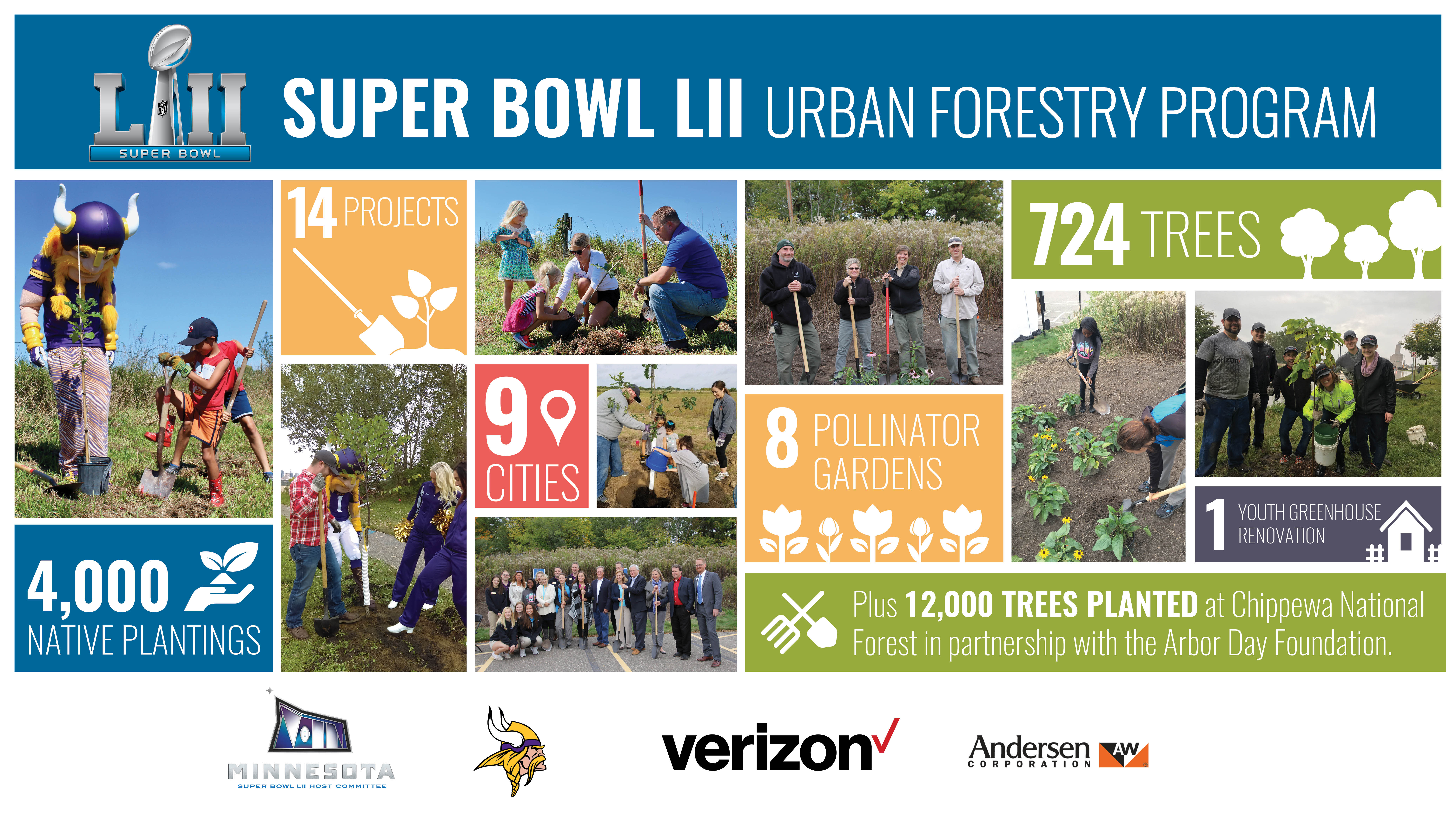 Super Bowl Urban Forestry Projects include:
15 trees planted at Currie Park, in Minneapolis, in partnership with Tree Trust
2000 plantings at Westwood Hills Nature Center, in St. Louis Park, in partnership with Great River Greening
350 trees planted at the Lucy Winton Bell Athletic Fields, in Afton, in partnership with Belwin Conservancy
75 trees planted at Heritage Village Park, in Inver Grove Heights, in partnership with Friends of the Mississippi River
25 trees planted at East Park, in Rochester, in partnership with RNeighbors
2000 plantings at Coldwater Spring, in Minneapolis, in partnership with Mississippi Park Connection
31 trees planted at Western Sculpture Park, in Saint Paul, in partnership with Tree Trust and the City of Saint Paul
90 trees planted in Saint Paul, in partnership with Mississippi Park Connection and the National Park Service
8 large gardens created at the Minnesota Zoo, in Apple Valley
51 trees planted near Lake Winona, in partnership with the City of Winona and Tree Trust
22 trees planted at the Marjorie McNeely Conservatory, in Saint Paul, in partnership with Como Park Zoo and Conservatory
Renovations to the Greenhouse that supplies plants to the Youth Farm, in Minneapolis, in partnership with the Youth Farm
NFL and Verizon are also partnering with the Arbor Day Foundation to plant more than 12,000 trees in Chippewa National Forest. The red and white oaks will replace trees damaged by wind, insects and disease and will provide eagle nesting sites. The Chippewa National Forest supports one of the highest breeding densities of American bald eagles in the continental United States.
Through the NFL Environmental Program, tens of thousands of pounds of unserved prepared food from Super Bowl events will be distributed to local shelters and community kitchens. Solid waste from Super Bowl events will be recycled and leftover décor and construction materials will be donated to local organizations for reuse and repurposing. U.S. Bank Stadium, the site of Super Bowl LII, and several other major NFL Super Bowl event venues will be powered using "green energy" to reduce the climate impact of Super Bowl events. In January, local schools will join in a community initiative called Super Kids-Super Sharing which works to put books, sports equipment and school supplies into the hands of local children in need.
The Minnesota Super Bowl Host Committee has provided additional support to Minneapolis Northwest through its Legacy Fund, which is focused on community giving to improve health and wellness for kids, according to Michael Howard, communications director for the committee. This program has provided two grants for the Minneapolis Northwest area: a $90,000 grant to The Brooklyn Bridge Alliance for Youth to expand their Rec On the Go services to northwest metro youth; and a $50,000 grant to Youth Determined to Succeed in Brooklyn Center to purchase fitness and nutrition equipment to support improved health and wellness for youth. These grants are part of its 52 Weeks of Giving campaign. More information on the campaign is available here: http://www.mnsuperbowl.com/about/legacy-fund.
"Both the urban forestry initiative and our Legacy Fund efforts aim to leverage our opportunity to host the Super Bowl in Minnesota and leave a lasting positive impact long after the game is played," Howard said. "This work is vital to our mission to make sure Minnesota communities benefit from this once-in-a-generation opportunity to host a world-class event." 
If you're planning to host an event in the Minneapolis Northwest area, please let us help you! These Super Bowl events offer inspiration for corporate volunteerism on a smaller scale, whether you're planning an event for a group of 20 or 2,000. Some great opportunities include helping a local food shelf or working with student groups to inspire the next generation of volunteers! We'd be happy to assist with finding a volunteer opportunity that will fit your next meeting or event. For more information on our event and meeting planning services, visit https://www.minneapolisnorthwest.com/groups-planners/.
For more info on corporate volunteerism, visit https://www.minneapolisnorthwest.com/2017-activities-guide/2017-fall/coporate-volunteerism-makes-a-difference/.
For more info on sustainability and corporate social responsibility in Minneapolis Northwest, visit https://www.minneapolisnorthwest.com/2017-activities-guide/2017-spring/sustainable-and-proud/.