There is an endless list of things to do with kids of all ages in Minneapolis Northwest, from playgrounds and sports to theater and museums. Here are some of the area's best family friendly activities for each age group toddlers through teens. Start making more memories with your kids today!
Fun for Tots and Little Ones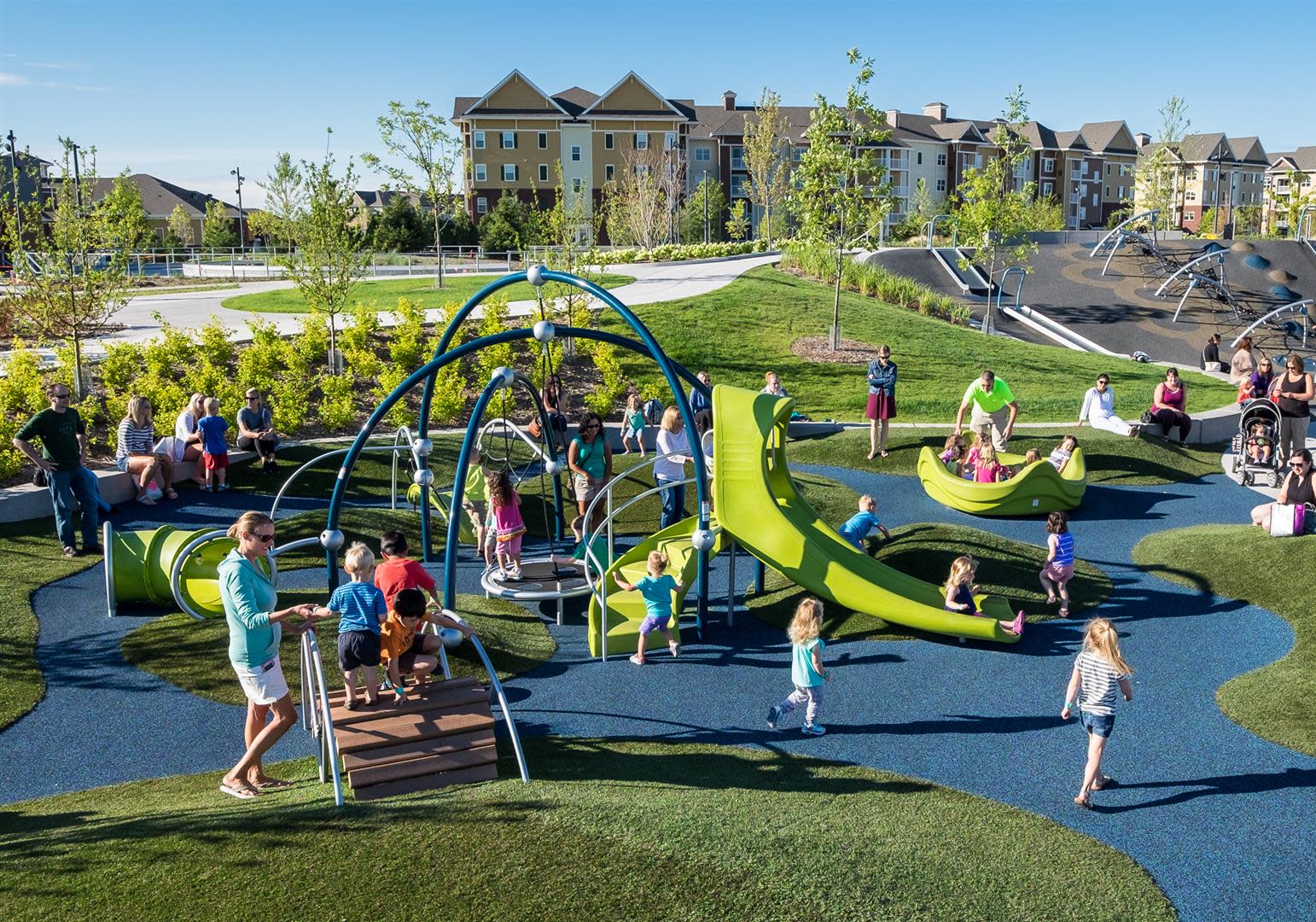 Minneapolis Northwest is home to one of the state's most popular playgrounds: Central Park. In this delightful park, your kids can take their pick of seven play zones. The peewee play zone is perfect for little ones with its padded floors, miniature slides and swings, and older kids will enjoy creating their own adventures on the jungle gym and climbing wall. After they work up a sweat, have the kids cool off by splish-splashing in the waters of Central Park's LED-illuminated splash pad.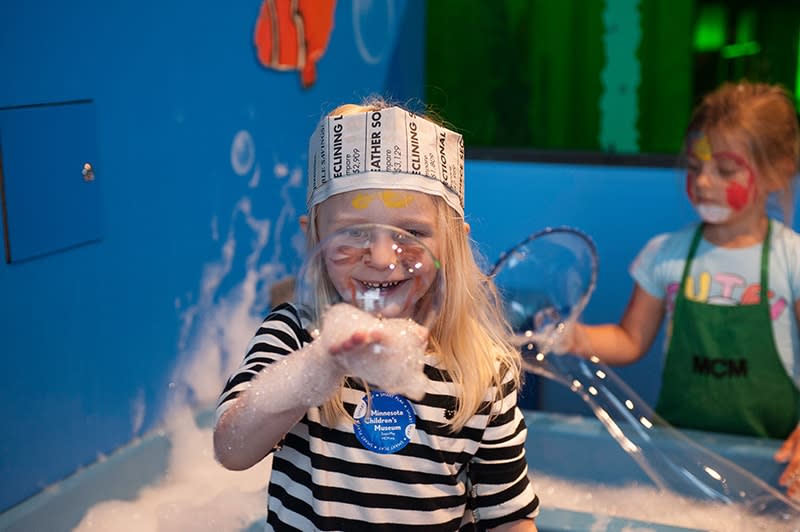 If the weather threatens to put a damper on your playdate, head to Playground Plaza, which offers all of your little one's favorite swings, slides and playground equipment in a climate-controlled, safe indoor play space. There's even a large trampoline and a section of turf that's great for tag and soccer. Another great indoor option is the Minnesota Children's Museum. Designed for kids ages six months to 10 years old, the museum features seven galleries and endless hours of hands-on fun. Children can draw their way through the "Creativity Jam" exhibit or let loose on the netted catwalks of The Scramble. Bonus tip: Explore the museum for free with Target Free Third Sundays!
Be prepared for a visit full of smiles and giggles when you take your young ones to Como Town Amusement Park, where all of the park's rides and attractions are designed for kids ages two to 12. Kids can practice their driving skills in the Kiddie Gran Prix, bounce up and down on the Frog Hopper or ride the Como Town Train. Then get the whole family together to enjoy the excitement of the Como Town Tornado.
After a day of thrills, pop over to Wild Rumpus. This award-winning children's bookstore features story times, book fairs, author events, and is also home to several friendly cats, birds, and even a chicken and a ferret. There is a small section of adult books, but the store is made for kids to read, play and discover. Publisher's Weekly named Wild Rumpus Best Bookstore of the Year in 2017 – the first time a children's bookstore has won the award. 
Minneapolis Northwest offers plenty of fun for families throughout the year. During the fall and winter, you and your kids are in for a special treat when Eidem Homestead, a 10-acre living history farm, hosts seasonal events like Fall on the Farm and A Norwegian Christmas. Each event includes costumed characters and traditional seasonal activities like preparing the garden for winter, cranking the apple cider press, making crafts, playing with the farm-friendly animals, and singing carols around the holidays. 
Preteen Play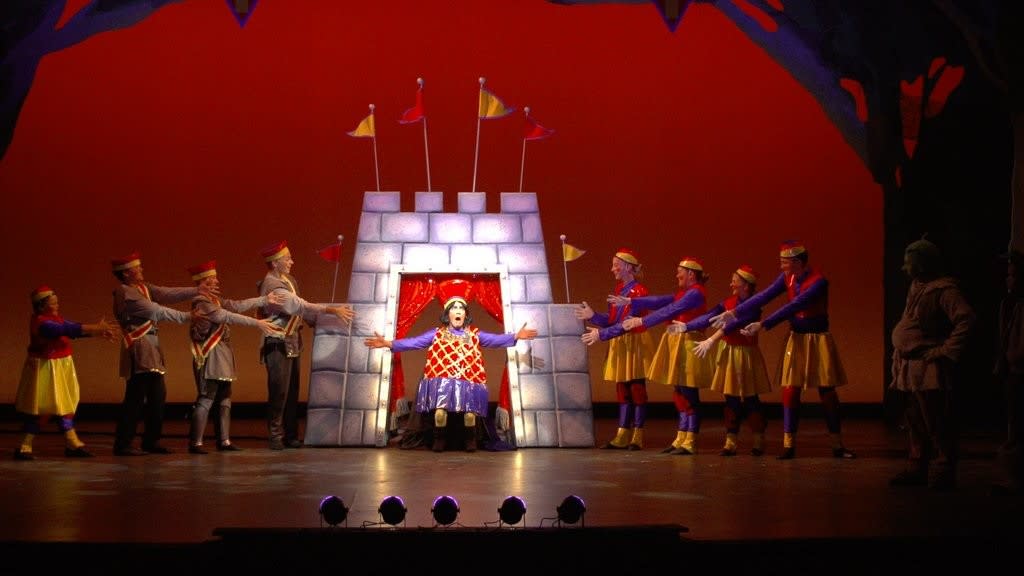 Minneapolis Northwest offers opportunities for preteens to express their creativity. At Color Me Mine, kids can spend a day stamping, sponging and stenciling custom creations on plates, mugs and other ceramics. It's a great chance for them to express themselves and create something they can bring home and treasure for a lifetime. Creativity also abounds at Stages Theatre and Children's Theatre Company, two of the Twin Cities prominent children's theaters. Kids can watch or even audition for productions of award-winning family favorites, including The Wizard of Oz and How the Grinch Stole Christmas. Each also offers summer camps and programs for kids with ranging interests in theatre, from those serious about being on the stage and those that simply want to give it a try.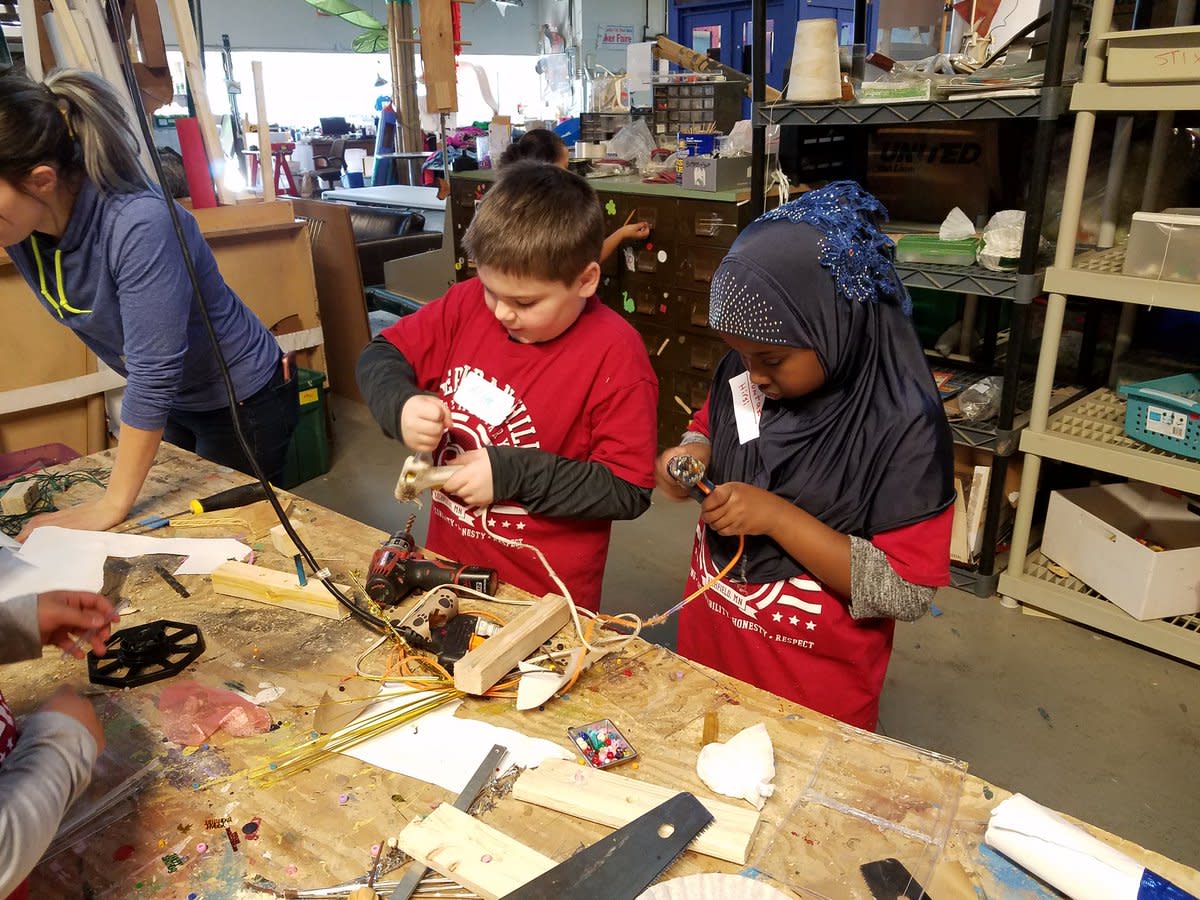 If your children want to get their hands dirty, Leonardo's Basement can help. This "junk playground" provides year-round, inventive workshop classes that help kids nurture their curiosity, problem-solving and risk-taking skills through engineering, art and technology projects. In short, kids get to invent and make whatever they want at Leonardo's Basement! Activities are supervised and range from welding, wood and metal working, to stilt walking, aluminum casting, and robot or jewelry making.

They can also learn about the magic of magnets and electricity with any of the interactive exhibits at the Bakken Museum. "The Spark of Life" exhibit is especially popular with preteens. They can play a theremin, the very first electronic musical instrument, without even touching it; crank up a 60,000-volt static spark on the huge Wimshurst generator, or check out an antique EKG machine and learn about the dog that helped design it.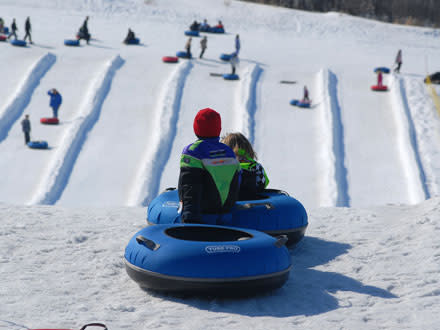 For wintry thrills, let your kids fly down the chutes at Elm Creek Park's tubing hill in the Elm Creek Winter Recreation Area. This 10-story-high hill is built with tubing lanes of varying speeds, perfect for kids of all skill and adventure levels. The hill's moving sidewalk easily transports tubers from the bottom of the hill back to the top, ensuring everyone can save their energy for the hill all day long.  
Another popular winter attraction for older kids is Central Park's one-of-a-kind ice skating trail. This isn't your regular ice rink. The 20-foot-wide trail follows an 800-foot path past the park's snow-covered lawns and gardens – longer than a lap around a hockey rink. No need to worry about bumps or ridges; the trail is refrigerated and kept in tiptop shape by the park's Zamboni. Skate rentals are available. 
Top Treats for Teens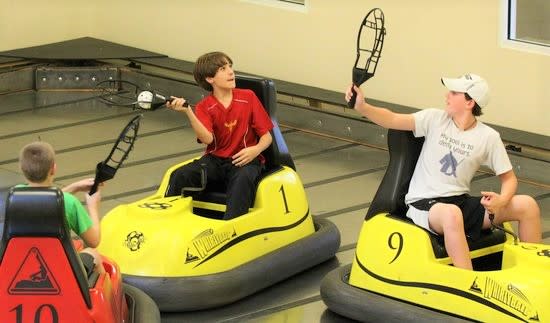 The Minneapolis Northwest area has entertaining teen-friendly attractions and activities that will keep them (and you!) moving and laughing. For a unique sport anyone can try, check out WhirlyBall – a riotous combination of lacrosse, basketball and bumper cars. WhirlyBall's facility features arcade games, billiards, an escape room and the largest laser tag arena in all of Minnesota. Then let your teens get a taste of what it's like behind the wheel when they spend an afternoon at ProKART Indoor Racing, Minnesota's most popular indoor go-kart facility. It's perfect for kids 12 and up. 
A teen favorite that hits all the right notes is Elm Creek Park Reserve. Aside from the epic tubing hill, the 4,900-acre green space is open year-round and features numerous activity stations throughout. Here, teens can try their hand at archery, play a round or two of disc golf, swim in the chlorinated swimming pond, and in the winter, show off their snowboarding, skiing and fat biking skills.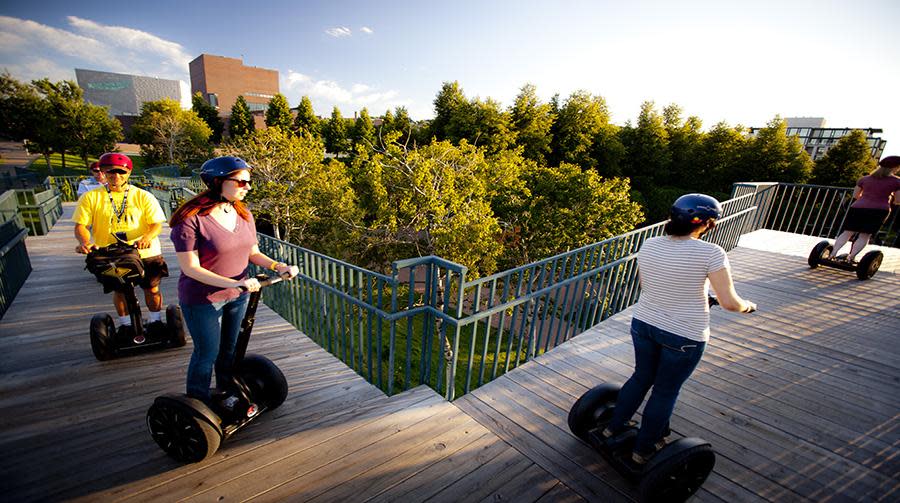 If you and your family are hoping to mix education with recreation, check out a Segway Magical History Tour. The popular Segway tour takes families on an adventurous tour of the Minneapolis Riverfront. As you cruise past sights like the Stone Arch Bridge, Mill City Museum and Boom Island, you'll learn how the history of the area shaped Minneapolis Northwest into the active region it is today. 
Finally, no teen can resist the Science Museum of Minnesota. Head to the new Sportsology exhibit, where every field, court, track and gym becomes a science lab. Visitors can study the body in motion and gain a better understanding of what it takes to swing that bat or score that goal. Examples of Sportsology fun include racing against a Tyrannosaurus Rex or Minnesota Twins mascot T.C. Bear, or comparing dunking skills to the world's most famous basketball players. And if your teen wants to take a break from the action, check out the impressive Omni theater with its domed ceiling and stunning video series.
Fun for All Ages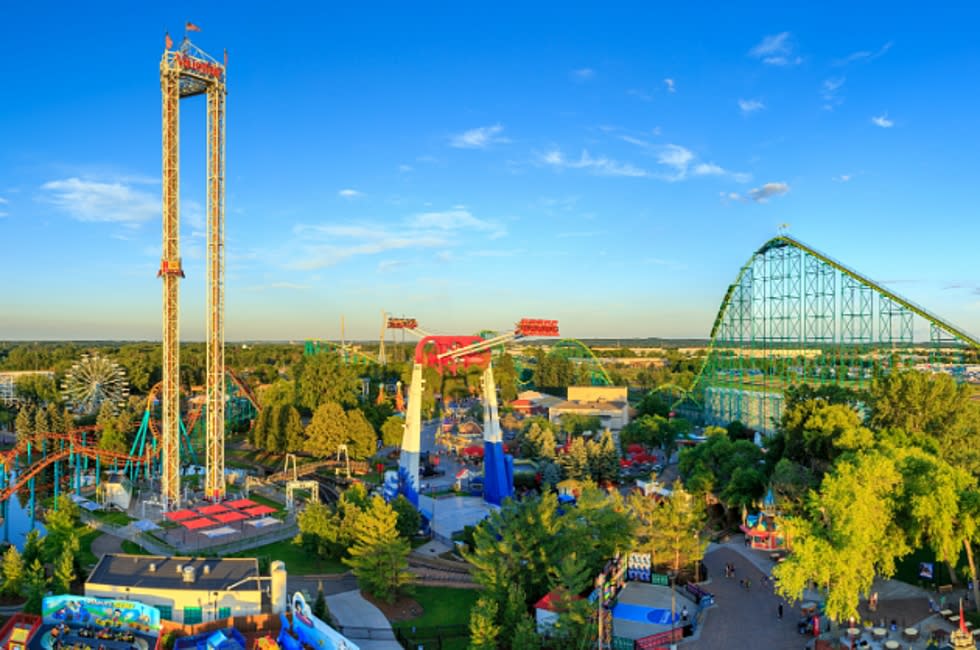 When you're looking for a destination the whole family will enjoy, Minneapolis Northwest offers plenty of places where kids and kids at heart can have a blast. First up is Valleyfair Amusement Park, which has rides and attractions that cater to everyone from tots to adventuresome teens. Just a short drive away, the Million Dollar Midway at Dave & Buster's offers more than 200 games, from arcade classics like Pac-Man to the interactive Typhoon car race. It's a perfect spot to get a little family friendly competition going, too.

Treat the family to a round of cupcakes at Nadia Cakes. You may have heard about this premier cupcake shop and custom cake studio on the TLC show "Fabulous Cakes," or when the owner and head designer won Food Network's "Cupcake Wars." Every day, Nadia Cakes serves classic cupcake flavors like lemon drop and peanut butter cup, as well as daily special creations like Unicorn Poop and banana split. Gluten-free options are also available.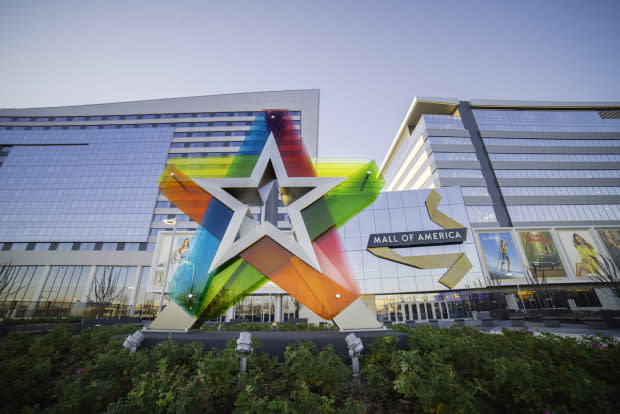 Finally, just a short drive away from Minneapolis Northwest is Mall of America. Home to more than 520 stores, the country's largest indoor theme park, a flight simulator, adventure golf course and so much more, this shopping haven has something for everyone.

For more ideas for family fun, browse our 10 Things to Do with Kids in Minneapolis Northwest This Summer and our top picks for Indoor Fun for the Whole Family. Let us know what adventures your kids enjoy in Minneapolis Northwest by sharing your photos and stories on Facebook, Twitter or Instagram using the hashtag #WeLoveMNW.