The Chalk Guys made their Chalkfest at Arbor Lakes debut on June 10th, 2017. In case you missed it, Chalkfest at Arbor Lakes is an incredible street art festival with artists from around the world coming to Main Street Arbor Lakes to showcase and share their talent with you. Visitors enjoy watching huge, mind-boggling 3-D art pieces created right in front of them.
The Chalk Guys, Hector Diaz and Ken Mullen, created a 3-D masterpiece for the event but let's back up a little bit first. Who are The Chalk Guys? Hector and Ken met when they were in 6th grade and have been having fun ever since. They both had an interest in art while growing up, but never received any formal training.
Fast forward (or rewind) to 22 years ago when Hector stumbled across the Lake Worth Street Painting Festival in Florida. Enthralled by the art he saw there, Hector signed up to participate the second year. He found he really enjoyed creating the work and interacting with all the visitors that came through. The following year, Hector invited Ken to do a collaborative piece with him, and they continued to work together for six to eight years.
After hearing about 3-D chalk art, The Chalk Guys decided to take a stab at it. They drew the Beatles at Abbey Road, completely in chalk. They created a crosswalk on the street and drew their figures 20 feet tall. Their love for the Beatles is evidenced by the numerous drawings they have created depicting the foursome since this initial piece. With all the work they were doing, The Chalk Guys were making friends with other artists and were invited to their first outstate festival in New York.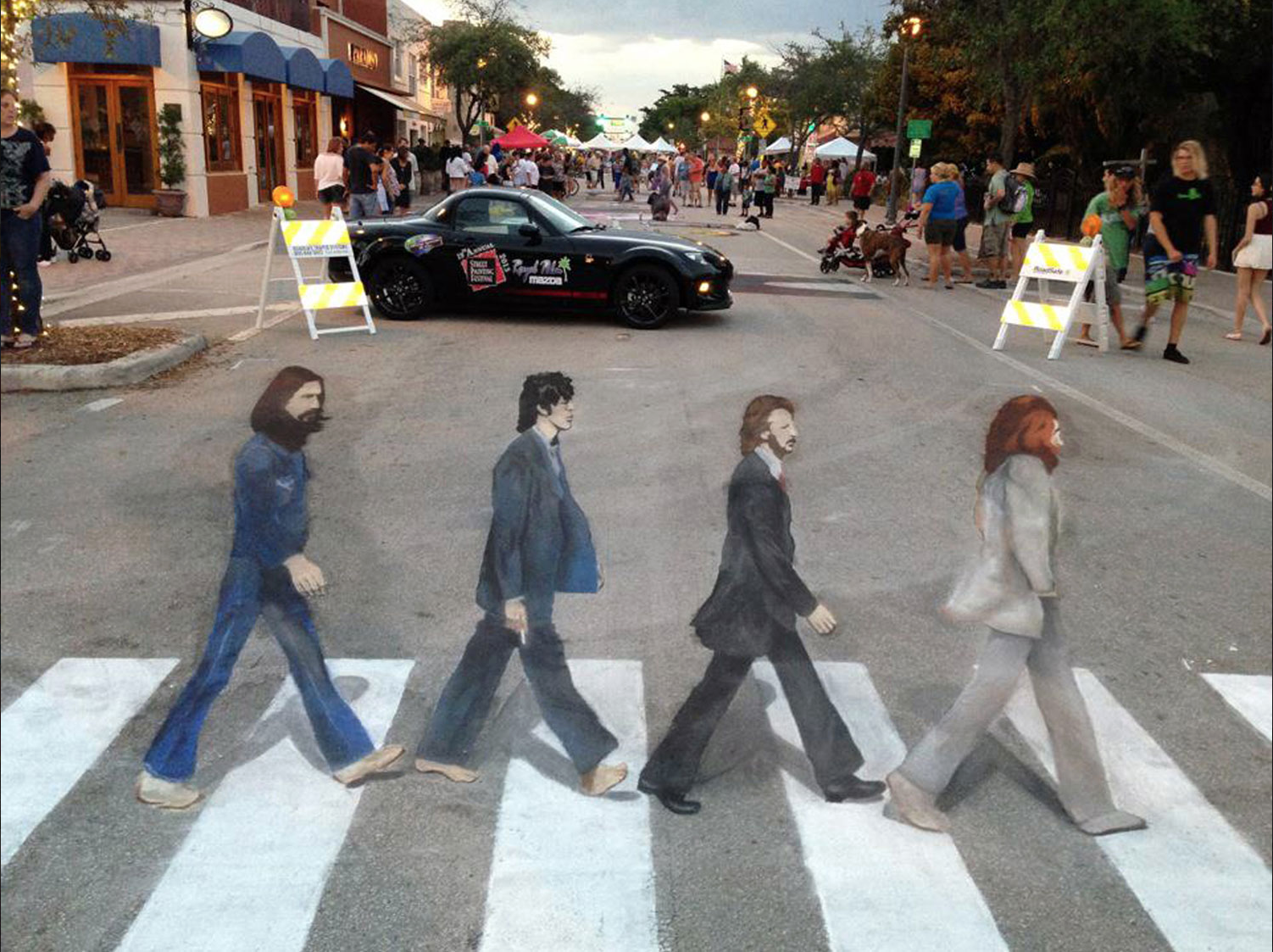 Now, these lifelong friends do 18-20 pieces a year. Asking Hector how they are always able to think of new pieces, he said that he and Ken, "never grew up". They are both goofballs that love joking around and it keeps the creativity flowing. This fun-loving nature informs their work and how they think of new creations. Their signature is fun, goofy and whimsical. They like to take regular household items and make them larger than life. See for yourself:
 
The Chalk Guys believe that once a piece has been brought to life, it's done. It isn't fun recreating the same thing, and they want each piece to be unique. While speaking with Hector, I asked what keeps him motivated and inspired event after event. He said the interaction with the crowd is one of his favorite things. He loves when people come up and ask questions and get involved in the process. Hector also said that he and Ken make a good team, and that makes it easier too. They balance each other's strengths and weaknesses. Hector said that, "if even just one kid walks away from what we are doing and is inspired to create something, that would be amazing for us."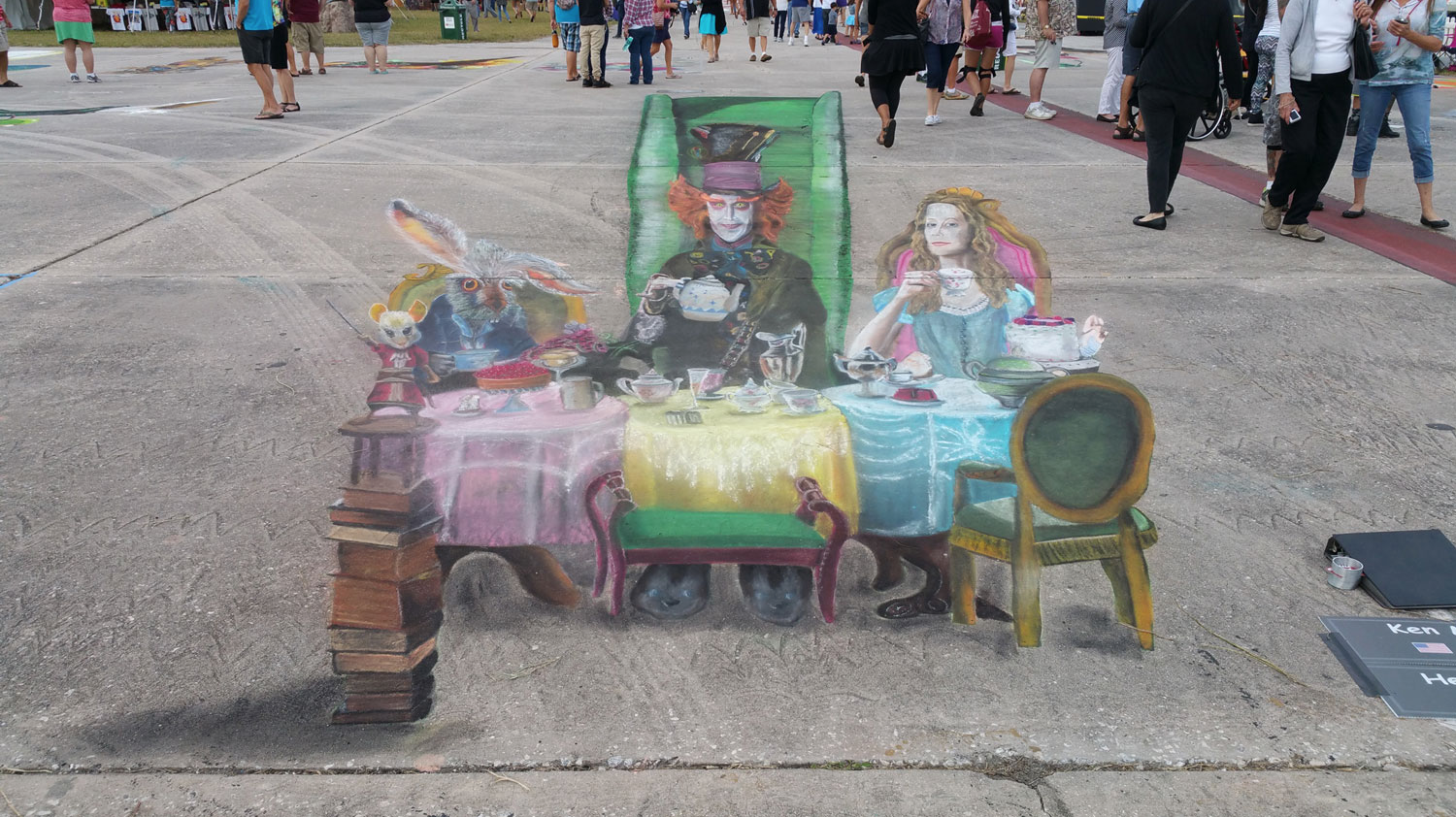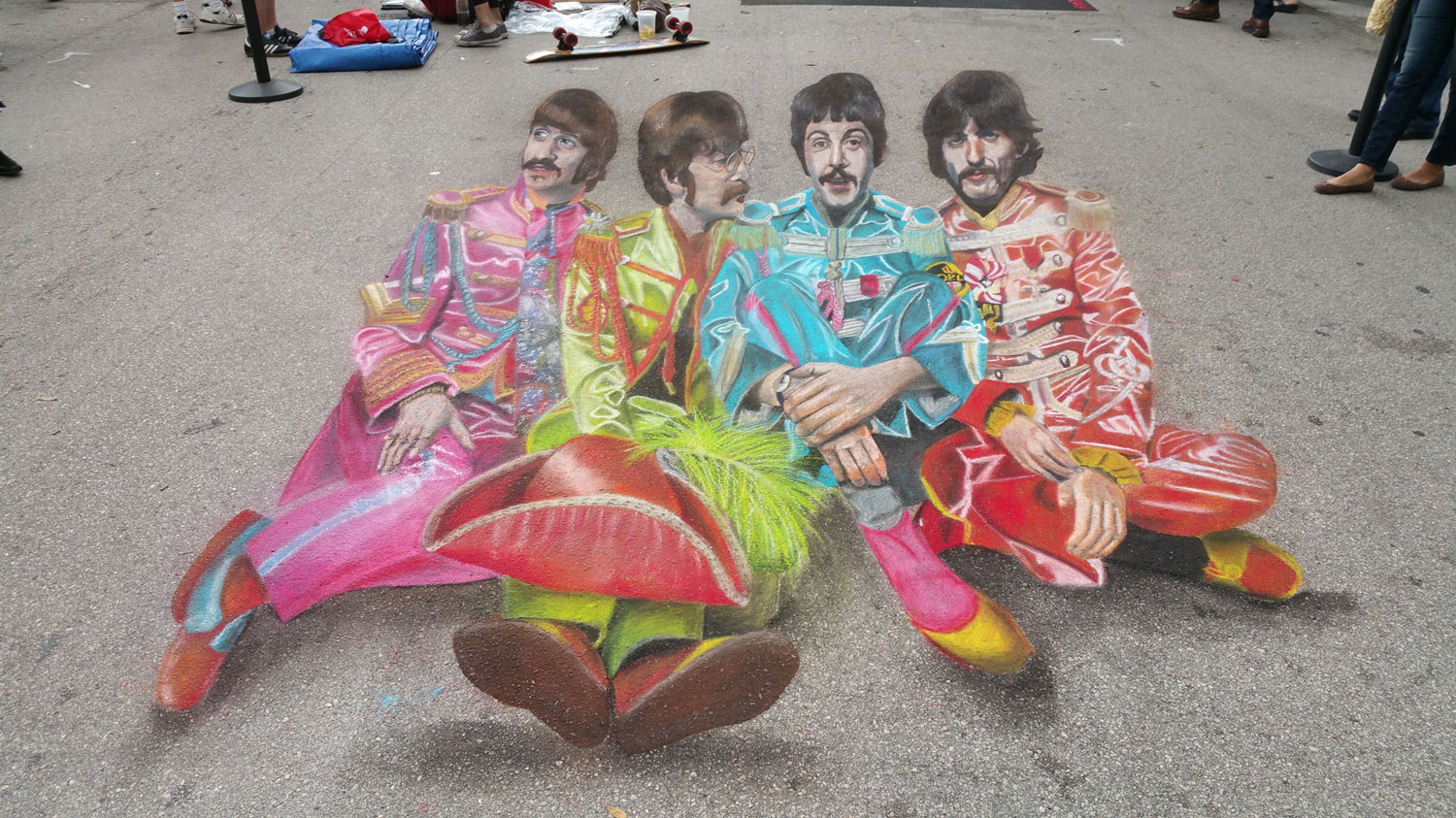 So, what do The Chalk Guys do besides create incredible art? Both have families they love spending time with and have other work they do. Hector is a graphic artist and Ken is a web developer. They both now take art classes at local colleges to try and build their repertoire of skills. Even their hobbies are creative, Hector plays the bass and Ken is a drummer, and both are involved with bands from time to time. They make quite a team!
Do The Chalk Guys have any advice for people attending Chalkfest at Arbor Lakes? "People tend to come on the second day only. But the process is part of the fun!" You'll miss out on the full experience, because this is truly a unique opportunity to watch artists create, from beginning to end, in front of you. Hector also wanted to say that asking questions and talking to the artists is highly encouraged! So, don't be afraid or think you're interrupting, because interaction from the crowd is one of the reasons artists do festivals and share their work.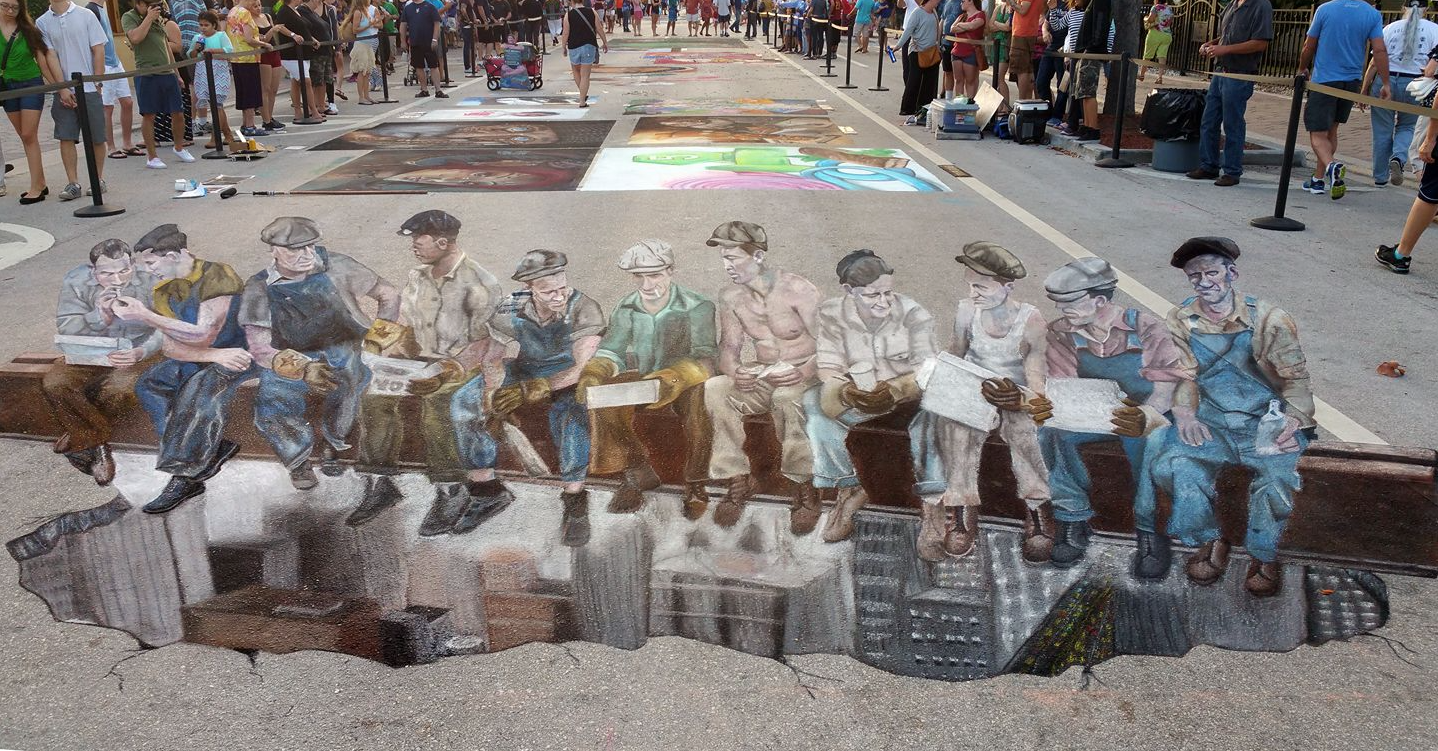 Make sure you are part of the excitement June 9th and 10th at Chalkfest at Arbor Lakes in Maple Grove. We'll see you there!
Click here for all the latest updates on Chalkfest at Arbor Lakes!
Would you like to see more from The Chalk Guys? Check out their website!