Enjoy endless opportunities for fun in and around Minneapolis Northwest. We understand that sometimes you don't want to spend a lot of money while on vacation, so we're here to help. We've put a list together of 50 FREE things to do in Minneapolis Northwest and the Twin Cities. From zoos, to nature, to museums, we have something for you!
1. Hike around Elm Creek Park Reserve – over 4,900 acres to explore! The park also has an 18-hole basket disc golf course you can use for free. 
2. It doesn't cost a thing to window shop the best stores in the northwest metro at The Shoppes at Arbor Lakes. Browse national chains and local boutiques for unique finds.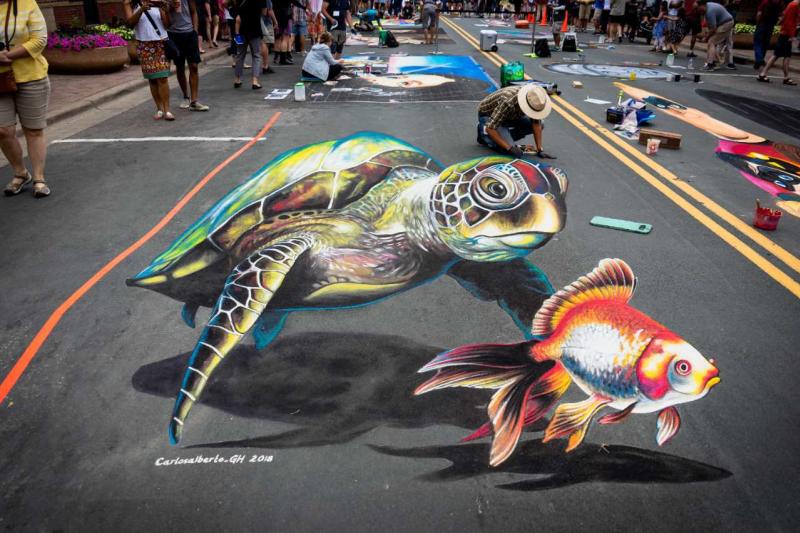 Chalkfest at Arbor Lakes
3. Snap pics and enjoy the beautiful and mind-boggling 3D chalk murals at Chalkfest at Arbor Lakes.
4. Enjoy family time together at Historic Eidem Farm with FREE summer Concerts at the Farm and story time. 
5. View downtown Minneapolis from the Foshay Museum & Observation Deck. Access is free and it's open all year.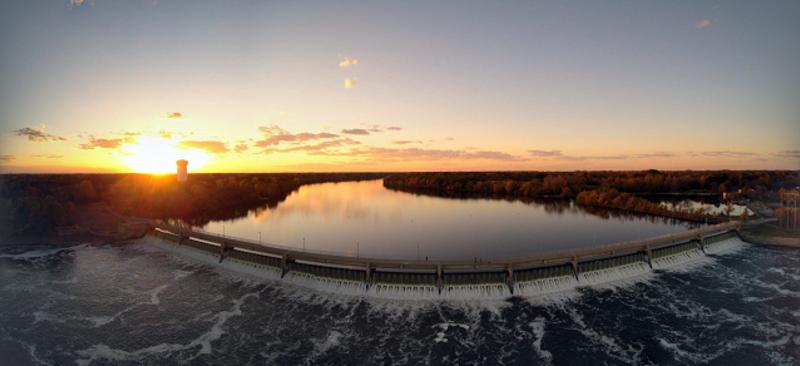 Mississippi Gateway Regional Park
6. Walk, run, bike, or stroll across the Mississippi River at Mississippi Gateway Regional Park. The 12-foot-wide walkway has excellent views. 
7. Venture into the Minneapolis Sculpture Garden where admission is always free, and you can take your picture with the iconic cherry and spoon.
8. Go fishing at Fish Lake Regional Park – by land or bring your own boat.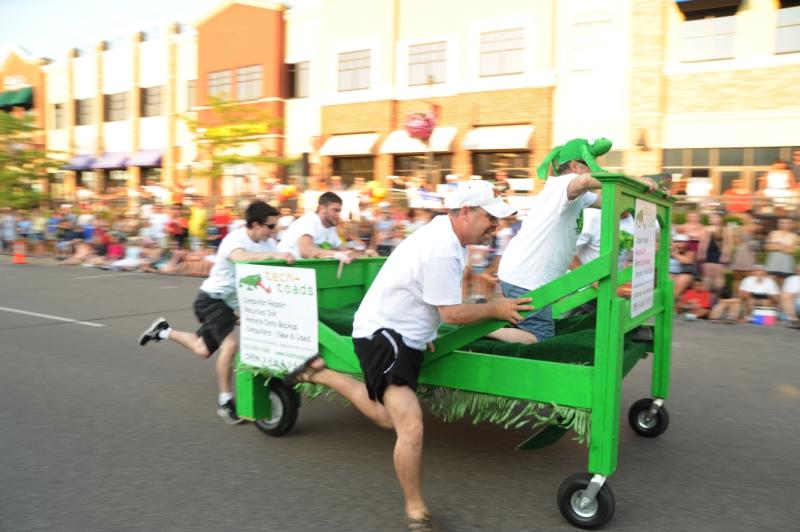 9. Check out Minneapolis Northwest's summer city festivals like Maple Grove Days in Maple Grove and Tater Daze in Brooklyn Park. 
10. Walker Art Center in Minneapolis is free for kids ages 0-12 and teens ages 13-18.
11. There's nothing better than live music in the summer. Check out our Summer Music and Movies Schedule for the latest on various FREE concert series in the area like Sounds of Summer in Maple Grove and Music on the Lawn in Brooklyn Park.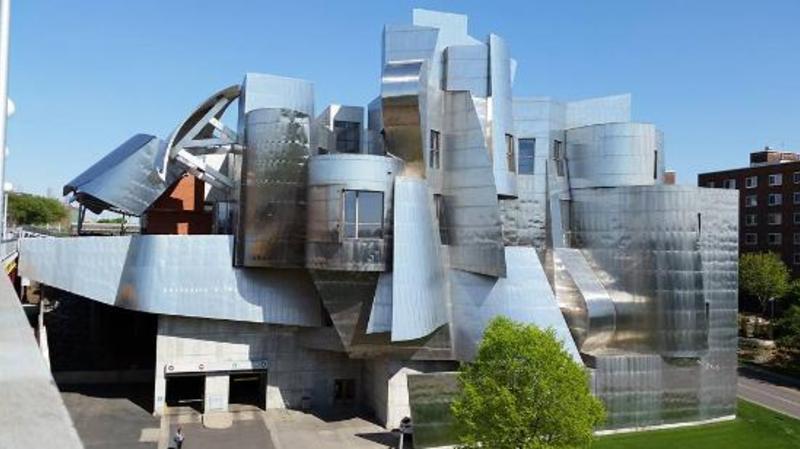 Weisman Art Museum
12. View stunning artwork by 20th-century American artists at the Weisman Art Museum at the University of Minnesota. Admission is free.
*The museum is closed for maintenance until fall 2021.
13. Go for a swim at Weaver Lake Community Park. The family friendly beach is open all summer starting Memorial Day weekend. Other park amenities make it a nice spot to spend the whole day.
14. Attend one of the largest jazz festivals in the Upper Midwest – the Twin Cities Jazz Festival! This year features a special four-day virtual concert, and all streamed concerts are free. Expect a rousing in-person event next year.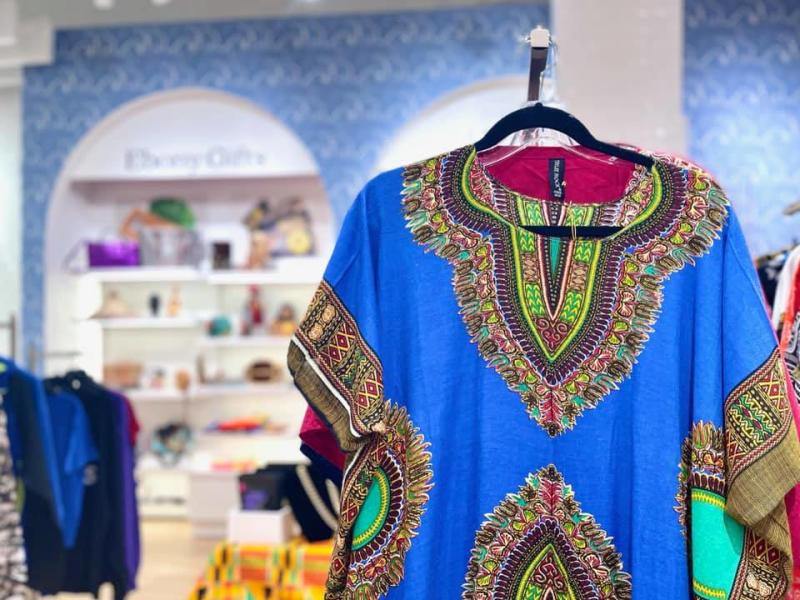 15. Walk around the Mall of America and do some people-watching. Shop until you drop at more than 500 stores, and enjoy the wide variety of restaurants and attractions. Parking and entering the mall is free year round.
16. Attend the largest open studio tour in the country – Art-A-Whirl! Enjoy a few local brews while you explore with our beer and art gallery pairings. Many galleries are free to visit and open throughout the year.
17. Take in all the international flavors at the Midtown Global Market where you can find more than 40 businesses and restaurants from many countries around the world. Attend on select themed days and enjoy cultural performances and celebrations.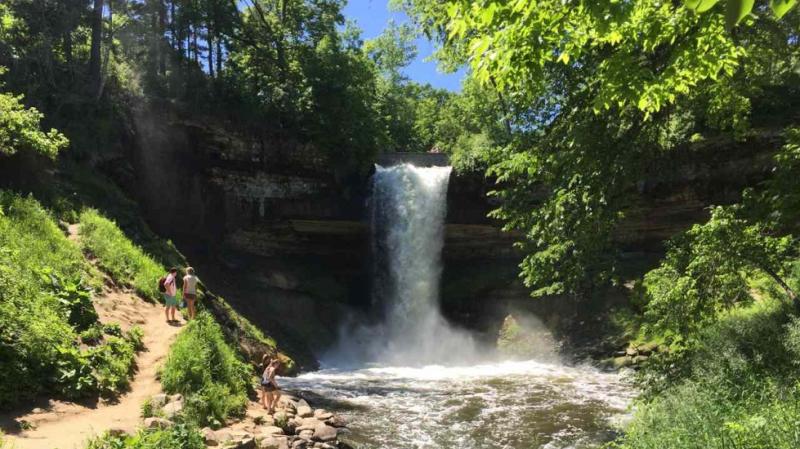 Minnehaha Falls Regional Park
18. Walk around Minnehaha Falls Regional Park – 193 acres with a 53-foot waterfall, limestone bluffs, and river overlooks. This park is beautiful in every season, even in winter when the falls are frozen!
19. Grab your binoculars and go birding at Palmer Lake in Brooklyn Center where you can see many native and migratory birds.
20. The Minnesota Children's Museum has FREE admission on the third Sunday of the month.
21. Explore the tropics and meet exotic animals from around the world at the free Como Zoo & Conservatory.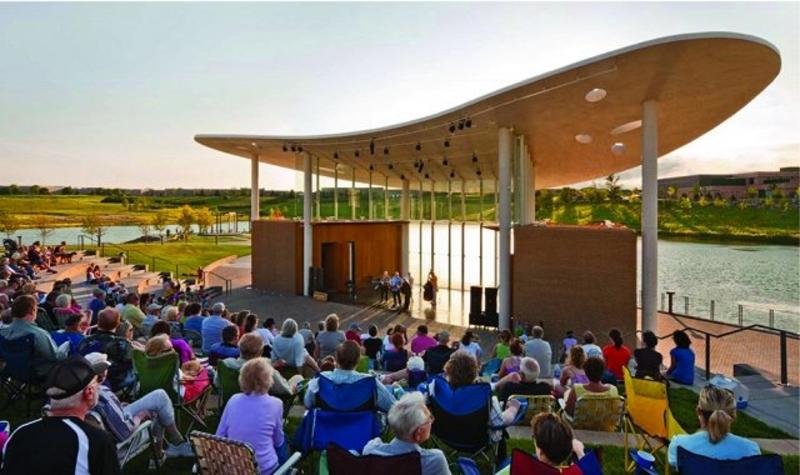 Town Green
22. Town Green in Maple Grove holds FREE community events and concerts throughout the summer.
23. Grab some friends and blankets and watch a movie in the park. Choose from a variety of fun family friendly films under the stars during Brooklyn Center's Entertainment in the Park, Movies in the Park in Brooklyn Park and Music & Movies in the Park in Osseo. 
24. Ice skate the Central Park Ice Loop from November through March. Access to this unique ice trail is FREE! Skate rental are available if you don't have your own.
25. Go on a FREE guided tour (with admission fee) at the Bell Museum of Natural History every Sunday.
*Currently not offered due to the pandemic; look for this deal again in the coming months.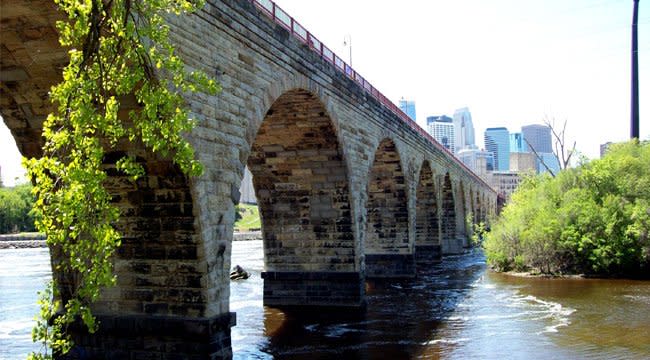 Stone Arch Bridge
26. Stroll the Stone Arch Bridge and enjoy the view of St. Anthony Falls. It's also free to attend the Stone Arch Bridge Festival, another exciting area art festival.
27. Bike up and down Shingle Creek Regional Trail. This trail connects Brooklyn Center and Brooklyn Park, and connects with Shingle Creek Parkway and trails in Minneapolis.
28. Take the kids for a splash to cool off in the summer at the splash pad at Central Park in Maple Grove. The multi-colored LED lights make it really cool in the evening.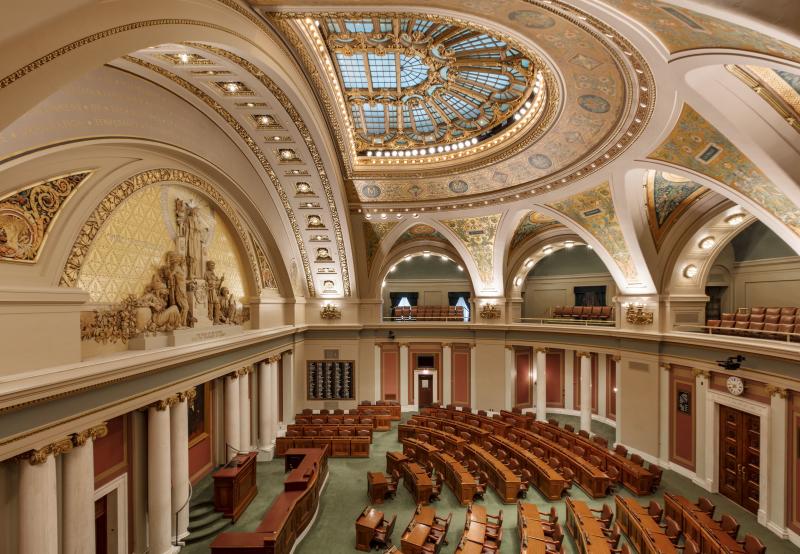 29. See where the Minnesota state legislature assembles on a Minnesota State Capitol tour.
*Currently, tours are not offered, but as restrictions are lifted, you can expect 45-minute tours, as well as a self-guided tour option.
30. Attend Nature Center Without Walls events at Eastman Nature Center and Mississippi Gateway Regional Park. These weekly FREE events include nature activities, displays, tips for exploring, chance to talk with a naturalist, and much more. 
31. The Minnesota Landscape Arboretum has FREE admission on the third Monday of every month.
*Currently, this promotion is not offered due to the pandemic; check back in the coming months.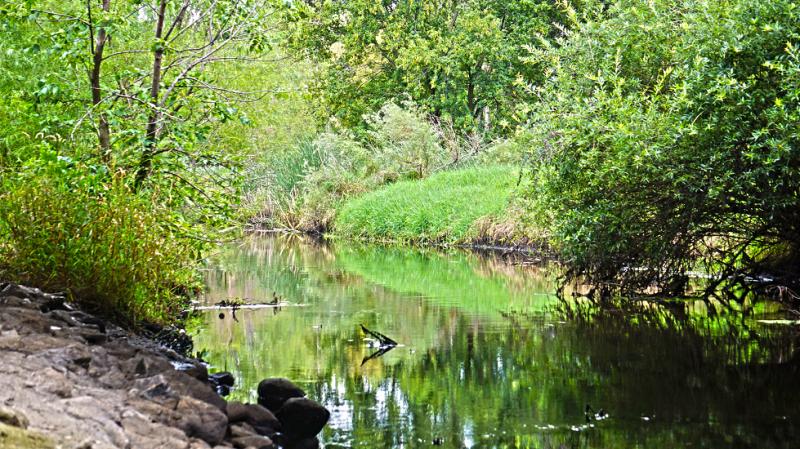 Palmer Lake
32.  Walk or run a 5k around Palmer Lake's loop in Brooklyn Center. Makes a great spot if you're training for a race. 
33.  Check out a FREE comedy show! ACME Comedy Company's has Open Mic Night on Tuesdays. These events serve as a starting ground for many comics. 
34.  The Saint Paul Chamber Orchestra holds many FREE family concerts throughout the year at the Lake Harriet bandshell. Reservations are required.
35.  Get in tune with your healthy side. Farmers markets not only have a plethora of food options, but many have free entertainment and kids activities.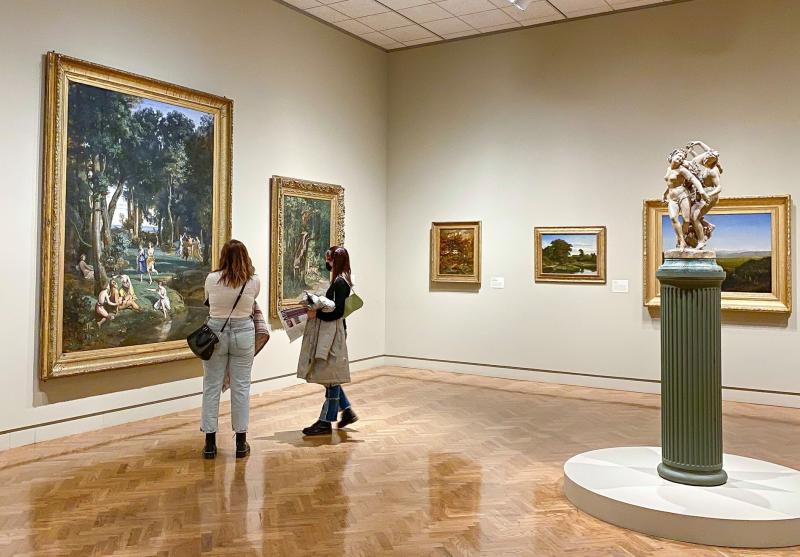 Minneapolis Institute of Arts
36.  Visit the Minneapolis Institute of Art's world-class collection, including world-famous masterpieces by Van Gogh, Monet, and Picasso.
37.  Take in a concert from the Minnesota Sinfonia – all concerts are FREE and children are welcome and encouraged to attend all performances.
*Currently, no public performances are scheduled, but stay tuned for summer announcements as restrictions are lifted.
38. Bundle up and explore the St. Paul Winter Carnival, known as the "Coolest Celebration on Earth." Free things include the ice and snow sculpture park, medallion hunt, live entertainment, and more. 
39. The Twin Cities has not one, but two St. Patrick's Day Parades! St. Paul is during the day and Minneapolis is in the evening.
40. Celebrate Independence Day by attending Red, White & Boom! This event features live music, great food, fun activities for the whole family and the grand finale - fireworks!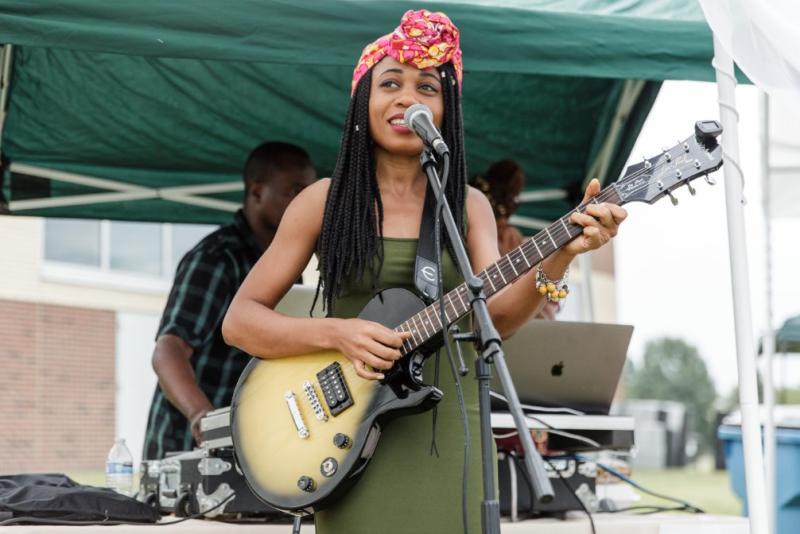 41. Come together with multiple cultures of the Minneapolis Northwest community at IgboFest in Brooklyn Park. 
*IgboFest returns in 2022!
42. At the Guthrie Theater, anyone is welcome to tour the public spaces inside the building, including the endless bridge and the Amber Room with a glass floor. The building re-opens to the public on July 8.
43. Learn about the history of Landmark Center by taking a FREE public tour.
*Currently, guided tours are suspended, but self-guided tours are available.
44. Take a tour of the historical Cathedral of Saint Paul.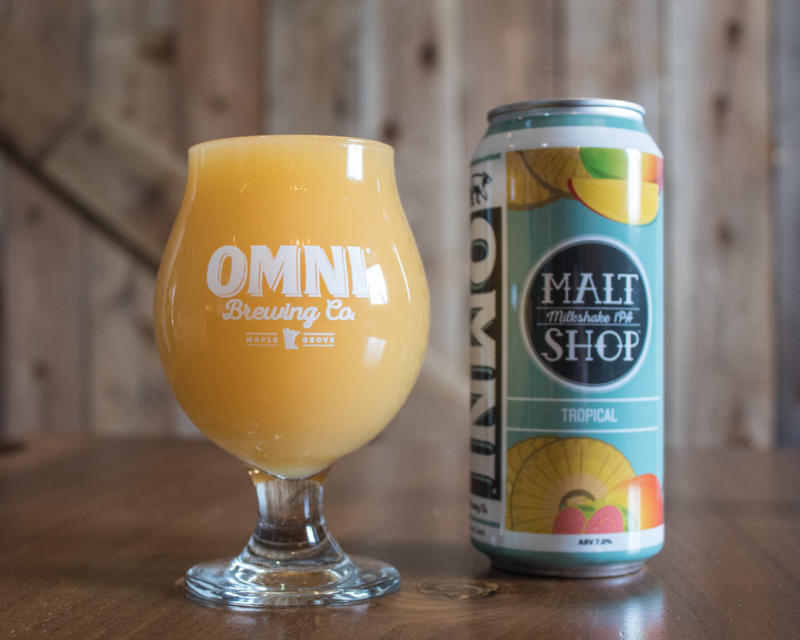 45. The Twin Cities have become a hopping beer destination. We recommend you purchase a Minneapolis/St. Paul Pub Pass, which then gives you a FREE beer at 25 local breweries, including OMNI Brewing, Co. in Maple Grove.
46. Spend a day at Twin Cities World Refugee Day in Brooklyn Center celebrating the culture refugees bring to Minnesota, with entertainment, food, and other activities.
*This year's event is virtual; expect a return to in-person next year.
47. Watch harness horse racing at Running Aces Harness Park. Admission is always FREE, and the attraction is family friendly.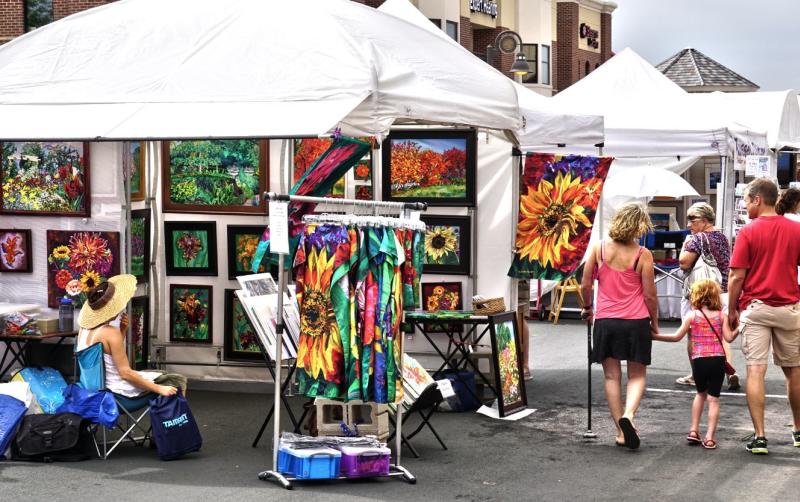 48. Attend the Arbor Lakes Art Fair at The Shoppes at Arbor Lakes during Maple Grove Days. Browse 20+ unique local artists and vendors, including ceramics, leather goods, photography, and much more.   
49. Celebrate authentic Irish heritage through a multitude of activities at the Irish Fair of Minnesota.
50. Drive the scenic West and East River Parkways. Both start in Minneapolis and follows you along the Mississippi River. West will lead you to Minnehaha Falls Regional Park and East leads to Saint Paul.