Pizza and beer go together like…pizza and beer. When the sun is shining and you're planning your weekend with friends, look no further than the pizza places and breweries in Minneapolis Northwest.
Let's start with our incredible array of slices.
Rocky Rococo Pizza & Pasta (Brooklyn Park) needs to be on your list. The pizza dough is made fresh daily and is turned into good old-fashioned, pan-style pizza (meaning the crust is something you can enjoy all by itself.) The legendary, hand-pattied Italian sausage is my favorite topping, but they've got plenty of others if you don't like legends. There are also delicious Italian breadsticks, a salad bar, build your own pasta, and thin crust pizza.
Punch Neapolitan Pizza (Maple Grove) utilizes a centuries-old technique that the original Neapolitan masters used to create truly tasty pizza. These divine pies are fired in a 900-degree wood-burning oven giving the crust that authentic flavor that sets them apart. Get a Margherita D.O.C. with your choice of toppings and your taste buds will thank you. However, the Punch Salad and the Chopped Italian Salad are masterpieces (you can share for a pre-pizza treat or inhale the whole thing by yourself. It's easy to do.)
Pig Ate My Pizza (Robbinsdale) is award-winning (Time Magazine named it one of the 10 best pizza places in the country in 2015) and creative. The Hot Ghandi will have you happily sweating and the Piggy Pie (meat lovers on a brioche crust) will change your life forever (I mean it. FOREVER.) These pizzas are the perfect size to order multiples and share with a group or to devour all on your own (no judgment.) The menu changes as new pizzas are created or fan favorites are brought back, but you can't go wrong with any of them. Plus, there are fabulous starters and desserts that you need to try. Immediately.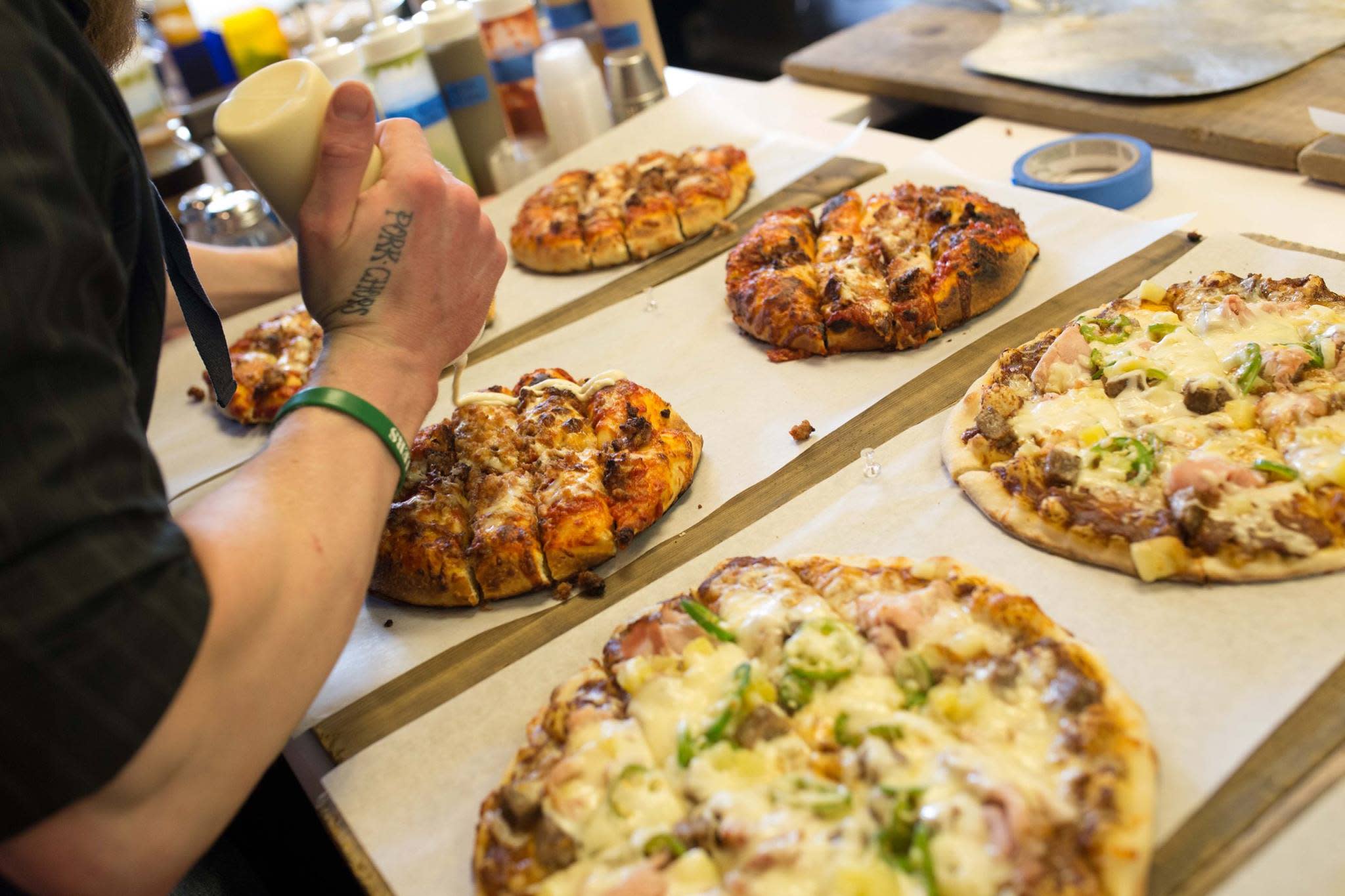 Pieology (Maple Grove) wants to feed your imagination. With 78 billion flavor combinations (3 kinds of crusts, 7 sauces, 6 cheeses, 7 meats, 16 veggie toppings, and 5 "drizzles") you customize your pizza with any topping or sauce you desire and they'll fire it up and have it cooked for you in five minutes. Sounds like heaven, right? It is. It's the Chipotle of pizza and all you need to do is dream it up and eat it.
Chanticlear Pizza Grill (Maple Grove) has declared "The Pizza Is King" and that shows in their quality ingredients and dedication to serving you the best pizza. Sit down and enjoy not only pizza, but a fantastic buffet featuring soups and pastas with made-from-scratch ingredients. Bring your friends and feast while watching your favorite team on one of the many TVs stationed around the restaurant.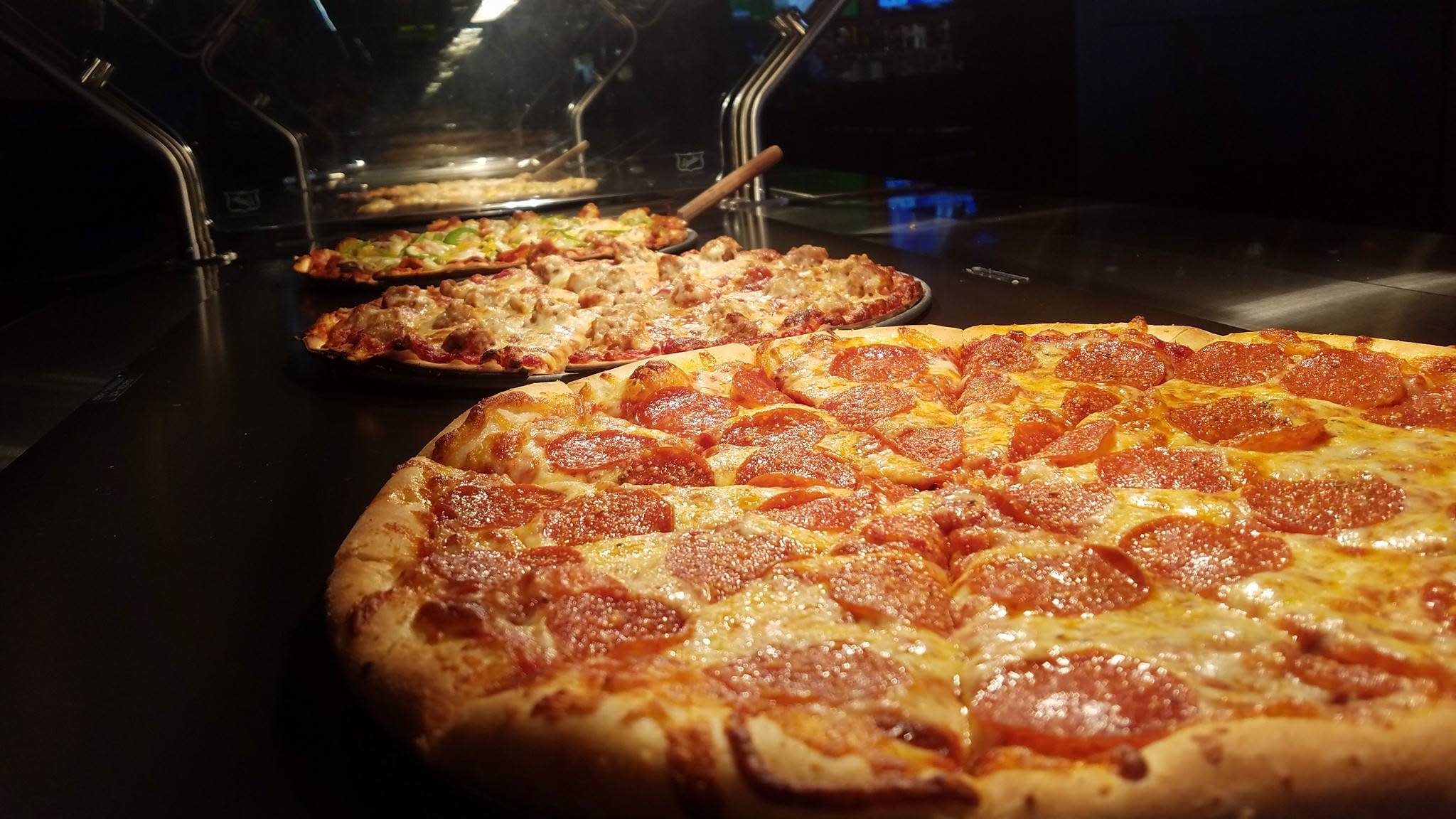 Need something to wash down all that amazing pizza? Well, what do we have here? Beer! Yes, some of the pizza places serve alcohol, but our breweries can't be beat (or missed.)
OMNI Brewing Co. (Maple Grove) has a beer for everyone, whether you prefer IPAs or a mild brew. Try the Lake Day, "A tasty standby for all kinds of people" or a warm, delicious Omnipotent and pull up a chair inside on a rainy day or on the awesome patio when the weather gets sunny and warm. It's a great place to gather with friends after work or on the weekend, with games and camaraderie for everyone.
Wicked Wort Brewing Company (Robbinsdale) prides itself on being a comfortable place for adults to kick back and enjoy freshly crafted malt beers. Try their seasonals (because they are always incredible) or ask for a Birdtown Blonde Ale or the surprisingly light Old Sport London Brown Ale to get started. Enjoy the company and fun atmosphere, indoors or out. Fun fact? Pig Ate My Pizza delivers here!
Granite City Food & Brewery (Maple Grove) is of course known for delicious food, but the craft beer is exceptional. With six regulars on tap and a variety of seasonal brews featured throughout the year, you'll have a tough time choosing just one (which makes a flight a solid decision). If that doesn't work for you try The Northern, and American Lager, or if you can handle it, the Batch 1000, a double IPA.
Cheers!
If you ever eat too much pizza, we have a wide variety of fantastic hotels that would love to help you relax!
Stay up to date on the all the great things happening in Minneapolis Northwest and check out our event calendar.