Chalkfest at Arbor Lakes 2021
Saturday - Monday, September 4 - 6, 2021
During Chalkfest at Arbor Lakes, talented artists from around the world pour into Minneapolis Northwest to transform Arbor Lakes into one of the largest street art festivals in the Midwest. Join the fun during this year's special Labor Day Weekend event, which combines in-person and virtual components to ensure everyone can enjoy the art while feeling safe. Artists begin their artistic process on Saturday and finish their masterpieces on Sunday. Chalkfest at Arbor Lakes also features an in-person Mural Project with large murals scattered throughout Maple Grove. The Mural Tour is available through Sept. 30!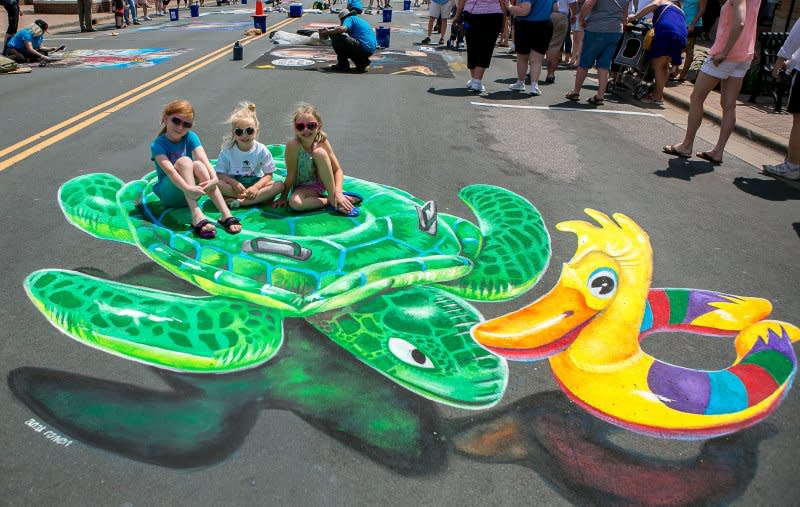 We're excited to welcome back Chalkfest at Arbor Lakes is for its sixth year! Watch supremely talented artists as they progress on their artwork on Main Street in Maple Grove. Here is everything you need to know!
From 10 a.m. to 5 p.m. Saturday and Sunday, September 4 and 5, artists will create their chalk masterpieces - everything from classic portraits and humorous scenes to your favorite pop culture characters and whacky 3D creations. Watch with your family and check in throughout the day to see the progress unfold. Then cast your vote for the People's Choice Award.
Chalkfest at Arbor Lakes is also bringing back its Mural Tour that features large murals scattered throughout Maple Grove, including The Shoppes at Arbor Lakes and The Fountains at Arbor Lakes. CLICK HERE to view the location map, then view the murals at your own pace. 
Chalkfest brings out the best in peoples' imagination and creativity. Don't be surprised if you're inspired to create a chalk masterpiece of your own on your driveway or sidewalk! Head to the Chalkfest at Arbor Lakes webpage and Facebook page to follow the action.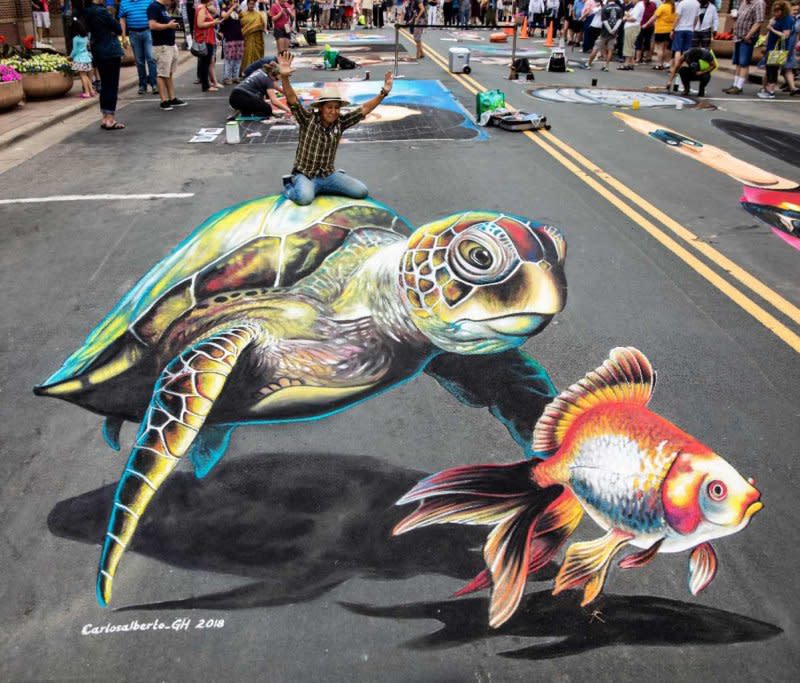 Fun for All Ages
Take a look at some of the wonderful chalk art pieces from previous years and just imagine what it's like seeing these works of art up close and in person. Inspiring and engaging for people of all ages, Chalkfest at Arbor Lakes is a summer event not to be missed. Past years have included extra activities for kids and families, such as bean bag toss, raffles and a public chalking area.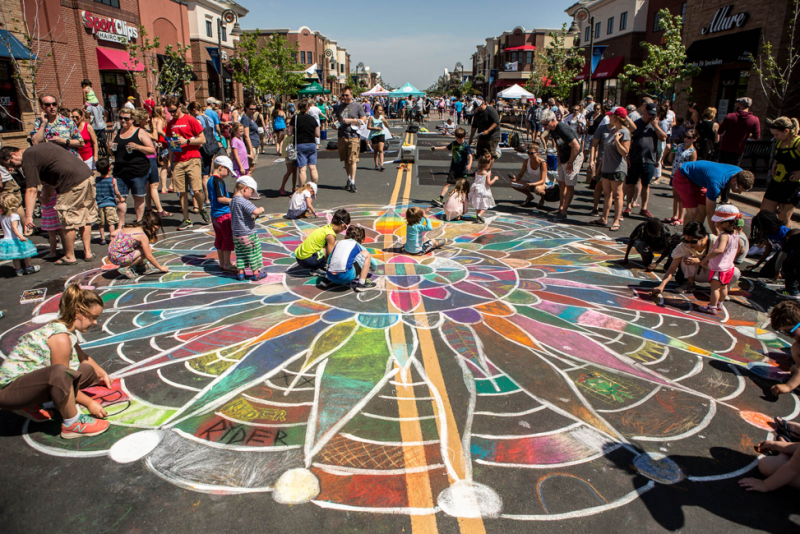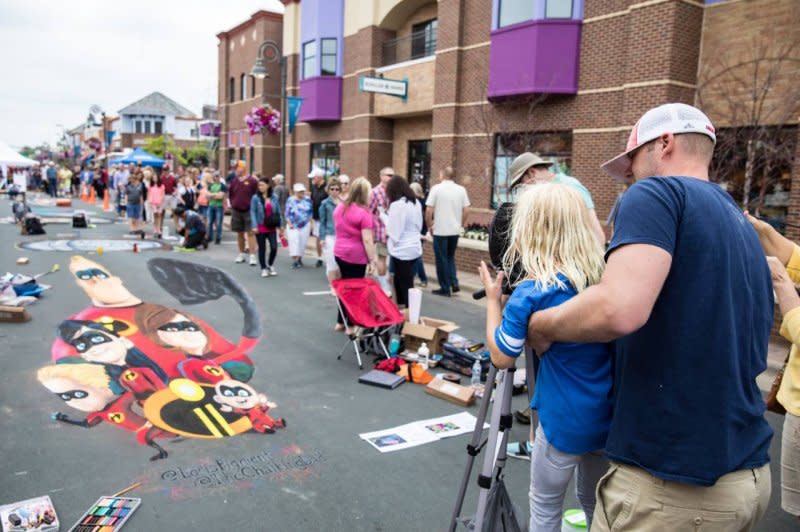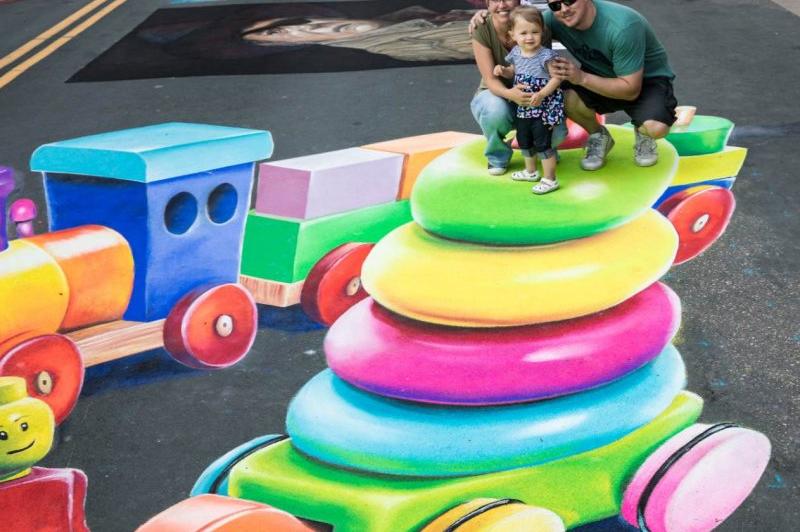 Artists enjoy talking about their work and are happy to converse and answer any questions you have as they finish their projects. In 2021, be sure to take lots of photos, because after 5 p.m. on Monday, everything is washed away by power sprayers!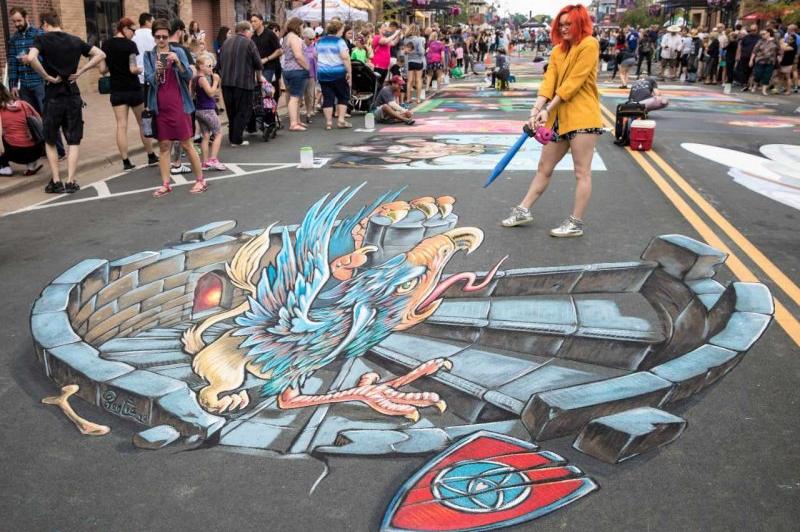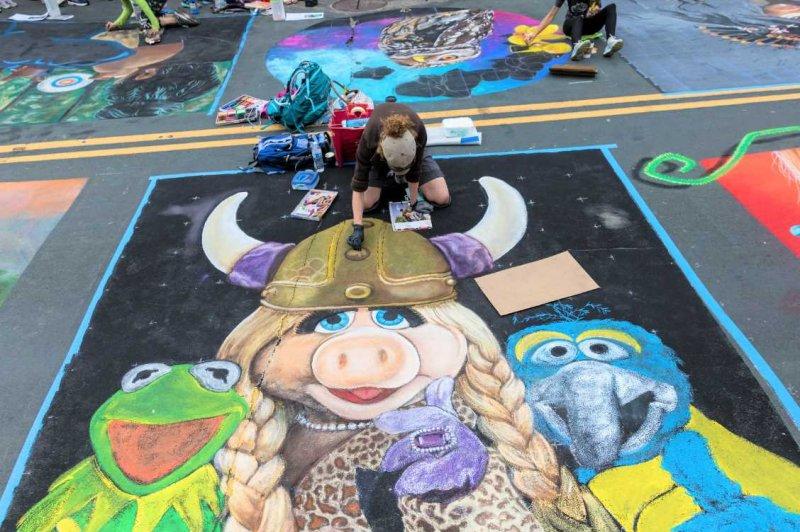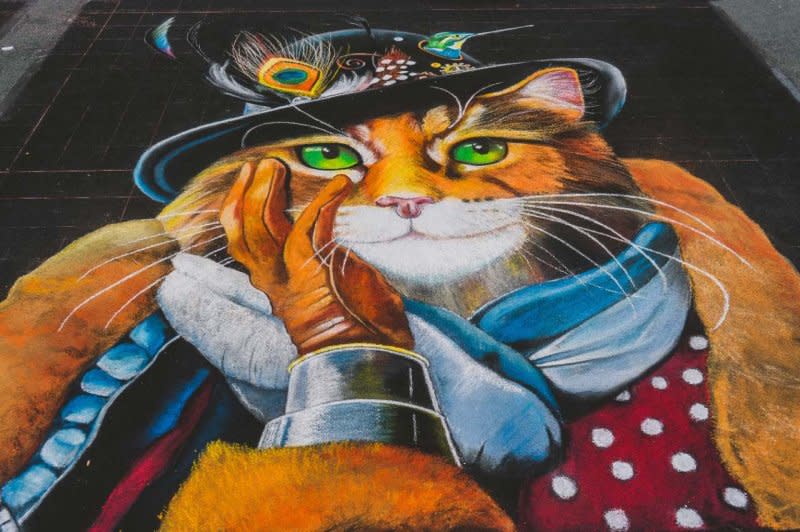 Where to Eat and Drink
You'll probably work up an appetite during Chalkfest at Arbor Lakes. Traditionally, the event features several food trucks for convenient grab-and-go options. But Main Street in Maple Grove is also "chalk" full of places to eat, drink and enjoy time relaxing outside. Popular take-out along the street includes Five Guys, Panera Bread, The Great Greek Mediterranean Grill, Cold Stone Creamery, Leeann Chin, and Noodles & Company. Several fantastic full-service restaurants that are just steps away from the action include:
Venture a little further out for great eateries like The Lookout Bar & Grill with its giant patio and delicious barbeque, Brick & Bourbon with its chic atmosphere and craft cocktails, and Malone's Bar & Grill for excellent wings, burgers, and sandwiches. 
Where to Stay
Chalkfest at Arbor Lakes attracts visitors from all over the Midwest. Whether you're a family with kids, a solo traveler, or traveling with a group of friends or budding artists, there are many lodging properties in the Arbor Lakes area within walking distance of the big event. The two hotels closest to the action are the Staybridge Suites and Hampton Inn. A few blocks further out are properties located in the heart of The Shoppes at Arbor Lakes and The Fountains at Arbor Lakes. ALL area hotels include FREE parking. 
Explore all Maple Grove Hotels for a comfortable and convenient night's stay during Chalkfest at Arbor Lakes!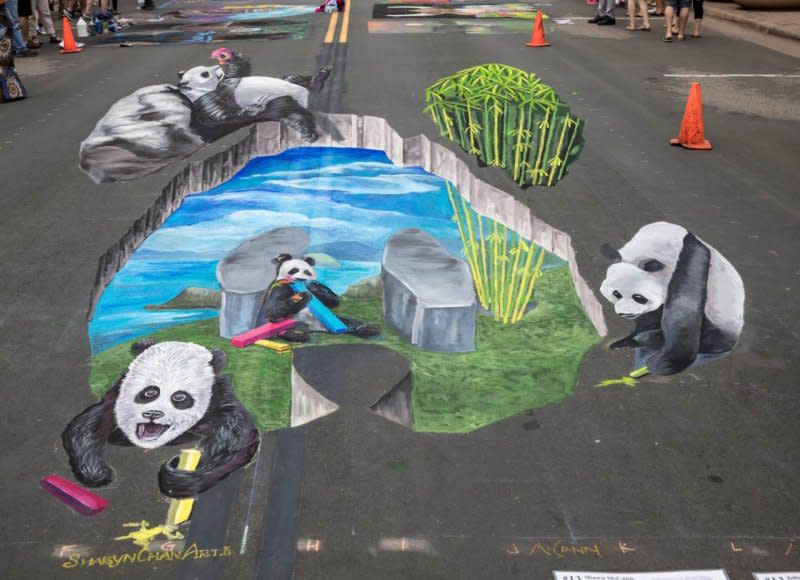 History of Chalkfest at Arbor Lakes
Chalkfest at Arbor Lakes' Artist-in-Residence Shawn McCann helped start the event in 2016 after years of participating in chalk art festivals around the country. He knew the Twin Cities, with its great appreciation of arts and culture, would be a perfect spot for a large chalk art event. Shawn was one of 14 artists handpicked to participate in the March 2018 Dubai Canvas 3D Art Festival, one of the most prestigious art festivals in the world. He and other artists part of Dubai Canvas will be at Chalkfest this year, and you won't want to miss what their imaginations and talents come up with. 
We want to see how your family enjoys Chalkfest this year! Share with us on Facebook, Twitter and Instagram using the hashtag #WeLoveMNW and #ChalkfestatArborLakes.