Green Beer Galore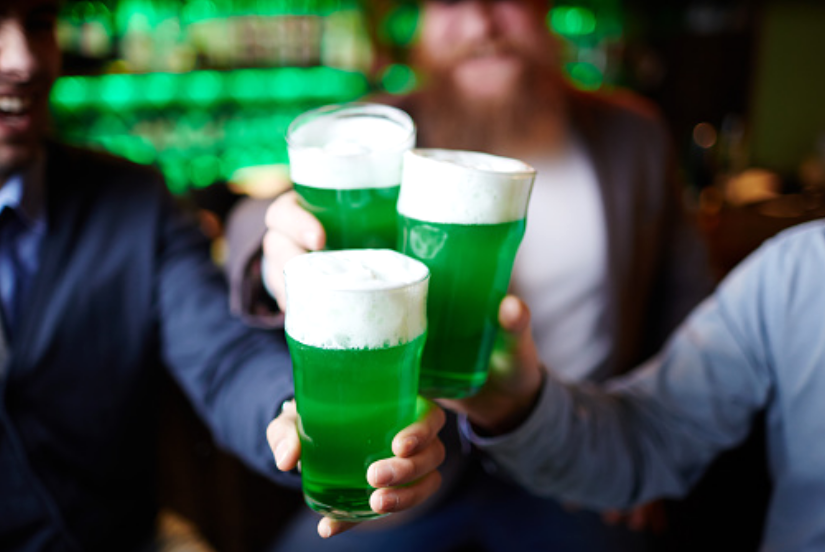 Minnesota ranks in the top 15 of states with the most craft breweries per capita and with breweries opening each year in the Twin Cities, there's always a new place to explore! We've gathered some of our favorite breweries in the northwest metro to grab a golden or green beer to celebrate St. Patrick's Day. If you really have your heart set on a beer that's green, we recommend that you call ahead and make sure they haven't run out of the green stuff. Also, we always recommend having a designated driver or call for a ride share when exploring our fine establishments. 
M.C.'s Tap House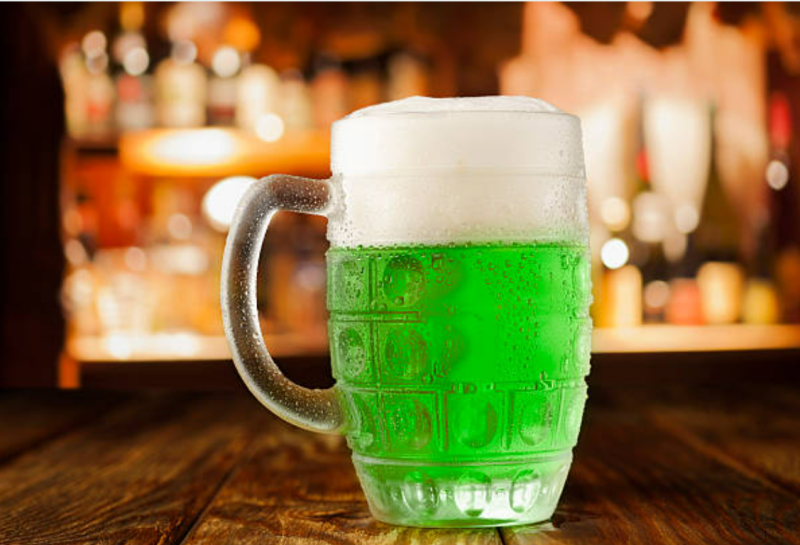 You're sure to find a green beer at M.C.'s Tap House in Brooklyn Park and great food too! All of the ingredients come from local farms within 300 miles of the restaurant. The restaurant offers a varied and delicious menu with appetizers, salads, sandwiches, street tacos, burgers, flatbreads, entrees, and an awesome selection of taps. Lots of TV's are inside so you can catch all the sports action. There's also a party room you can book for your group. M.C.'s is part of the locally owned and operated Muddy Cow group.
OMNI Brewing Co.

OMNI Brewing Co. is one of our favorite places in the area. To celebrate St. Patrick's Day they are holding their first annual St. Patrick's Day Party on Saturday, March 19th, 2022. 
The brewery's philosophy is the word "omni" - meaning "all, every, of every kind," or essentially, a beer for everyone. OMNI lives up to its name with a menu full of taps to fit any flavor profile, from clean and crisp to hoppy, or sour to dark and malty. There's also a seasonal rotating list with an American lager, golden ale, a wide selection of IPAs, brown or scotch ales and several stouts. We're sure you'll be able find your favorite beer in shamrock green for St. Patrick's Day.  
10K Brewing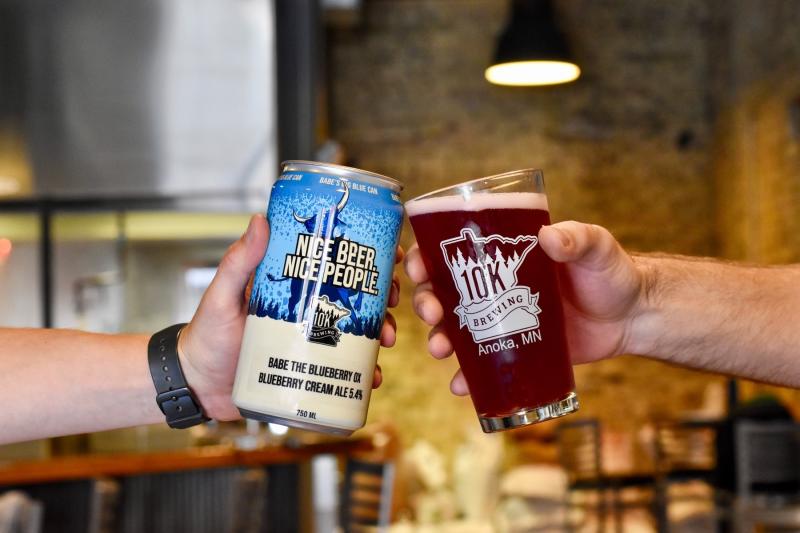 Photo Credit: 10K Brewing
10K Brewing is 100% independently owned and operated, and every recipe is one-of-a-kind. Located a block from the Rum River in historic downtown Anoka, this brewery is a little slice of heaven surrounded by antique shops, a wine bar, a historic hotel, and dessert shops. 
The name of the brewery is a constant reminder of their mission and values: Our beer is "Brewed in the Land of 10K Lakes", and that means something to us. It means Minnesota values. "Nice Beer. Nice People." 10K Brewing's brew system is 3 barrels in size, which is small in comparison to other craft breweries. Keeping the system small allows the brewer to handcraft each beer to create truly unique batches. With a rotating selection of beer on tap in the taproom, 10K is brewing something different each week, so at each visit you can try fresh new beers.
There's a cozy taproom and the expansive beer list covers all the genres, including light, balanced, malty, hoppy, dark, fruity, funky and sour. For something light, you can't go wrong with the Northwoods Blonde, an easy-drinking Belgian Blonde Ale. For something balanced and unapologetically Minnesotan, try the You Betcha' Amber Ale, a red ale with the perfect balance between hops and toasted malt undertones. 
Wicked Wort Brewing Company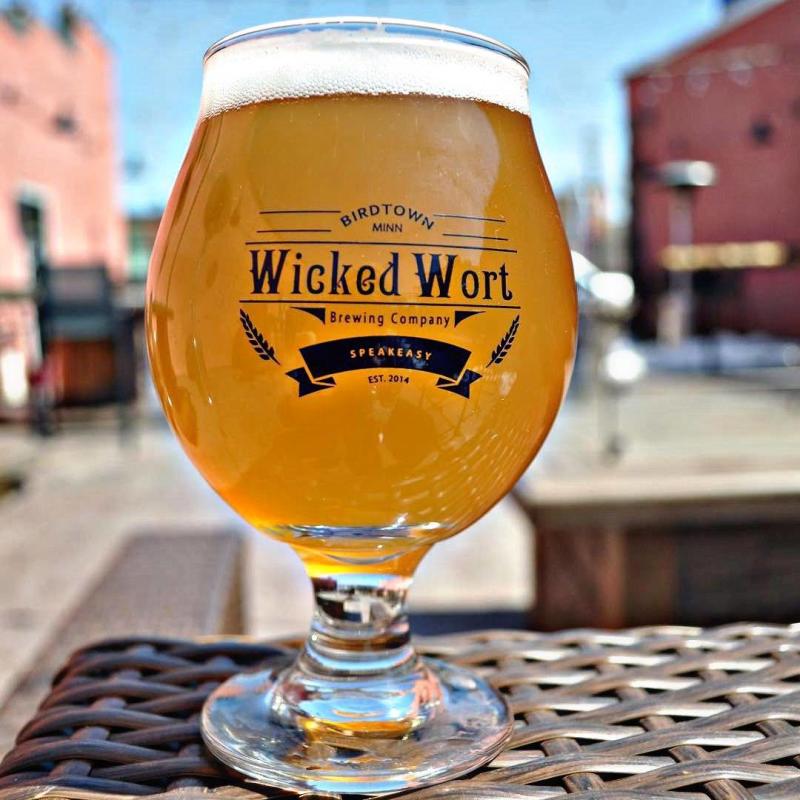 Photo Credit: Wicked Wort Brewing Company
Wicked Wort Brewing Company is a destination tap room located in Robbinsdale. It opened in 2014 with a 10-barrel system providing 10 deliciously malted craft beers at all times. This family-owned brewery includes a small bar with 10 tap handles, and a larger bar with 30 tap handles, an event center, a dog-friendly patio, and plenty of space for live music and festive gatherings. The taproom also features two unique bars from the 1930s and '40s, which gives the space a cool speakeasy vibe. Come hungry and enjoy the snack menu with Polish sausage, jumbo pretzels, and pulled pork sandwiches.
There's never a dull moment at Wicked Wort. Stop by on a Sunday for their Bend + Brew yoga series, enjoy an authentic Minnesotan experience at a Wednesday meat raffle, or be entertained by their variety of live music and open mic nights. If that's not enough, enter a cribbage tournament or purse bingo. On Sundays, Wicked Wort offers Beer & Breakfast. Get a free beer, mimosa or bloody Mary when you order from the breakfast menu: two eggs any style with sides, biscuits and gravy, or pancakes.
Forgotten Star Brewing Co.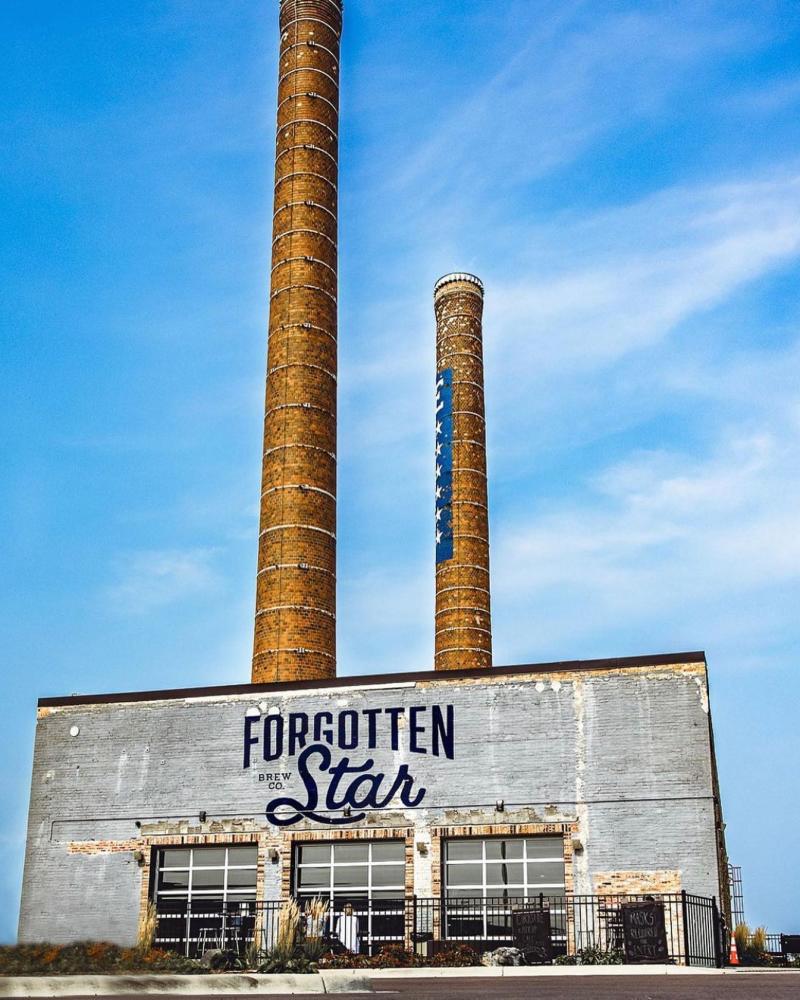 Photo Credit: Forgotten Star Brewing Co.
Historic, industrial, and inviting are just a few ways to describe the unique atmosphere at Forgotten Star Brewing Co., Fridley's first brewery. Located in the historic Northern Pump Company Building with two eye-catching smokestacks, the space encompasses the timelessness and tradition of the area.
Marked by tap handles that resemble the building's iconic smokestacks, each of Forgotten Star's beers pays tribute to the building's rich history and geography, like the Northstar Cream Ale, named after the North Star train line that runs nearby. This refreshing brew is a lawnmower beer with more character than your typical American lager. Brewed with 100% Minnesotan ingredients, it's light-bodied and assertively carbonated, bready with mild citrus and floral hop profile. And what says spring better than a little Liquid Sunshine?! This Belgian Session is a fairly simple beer that showcases Belgian yeast with banana and clove. This signature brew is offered in a variety of styles with fruit flavors.
Invictus Brewing Co.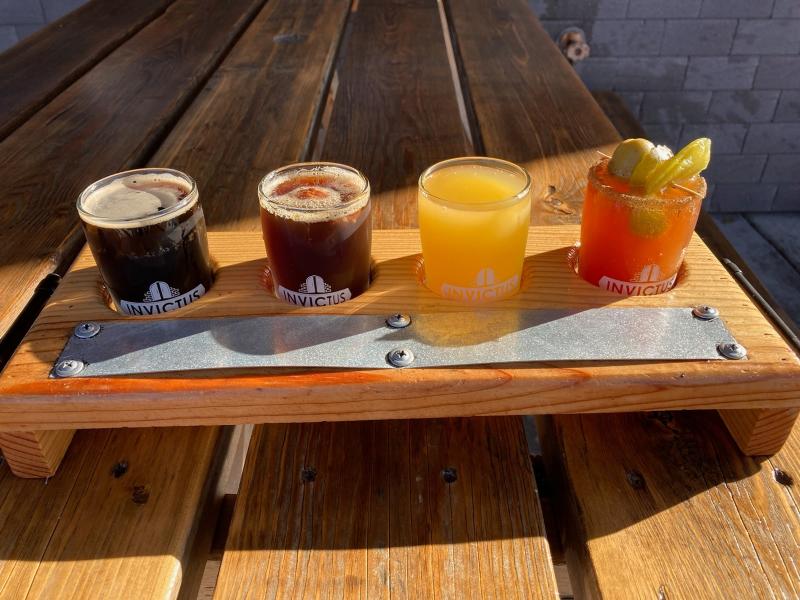 Photo Credit: Invictus Brewing Co.
Head over to Blaine and check out Invictus Brewing Co., located next to the National Sports Center in Blaine. Here you can enjoy refreshing brews like the Beautiful Buzz, a blonde ale featuring additions of lemon peel and local honey from Bar Bell Bee Ranch, and Apple Shine, a dry, crisp, and effervescent apple ale. Stop by Sunday morning for a brunch flight featuring four beers: Henley's Porter infused with Cold Press Coffee, Kolsch Bloody Mary, Sweet Tango Mango Mimosa, and Chocolate Raspberry Rollercoaster Russian Imperial Stout garnished with a fresh raspberry. Invictus recently started their own line of hard seltzers called Alma, featuring the flavors of Moscow Mule, mango, watermelon and raspberry.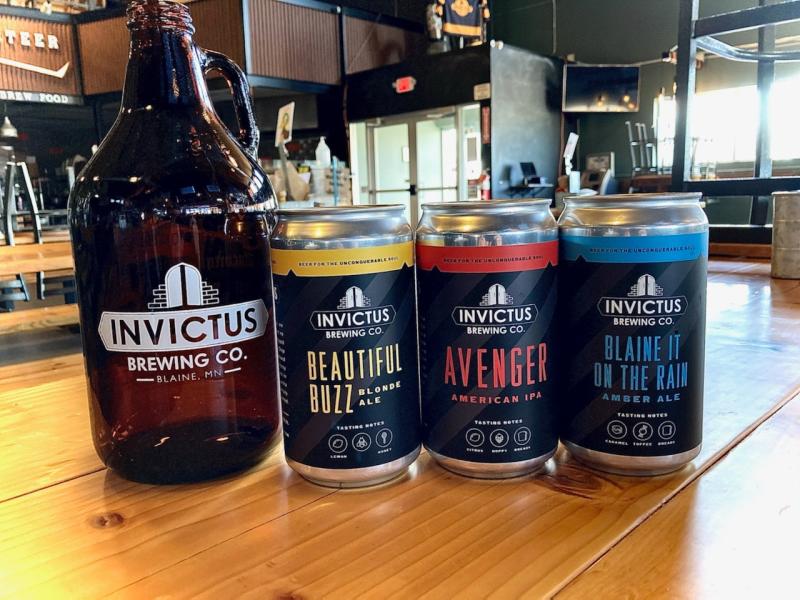 Photo Credit: Invictus Brewing Co.
Invictus is unique in that it shares its brewing space with The Tipsy Steer, which offers local and sassy brew food. The exceptional chef-inspired menu showcases locally sourced beef, dairy, produce and hormone-free natural chicken. The brick oven-fired pizza, street-style tacos and hand-pattied burgers often steal the show, but there are plenty of other options for your group, like the Nashville Fried Chicken Sandwich and the deep-fried pub pretzels. 
More Breweries Nearby to Find a Green Beer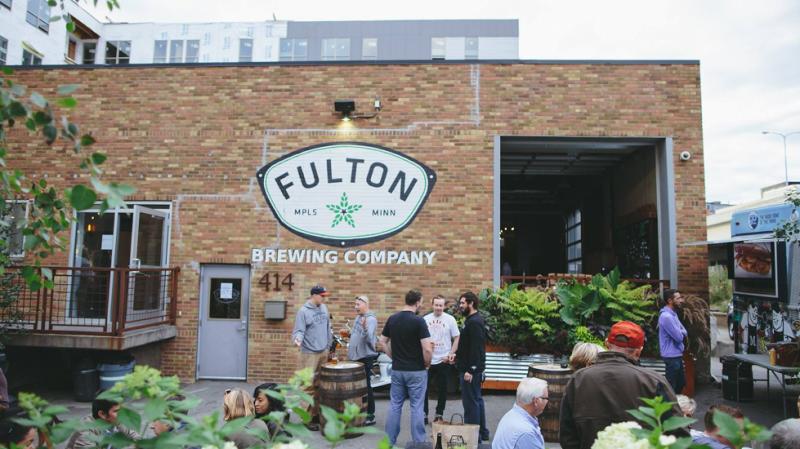 Photo Credit: Fulton Brewing Company
There's really no end to the brewery adventures to explore in and near Minneapolis Northwest. Hit the road and take a short drive to Northeast Minneapolis where you can sample a plethora of trendy breweries. Enjoy a refreshing cider at Sociable Cider Werks, be a lounge wizard on at Bauhaus Brew Labs with the Lounge Wizard Juicy Pale Ale, and be a day-tripper at Indeed Brewing, with their signature Day Tripper Pale Ale, made with notes of grapefruit and marmalade. Just a hop and skip away in the North Loop you'll find plenty of great options like Fulton Brewing Company's classic Lonely Blonde, and Number 12 Cider's unique rotation of sweet and dry ciders.
Share your brewery escapades with us on Facebook, Twitter and Instagram with the hashtag #WeLoveMNW!