Golf enthusiasts of all ages and skill levels – or those just looking for a fun night out – can enjoy a new entertainment destination in Minneapolis Northwest! It's the perfect location for an exciting evening with friends or for your next big event!
Topgolf, the all-weather sports entertainment destination, just opened its first Minnesota location and it's right here in Minneapolis Northwest! The Brooklyn Center location features more than 100 climate-controlled hitting bays with balls tracked by data-absorbing microchips, on-field targets that light up at night and pulse to the music, as well as a full-service restaurant, bars, private spaces and meeting rooms, a rooftop terrace with a fire pit and more than 200 HDTVs. It's the ultimate all-season golf experience!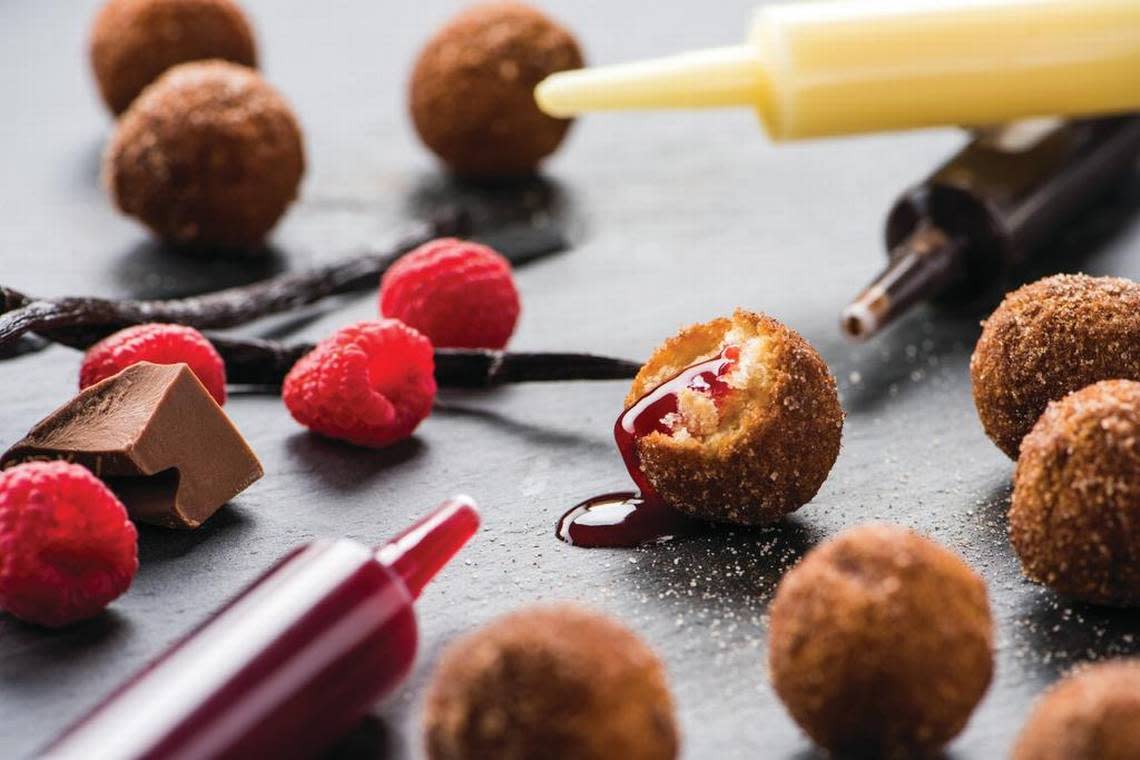 The new three-level, 65,000-square-foot entertainment complex uses technology to make golf more fun and engaging. Topgolf blends technology and entertainment to create an experience that makes socializing a sport for everyone, including golfers and non-golfers, both children and adults. Through the premium experience of play, music, as well as food and beverage, Topgolf inspires people of all ages and skill levels to come together for playful competition.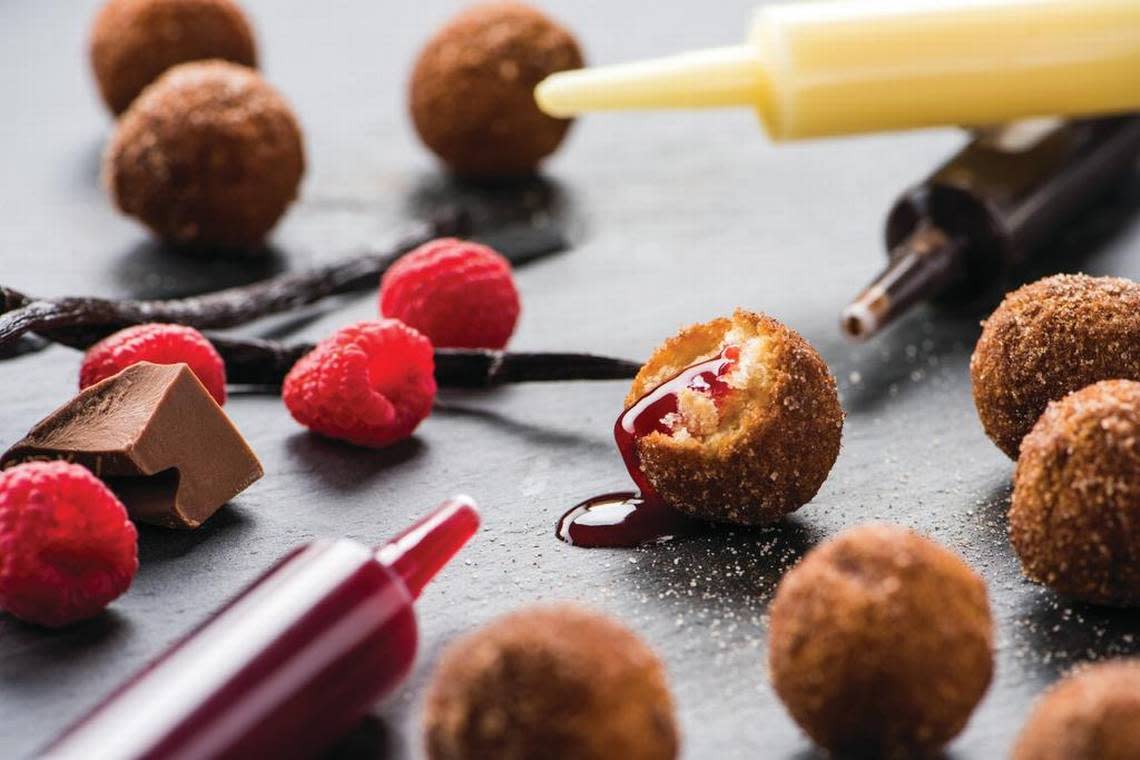 Tee Off!
Topgolf offers a variety of games for players of all abilities using the data-absorbing microchips in the golf balls. During Topgolf, its signature game, players score points by hitting balls into any target. The more accurate your shot and the farther the distance, the more points you earn. Try the newest game, Quick9, a speedy game of accuracy and fun where you get three shots each at the red, yellow and green targets and the last shot at each target earns double points. If you've got a mix of beginner and experienced golfers, find common ground with a round of TopScramble. Players are split into teams and the best score on each ball is used as the score for the team. For fans of the short game or those with short attention spans, TopChip is the game of choice. This game uses just the red target (five shots), yellow target (five shots) and green target (10 shots.) Hit the correct target and you'll score points, but hit the wrong one and see your points disappear.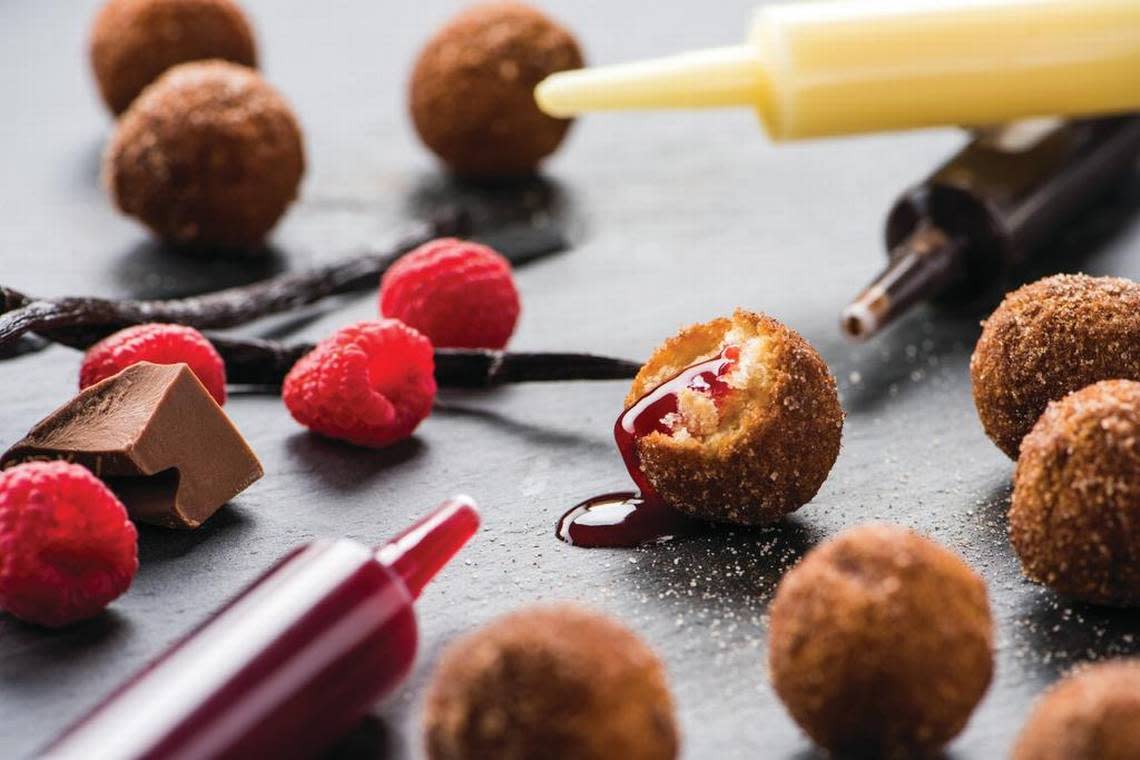 The experienced golfer can challenge themselves at TopPressure or TopDrive. Then test your touch and accuracy by hitting all nine sections within the yellow target in TopPressure. After you finish the first level, point values multiply during levels two and three, but be careful not to hit the same section twice or you'll lose points. Flex your muscles and test your strength as you take aim at the farthest targets in TopDrive. Not for the faint of heart, this game challenges even the most experienced and powerful drivers.
Bonus! If you score at least 30 points in TopPressure or more than 100 points in Topgolf, you'll be able to select TopPressure Advanced on your next visit.
Year-round programming includes events for kids and families, social leagues, groups, golf tournaments and lessons, along with classes for those looking to improve their game, both kids and adults.
Eat, Drink & Be Merry!
Topgolf offers more than your typical clubhouse fare. The Topgolf menu features fresh twists on American classics, local specialties and brews, plus unexpected new creations like Injectable Donut Holes and Bacon Mac 'n' Cheese Spring Rolls.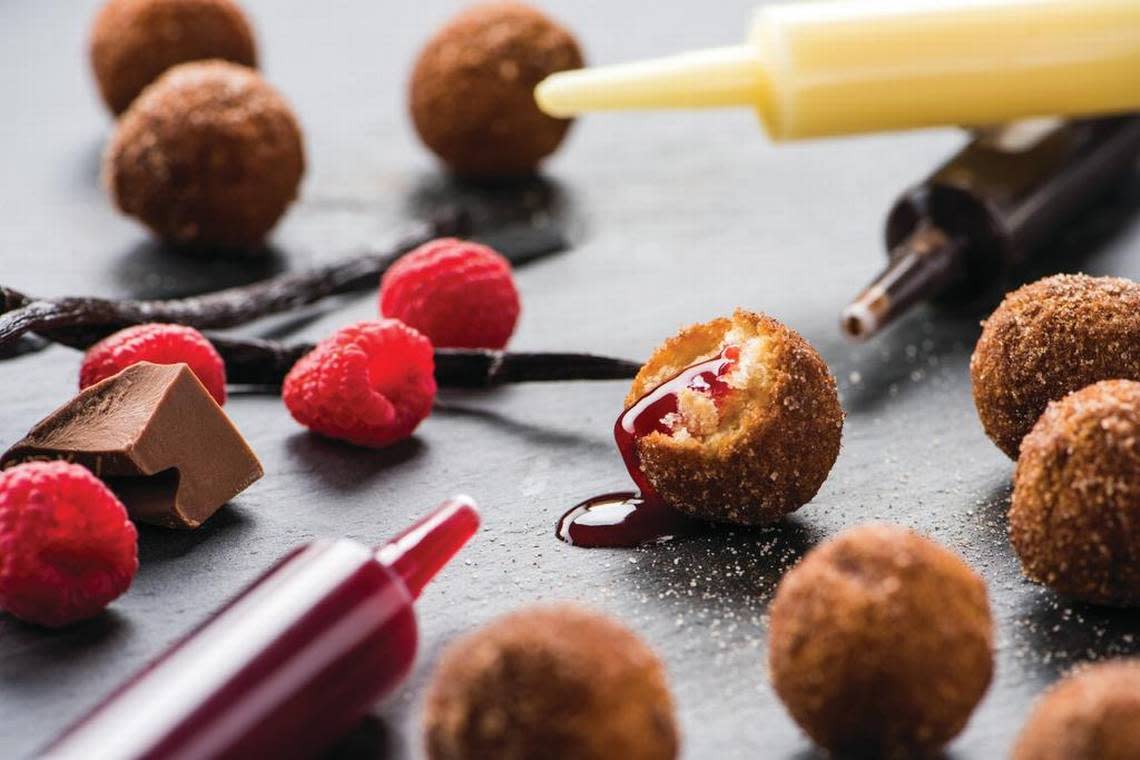 While you swing away, choose from an impressive collection of cocktails, beer and wine. You can sip on one of the special Golfbag drinks, shareable cocktails served in one of Topgolf's signature take-home mugs. Choose from the Pineapple Punch, Topgolf Marg, Topgolf Tea, Citrus Cabana and more delicious concoctions! For those who like it fruity, Topgolf offers a plethora of margaritas and sangria, highlighting the flavors of watermelon, mango and strawberry, alongside the classic margarita. Grab a spirited mule or classic drink like the Bulleit Old Fashioned, High West Manhattan, Moscow Mule, Kentucky Mule or Canadian Mule. For a delightfully savory sip, try the House Bloody Mary or Spicy Bloody Mary. Or, pick your poison from their wide variety of beers and wine.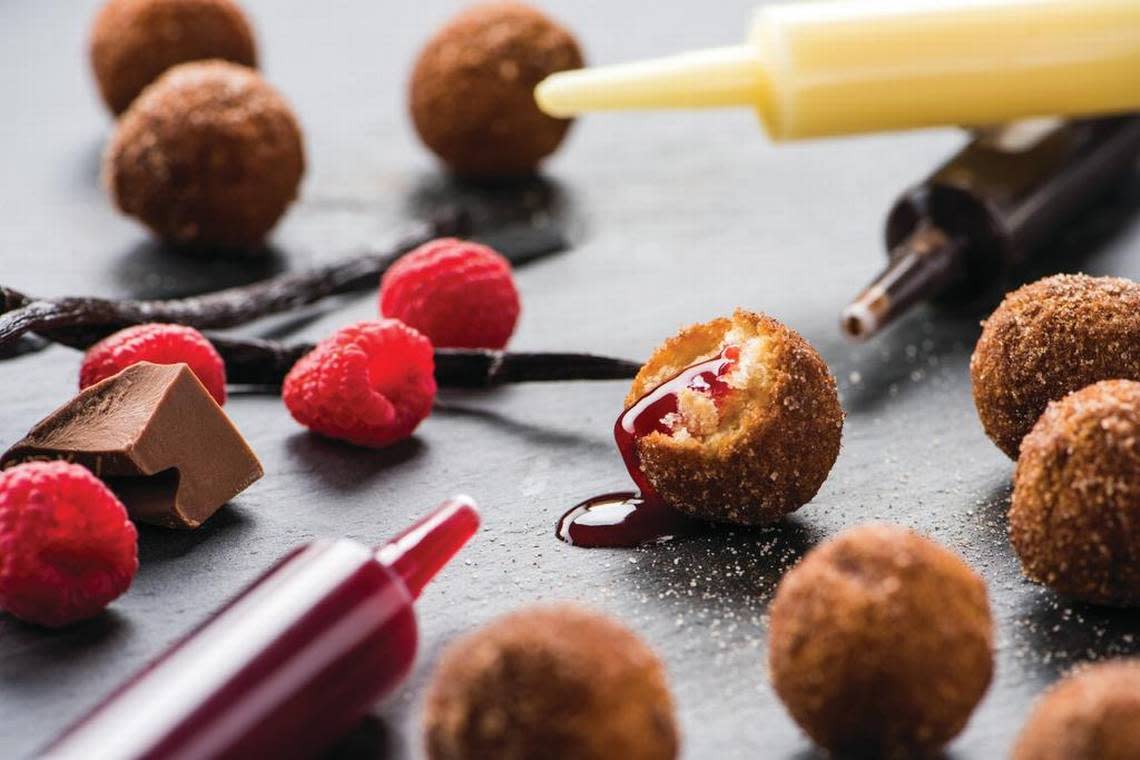 Kick off your dining adventure by sharing a Jumbo Pretzel Board, a giant pretzel filled with fruit, various meats and candied pecans, served with Pabst Blue Ribbon Cheese Sauce; or Bacon Mac 'n' Cheese Spring Rolls, filled with bacon and green chili mac 'n' cheese, and served with a side of ranch. For a truly unique starter, try Topgolf's exclusive Mushi, made up of cilantro sticky rice, drunken beans, spiced chicken, cheddar cheese, sour cream, avocado and sriracha hot sauce, served on a jalapeño tortilla. And you can't go wrong with its Grilled "Backyard" Wings and Signature Nachos.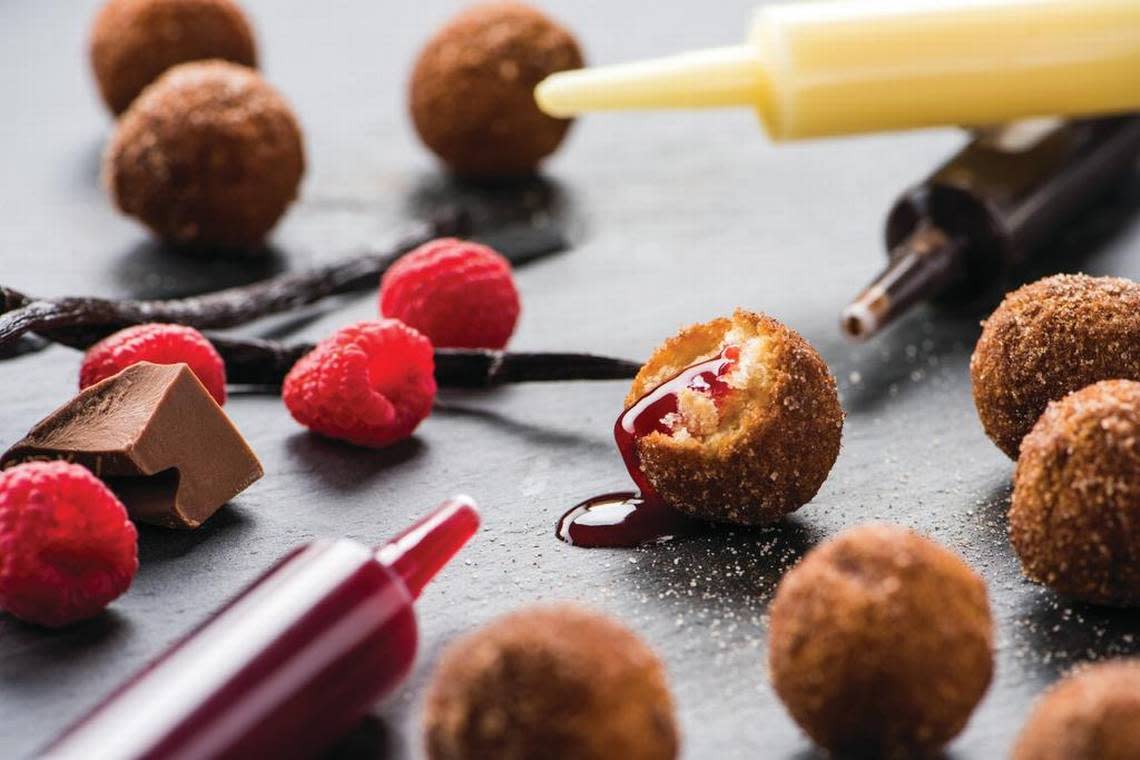 For the main course, choose from flatbreads, sliders, sandwiches, salads, and burgers. Grab a classic flatbread like pepperoni or buffalo chicken or try something more adventurous like the prosciutto, artichoke and olive or the ultimate breakfast flatbreads. Or devour some Chicken & Waffles or Pulled Pork Sliders! If you're craving a crustable, sample the Turkey Avocado Wrap, Brisket Grilled Cheese or the Fried or Grilled Chicken Sandwich. Head on down to burger town, and bite into the Sunrise Burger (You guessed it, a burger with bacon and a fried egg!), The Mac Daddy (That's right, a burger and mac'n'cheese in one!) or its special Veggie Burger. All sandwiches and burgers are served with your choice of French fries or tater tots.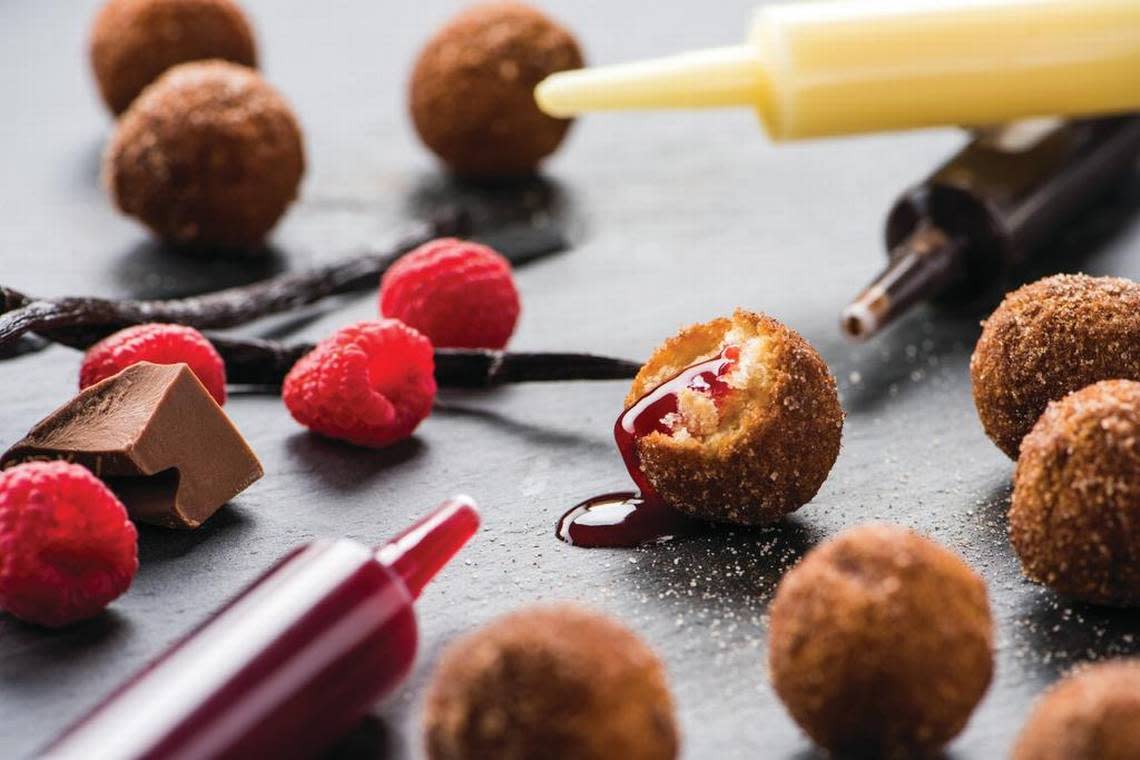 Don't forget to save some room for dessert! Choose from Silver Dollar S'Mores, a trio of marshmallow-filled chocolate chip sandwich cookies; or Injectable Donut Holes, 24 cinnamon-sugar dusted donut holes with the filling of your choice: chocolate, raspberry jelly or Bavarian cream.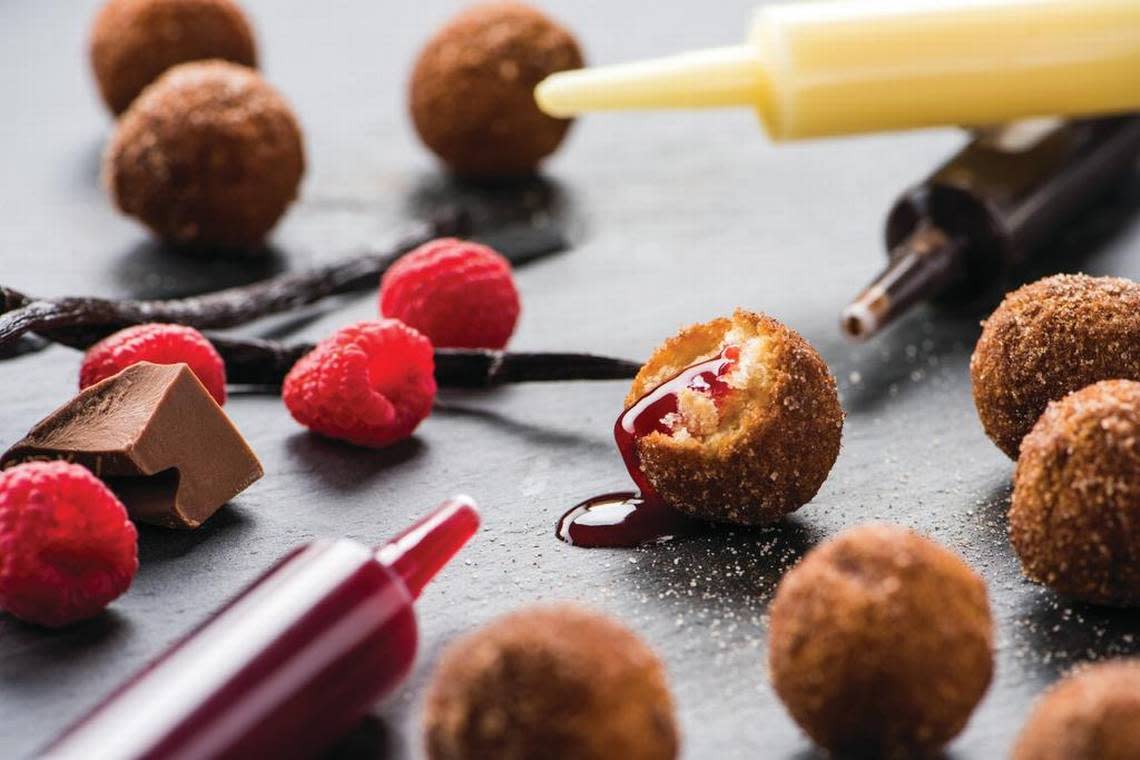 Start any morning or weekend afternoon right with a delectable brunch at Topgolf. If you're craving an indulgent brunch treat, try The G.O.A.T. (Greatest of All Time), which consists of caramelized French toast, Cap'n Crunch breaded fried chicken, over easy egg, chopped bacon, jalapeño gravy, maple syrup, green onion and Cholula. For a lighter option, munch on the Healthy Start Sandwich, a toasted English muffin with oven-roasted turkey, spinach, white cheddar, and fluffy egg whites, served with a side of fresh fruit. Add a brunch cocktail to complement any of these scrumptious options, with classics like mimosas, screwdrivers, bloody Marys and sangria. For a unique twist on the classic mimosa, sip on the Manmosa, a mix of Blue Moon Belgian White, Bollicini Prosecco and fresh orange juice.
Celebrate!
Topgolf is the perfect spot to host company events, large or small groups, kids and teen parties, and holiday gatherings.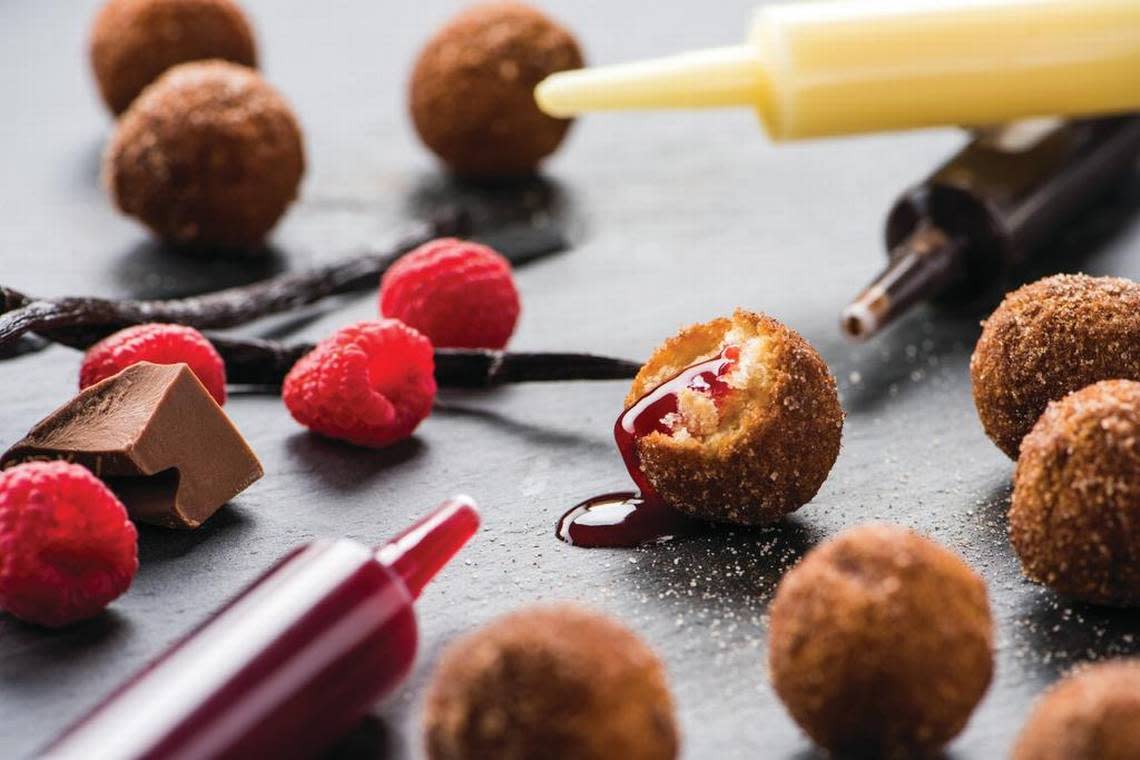 Entertain corporate clients and colleagues in a very non-corporate setting. Topgolf's all-inclusive packages include game play, food, drinks and a dedicated staff to make sure everything runs smoothly. That means you can stay focused on making sure your team has an awesome time.
Topgolf turns meeting planning into a piece of cake! With just a few clicks, you will be ready to go with two hours of unlimited game play in two bays, a menu fit for foodies, with its upbeat music, lively atmosphere and high-energy staff that breaks out into choreographed dance routines. Topgolf makes a great home for your next large gathering!
For more information about Topgolf, including corporate sponsorships, hospitality opportunities or to learn about and view exclusive digital content, please visit topgolf.com.
Expand your golfing adventure in Minneapolis Northwest with our two public Championship golf courses and other exciting traditional and not-so-traditional golfing opportunities. For more ideas, check out our page: The Grass is Greener Here… Golf On it.
What are some of your favorite golf courses in Minneapolis Northwest? Let us know about your golfing adventures by commenting on our Facebook, Twitter or Instagram pages with the hashtag #WeLoveMNW. You may even be featured on our website!