With the abundance of healthful options the Minneapolis Northwest area offers, planning health-conscious meetings have never been so easy. From outdoor activities to fantastic dining choices, the area presents a unique opportunity to incorporate wellness into a memorable event program. The following are some helpful tips to create healthier events that are chock-full of wellness aspects attendees will enjoy and appreciate.
Start With an Active-Centric Location
Location, location, location! What speaks to a wellness-focused program more than bringing the group outside to enjoy some activities? Minneapolis Northwest provides a plethora of incredible event spaces that support health-forward programming.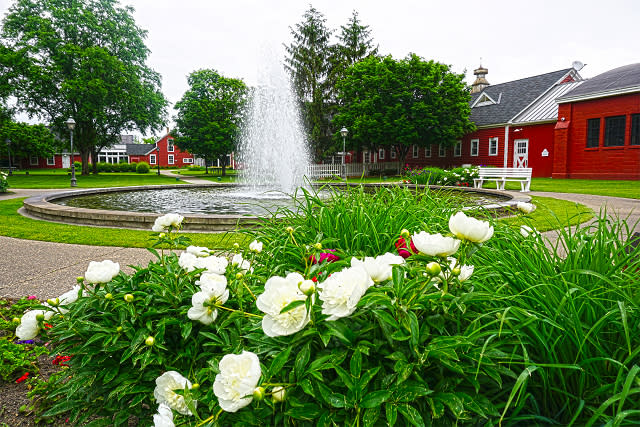 Start the day with yoga, meditation and fitness options in the morning. The Heritage Center is one meeting spot that boasts plentiful indoor and outdoor event areas, including more than 80,000 square feet of an outdoor courtyard—the perfect location for everything from outdoor yoga to relay races. In addition to indoor meeting spaces, Elm Creek Chalet at Elm Creek Park Reserve has outdoor activities including hiking, biking, archery, geocaching and much more. And the urban oasis Central Park in Maple Grove offers an expansive garden as well as games, such as bocce ball and pickleball. In the winter, groups will love its 810-foot-long ice-skating loop.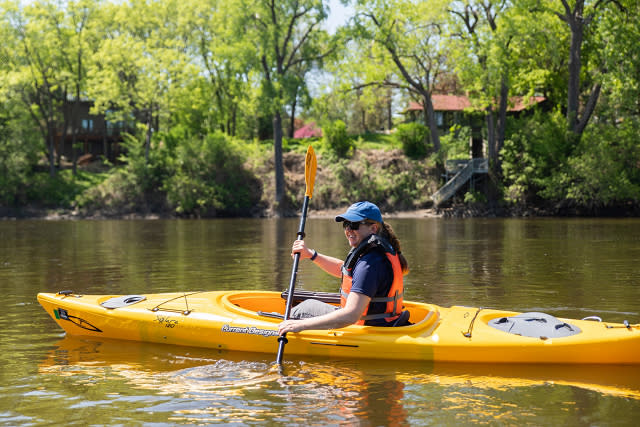 For a splashing good time, check out Fish Lake Regional Park, where groups can participate in kayaking, canoeing, stand-up paddleboarding and SUP Squatch, a unique 60-to-20-person paddleboard. The park also has a pavilion available for meetings, too. Or, consider a teambuilding kayak outing with Mississippi River Paddle Share at Coon Rapids Dam Regional Park (becoming Mississippi Gateway Regional Park), which also offers several open-air pavilion meeting spaces.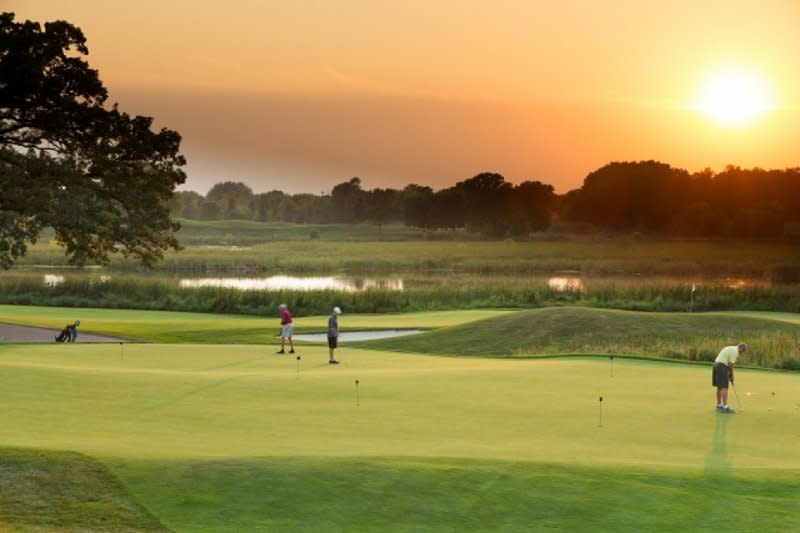 Looking for a hole-in-one wellness activity? Gather the group on the greens at one of Minneapolis Northwest's two championship courses, Edinburgh USA and Rush Creek Golf Club. Or, for a more casual game and entertainment-center atmosphere, tee off at Topgolf, an all-seasons venue that offers plenty of fun for groups.
Encourage Wellness Breaks
If a focus on exercise and outdoor activities doesn't quite jive with a group's agenda, there are still many ways to incorporate wellness into the day. When planning the flow of the event, don't forget to break for wellness! Instead of email breaks, consider including time to recharge both mind and body. One way to do this is to offer a five-minute meditation break. Encourage attendees to unplug—shutting laptops and putting away phones—and close their eyes to focus on their breath. Play some classical or spa music, or better yet, bring in a meditation instructor for guided meditations at key points throughout the day.
Speaking of guided breaks, an alternative to meditation is a movement-based "recess." This could focus on some simple stretching techniques, gentle tai chi (a Chinese martial art) moves to get the blood flowing or even a fun dance break. Turn up some tunes and encourage everyone to let loose for a song or two! Really, any kind of movement is going to do the body—and brain—some good.
Offer Healthier Food Options
Delicious, healthy food is the perfect complement to a wellness-conscious event. Provide guests with healthy snacks throughout the day as well as healthful options at every meal. Instead of the typical soda spread, offer fruit-infused water, fresh juice, tea and mocktail stations. Swap high-carb and sugary snacks, like chips and cookies, for energy-boosting food, such as fruit, granola, nuts, hummus or veggie sticks that help prevent fatigue.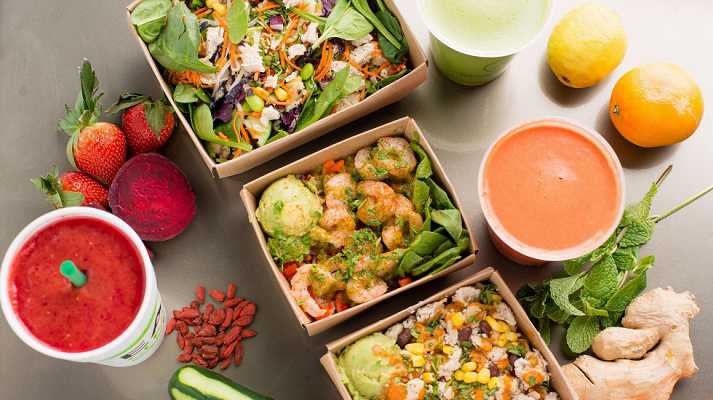 Feature meals focused on whole foods that incorporate fruits and vegetables, lean proteins and healthy grains. Minneapolis Northwest is filled with healthy dining and catering options. At The Heritage Center, the catering staff makes healthful eating easy by cooking everything from scratch for a fresh selection. For healthy, fast-casual fare, look no further than Grabbagreen, which serves bowls, such as the Mediterranean Sea filled with local chicken, cucumber, olives, feta and more goodness. The restaurant also has a variety of fresh-pressed juices and smoothies. Malone's Bar & Grill has plenty to offer in the healthy department, too, with menu items like the ahi poke bowl salad and the low-carb grilled salmon burger served with a side of fruit or broccoli. Plus, 3 Squares Restaurant's menu includes a beet salad with spinach, arugula, goat cheese and herb vinaigrette; a veggie burger made with black beans, spicy peppers and a spring mix; and a breakfast bowl with brown rice, black beans, charred tomato salsa, poached egg and sunflower seeds.
Another way to incorporate a healthy meal is to make cooking the teambuilding activity of the day. Lemon Grass Thai Cuisine, a Thai and sushi restaurant in Brooklyn Park, offers a variety of cooking classes. Here, food is made from scratch with farm-to-table produce and spices that are freshly ground. Plus, Lemon Grass Thai offer plenty of vegetarian options.
Incorporate Beneficial Surprises
Meetings require a lot of sitting and focusing. Give guests tools, such as fidget spinners (a toy that spins in your fingers) and stress balls, to help them release a little pent-up energy and concentrate.
Additionally, whether within the main meeting space or break areas, add some variety to the setup with standing tables, which allow attendees a chance to stretch their legs and burn a few extra calories while they're up.
And who doesn't love a little spa time? Bringing in massage therapists for a 10-minute back or foot rub is a nice bonus everyone will appreciate.
For more ideas for how to spice up your meetings, check out our Top Team-Building Activities in Minneapolis Northwest and some of the top meeting and event trends.