From humble Midwest roots, Shawn McCann has grown into an internationally known multi-media, multi-disciplinary artist who creates various forms of street art, fine art, murals, illustrations and commercial art. As co-founder and Artist-in-Residence of Chalkfest at Arbor Lakes, Shawn McCann reflects on his journey and gives an insider's look at one of the best street art festivals in the region.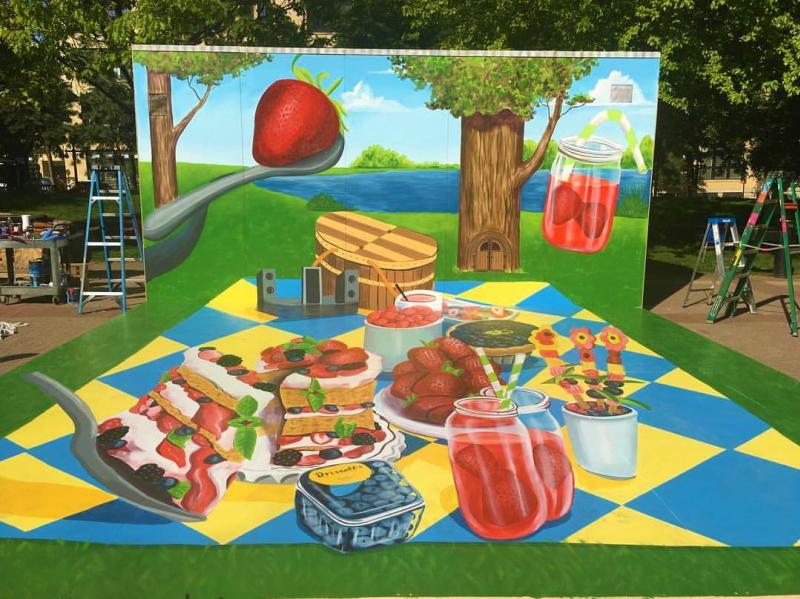 Shawn McCann has created street art masterpieces throughout the world, and it all started with his childhood in Wahpeton, North Dakota – a city known more for its manufacturing plants than its art galleries. Shawn developed an innate interest in art when he was very young and continually gravitated toward doodling and pouring over "How to Draw" books. "I always knew art was something I had to do," he says. His parents were supportive from the beginning, helping their son by gifting him Bob Ross painting kits, and Shawn's school teachers were equally encouraging. "I had some amazing teachers inspire my madness," Shawn recalls. "Everyone encouraged me, telling me to keep pushing for it."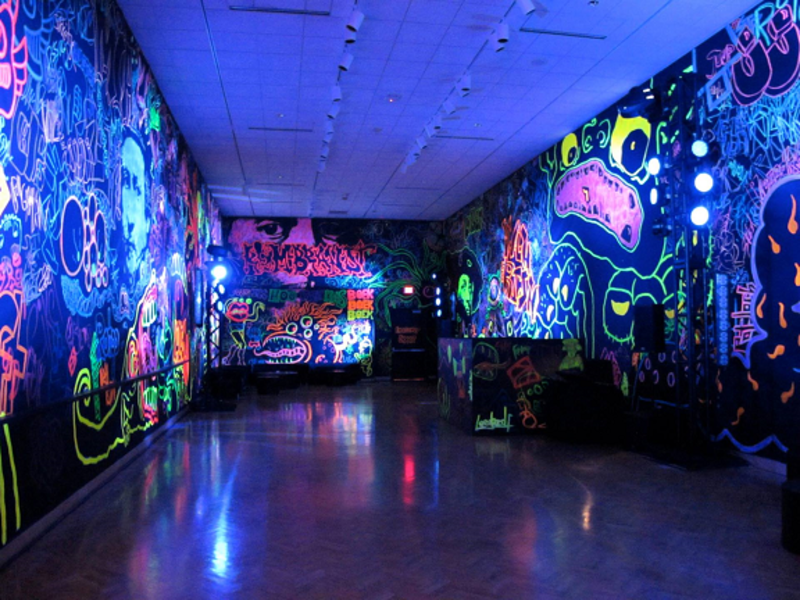 There was no doubt Shawn would pursue art when it was time to leave Wahpeton for college. He attended the Minneapolis College of Art and Design (MCAD) and was immediately surrounded by people with an enthusiasm for art that matched his own. "When I walked in the doors, I felt at home," Shawn says. Classmates and instructors excelled at sculpture, photography, drawing, filmmaking, book arts, animation, graphic design and more. Shawn achieved an Illustration Degree and for a while worked part-time at the Minneapolis Institute of Arts. Eventually, he realized that if he was going to be an artist, he needed to jump in with both feet. He took a leap and quit his job to focus on art full time. Shawn admits it's a little unbelievable to think about where he was and where he is now – from a small city in North Dakota to traveling around the globe.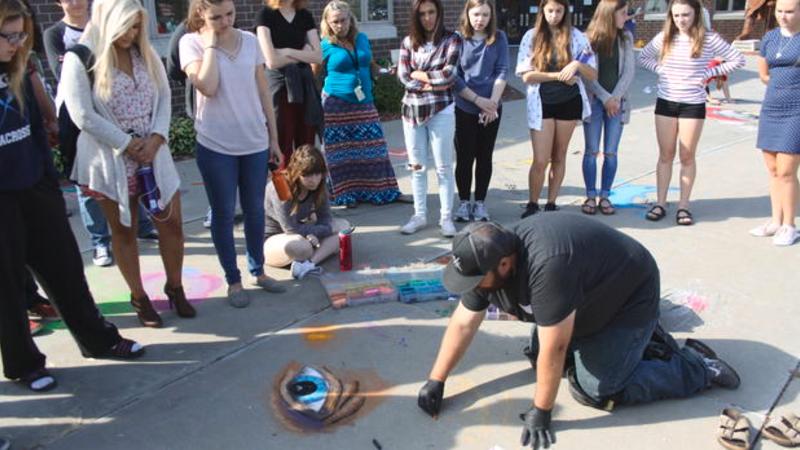 Street art and chalking weren't areas Shawn had planned to venture into. In 2003, he was painting landscapes when he got a call to recreate one of his paintings on a sidewalk. Coincidently, the sidewalk art was requested for the opening of The Shoppes at Arbor Lakes in Maple Grove. He enjoyed the new challenge and experience, and he loved seeing the public's reaction, since chalk art, especially at that time, wasn't something most people saw often, if ever. It turned out to be quite fitting that Shawn went on to co-found Chalkfest at Arbor Lakes and become its Artist-in-Residence.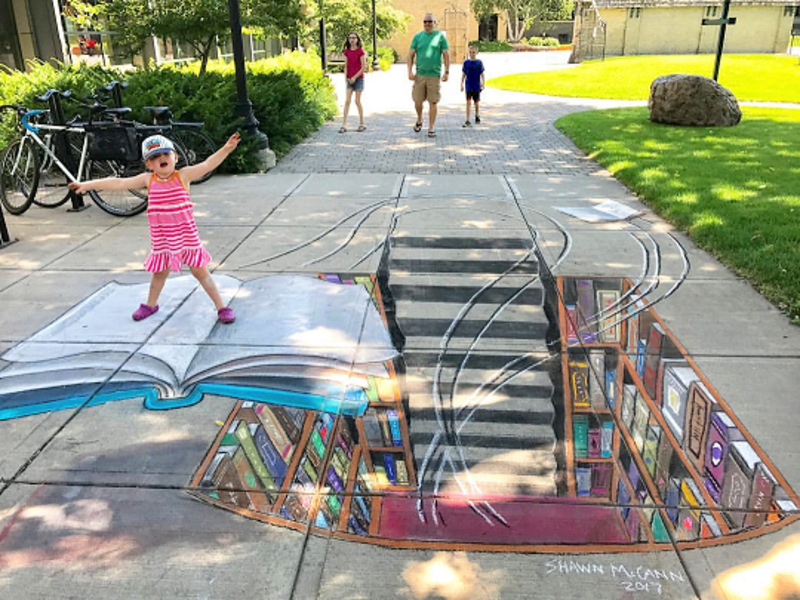 Shawn overflows with pride when talking about Chalkfest at Arbor Lakes, Minnesota's first full-blown chalk festival. It has turned into a much-anticipated regional event, with increased numbers of artists and visitors each year. Prior to its start in 2016, Shawn knew the Twin Cities would embrace a chalk festival because of its already rich and diverse art community. "We rank right up with the rest of the country in terms of quality art, like New York, L.A. and Chicago," Shawn says. "I knew once the art form was up here, people would embrace it." Getting others on board was a bit tricky, as sidewalk chalk art is something that needs to be experienced instead of described, but Shawn's passion and commitment came through, and Chalkfest at Arbor Lakes thrives more and more each year. This year's festival will draw 50 national and international artists!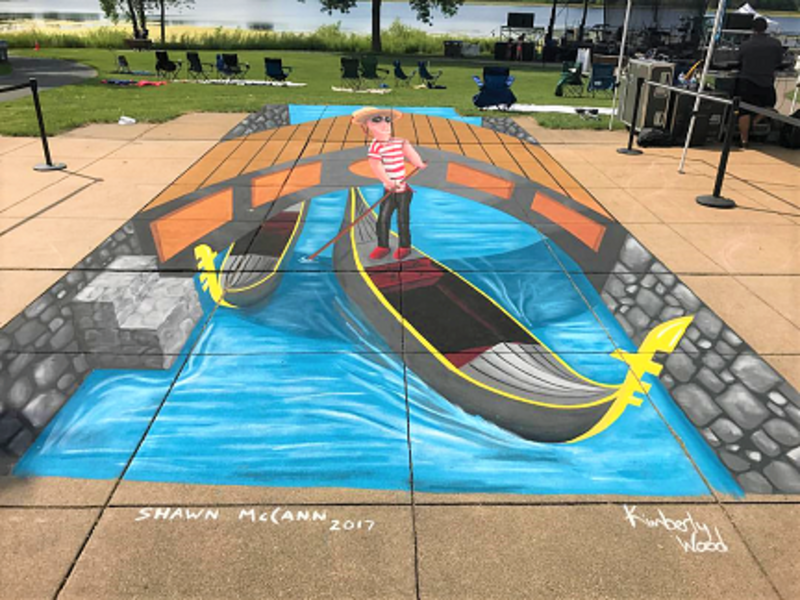 Chalkfest at Arbor Lakes is open to any art concept, allowing artists to be as creative as they want and do what they do best. This year, artists approached Shawn about when the festival was taking place and if they could attend. As a result, this year's festival will feature double the number of artists of its inaugural year! Not many professional street artists can be found north of Kansas, so the festival flies in world-class talent to the Minneapolis Northwest area.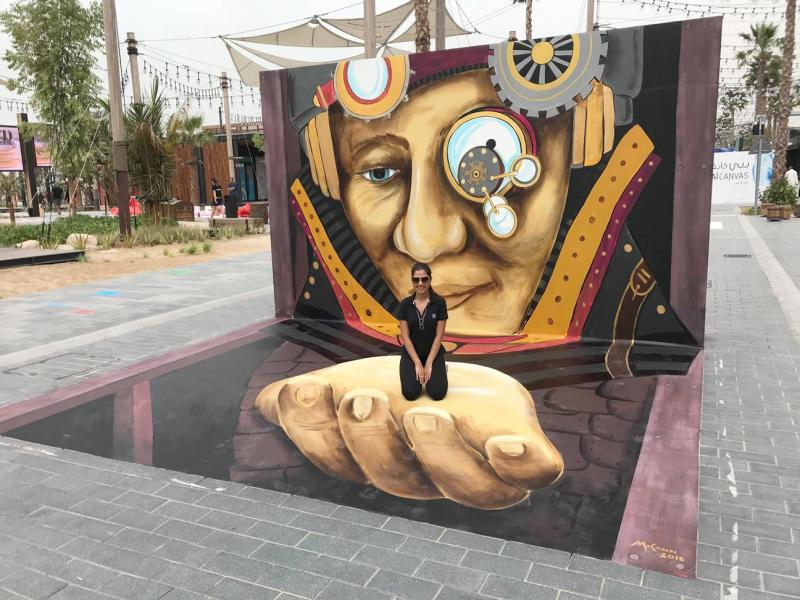 Shawn travels the world creating astonishing street art – from detailed portraits to 3-D anamorphic designs to impressive murals. He was recently invited to attend Dubai Canvas, one of the most prestigious art events in the world, where he painted "The Inspection" (above). Artists are hand-picked to attend the seven-day festival and represent countries like Germany, Pakistan, Russia and South America. The international street art community is a small one; everyone knows of each other and follows each other on social media. And attending international events like Dubai Canvas gives Shawn a chance to make personal connections face-to-face. "It's a great community to be a part of," Shawn says. "Everyone is supportive and eager to share their work and answer any questions. It's a family." Take a look at the amazing art pieces created at Dubai Canvas 2018 in the video below. Some of these artists will even be at Chalkfest at Arbor Lakes!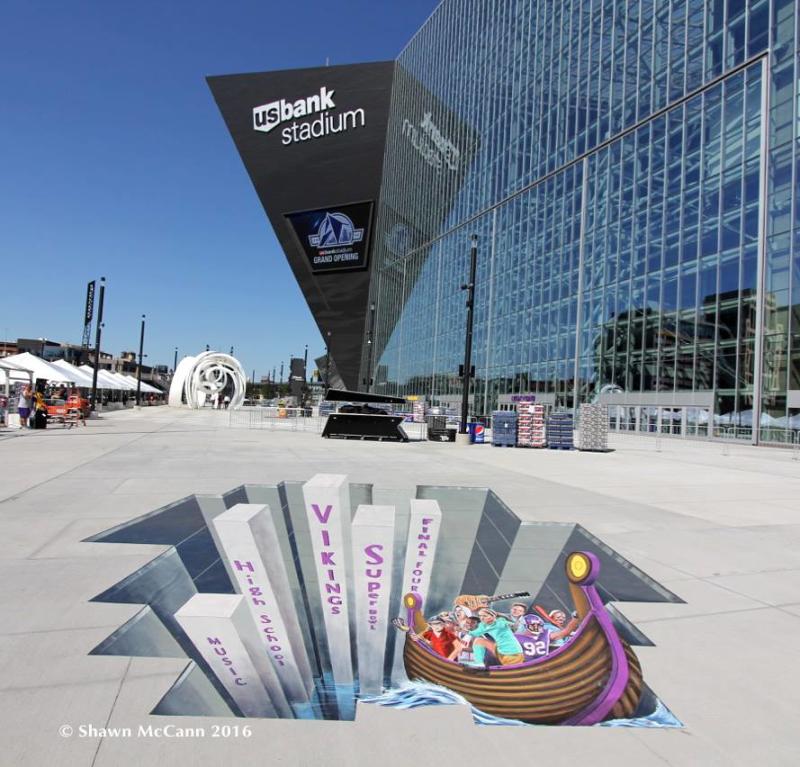 It's easy to see that creating a sidewalk masterpiece is an arduous task. Chalk artists must know what they are going to draw ahead of time. Typically, they've sketched their piece and already calculated the proper measurements for correctly transposing the art onto a large sidewalk. The physical demands can be intense, as well, as artists spend long stretches of time on their knees or contorted into any number of positions. They are also exposed to nature's elements, and it can be stiflingly hot when chalking on asphalt on a 90-degree summer day. But artists come prepared with hats, sunscreen, knee pads and gloves. "Mostly, it's the excitement of the crowd that keeps the artists going," Shawn laughs, and the payoff is seeing people's reactions as they marvel at what's in front of them.
"A chalk festival is fascinating because you can come back at various points and watch the progress," Shawn says. "It's a unique opportunity for the public to watch artists at work." And Shawn isn't bothered by the fact that his chalk art never sticks around for long. "People appreciate it more if they know it will be gone," he says. "People love it, remember it and move on." Artists also never make the same piece twice, ensuring their creation at any given festival is truly one-of-a-kind.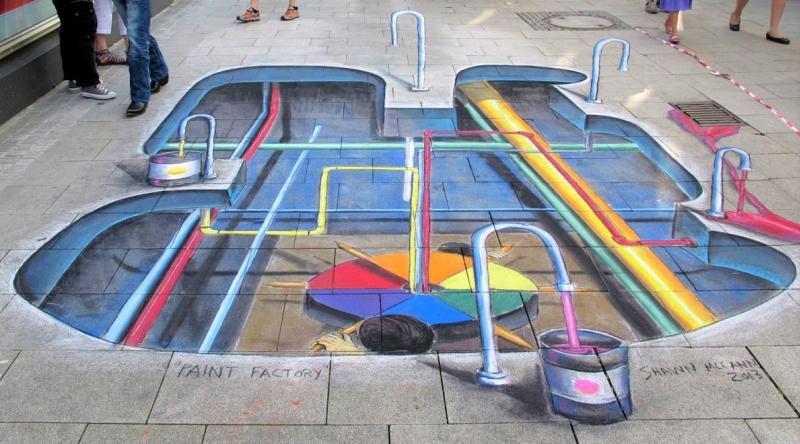 It's an understatement to say Shawn's work is varied these days, as he creates pieces for corporate partners, product launches, festivals and murals, and you've probably seen his work at Target Field, the Weisman Art Museum, Minnesota Orchestra or U.S. Bank Stadium. Also on the list of Shawn's talents is his work as a children's book illustrator. He has been approached by publishers to illustrate more than two dozen books, including The Sick Bug, The Sick Bug Goes to School, E is for Election Day, Catch the Wind, and Building a Ballpark – which was in conjunction with the Minnesota Twins and Target Field. The Sick Bug series won multiple awards, and Shawn was one of the featured illustrators at the Los Angeles Times Festival of Books two years in a row. He is also a part of Ghost Stories Ink – a group of authors, artists and film makers who seek creative inspiration through paranormal research.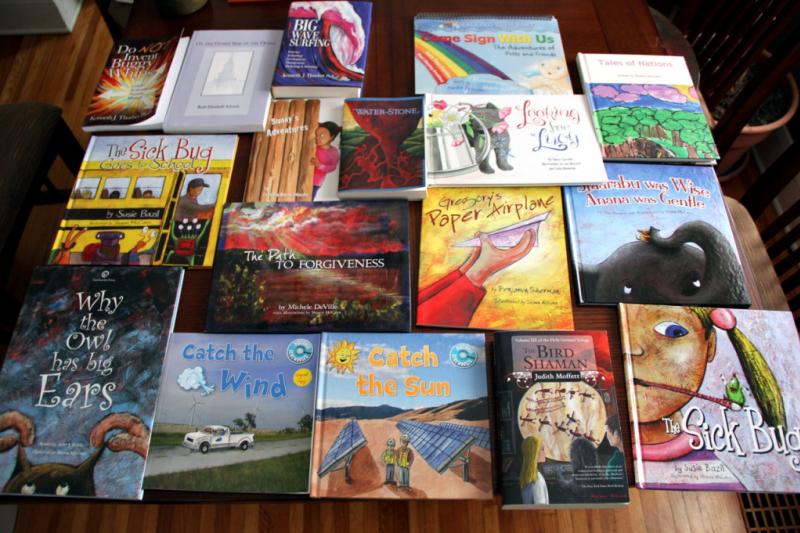 Shawn is deeply passionate about bringing the arts to kids and teens, and encouraging budding artists to pursue their passion, just as he was encouraged in his youth. He shows new generations that being an artist is much more expansive than being able to paint or draw. "I've worked in so many mediums and with so many elements, and there's much more to art than 'Do you draw or do you paint,'" Shawn explains. "Whether you're illustrating a book or working on a 5,000-square foot mural, you're still using a creative mindset." And Shawn would know – he's done both!

Meet Shawn and see his marvelous creation at this year's Chalkfest at Arbor Lakes, June 9 through 10. Come on Saturday and enjoy food and entertainment as you watch the artistic process begin, and you can even do some chalking yourself. Then come back on Sunday for more fun as you see the final products and get lots of cool pictures. Also, meet the artists and learn the inspiration behind their chalk masterpieces!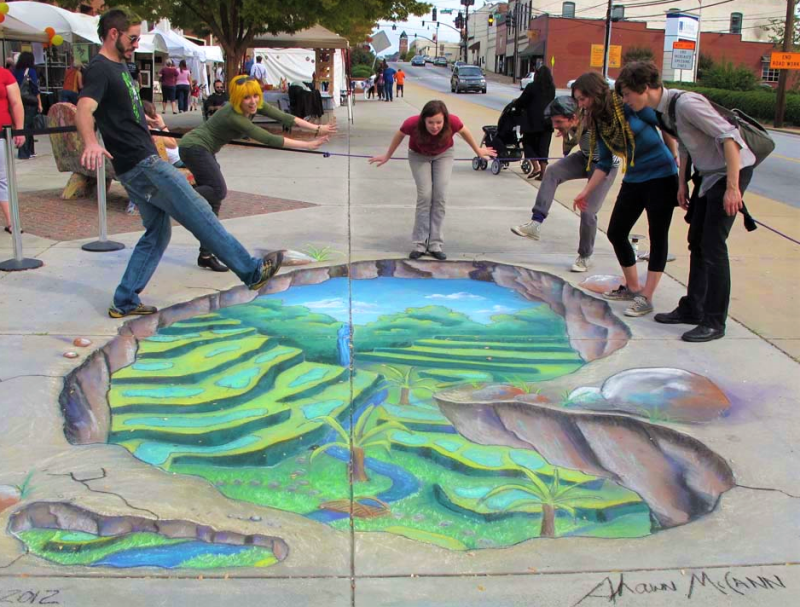 Share your photos and stories with us on Facebook, Twitter and Instagram using the hashtag #WeLoveMNW!
 
Additional works by Shawn McCann