What does sustainability mean to you? Most people try to do little things that, when added up, can make a big difference to our planet. Maybe you take short showers, use energy efficient appliances, or grow your own vegetables. Whatever it is, it matters. Which makes it all the more refreshing when a well-known brand or company takes major steps to help create and maintain positive sustainability. Hilton Worldwide does more than I ever realized (I think it might surprise you too).
Hilton was recognized by Forbes in 2015 as a Top 50 Green Brand and by Newsweek as one of the Top Green Companies in the World (the WHOLE WORLD!). Let's find out why.
With 4,500 hotels, it can't be easy to implement changes at every property, but that is what Hilton has done. They have company-wide ISO 50001 Energy Management Certification (meaning they use an internationally recognized framework for implementing an energy management system that helps to reduce costs and carbon emissions). But this is just the tip of the iceberg.
Between 2009 and 2014, Hilton has reduced their energy usage by 14.5% (which is enough to power 81,400 homes for a year). For the past five years, Hilton has participated in Earth Hour (which takes place in March), organizing various energy-saving projects, such as: turning off exterior lighting, dimming the lights in the lobby and reception areas, and hosting candlelit dinners with sustainable food and drink menus. (Romantic and a good deed!) Hilton also partners and collaborates with a variety of organizations (like the World Wildlife Fund, Tide, Ecolab, Xeros, and more) to help make positive changes in regard to renewable energy, and using less water, energy, and chemical detergents.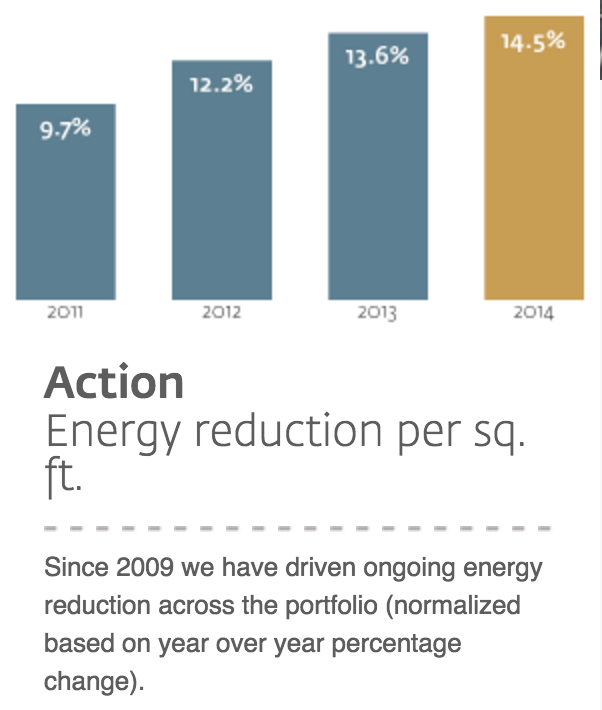 Since 2009, Hilton has saved enough water to fill 4,144 olympic-sized swimming pools (even Michael Phelps couldn't swim in all of those)! In 2015, Hilton started collaborating with the World Wildlife Fund (WWF), to develop a water stewardship strategy. Suzanne Apple, senior vice president of private sector engagement at WWF says, "…We hope that our work together will positively influence Hilton's value chain, and we believe it could inspire others in the hospitality industry to advance their own efforts." These efforts clearly take a lot of time and planning, but if Hilton can implement these changes company-wide, it is possible for other companies to look into improving their own sustainability practices.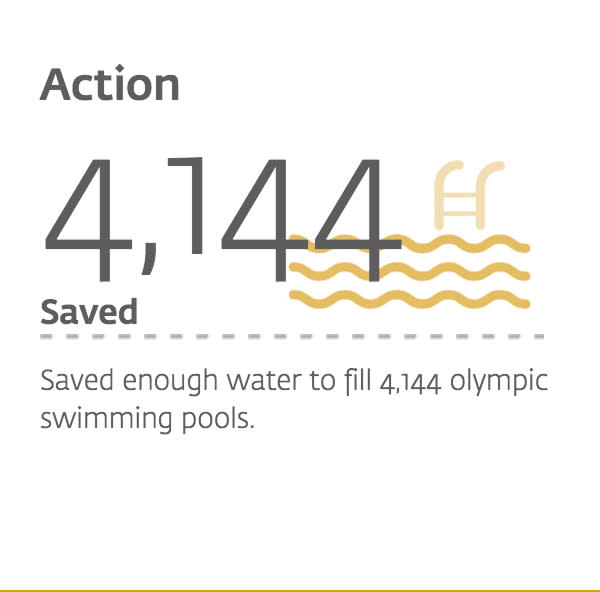 Another way Hilton has upped their sustainability game is by reducing their waste per sq. ft. by 27.6% since 2009. One innovative idea that contributes to this is "No Bin Day". In 2012, a Hilton Team Member in Gurgaon had an idea to remove waste bins from the Hilton Team Member restaurant, to encourage people to only take what they could eat, and reduce food waste. The idea was then adopted by properties across the region and even turned into a weekly practice. Some hotels recorded up to a 95% reduction in food waste in that single day. Now the "No Bin Day" project is available for any hotel globally. Another unique thing Hilton does is participate in soap recycling. Since 2011, Hilton properties have donated over 600,000 pounds of soap, which were converted into over 1.6 million new bars. You can't wrinkle your nose at that!
Other highlights from Hilton's sustainability practices:
Hilton has reduced their carbon output by 20.9% since 2009.
In 2014, they banned the use of shark fin in all 4,500 of their properties. This paved the way for a more comprehensive sustainable seafood strategy.
Hilton purchases goods and services from more than 4,000 women, minority, and veteran-owned businesses.
Hilton holds responsible meetings. They started "Meet with Purpose" in 2015, which encourages (and makes it easier for) meeting professionals to reduce waste and incorporate health and wellness into their meetings and events. Meeting and event planners are encouraged to re-evaluate event dining options (such as using locally sourced food items), minimize food waste, and consider low-cost practices that less-resource-intensive (paperless registration, use of water pitchers, and notepads upon request only).
What does sustainability mean to you? I know my definition has changed since learning of all the efforts Hilton makes within their properties. If they can do these things in 4,500 hotels worldwide (including four in Minneapolis Northwest), maybe all of us can practice sustainability a little bit more in our everyday lives.
P.S. Interested in the four Hilton hotels in Minneapolis Northwest? Look no further: