The Minnesota State Fair is the Midwest's biggest foodie event with its abundance of wild and unique flavor combinations, cuisine from around the world, and foods on a stick. Skip the lines and the crowds for the awesome fair foods in Minneapolis Northwest, including Nashville Hot Chicken, Duck Bacon Wontons, waffles, desserts, and more. Also discover where you can find classic fair foods, like cheese curds and mini donuts, all year long.
Wontons & Waffles
While at the Fair, do you make a point to stop at Giggles Campfire Grill for its duck bacon wontons? Do you love the vendor Nordic Waffles or the waffle ice cream sandwich? We're happy to report on the great wonton and waffle options in Minneapolis Northwest.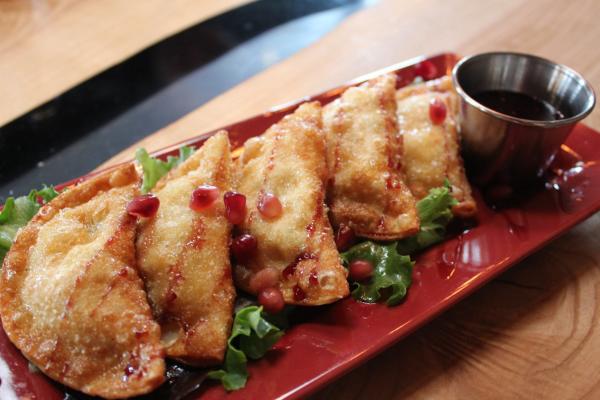 Brick & Bourbon
Locally owned Brick & Bourbon has some of the best State Fair-type foods in the metro. Its Hot Honey Chicken & Waffle Sliders are top-notch: brown sugar and buttermilk fried chicken topped with hot honey and fresh seasonal berries, served with macadamia bourbon syrup. That will get you your waffle fix! After crossing that off your list, order the Duck Bacon Wontons - you won't regret it. These wontons feature a rich blend of smoked duck bacon, cream cheese, charred sweet corn and herbs wrapped in a crispy wonton served with pomegranate sriracha dipping sauce. (It's all about the sauce!)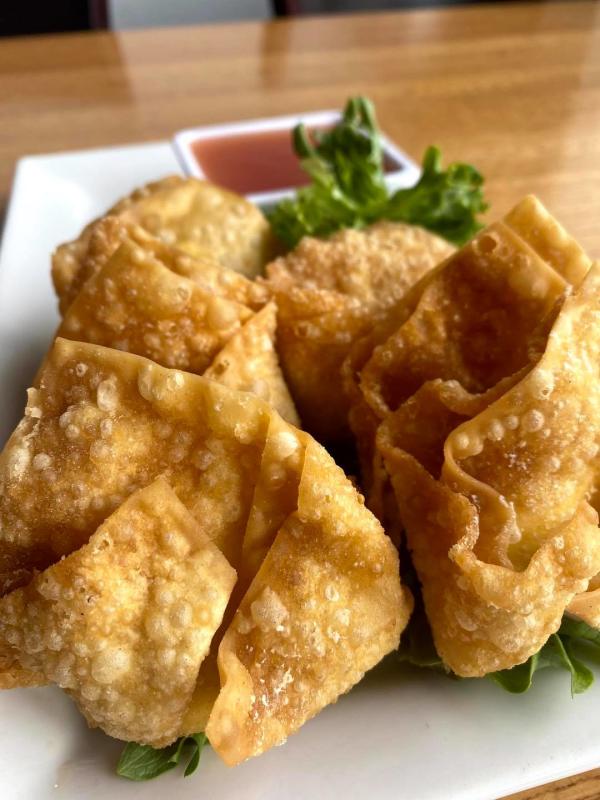 Lotus Maple Grove
The Lookout Bar & Grill serves up piping hot and flavorful Smoked Brisket Wontons. These crispy, hand-made wontons are stuffed with house-smoked brisket, cream cheese and chives, and served with a classic BBQ dipping sauce. Last but not least, order the perfectly fried wontons at Lotus Maple Grove. Opt for the Jalapeno Cream Cheese Wontons for an added kick. They are simply glorious.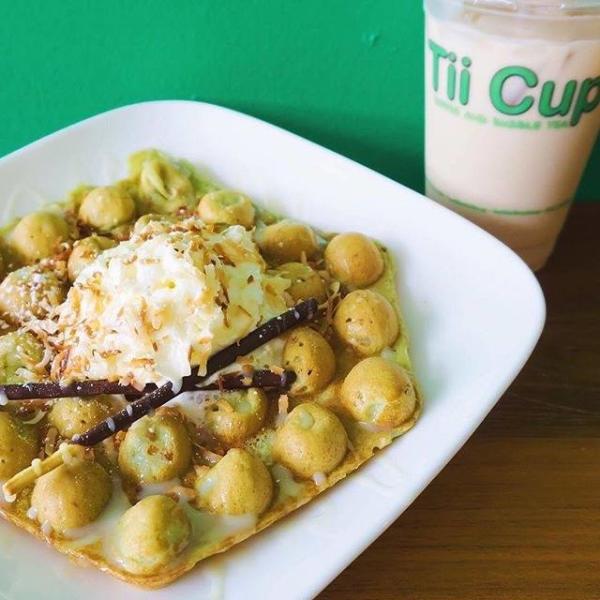 Tii Cup
Give up waffling over waffles and head straight to Tii Cup, a bubble tea bar that features soft, chewy, crispy-on-the-outside bubble waffles. This egg-based waffle originated from Hong Kong, and has a playful shape that beckons to be touched, then devoured. Order the Green Bubble – a coconut pandan waffle with powdered sugar, and of course we recommend upgrading it with whipped cream, pocky, and toasted coconut.
Fun Flavors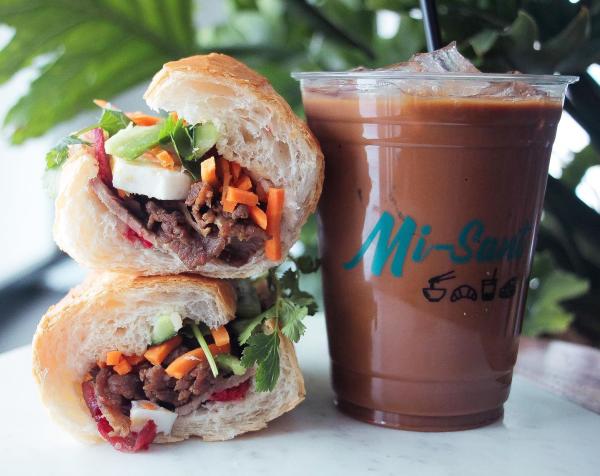 Mi-Sant Banh Mi
Banh mi fans loved the Banh Minn Bun and Banh Minn Bowl from Sausage Sister & Me. As soon as we saw this as a new fair food item, we thought of our very own Mi-Sant Banh Mi in Brooklyn Park, which serves up authentic banh mi sandwiches all year long. Made with a bake-fresh-daily French baguette, pate, mayo, jalapeno, cilantro, cucumber, pickle daikons, and carrots. Up the flavor profile with bulgogi beef and kimchi, grilled pork, or lemongrass chicken, and kimchi fries. Craving banh mi for breakfast? Get your banh mi on a freshly baked butter croissant and pair it with a Vietnamese iced coffee. 
If you've been to the State Fair, you've probably heard of Sarah's Tipsy Pies, and if you've been there, you know it's an outstanding vendor. Another fun "pie" to dive into is the Pork Pie at M.C.'s Tap House. This delightful dish starts with homemade jalapeno cornbread baked in a cast-iron skillet to order, then topped with pulled pork, creamy cider vinegar, slaw, and pickled onions. Then you get to dip it in a side of blackberry BBQ sauce. Definitely a State Fair-worthy item.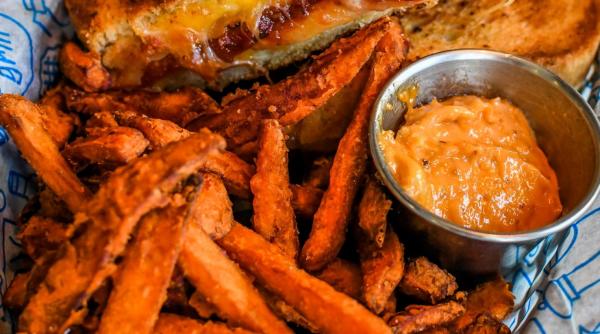 3 Squares Restaurant
A new State Fair food that got people talking was the Spufull Puff at Potato Man & Sweety. Imagine a sweet potato wonton dusted with powdered sugar and served with maple dipping sauce. If you love sweet potatoes, or you're that friend who always orders them with your meal, we recommend the exceptionally good sweet potato fries at 3 Squares Restaurant. Not only are they grade A fries, they come with a unique chipotle peanut pesto aioli.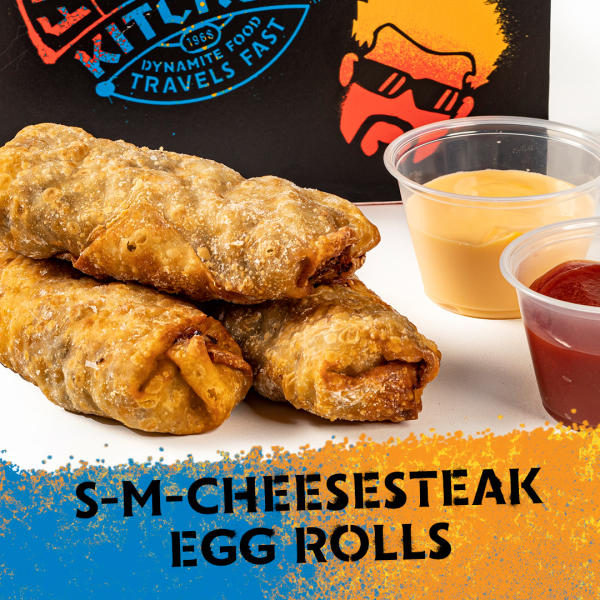 Guy Fieri's Flavortown Kitchen
Try a twist on egg rolls with the S-M-Cheesesteak Egg Rolls from Guy Fieri's Flavortown Kitchen. These deep-fried pieces of heaven are stuffed with shaved ribeye, super melty cheese, provolone, and sriracha ketchup. Put them on a stick and they would make a perfect State Fair food.
Extreme Foods
State Fair foods are known for going overboard, whether it's the wacky flavor combinations or the sheer size of the item. One of the new foods was the Waffle Burger at Andy's Grill. It's a quarter-pound bacon cheeseburger served between two maple-infused, candied sweet crunch waffles with a side of maple syrup (also taps into those pesky waffle cravings). The waffle burger is a yummy addition to the Fair, but is it extreme enough for you?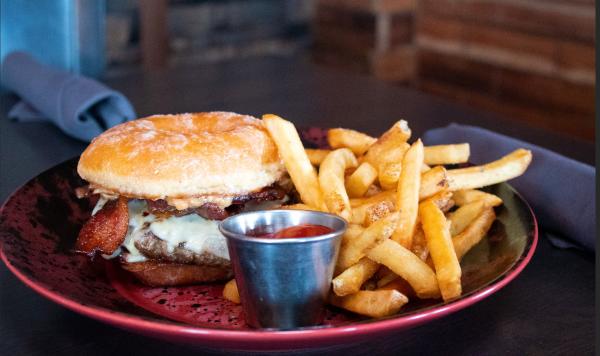 Brick & Bourbon
If you're interested in a burger sandwiched between something other than a bun, the PB & J Burger at Brick & Bourbon is about as extreme as a burger can get. This handcrafted burger is doused in habanero jack cheese and topped with thick-cut bacon. The most interesting part? It's served between a halved honey-glazed donut! If that's not enough for you, don't worry – the donut is lightly spread with mayo, tart sriracha pomegranate marmalade, and homemade creamy bourbon peanut butter. Uff da!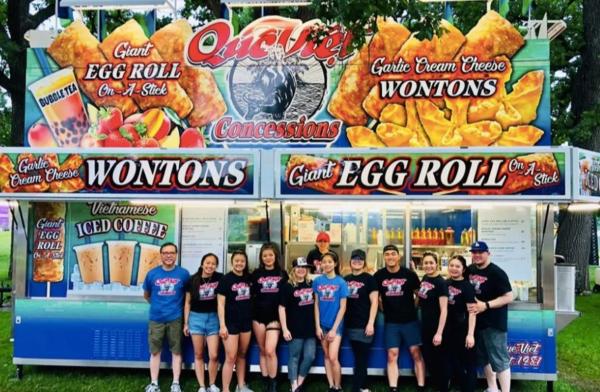 Que Viet
Extreme can mean the size of an item, and Que Viet's Giant Egg Roll on a stick is pretty extreme considering it's the size of your face! You can get this famous egg roll at the State Fair just east of the Food Building, but you can also get it any time of year at Que Viet Village House in Brooklyn Center. This family and women-owned business loves sharing their family delicacies, including this large, wonderful fried egg roll (stick not included at the restaurant, though).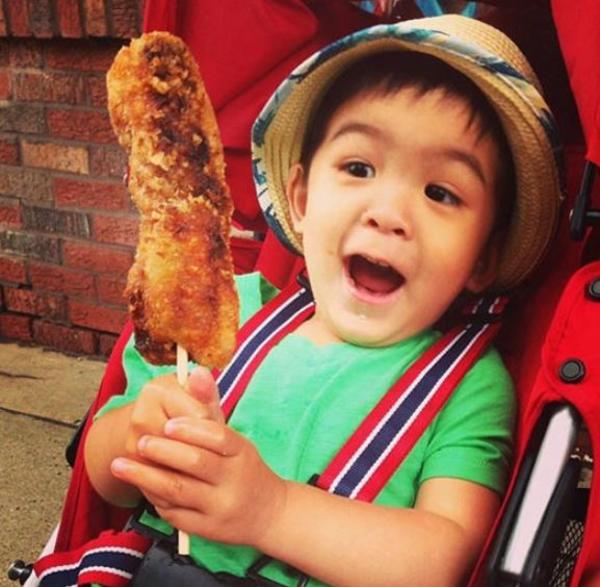 Que Viet
International Cuisine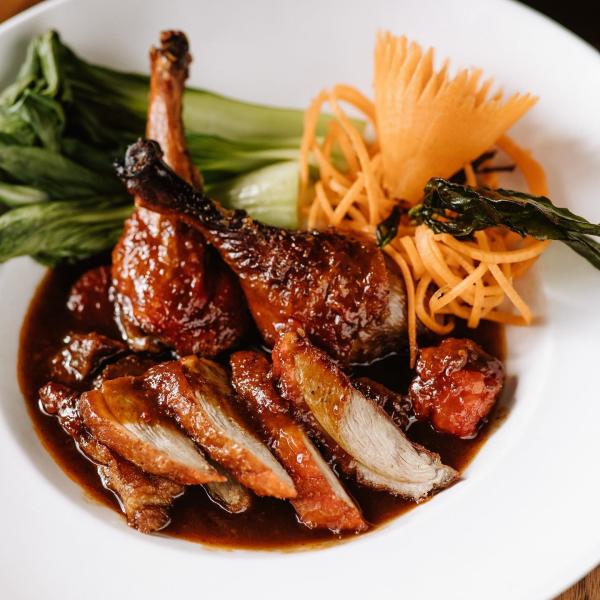 Lemon Grass Thai
The State Fair does a great job highlighting foods from around the world. Lucky for us in the metro, international cuisines are a specialty in Minneapolis Northwest. From African dishes to the far East, we have a wide range of culinary adventures right here in the burbs – no passport required. Below are some of our favorite international dishes. We also have a whole blog dedicated to World Flavors that you can check out for more inspiration.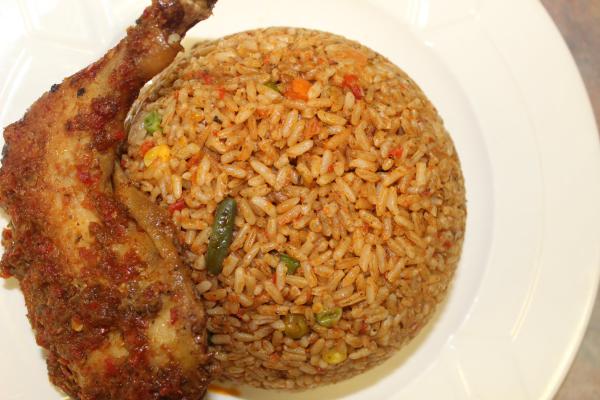 Mama Ti's African Kitchen
Nashville Hot Chicken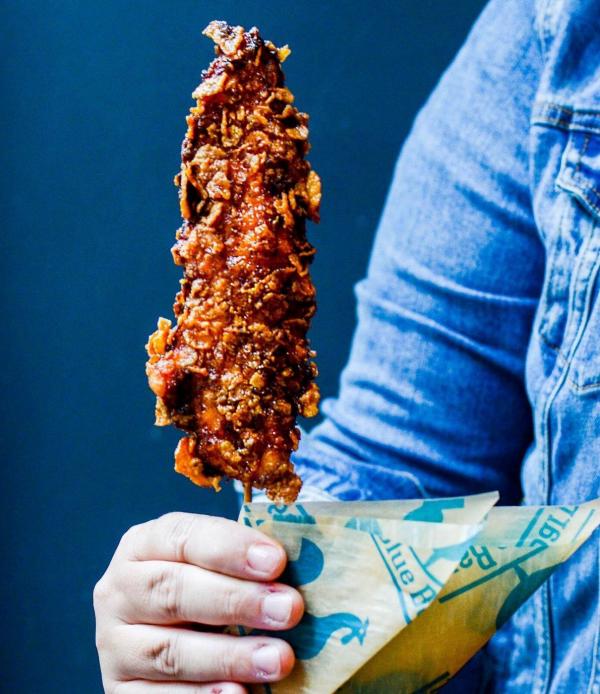 Ah, The Blue Barn. One of the all-time best food vendors at the State Fair. Each year they have a few new items that knock it out of the park, and they also have a few staple items crowds go nuts for. One particular item is the Nashville Hot Chicken. If it's one of your fave's, you must get the Nashville Fried Chicken Sandwich at 3 Squares Restaurant. Why? Because this Maple Grove family-friendly restaurant is owned by The Blue Plate Group, which owns The Blue Barn, so this Nashville Fried Chicken Sandwich is legit. Imagine crispy fried chicken, Minnesota nice spice, house-made Nashville sauce with lettuce, tomato, and pickles on a cheddar-crusted bun. How great you can get this specialty chicken any time of year!

3 Squares Restaurant
And for another hot chicken option, head back to Brick & Bourbon for the Hot Chicken & Waffle Sliders.
Sweet Treats
The State Fair can satisfy your sweet tooth with new foods like the caramelized banana pudding, dual berry shortcake, and jumbo donut sundae. So we must temp you with some of the great sweet treats you can find any time in the northwest metro.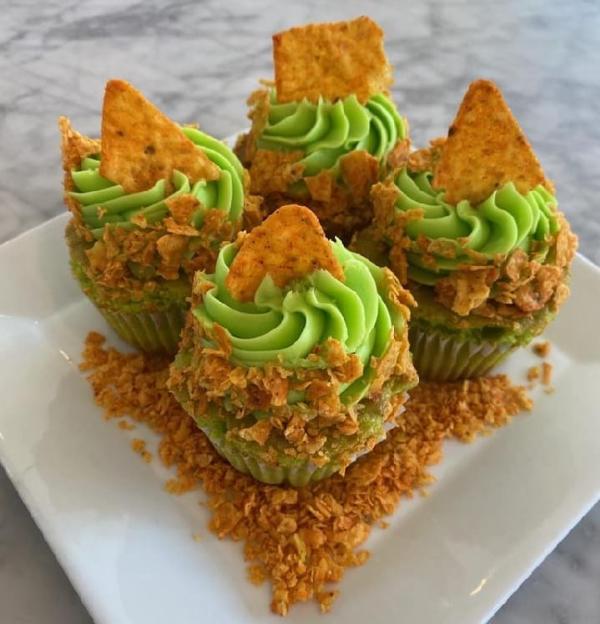 Nadia Cakes
You've probably heard of Nadia Cakes, winner of Food Network's Cupcake Wars and home of the cheesecake cupcake. You can't go wrong with anything on the menu, but check out the daily menu for interesting flavors. The Dew-Rito is their most controversial cupcake – a Mountain Dew cake topped with Mountain Dew frosting and rimmed in Dorito crumbs, very State Fair-esque. Then there are less controversial but still scrumptious flavor combinations like Honey Sweet Potato Avocado Banana Cake with avocado frosting. Nadia Cakes ups its cupcake game each year with an April Fools selection of treats, featuring the Unicorn Poop cupcake! And look for upcoming fall holiday designs like the turkey dinner package below!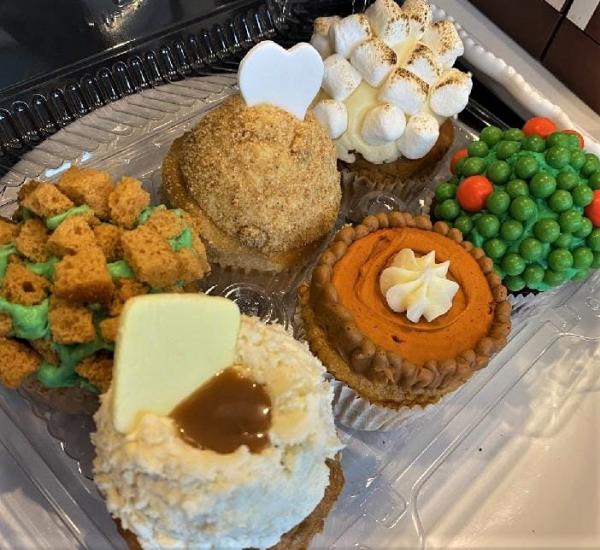 Nadia Cakes
Avocado and cheesecake don't seem to go together, but Rock Elm at The Grove has created a truly special dessert with its Key-Avo-Lime Cheesecake. You guessed it – it's made with lime, avocado and a graham cracker crust. This unique sweet treat really hits the spot.
​
Rock Elm at The Grove
For a dessert you can make into a meal, check out the Nutella S'mores Pizza at Johnny Boy's Pizza in Brooklyn Park. It's a perfect mix of Nutella, graham crackers, mini marshmallows, and chocolate drizzle. This is also a great option if you enjoy the new S'mores Funnel Cake at the State Fair this year.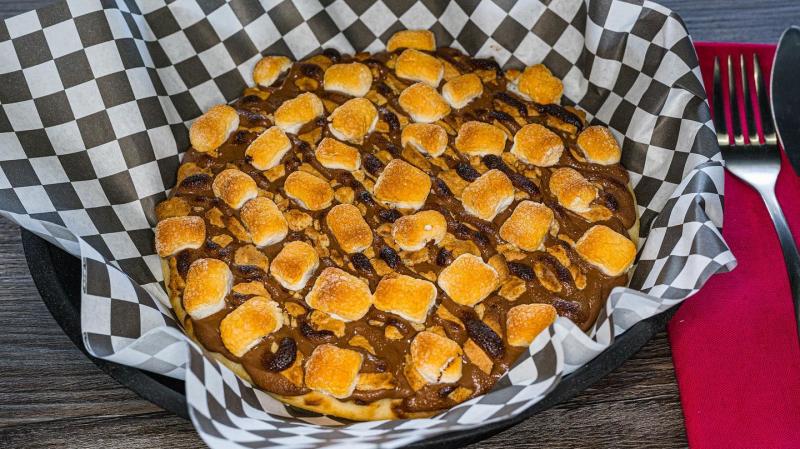 Johnny Boy's S'mores Pizza
A couple other honorable mentions for dessert include:
Classic Fair Foods
You gotta have your mini donuts and cheese curds at the State Fair! But where can you get them outside of the 12 best days of summer?
Cheese Curds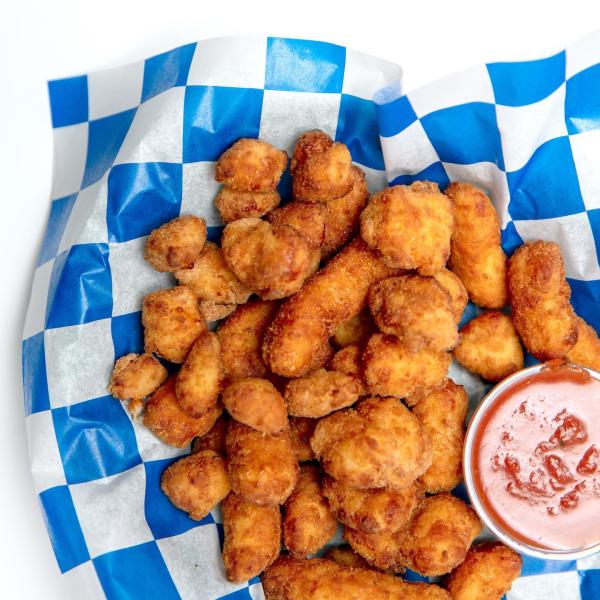 The Lookout Bar & Grill
Mini Donuts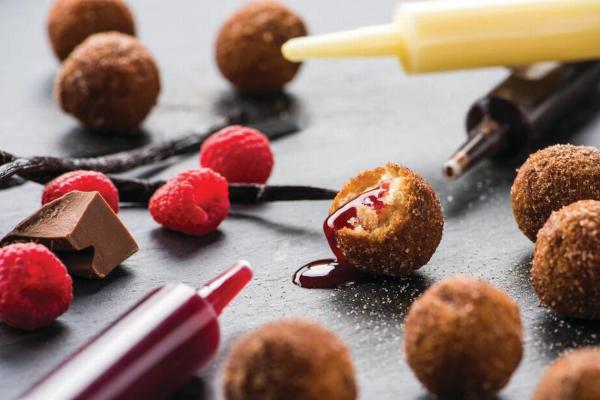 Topgolf Injectable Donut Holes
Fried Pickles