Lemon Grass Thai Cuisine offers more by keeping things simple and local. Head Chef and Owner Ann Sengmavong has fused Thai with global palates since 2005 and is inspired by her travels across the U.S., Asia and Europe. The result of her creativity and expertise is colorful and original dishes that transport customers to other worlds. "This is not the typical Thai restaurant," says Ann. And with globe lights and fresh flowers in the renovated dining room, you'll have a unique and intimate dining experience right here in the northwest metro.


An Extensive Menu
The menu at Lemon Grass Thai is as varied as Chef Ann's travels around the globe. Everything from curries and rice entrees, to finger-licking appetizers and lunch specials, there is truly something for everyone. Start with appetizers like Angel Wings, Sai-Oua E-sane, Nuea-Sawan, Nam Khao and Spicy Calamari, or dive into the variety of rice and noodle options, from Druken Noodles and Pad See Ew to the wild Siracha Fried Rice. Taste the range of flavors offered up through red, yellow and green curries, Pineapple Curry and Massaman Beef Curry with tender chunks of beef, potatoes and peanuts.
Along with homemade sauces, the House Specialty entrees are where Chef Ann's flavor fusions take on a life of their own. Specialties include the Roast Duck Curry (with variations like Red Curry Roast Duck, Lychee Roast Duck and Green Curry Pineapple Roast Duck), Kao Poon Sweet Salad, Chiang Mai Alley Noodles, Southern Curried Noodles, and the Thai Playa Rice - lightly curried and citrus seafood (mussels, scallops, calamari and shrimp) infused with jasmine rice. It's a dreamy rice dish that makes you feel like you're on the beaches of Thailand.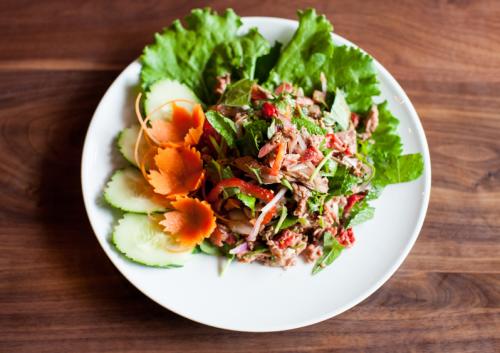 Freshly Prepared Sushi
Aside from the quaint and modern main dining area, customers are invited to roll up to the sushi bar and watch the magic happen as chefs expertly craft beautiful, fresh sushi rolls. Traditional favorites like the Unagi Roll, California Roll and Spicy Salmon Roll are sure to satisfy, but if you want to dine outside the box, opt for one of the many specialty rolls.
Sexy Mama Roll: Inside - spicy crab salad, tempura shrimp and avocado; outside - baked white tuna topped with spicy sauce
Caterpillar Roll: Grilled eel and cucumber wrapped with avocado, sprinkled with sesame seeds and topped with unagi sauce.
Orange Roll: Inside - cilantro, tuna, cucumber and snow crab; outside - orange slices, lzumidai, unagi sauces, spicy mayo and salmon
Green Monster Roll (Vegetarian Roll): leaf lettuce, kaiware, avocado, cucumber, cilantro and a spicy jalapeno cilantro mayo.
There is also a wonderful menu of Nigiri/Sashimi options. At Lemon Grass, there are no limits to the creativity of the chefs, and they are encouraged to explore possibilities for new and exciting rolls each month.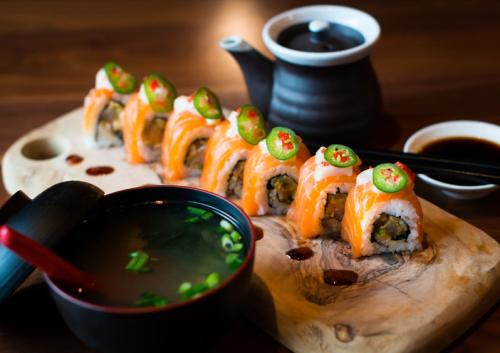 Lunch Deals
The sushi lunch menu is also a treat. Served with your choice of miso soup or salad, order the two-roll special for $12 or the three-roll special for $15. And speaking of lunch, take your lunch break to a new level when you dine on a signature Bento Box. Served Monday through Friday from 11 a.m. to 3 p.m., these delightful "boxes" provide a sampling of Thai dishes in a divided tray with perfect proportions. There are eight delicious Bento Boxes to choose from. A couple of our favorites include:
#2 Bento Box: salad, pad Thai, crab wonton, spicy tuna roll (6 pc) and a pork eggroll
#6 Bento Box: salad, chicken satay (4 skewers), rice, crab wonton and a pork eggroll
Alas, no restaurant is complete without a full bar, flavorful cocktails and a robust wine and beer list. When in Rome, try the Lemon Grass with Cachaca with fresh lime juice, Aperol, St. Germain and lemon grass syrup. White and red wines are available, as well as bottled and tap beer (including Sapporo - Japanese Rice Lager!) and a range of sake – the perfect ending to your Lemon Grass meal.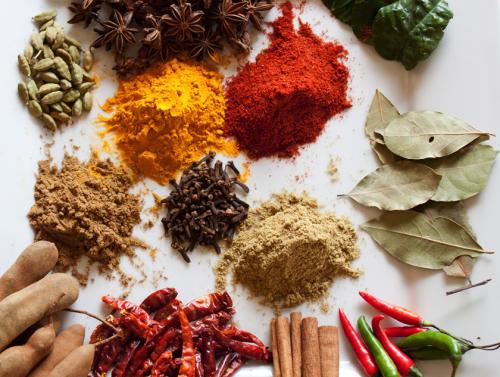 Cooking Classes
Want to experience Lemon Grass Thai at home? The restaurant provides catering services for all kinds of events, from casual parties to formal dinners. The chefs will put together the perfect menu to impress your friends and family. Chef Ann also provides private cooking lessons in the privacy in your own home. Get friends and family together, choose from the menu of classes, and Chef Ann will do the rest. Sample classes include Thai Noodles & Rice, Simple & Easy Thai Stir-fry, Thai Curries, and Thai Fusion.
Share your Insta-worthy food photos with us on Facebook, Instagram and Twitter with the hashtag #WeLoveMNW!