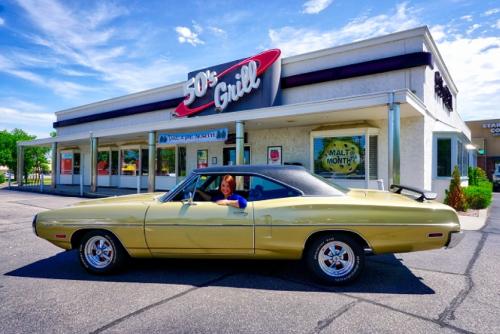 Take a step back in time and enjoy delicious home-cooked diner food surrounded by nostalgic décor at 50's Grill. This is not your everyday burger joint. You'll enjoy items such as hamburger steak, Grandma's meatloaf, a classic turkey dinner, BLTs, chicken sandwiches and burgers. The homemade Chicken Pot Pie has been the restaurant's number-one seller for more than 20 years and is easily the best pot pie in town, and the homemade pies, shakes and malts also deserve the hype. Come for the throwback interior and a juke box everyone will love, and stay for comfort food that will warm your soul.
Any classic diner menu must start with hamburgers. The 50's Grill offers a plethora of sizes and toppings to complement its custom ground burgers, which are "pattied" fresh daily in its kitchen. For the Six Ounce Burgers, choose from the classic 50's Grill Burger, with or without cheese, or mix it up with the Mushroom & Swiss Burger, Bacon & Smoked Cheddar Burger, Guacamole Burger, Multi Grain Melt, Patty Melt or The Big Cheese (the perfect burger for cheese-lovers!). Don't want to commit to the Six Ounce Burger? Grab a Four Ounce Burger instead. For something truly different, try the Bison Burger.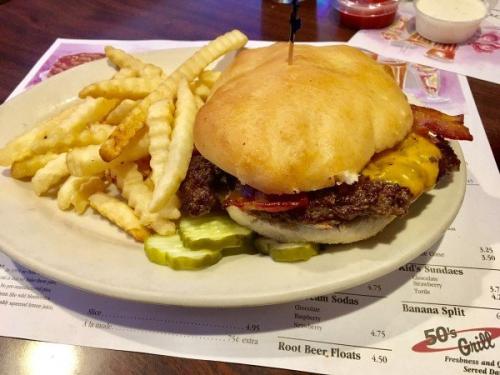 Craving chicken and something on the lighter side? Try one of 50's Grill natural chicken sandwiches. These chicken patties are grilled, not breaded or deep-fried. Pick your flavor with Santa Fe Chicken, Cajun Chicken, Rajun Cajun and Grilled Chicken Club. Are you a Turk-a-tarian? The 50's Grill has got you covered with a smorgasbord of turkey sandwiches with the Turkey Guacamole & Bacon, the Turkey Rueben and the Turkey Salad Sandwich. For a cozier option, get the Hot Turkey Sandwich.
Nothing says comfy and light like homemade soups and salads! No matter the day or season, you can enjoy the 50's Grill signature Chicken & Wild Rice Soup, a delicious broth-based soup overflowing with tender chicken, wild rice and vegetables. Each day of the week has its own savory homemade soup to match including Turkey Noodle, Split Pea & Ham, Cream of Broccoli, Navy Bean & Ham, Seafood Chowder and Beef Barley. For a refreshing, crisp salad, choose from Wild Rice & Chicken Salad and Orange Almond Salad, along with classics like Chicken Caesar and Grilled Chicken Salad.
At 50's Grill, the restaurant's menu rings true to its motto, "We love to cook from scratch." All its dinners make you feel right at home and include fresh homemade bread, baked twice daily. Nothing says a home-cooked meal like Grandma's Homemade Meatloaf, Hand Carved Natural Turkey Dinner, or rotisserie roasted chicken. If you're craving some fresh seafood, take your pick of Canadian Walleye, Jumbo Shrimp or get the winning pair, the Sirloin & Shrimp Combo.
Dessert
One rule for your visit to 50's Grill is that you absolutely must leave room for dessert! 50's Grill has endless sweet options to choose from, including 28 flavors of old-time malts (more than two million sold) made with its custom-made vanilla ice cream, from Cookies & Cream and Maple Nut to Chocolate Banana and Butter Brickle & Caramel. And if that's not enough options for you, the in-house bakery bakes gourmet cakes, pies and cookies from scratch daily.
Don't miss the monthly specials! In the winter, choose from delicious malts like Grasshopper, Heath and Chocolate-covered Cherries. In the spring, indulge in Thin Mint Girl Scout, Peanut Butter Hot Fudge and Strawberry Cheesecake. During the summer months, cool off with Chocolate Chip Cookie, Raspberry Coffee Mocha and Very Berry. And nothing says fall like a Caramel Apple or Pumpkin Malt.
For more refreshing options, try the 50's Grill smoothies, in Strawberry, Raspberry, Strawberry & Banana, and Raspberry & Banana. Every day you can enjoy one of its handmade pies from the bakery, including Apple, Wild Blueberry, Cherry, Strawberry Rhubarb, Banana Cream, Coconut Cream, French Silk, Lemon Meringue and Pecan. Award-winning gourmet cakes include Carrot Cake, Chocolate Fudge Cake, Turtle Cake and German Chocolate Cake.
So, sit back, enjoy your burger, fries and malt as you get lost in the juke box tunes at 50's Grill. Share your Insta-worthy food photos with us on Facebook, Instagram and Twitter with the hashtag #WeLoveMNW.