Sometimes you just need to escape the day-to-day office setting and find a quiet place to reflect and connect with your team. Whether you are participating in strategic planning, tackling budgeting or simply getting in some quality team-building time, we've got some insider tips for making your retreat a truly rewarding and productive experience.
1. Decide what type of retreat is the right fit for your group.
Cozy & Relaxing Retreats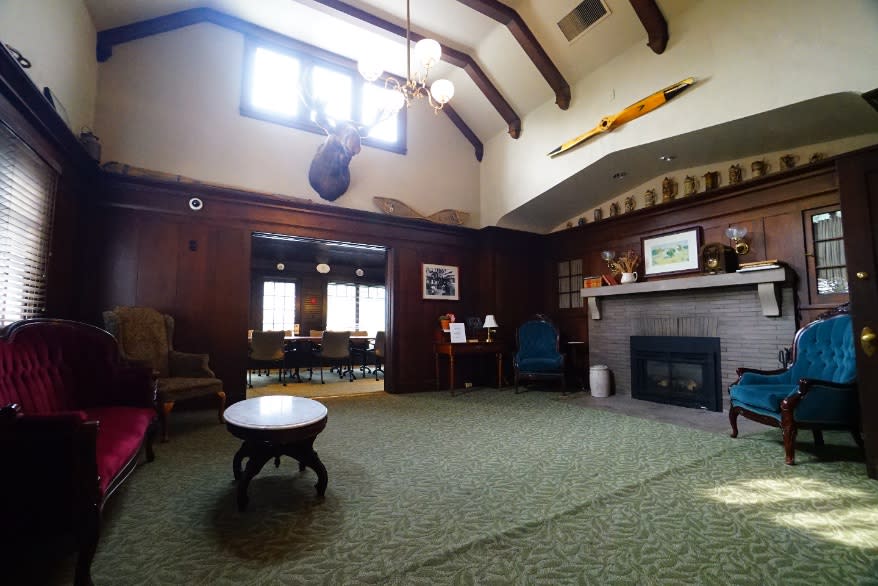 If you're looking for a truly cozy retreat, check out The Inn on the Farm at The Heritage Center. This unique, historic farmhouse was home to Brooklyn Center historical and political figure Earle Brown and is filled with signature home décor and historical artifacts including a photo of the first Minnesota State Highway Patrol. Step into the parlor and take a seat in a comfy lounge chair by the fireplace and you will instantly feel at home. Just off the parlor is the sunroom, a great space for hosting a larger meeting, surrounded by natural light and views of the courtyard. For additional small group meeting and breakout rooms, The Inn offers two smaller meeting rooms, also with great windows and views. The Inn is ideal for groups of 22 people or fewer, but the space has hosted retreats for groups as small as five people.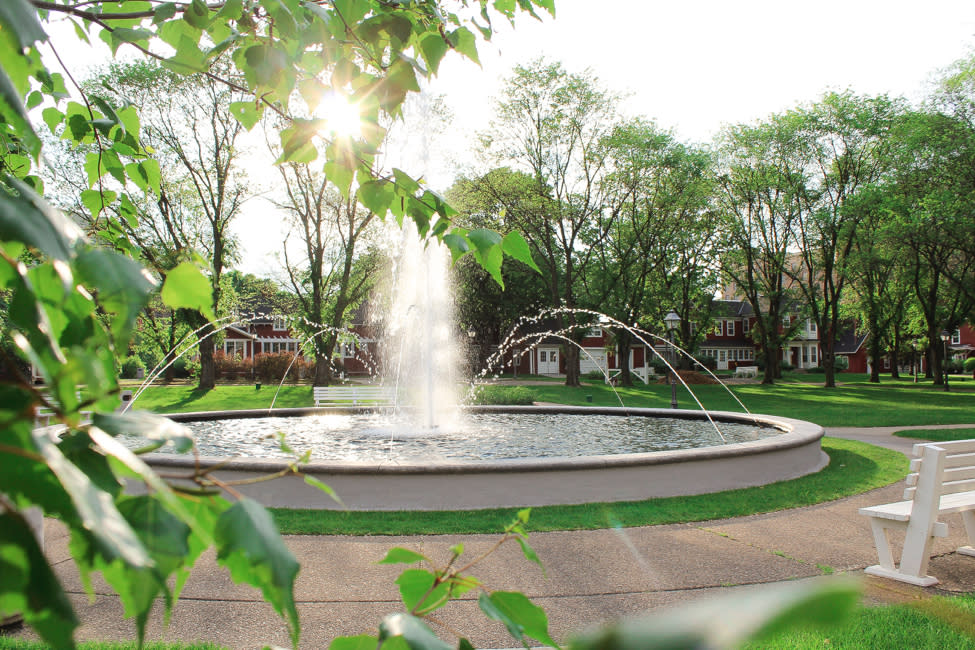 When all that relaxing indoor time has you craving some fresh air and activity, just step outside the doors of The Inn and you will experience the tranquility of the courtyard, also a great setting for outdoor amusement. With acres to play, the courtyard is a perfect spot for obstacle games, treasure hunts, relay races, cornhole tournaments, outdoor yoga, and more. Whether you use the space for team-building games or simply a place to stop and take a break, it is truly one-of-a-kind. "When you're out in the courtyard, you feel like you are out in the country," Mary Spah, Director of Sales at The Heritage Center, said. "You don't hear traffic, you just hear the fountains. It really is like you are out on the farm."
Bonus Tip: The Inn on the Farm also has its own parking lot, so you can enjoy peace and quiet away from the busier larger event center space.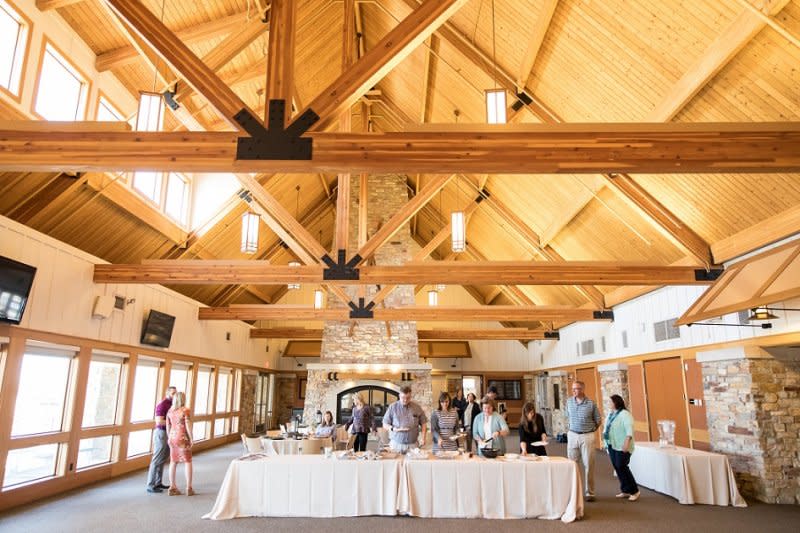 The warm and inviting Elm Creek Chalet is also a beautiful facility for your retreat. The building features a huge stone fireplace built of timbers and fieldstone, a cathedral-style ceiling, and large glass windows overlooking Elm Creek Park Reserve. Built with a modern and rustic look, the Chalet provides the ideal opportunity to take your next event outside, where groups can enjoy the beautiful scenery through many engaging outdoor activities all year long. In addition to the large common room, the space also offers a breakout room for smaller group discussions.
Bonus Tip: There are endless opportunities for outdoor adventures just outside the doors of the Chalet. Depending on the time of the year, you can ski, snowboard, go tubing, bike, hike or enjoy a round of disc golf. It's also a great spot to view the beautiful fall colors!
Nature Retreats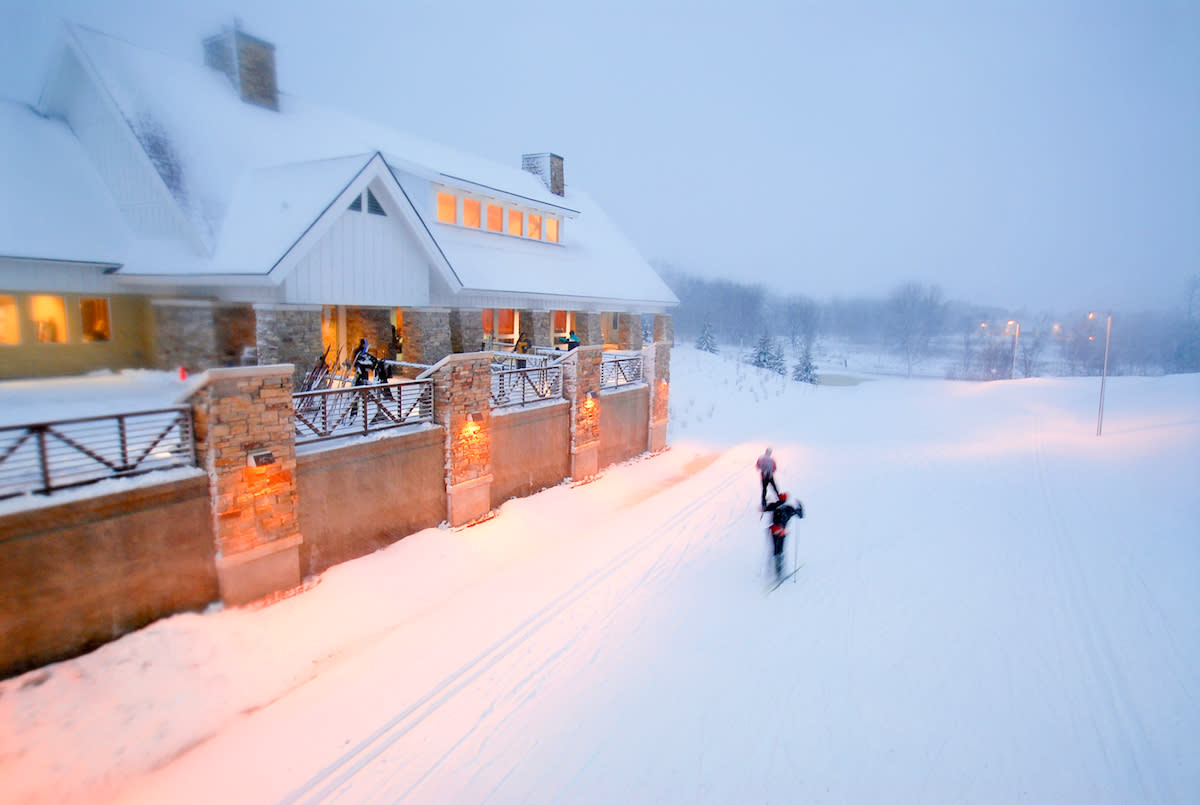 If an outdoor adventure is more on par for the retreat you're looking for, Minneapolis Northwest has a plethora of options. Three Rivers Parks District offers a variety of outdoor recreation programs that promote team building at Elm Creek Park Reserve, Fish Lake Regional Park and Coon Rapids Dam Regional Park. From rock climbing and zip lining to canoeing and geocaching, there's something to match every group's needs. The outdoor recreation specialists can help you design team challenges or any combination of activities to make your retreat a success. Find activities that everyone on your team can enjoy like biking or kayaking or challenge the team to try something new like log rolling or slacklining. If you choose Elm Creek Park, don't forget to reserve the Chalet to add some indoor coziness to your retreat!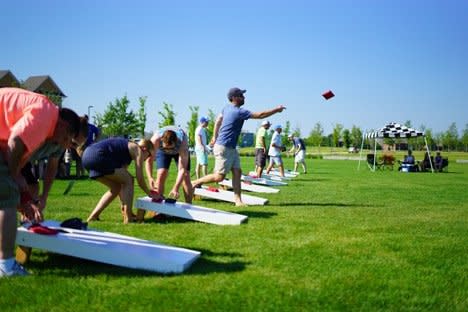 If a casual outdoor retreat with yard games is more up your alley, consider Central Park in Maple Grove. The parks pavilion offers lots of space for indoor meetings and discussions and the endless beautiful green lawn offers many opportunities to conduct fun games and outdoor activities. Rent pickle ball, bags and/or bocce ball equipment, spend some time reflecting in the garden or put your teamwork to the test in the labyrinth.
Golf Retreats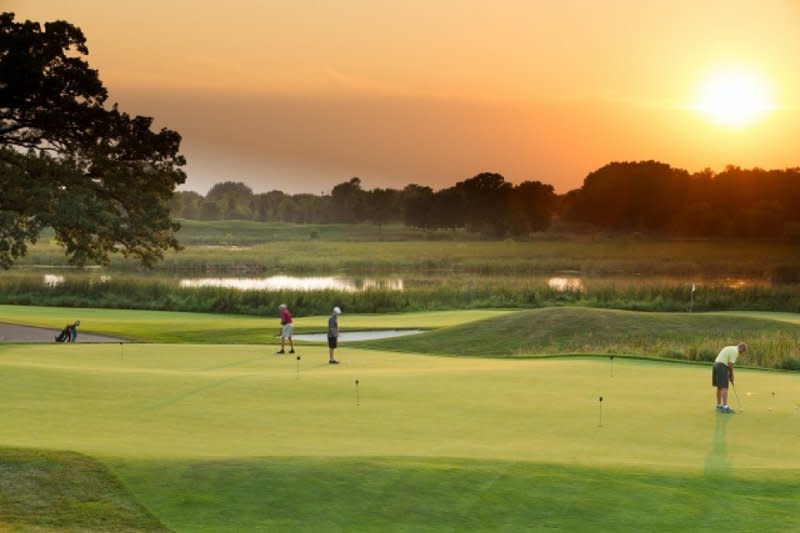 What's a better release than a few swings on the golf course? Embrace the beauty of spring, summer, fall, or even winter with a golf retreat. From traditional golf and disc golf to FootGolf and FlingGolf, you've got options to fit all skill levels and abilities. Enjoy top-tier golf at our Championship golf courses, Rush Creek Golf Club and Edinburgh USA. Both courses have ample event space to host any additional meetings and planning discussions, plus amazing food and drink selections. If you're looking for a slightly lower key option and you have a wide range of abilities and skill levels, take on a laidback nine-hole round of golf at Brookland Golf Park or try the same course with a soccer ball instead of clubs with a round of FootGolf. If you're really looking for a unique spin on golf, take the group out for a round of FlingGolf at Centerbrook Golf Course. Who says you can't have a golf retreat in the winter? Minneapolis Northwest is home to the first Topgolf, the year-round golf entertainment complex, in the state of Minnesota! With more than 100 climate-controlled bays, the weather holds no limits on your retreat. With a full-service restaurant, bars, private spaces and meeting rooms and a rooftop terrace with a fire pit —Topgolf offers endless options for creating a successful retreat!
Educational Retreats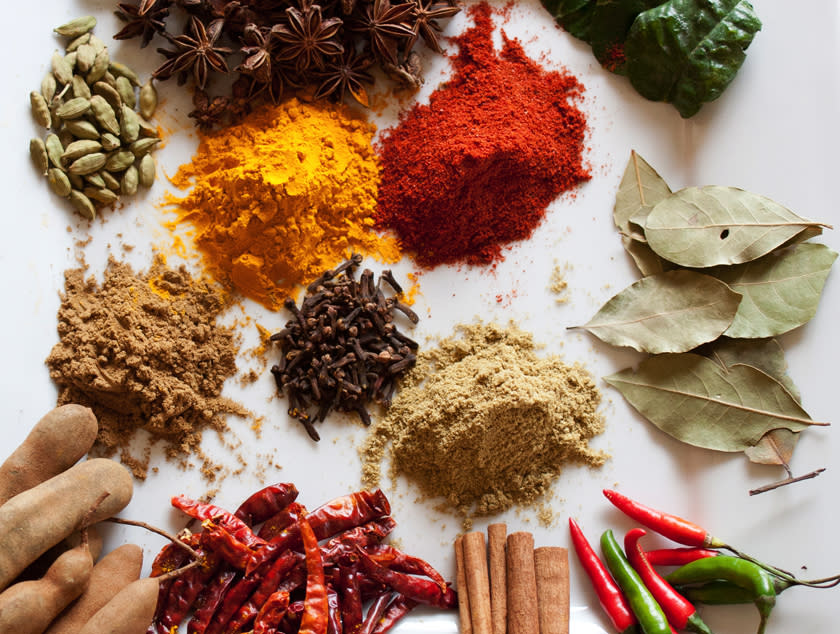 Learning new skills is a great way to build relationships outside the office while having fun. Try an ethnic cooking class or spice class at NOLA Bistro & Lounge, take the cake in cake design classes at Nadia Cakes, or learn how to cook with a variety of oils at Love That Olive.
2. Create Your Agenda
Decide the agenda before you book, so you can determine your needs, everything from room space and lighting to food and activities. It's important to be mindful of what you are trying to achieve with your retreat. Do you need quiet space for in-depth small group discussions or do you require outdoor space for team-building games and activities? The type of food served at your retreat can also have a big impact on the mood of the event, whether you're looking for comfort food or healthy options. Some event spaces, like The Heritage Center, offer onsite catering, made fresh daily. Venues with onsite catering offer added ease in planning, since you can work with the same event planner for all aspects of the event.
3. Book Your Space Early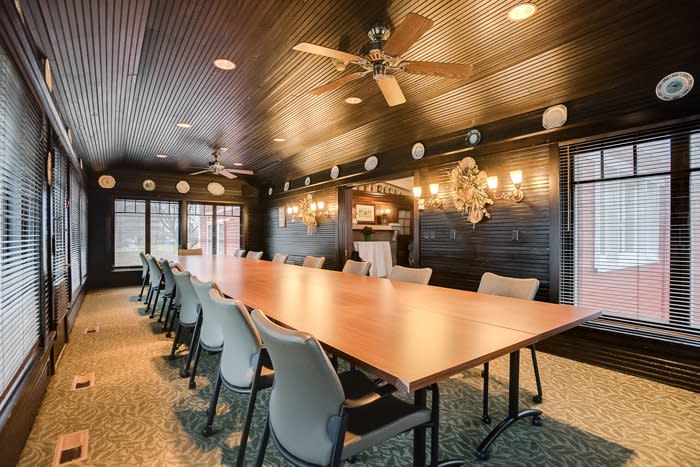 Get your space reserved as far as a year out, if possible. The sooner, the better. Think about what types of spaces you need. At The Heritage Center, people typically book a combination of spaces, with separate areas for meeting and eating, according to Mary Spah. Both indoor and outdoor spaces provide great opportunities for your retreat. For most retreats, it is essential to have larger rooms for discussions as well as smaller breakout rooms.
4. Determine if you need an outside facilitator
Do you need someone to help guide the retreat process? If you do, be sure to hire a skilled facilitator that has expert knowledge and experience dealing with larger groups. Work with the facilitator beforehand to ensure that they are well briefed and understand the background, issues and aims of the retreat. Having the right facilitator is an important step in making sure you and your team get the most out of your retreat.
5. Plan your activities and rent or bring equipment.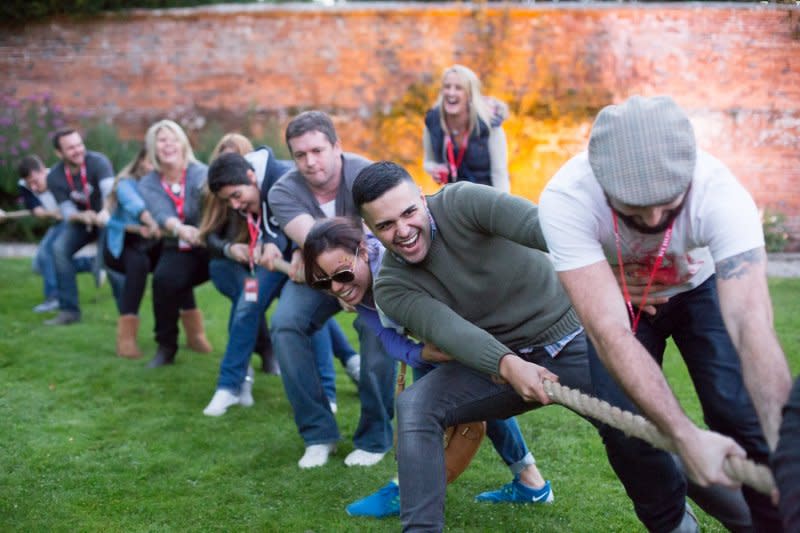 Team-building activities and games can be a valuable part of your retreat, whether you are just looking to play a round of bags or want to find an activity that allows you to give back to the community. Don't have game equipment readily available? Or not sure what activities work best for your group? Metro Connections has you covered! Their team of experts will create the perfect activity for your group. Designed to foster individual and team growth, their interactive activities go beyond team building – they are a great way to share a dynamic message and generate attendee engagement.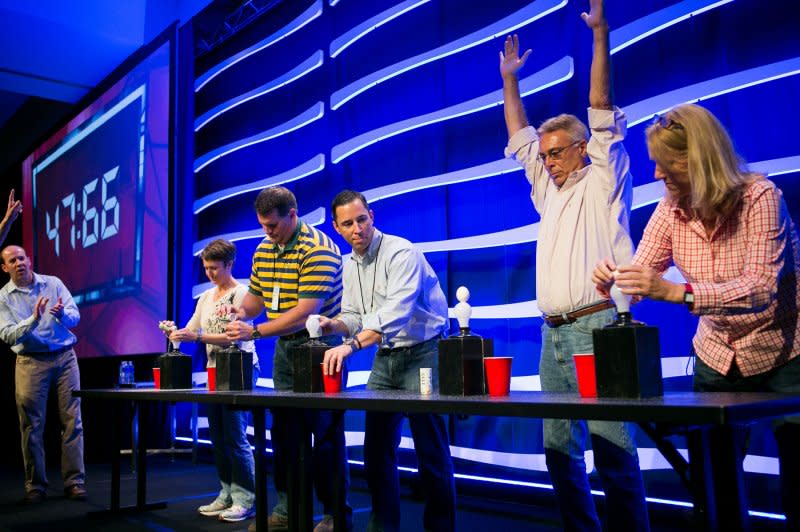 Choose from a variety of tracks for team-building activities, such as culinary activities like Iron Chef or Salsa Making; innovative activities like Light Art or a Bobsled Build; active endeavors like Amazing Race or Olympic Challenge; game show fun like Win It in a Minute or Friendly Feud; interactive adventures like Video Horseracing or Clue Mystery; or custom events created with the help of their team of experts. 
For corporate social responsibility options, choose from an array of activities through Metro Connection's Give Back programs including: Backpack Build; Bike or Wheelchair Build; Camp Wannagiveback; Furniture Fix-Up; Military Give Back; Music Feeds the Soul; Putting for a Purpose; and Community Outreach Programs. Does your company support a specific charity? Work with the team to develop an event that fits your cause or let them help you find another charitable organization to work with to determine the impact your team can make.
6. Work with event planners/staff to finalize the details.
Event planners at all the event spaces in Minneapolis Northwest are happy to work with you and figure out the logistics to make your event a success. Don't hesitate to reach out at any point in the process and ask them questions to ensure you are addressing your team's needs. Get the best tips and tricks from these savvy event planners who know their venues inside and out. For example, if you book an event at The Heritage Center, the event planning staff can connect you with the staff at the conjoined hotel, Embassy Suites Minneapolis-North, to reserve rooms for your event.
7. Enjoy and relax!
If all your planning went well, hopefully this is the easiest step in the process.
Still trying to decide what team-building activities work best for your retreat? Check out our top picks for team-building activities in Minneapolis Northwest.
To get started planning your next retreat, contact our Business Development Team, Ashlee Mueller, (Ashlee@mplsnw.com, 763-252-1412) and Megan Diaz (megan@mplsnw.com, 763-252-1420). You can also get to know our sales team here.