Stepping into Painted Turtle Chocolatier in Osseo is like stepping into a corner of Willy Wonka's Chocolate Factory, where nearly everything is either made of chocolate or covered, drizzled, dusted or sprinkled with chocolate. Patricia Godfrey, owner and expert chocolatier, shares her passion for sweets with the community. From truffles to turtles, her family owned shop does artisan chocolates right.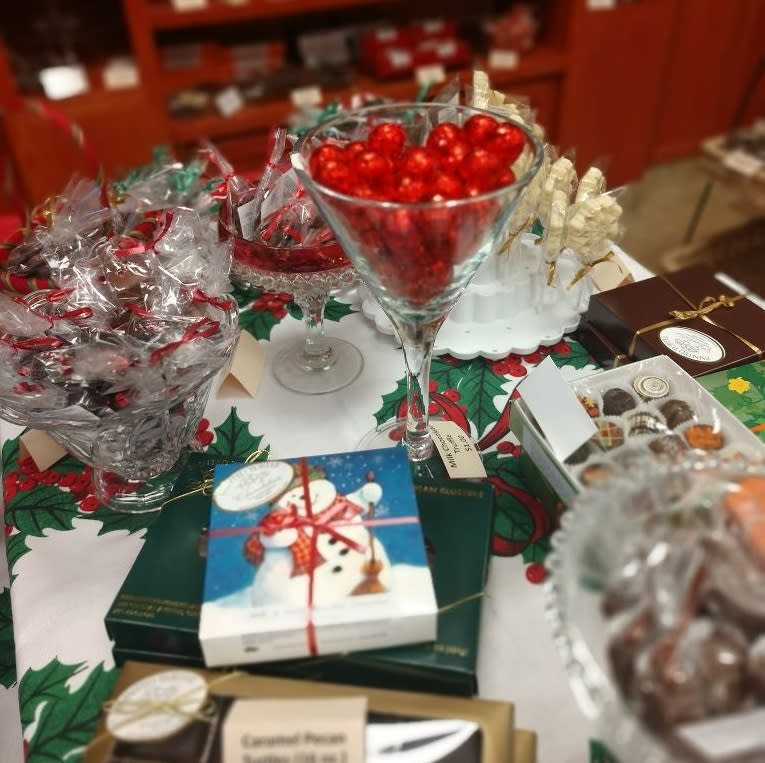 While Willy Wonka's factory involves heavy doses of magic, Painted Turtle relies more on science. With degrees in food science and nutrition, Pat worked in research and development for food processing giants Pillsbury and Cargill for many years before going down the path of chocolatier. She now "tempers" chocolate in a specially designed tempering machine from Italy and melts it down until it gets the right cocoa butter crystalline structure. "It's very important to get the structure right or the chocolate will be off," she says. Tempered chocolate has a shiny, flawless appearance; it breaks off with a snap when you bite into it and it melts smoothly in your mouth. Untempered chocolate can have a chewy or cakey texture, and it doesn't look as nice "There's a science to it, an art, and a level of detail needed," Pat says, and with a smile she adds, "I just get passionate about chocolate!"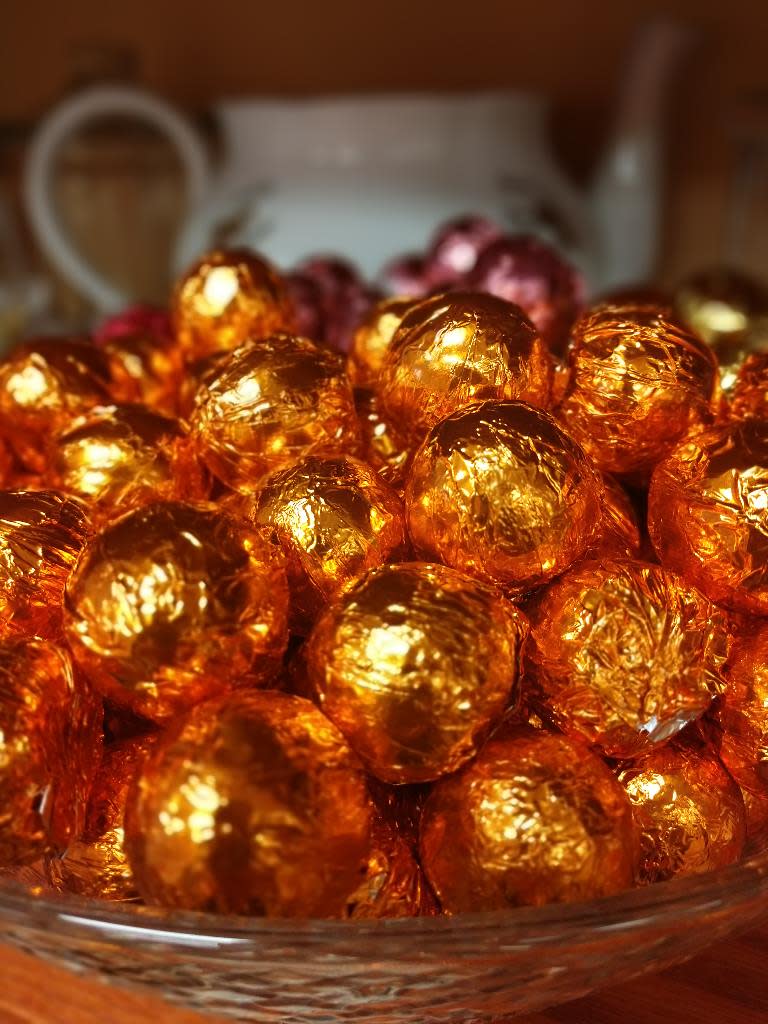 Painted Turtle Chocolatier opened in Plymouth in 2008 where it remained for seven years before moving to Osseo in 2015. Osseo's charming, small-town feel and quaint set-up makes it a perfect fit for the artisan chocolate shop, providing steady foot traffic from window shoppers and the local community, and business from the surrounding cities of Maple Grove, Brooklyn Park, and even Rogers, Otsego and Albertville.
Pat's personal chocolatier-ing philosophy is very much inspired by the French in that it's okay, even encouraged, to enjoy a little bit of chocolate every day. "It's when we overdo it that it becomes a problem," she says, "but we can have little bits of chocolate at a time." She points out the anti-oxidants in dark chocolate and explains that dipped fruit can be a good snack, such as dark chocolate-dipped apricots, ginger or blueberries. But she won't say chocolate is exactly healthy. "Healthy really depends on what you put in it," she says, referring to chocolate-dipped potato chips and pretzels.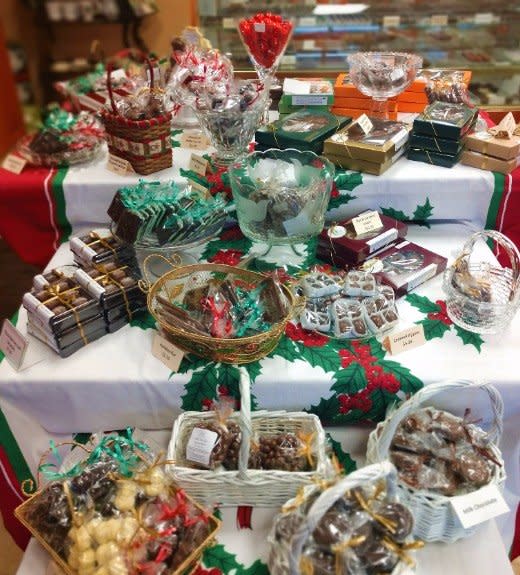 Painted Turtle shines during the major holiday throughout the year, which guarantee business and allow Pat and her team to pinpoint the times of the year they need all hands on deck. As one might expect, late November through December is the shop's busiest time with an abundance of corporate orders (managers gifting chocolates to their employees, handing out party favors or ordering a tray of treats for the company party), and shoppers stop in to pick up gifts and goodies for their own parties. A real hit is the hostess tray of cookies – a extra convenient way to serve homemade holiday cookies without all the work! And the variety of chocolate suckers in the shapes of Santa, Rudolph or snowmen make perfect party favors and stocking stuffers.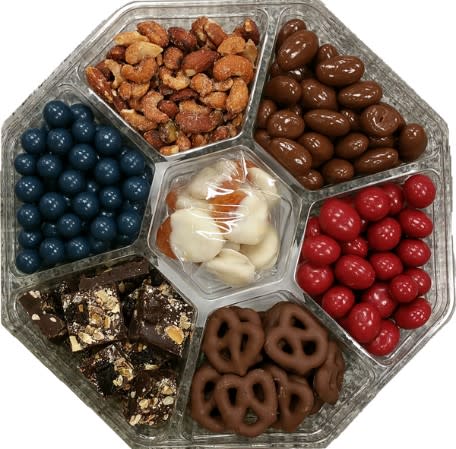 Valentine's Day is synonymous with chocolate, making it the second biggest holiday of the year, followed closely by Easter and the thousands of chocolate bunnies Painted Turtle churns out each spring. The shop hosts an annual "bunny parade" featuring 20 to 30 chocolate bunnies of different sizes displayed from largest to smallest. "I love the seasons," Pat says. "I love the scramble to get everything made and see everybody coming in."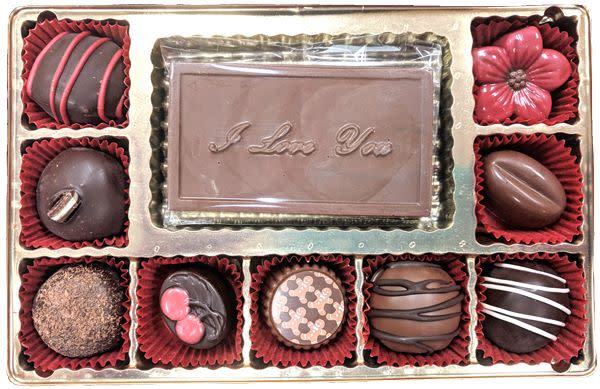 What makes Pat an impressive chocolatier is her passion for the artistry of chocolate and how beautiful a chocolate piece can be. "I want to take the final product and explore the artistry of the chocolate," she says. A favorite creation is her signature painted turtles – a mom and two baby turtles. They act as a kind of mascot for the shop, which got its name from Pat's early experience learning to paint turtles – clusters of caramel and pecans dipped in chocolate with a shape resembling a turtle. When she decided to go into business, Painted Turtle made a perfect choice as an homage to her early inspiration. Additional favorites include a chocolate heart-shaped box with mini chocolate hearts inside; chocolate teaspoons and mini tea cups; chocolate turkeys at Thanksgiving, chocolate golf balls and champagne corks, and more chocolate suckers molded into everything from animals to mustaches.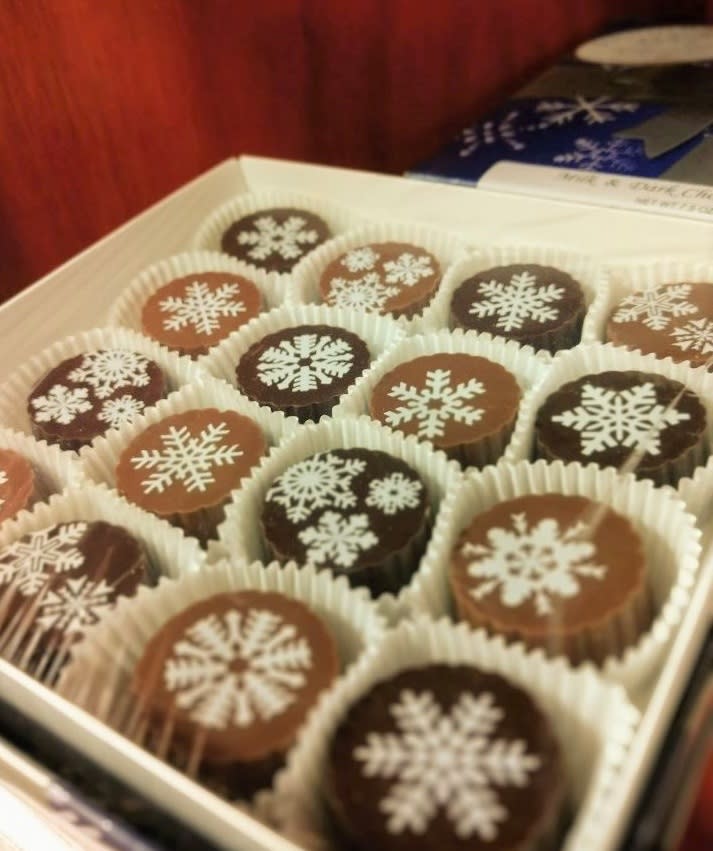 Painted Turtle avoids using artificial ingredients or preservatives, and all ganaches, frostings and creams are homemade. For example, Pat uses only real raspberries when making her raspberry truffles. The berries are pureed and added to the homemade ganache instead of using a flavored syrup. Pat and her team also use butter instead of shortening or oil. As she says, "I'd rather have one small, quality made cookie than a dozen store-bought ones."
Painted Turtle's truffle case is especially popular and it's easy to get lost browsing the variety of mini morsels. Pick your own truffles to personalize the chocolates – get only your favorites or put together a variety box as a gift. You might find a new favorite flavor, such as mint julep or bourbon truffles. Also lurking in the truffle cases are coconut haystacks, mint melt-aways and cordial cherries. And throughout the store you'll find a variety of treats dipped in chocolate, from pretzels, popcorn and peanuts to marshmallows, Oreos and graham crackers. You can even grab a scoop or two of creamy homemade sorbet April through December.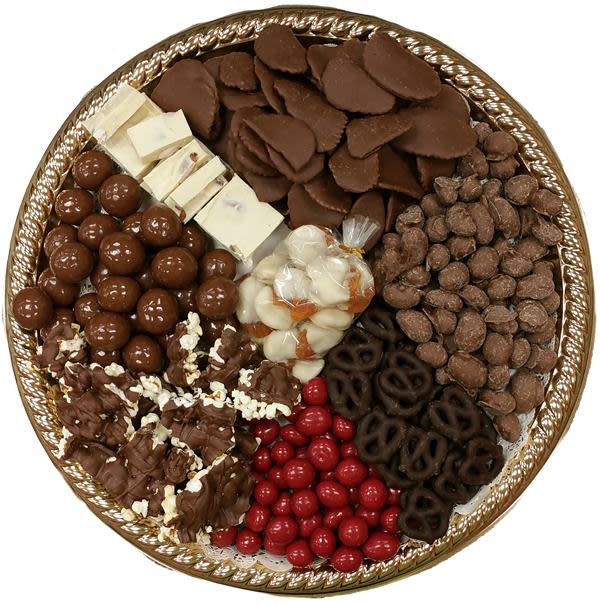 This beloved family owned business celebrates its 10th anniversary in 2018. When asked what makes Painted Turtle successful, Pat says it's a combination of the quality of her chocolates and getting to know her customers. "We have a wide variety of chocolates that we make ourselves, and we start with very high-quality chocolate, and there are lots of customers that we know personally," Pat explains. "That's what makes us special and we don't want to lose that."
After shopping at Painted TurtleExplore more of our Holiday Shopping Favorites and 10 Holiday Date Ideas, as well as the best ways to enjoy indoor fun this winter. Share your adventures with us on Facebook, Twitter and Instagram with the hashtag #WeLoveMNW. You may be featured on our website!