Parents, the time has come. Backpacks are loaded with new supplies, lunches are packed and class schedules are in hand. Whether school has already started for your kids or it is just about to, commemorate their special milestone by treating them to a getaway of pure fun! A new school year is its own adventure, but we've got some ideas that will help YOU create an adventure around the Minneapolis Northwest area for some much-needed bonding time.
Shop Until You Drop
The Shoppes at Arbor Lakes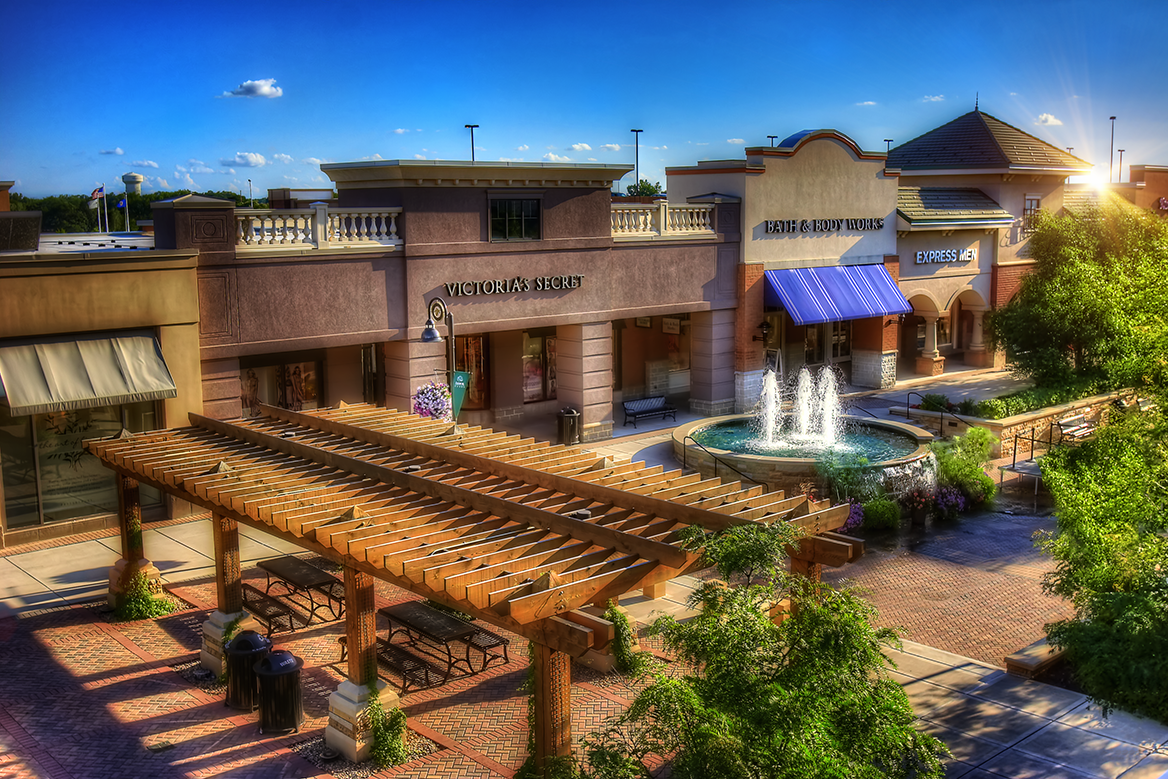 Need a few new outfits for school? We've got you covered! The Shoppes at Arbor Lakes is your one-stop shopping center where you can find great stores like Gymboree, Maurices, Gap, Justice, Claire's and the Buckle. With one-of-a-kind boutiques, fine restaurants and casual eateries, this outdoor center is the perfect place to bond with your kids before sending them off to school. Did you know? You can pick up a coupon book for The Shoppes at Arbor Lakes at guest services, located in building G behind Lane Bryant, near the parking ramp!
Albertville Premium Outlets
Back-to-school season can be tough on the budget, which makes Albertville Premium Outlets a sure bet. Parents and kids can commemorate the new school year by shopping at any of the 100 name-brand outlet stores that feature everyday savings of 25 to 65 percent. Located in…you guessed it…Albertville, you can find stores like Adidas, Tommy Hilfiger, Nike, Aeropostle, Express, Guess, Nautica Kids and The Children's Place, just to name a few. Did you know? If you head to the Albertville Premium Outlet webpage on our website, you can print off a complimentary saving passport that saves you $5 on your trip – see, just by reading this, we saved you money!
Get a Makeover
Taj Salon & Spa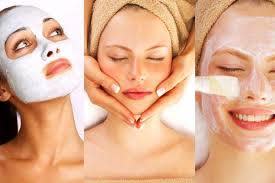 Start the school year off right by treating yourselves to a facial. Taj Salon & Spa in Brooklyn Park offers a 45-minute experience for only $55! Other options include a 30-minutes skin consultation for $20, which includes 10 percent off your skin care purchase (day of) and a FREE gift! If your daughter is ready for makeup, you both can sign up for a 30-minute consultation ($20) that includes 10 percent off your makeup purchase (day of) and a FREE gift! There is no better way to trade beauty secrets than over lip gloss and eyeshadow.
MarcDaniel Salon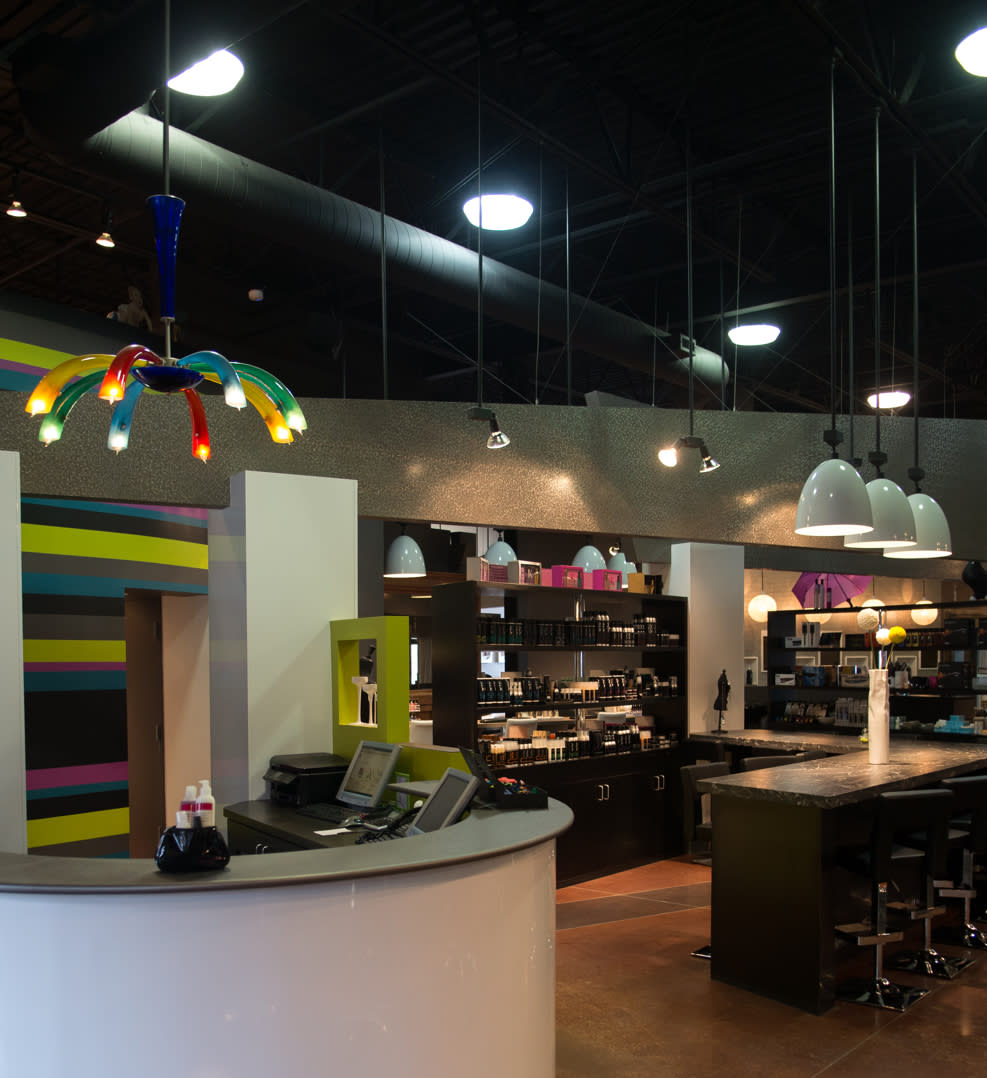 The MarcDaniel Salon mission is simple – bringing out the beauty that makes you amazing. Voted best salon in Maple Grove (2009 – 12), they pride themselves on creating looks where art and innovation meets sophistication. Offering services for hair and nails, it is easy to get everything done at one location. Bond over the latest nail color and indulge in a mom and daughter manicure/pedicure! Did you know? Each haircut includes a personal consultation, facial shape and skin-tone analysis along with shampoo, cut and style…what a deal! 
Drive in the Fastlane
ProKART Indoor Racing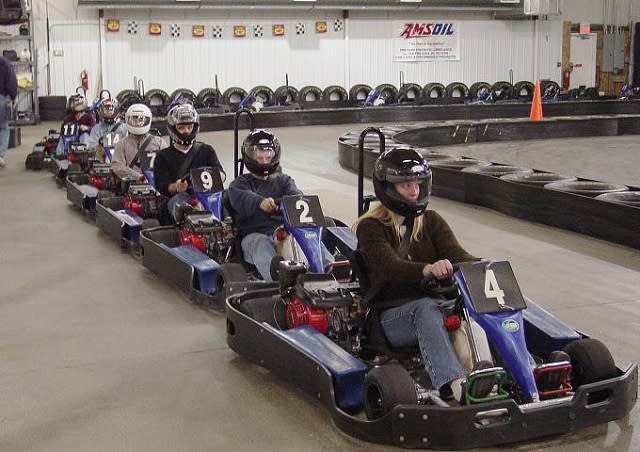 If you've got a racing enthusiast in your family, take them to ProKART Indoor Racing. For ages 12 and up, you can arrive and drive – no reservation required! Two, eight-minute sessions are $33 per person. Remember to grab your seven-day license for only $10 when you choose arrive and drive! Who is up for a little friendly competition?
Paint Memories
Color Me Mine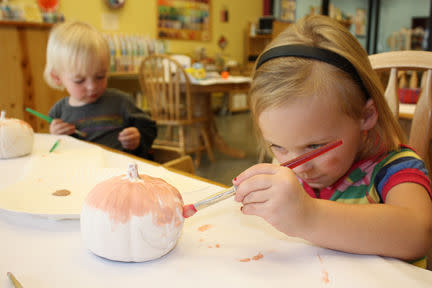 Discover the artist within and bring home a unique, treasured ceramic character (like your school mascot) or a dated plate to commemorate the start of school at Color Me Mine! Feel free to make a reservation, but walk-ins are welcome, giving you the flexibility to stop by at any time. Great for all ages, simply select a plain ceramic and make it your own! Since the masterpiece needs to be put in the fire to dry and set, this gives you a great opportunity to catch up with your kids – what a great activity to relax and have some fun! Color Me Mine is located in The Shoppes at Arbor Lakes between the Gap and Pottery Barn…which, takes us to the next adventure…shopping.
Capture the Moment
Coon Rapids Dam Regional Park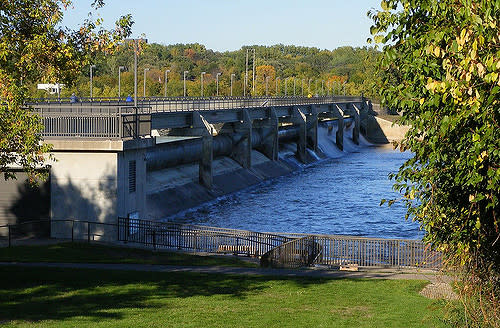 Capture the emotional milestone of starting a new school year by taking family photos at the breathtaking Coon Rapids Dam Regional Park. This unique park is defined by the Mississippi River and offers 160 acres of amazing scenery to bike, hike, fish and more! Located in Brooklyn Park, you find a variety of places that are perfect to take your photos and there is no better backdrop than nature.
Centennial Park
Another great option for taking back-to-school photos, is Centennial Park, located in Brooklyn Center, which provides picture-perfect scenery where a paved pathway connects to Palmer Lake Nature Area! There is also an amphitheater and playground for more creative photographers. After you're done with the photoshoot, head to one of their picnic areas to have a meal surrounded by the beautiful landscape.
Gather the Family for a Special Meal
50's Grill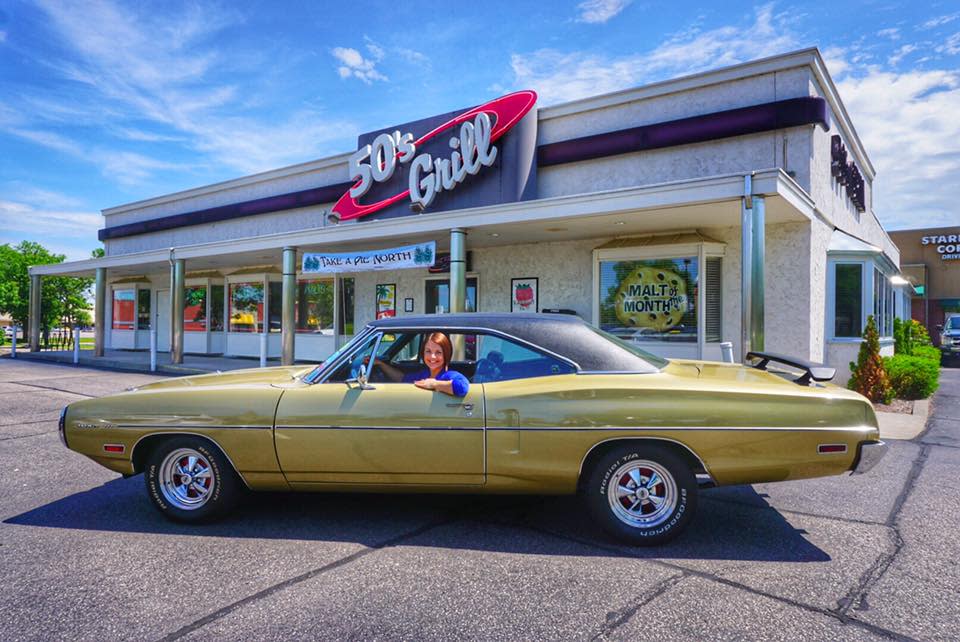 Step back in time and take the family to 50's Grill in Brooklyn Center for the best Chicken Pot Pie in town! Not just your everyday burger joint, 50's Grill serves up comfort food meals just like grandma used to make like homemade meatloaf and rotisserie chicken. Parents, this is a great opportunity to reminiscence about your own school days and tell stories the kids will love hearing, but do it over dessert! They make irresistible malts, cakes and pies that will satisfy your sweet tooth.
Dave & Buster's

Featuring more than 200 games (yes, you heard right) in their Million Dollar Midway, Dave & Buster's is fun for the whole family (parents will be busy winning tickets, too)! Located in Maple Grove, you can enjoy their premiere entertainment complex and play everything from billiards to shuffleboard. We guarantee you will have worked up an appetite after hitting the Million Dollar Midway, so sit down as a family and enjoy a wide-range of delicious food to satisfy everyone at the table.
Starting a new school year is a special milestone for every family. Minneapolis Northwest offers so many options that you will never get bored. Here is a little homework – post your photos on Facebook or head on over to Twitter and Instagram using #WeLoveMNW and you could have a chance to be featured on our website!
If you are looking for fun, educational ideas to ease the kids into a new school year, then check out Brooklyn Park Takes the Learning Experience to Another Level.