Looking for a unique venue for a corporate meeting or event? Topgolf should be at the top of your list. With its accommodating event spaces and scrumptious food packages, the entertainment and party options are limitless. Roll out the red carpet for your event, enjoy casino-style fun, DJs and dancing, photo booths, or live sports viewing on more than 230 flat screen HD TVs. Topgolf is a perfectly fun way to entertain corporate clients and colleagues in a distinctively non-corporate environment. Get to know the event spaces and catering options at Topgolf.
Since opening in September 2018, Topgolf has become one of the top attractions in the Twin Cities. The 60,000-square foot venue features three levels of 34 semi climate-controlled golf bays that can accommodate up to six golfers (and two observers). Its variety of event spaces are available to rent with state-of-the-art AV equipment at no extra cost. They provide options for groups of 12 to 1,200, ranging from a smaller board room to a rooftop terrace and lower longue with two billiard tables. Single level buy-outs and full buy-outs are available, as well. 
Rooftop Terrace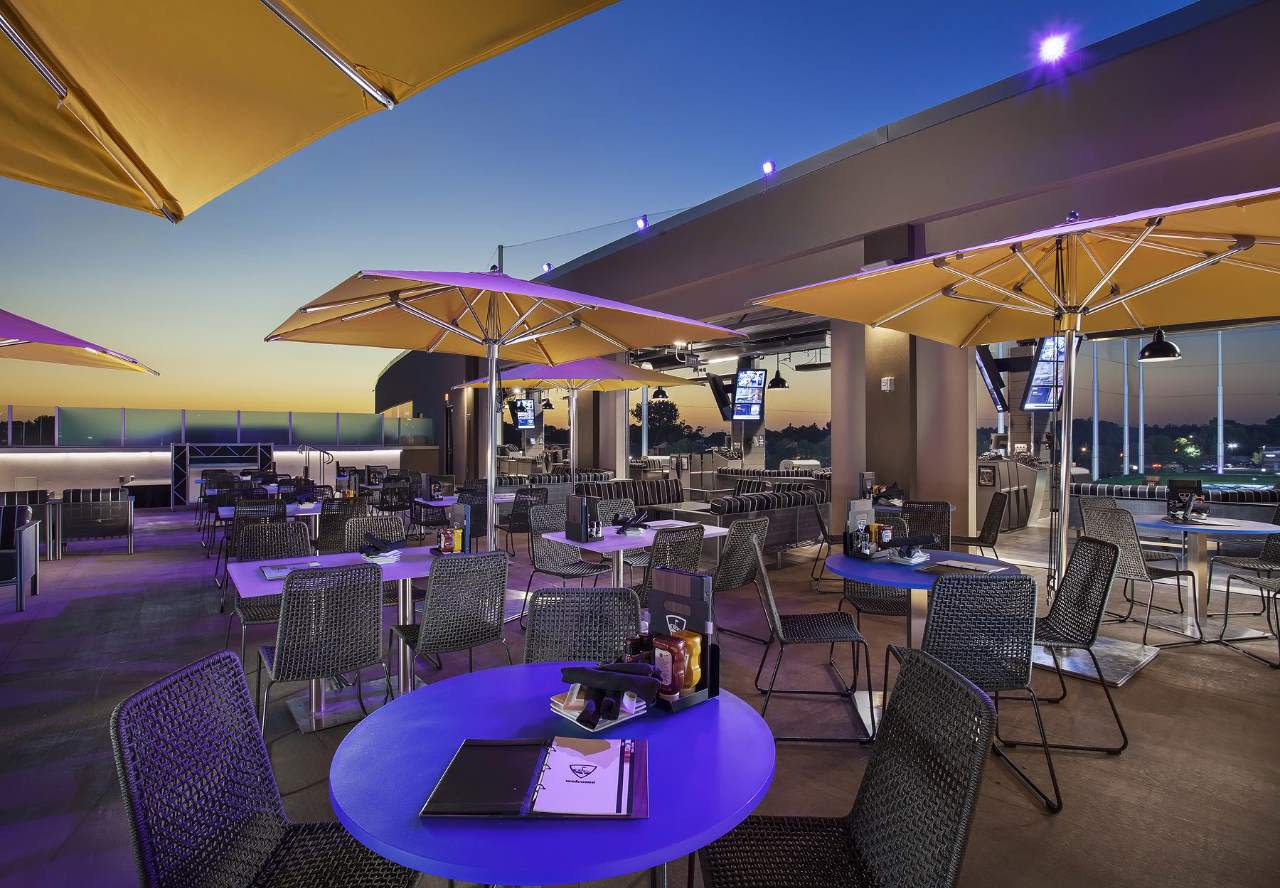 Gather and relax on Topgolf's expansive rooftop patio with views of the downtown Minneapolis skyline. The patio includes a wrap-around bar, lounge furniture, TVs and a stage for speeches, music and DJs. This spot is poised to become a great summer attraction with special events like trivia nights, live music, community events and sports draft parties. The terrace is spacious and open but still offers a level a privacy if you have a group there. Capacity: 178 guests
Signature Room
The large Signature Room comes with a full bar and several TVs; it can be divided into Sig Room A and Sig Room B with a white board wall divider, a fun compliment to any presentation, team-building exercise or games. Each room has garage doors that open onto the hitting bays; reserve the bays right by your space and you'll have an even bigger event space. This area is ideal for conferences, seminars and annual meetings. Capacity, full room: 250 guests, half room: 125 guests
Chairman's Suite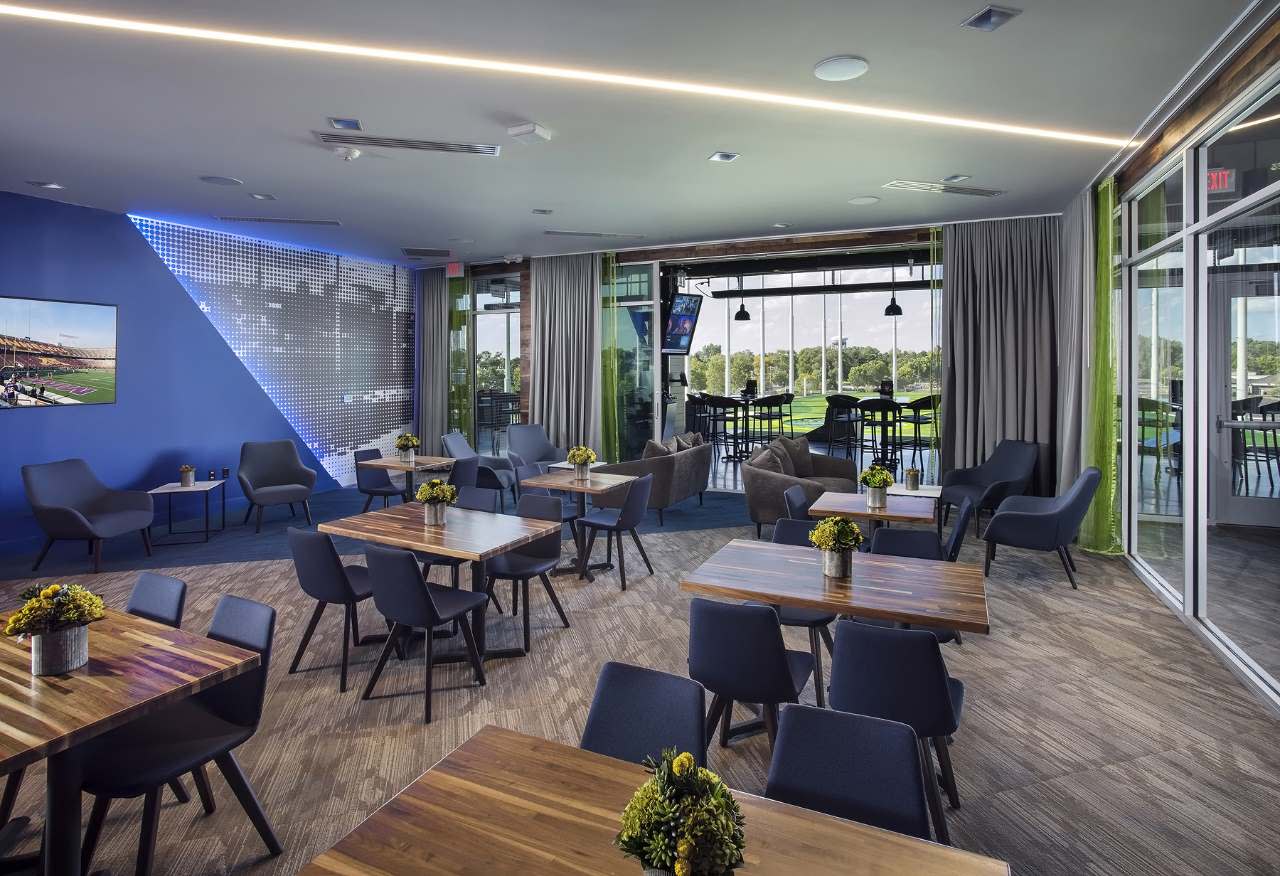 The Chariman's Suite is the goldilocks room of Topgolf – not too big, not too small, just right. Situated on the third level, guests are treated to spectacular views of the outfield and light-up targets. Its filled with a mix of lounge-style couches and tables, and it includes a slider door that can open right onto the concourse. Capacity: 60 guests
Lower Lounge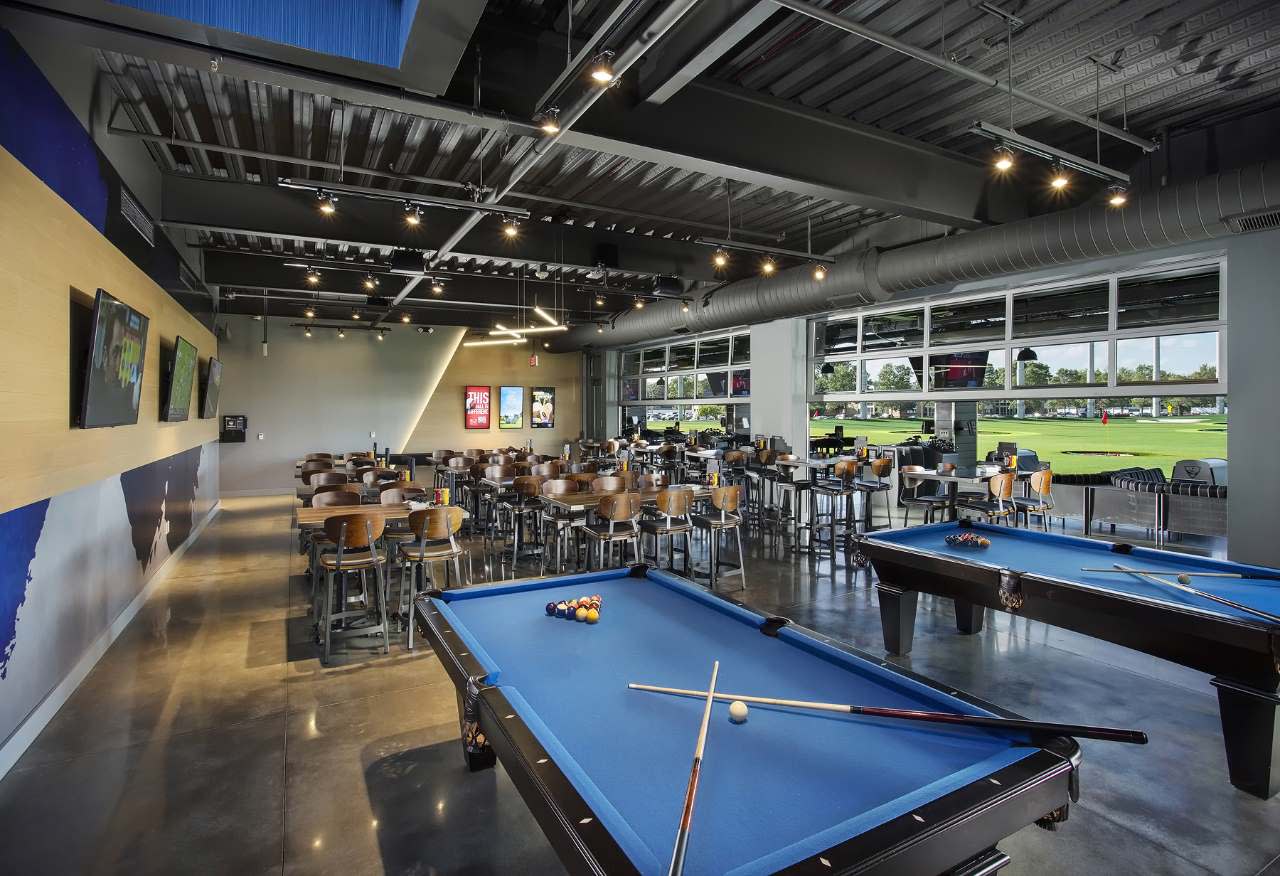 Head downstairs to the TCL Lounge in the lower level for a series of blocked TV screens that are ideal for video-gaming tournaments. There are also billiards tables, shuffle board. Portable bars can be set up, so your guests are never too far from a refreshing beverage. Capacity: 82 guests.
Venue Buyout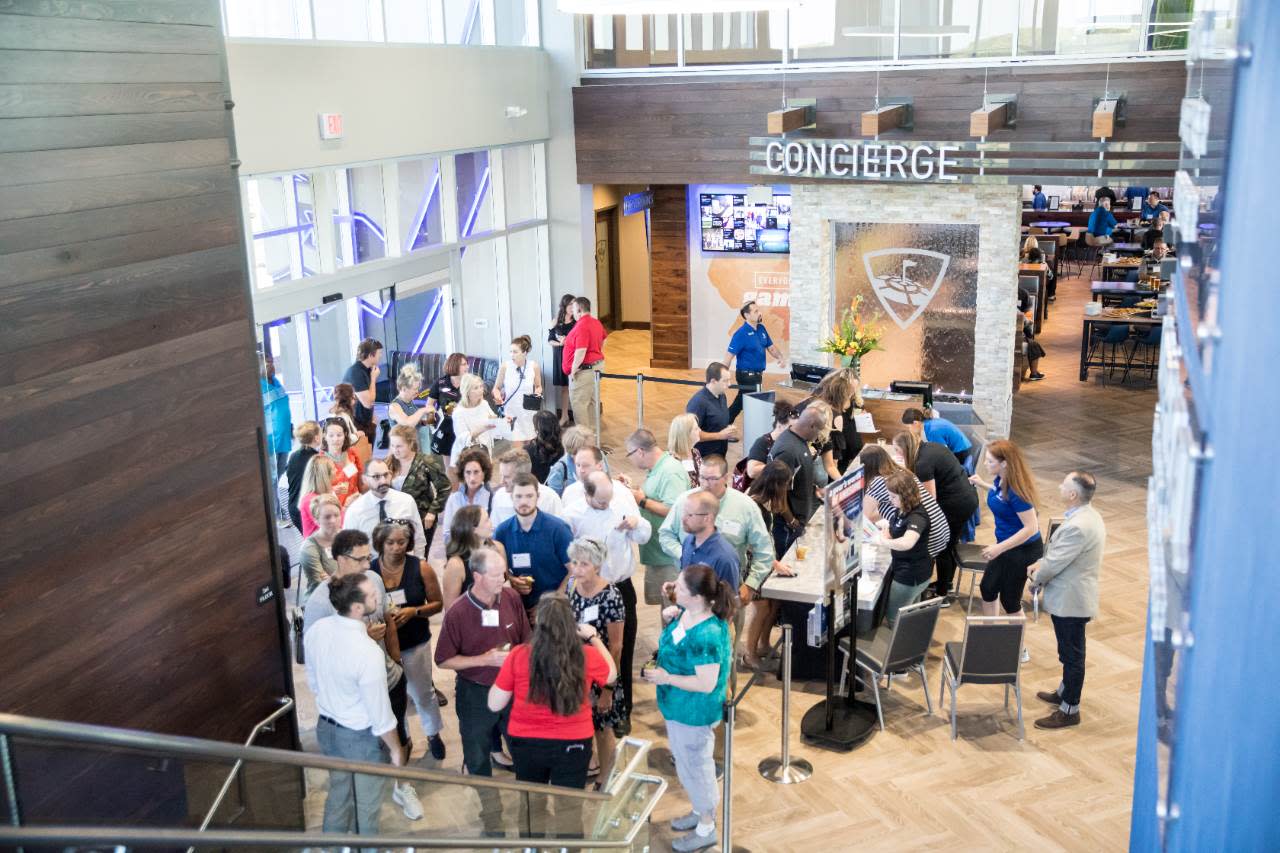 Rent out the entire Topgolf venue for an event no one will forget. It can host more than 1,000 guests and about 600 players – a great option for charity tournaments. Vikings players and the Minnesota Twins have enjoyed successful one-level and full-venue buyouts.
Any group over 12 is encouraged to utilize Topgolf expert staff. You'll be assigned an Event Advisor who will help you plan your event in three easy steps: 1) Select your game play day and time (pricing varies depending on time of day and week day vs. weekend play), 2) Choose your menu – a delicious, supreme variety of options, from Backyard BBQ package to Fajita Feast or Italian Table packages, 3) Choose your enhancements with an additional dessert tray, pro golfer instructions or event mementos for your guests.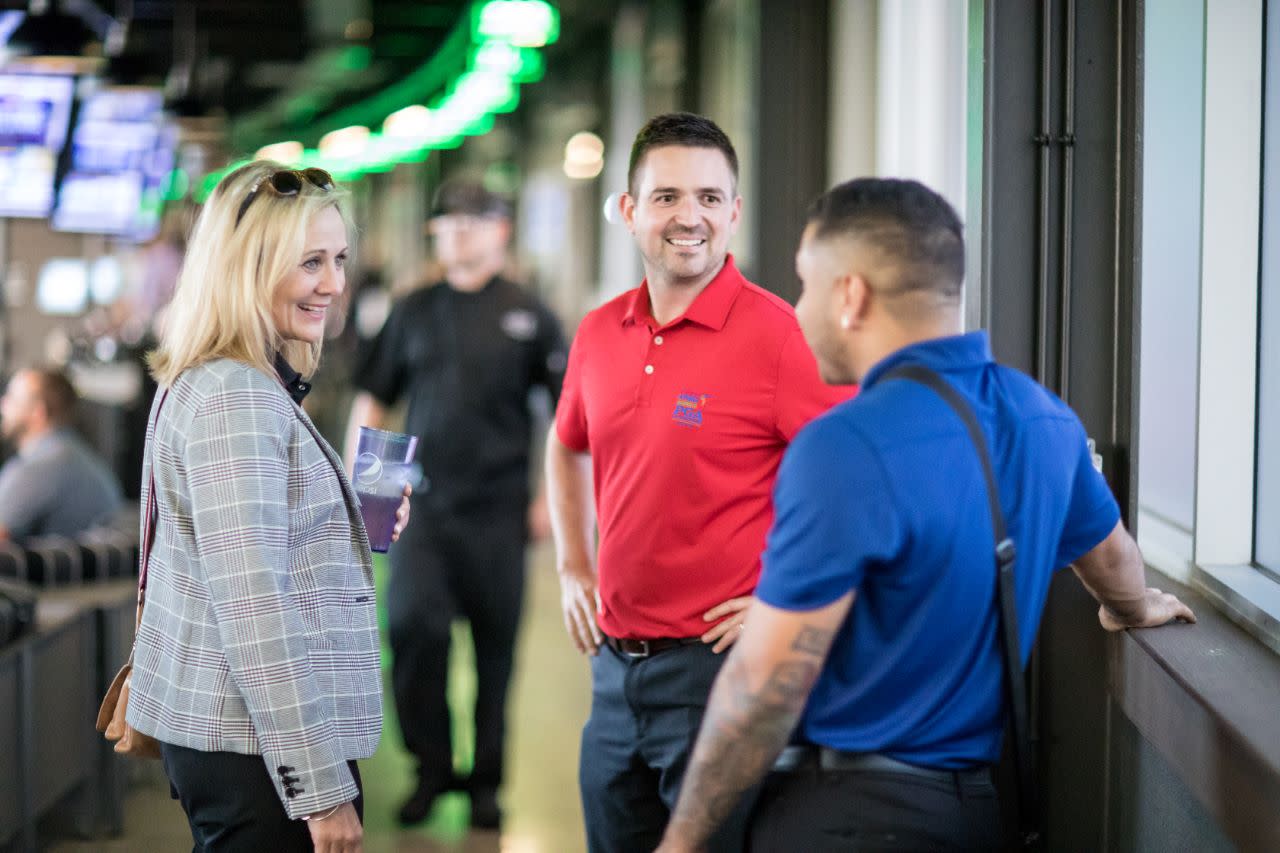 Topgolf prides itself on being flexible and accommodating with its variety of set-up options. The only limits are your own imagination. While the venue excels at hosting birthdays and bachelorette parties, the staff enjoy different kinds of events, from gaming tournaments to a recent gender reveal party – the father hit a golf ball and the targets lit up in blue! "No matter what the request is, we'll see how we can make it happen," says Marketing Manager Amy Struve.
The game itself caters to all skill levels, almost all ages and abilities, and more than half of Topgolf's customers are non-golfers. The interactive games have automated game scoring for easy play that track the micro-chipped balls – no need to carry around a little yellow pencil and scorecard. Challenge your guests to seven different point-scoring golf games anyone can play. Left-handed, child and toddler clubs are available upon request. "It's everyone's game here," Amy says. "It really surprises people but Topgolf truly is fun for all." 
Let Dish!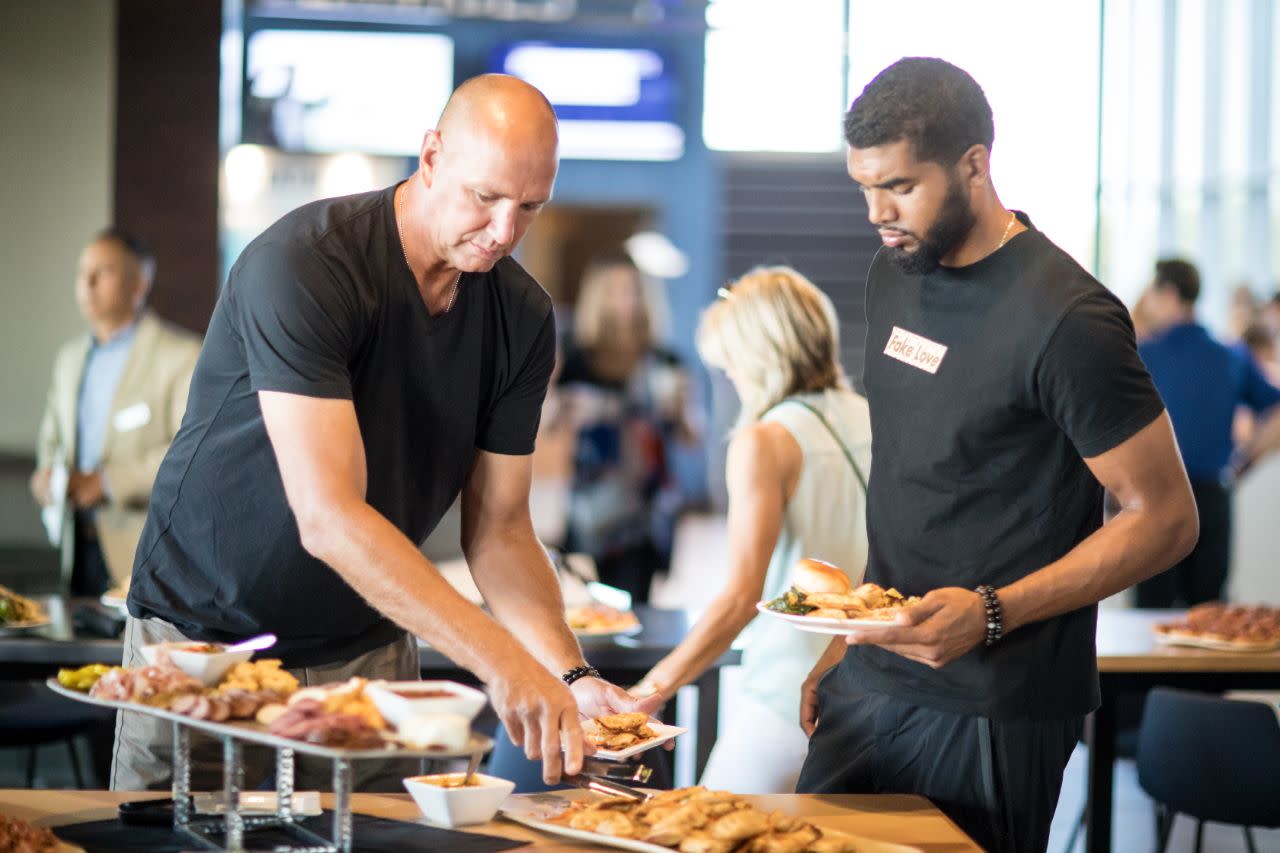 When all is said and done, food may be the most important part of any event. Topgolf's well-rounded, delicious menu and dining packages will not disappoint. Talk with an Event Advisor for the full range of edible options, but here's a snapshot to whet your appetite!
Backyard BBQ: Nashville hot fried chicken, slow-smoked beef brisket with mop sauce, mac n' cheese, house baked beans with bacon, house salad, buttermilk biscuit and whipped butter, and chocolate chip cookie bites. Vegetarian option: Chimichurri grilled portobello "steaks"
Italian Table: Chicken piccata, mini meatball baked tortellini, roasted red potatoes, ratatouille vegetables, charred romaine and baby kale Caesar salad, chocolate chip cookie bites. Enhance the meal with shrimp primavera, or the vegetarian option of portobello mushroom baked tortellini.
Premium Platter Tray: Chicken pot stickers, shrimp cocktail and mini crab cakes
Southern Platter Tray: Mini pigs in a blanket, chef's deviled eggs with bacon, and buffalo fried cauliflower
Brisket Breakfast Taco Bar: Slow-smoked chopped brisket, scrambled eggs, house skillet potatoes, shredded cheese, pico de gallo, tomatillo salsa, tortillas (gluten-friendly available upon request), coffee, hot tea and orange juice.
Desserts Trays: Sweet treats are always appreciated. Go with the white chocolate-covered strawberries, bread pudding bites with a whiskey cream sauce, or Topgolf's famous injectable donut holes.
More Than a Golf Outing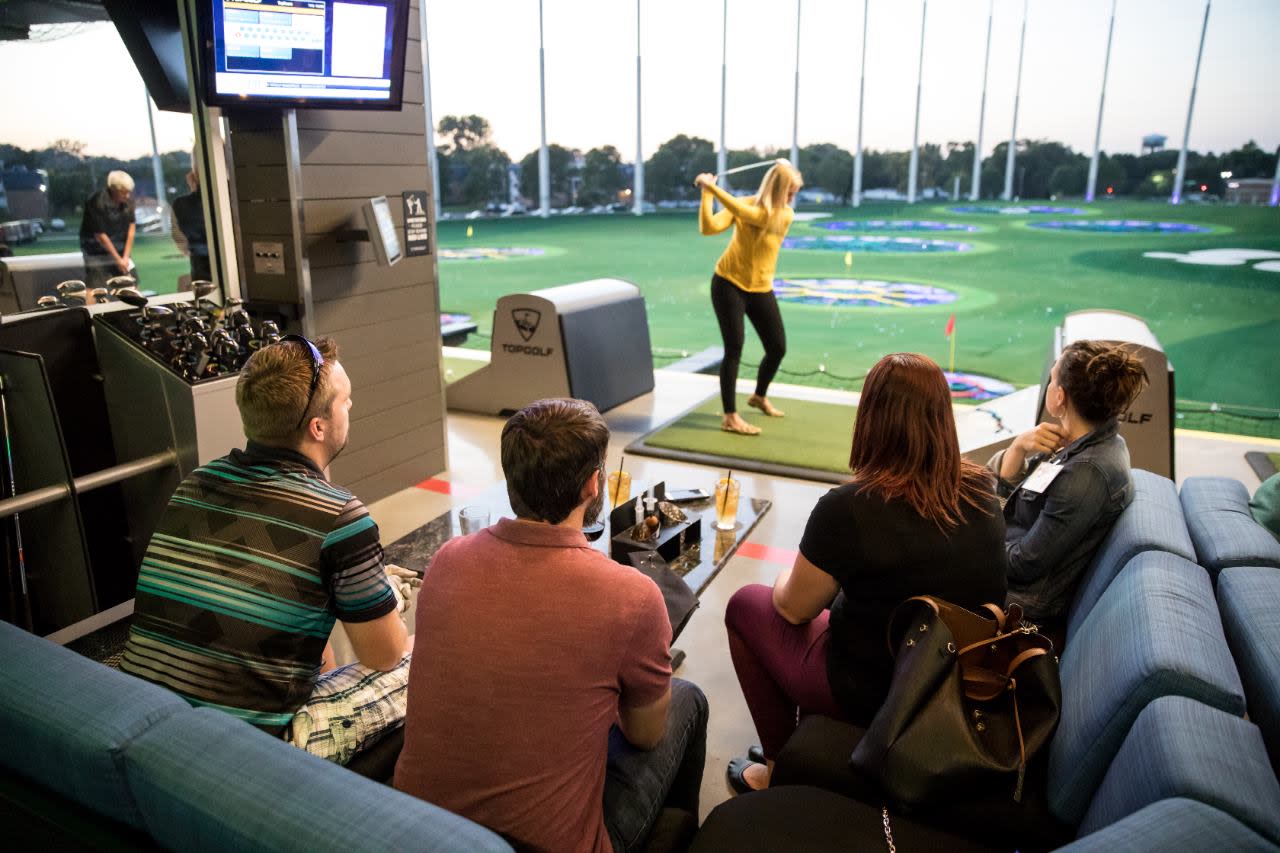 Take any corporate meeting, group outing or team-building activity to the next level at Topgolf, and remember these key reasons why Topgolf should be at the top of your list:
1) No Rain Outs. While Midwesterners rarely let weather stand in the way of getting a round of nine in, you simply never have to worry about weather here. The 100+ hitting bays are climate controlled, including misters and heavy duty heaters in each bay, ensuring comfortable play time year round.
2) Group Packages. Topgolf can accommodate groups of virtually any size, from 10-12 people to 612 players with space for 600 spectators.
3) All Day, Any Day. Want to host a morning meeting with breakfast? Or maybe lunch is more your style. And evenings always make for a great time when the entire facility is hopping. Any time of day is a great time to met at Topgolf.
4) Event Advisor. Customer service is a top priority at Topgolf. Your personal Event Advisor provides expert guidance, a concise timeline and a dedicated team to execute your event.
5) Effective Networking. The Topgolf environment is ideal for networking and interacting with your guests. As each person takes a few swings, you're free to chat with others who are mingling, sipping beverages or injecting Topgolf's famous donut holes with raspberry, chocolate or Bavarian cream. 
Follow us on Facebook, Twitter and Instagram for the latest news and happenings, and share your adventures at Topgolf with us! Use the hashtag #WeLoveMN and you could be featured on our website.
Looking for more fun and unique team-building ideas and ways to improve your meetings and events? Explore our Top Team-building Activities, Tips for Planning Health-Conscious Meetings, and how to Plan the Perfect Retreat in Minneapolis Northwest.