The Heritage Center, one of the most unique event venues in Minneapolis Northwest, showcases a rich history, beautiful landscape and impressive modern amenities. With Mary Spah, Director of Sales, at the helm, the venue sees impressive increases in repeat business and events spanning all industries, from corporate meetings and trade shows to galas and weddings. Learn from one of the best leaders in the industry the keys to executing a successful event and why The Heritage Center is a great venue to consider for your next meeting.
A Well-Traveled Career Path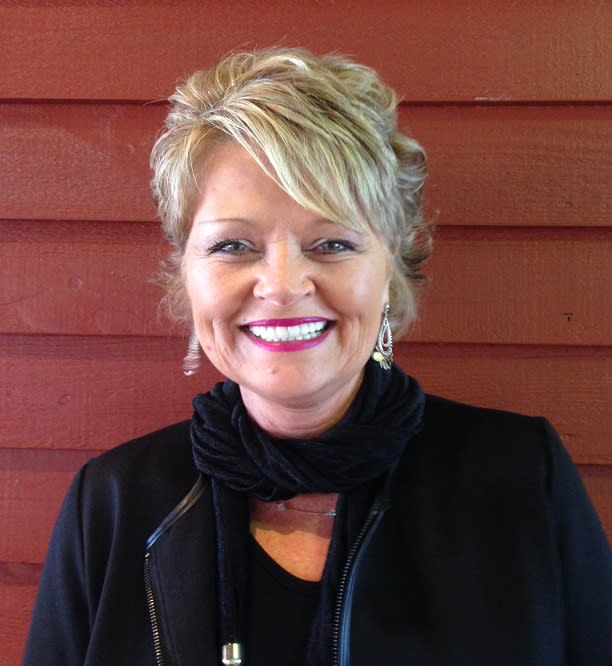 Mary Spah grew up in the New London and Spicer area of Minnesota, but she says she's been a "city slicker" most of her life. She enjoys the excitement and vigor of a metropolitan area and all the possibilities it brings, which is part of what has made her an effective and successful Director of Sales for The Heritage Center for nearly twenty years. The constant movement and energy surrounding the venue and its activities fuels her spirit, and she thrives on expecting the unexcepted.
Mary never imagined herself working in the hospitality and event industries, but she's thankful her life worked out that way. "I was a leisure travel agent when travel agencies were on every corner," she remembers. "We were told all the airlines were going to end up merging, and they did, and the internet was going to take over travel agencies, and it pretty much did." She worked for Transglobal Vacations, living out of a suitcase and hopping from hotel to hotel each week, presenting seminars to travel agents. She quickly became familiar with the process and logistics of setting up events at hotels. When, as predicted, agencies eventually started to close, Mary knew it was time to look for another career and hotels felt like a natural next step.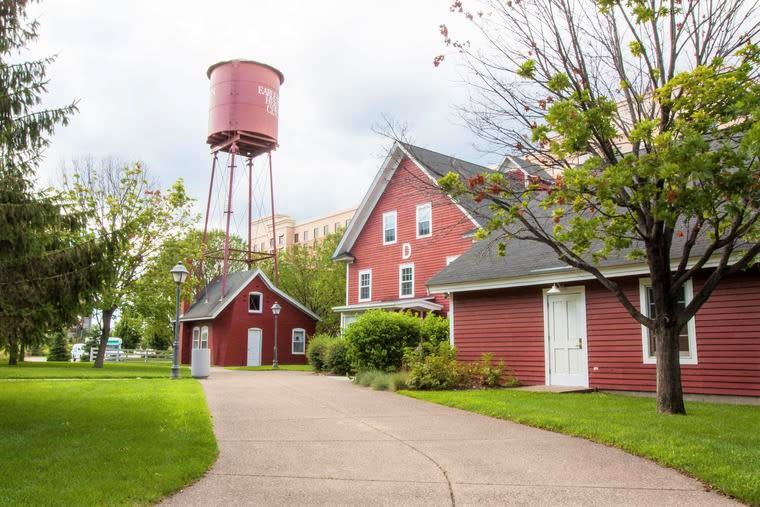 Though she enjoyed working at The Saint Paul Hotel for two years, it was Mary's move to The Heritage Center that opened the door for her to excel as a sales manager from 1998 to 2007. From there she moved up to Director of Sales and, as you might say, the rest is history. As director, Mary is responsible for the overall development of The Heritage's sales strategies and marketing, working across departments to execute a wide range of events, and training the staff. She says her first love is still selling the space and connecting with her clients, and the The Heritage Center has been an excellent space to sell. "I never feel like I have to sway a planner because I believe The Heritage sells itself," Mary says. "With 40,000-square feet of flexible space, we can hold groups from 20 to 1,000."
The Heritage Center enjoys a client return rate of more than 90 percent, with guests regularly commenting on the peace of mind and ease they feel when they walk in the door and see familiar faces; they know everything will be taken care of. The center and its clients have also become Mary's second family and home, and there is nothing she would change about the path her career has taken. "After 19 years here, many of our customers have become family," she says. "We know all about them, their children, pets, vacations, and I have been blessed with relationships that will last a lifetime."
What Makes The Heritage Center Unique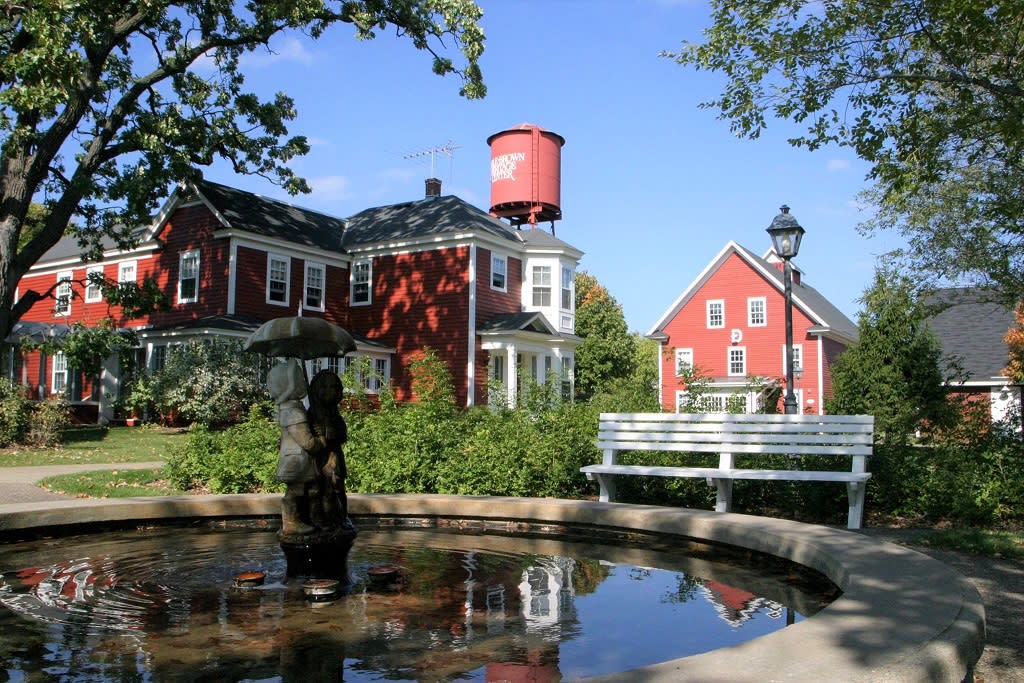 As Mary notes, The Heritage Center is one of the most unique event venues in all of the Twin Cities. With its charming landscape, converted farm buildings and tucked away spaces, it feels like its own city. The center is located off major freeways that lead directly to downtown Minneapolis and has ample free parking, complimentary Wi-Fi and a solid partnership with its neighbor, the Embassy Suites Minneapolis - North, which connects via enclosed hallway. The venue is also rich in local history, setting it apart from newer venues. Most people are not aware that during World War I, the property was the first commercial landing strip in the state of Minnesota, and it's also where the Minnesota Highway Patrol got its roots – the property displays original photos of the first graduating class!
The center's natural beauty attracts groups looking for something a little bit different. The outdoor courtyard is a great distraction from a day-long indoor meeting, and people enjoy the relaxing fountains and gardens during their breaks. "Sit out on a bench any afternoon and you will not hear the traffic from the freeways, but you can easily get lost in the sound of nature and truly feel like you are on a farm," Mary says. And almost all its meeting rooms have windows, which can be important for keeping an audience alert and attentive. While the center is a popular spot for weddings, more than half of its business is corporate-related, and Mary and her team have seen large increases from the government sector and organizations looking for gala space, as well.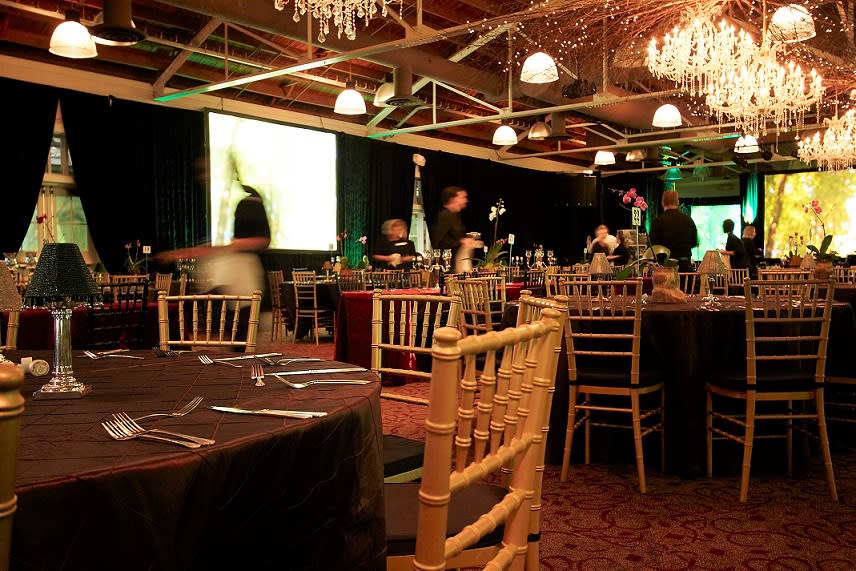 Through ever-changing times, Mary understands how important it is for a venue to be up-to-date. The center recently installed new lighting and carpet in the Carriage Hall, its largest room, and added new LED exterior monitors outside for signage, which helps direct clients to the correct meeting space. Coming soon is a new Marriott Fairfield just steps away from the center, which will give clients and guests even more lodging options in The Center's backyard. The addition of Topgolf in Brooklyn Center less than five minutes away is also a game-changer, as this exciting new attraction provides groups with a fun and unique activity for evening entertainment.
With the ability to have up to seven events running smoothly at the same time, The Heritage Center has hosted its share of quirky groups. During one of Mary's first years in sales, the center had a log-rolling competition in the Carriage Hall. The tank held 30,000 gallons of water and Mary laughs as she remembers how the staff had to figure out how much the water weighed to make sure the floor would support it; everyone's worst fear was the tank either crashing into the lower level or water leaking and damaging other areas of the property. Thankfully, the event went off without a hitch. The Heritage Center also welcomed Randy Fenoli of "Say Yes to the Dress" fame to film an episode of his popular spin-off show "Randy to the Rescue." Randy and the crew filmed during a week's time and the excitement among the staff and local community was amazing. 
Mary's Keys to a Successful Meeting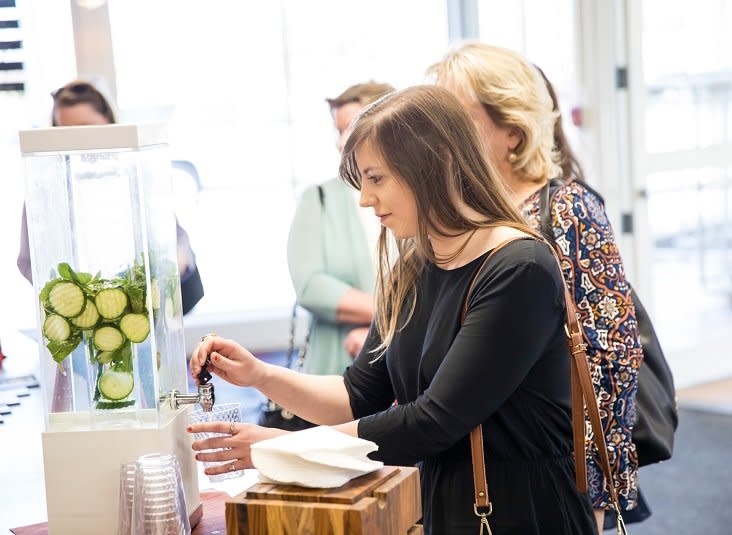 Mary has witnessed an infinite number of planners come through her doors and execute their events throughout the last two decades. Though meeting trends are always evolving, Mary shares her top keys for event-planning success.
1) Never assume anything. Mary explains it's the little assumptions that can make an enormous impact on an event, even when you don't expect it. "We recently had a tradeshow," she says, "and while unloading a semi, the crew realized their crate was too large for our loading dock. Luckily, it was a beautiful day and they took it apart and unloaded it piece by piece. But one simple phone call could have prevented that issue."  
2) Communication is key. It takes a variety of people and departments to pull off a large event and everyone needs to be on the same page. Key people should be appointed to meet regularly, make decisions, and distribute the information to everyone. No detail is too small. Just as Mary warns not to assume anything, that goes for communication as well; there's no such thing as over communication.
3) Anticipate changes. What could possibly go wrong with your meeting? Lots of things. And while it's impossible to know the future, you can anticipate potential issues and have contingency plans in mind. A seasoned sales director like Mary can offer advice and ask questions you may not have thought to address.
4) Be inclusive. Bridging the gap between generations is one of the most important aspects to keep in mind when planning a meeting or event these days. Organizations needs to provide something or multiple things that appeal to every group present. This is challenging but crucial in making sure all attendees feel included and valued.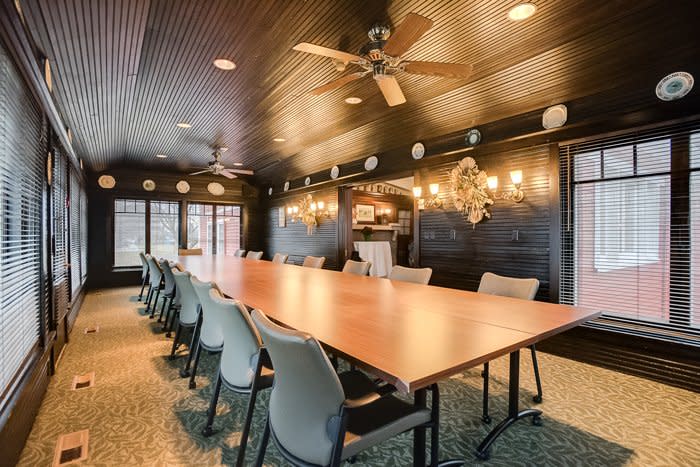 5) Hire a tech to handle your audio/visual needs. A/V needs change by the day. It seems eons ago that groups were using transparencies and slide projectors – now it's Wi-Fi, mobile device projectors and real-time text polls. You want to be relaxed and focused on the day of your event and Mary has seen too many planners become over-stressed due to A/V issues. The Heritage Center is great in that they offer everything you need for A/V equipment, and most of the larger rooms are equipped with screens and LCDs. But regardless of where you host your event, hire someone to smooth out the A/V hassles.
6) Change up your event every year. If you continue to do the exact same event, attendees are guaranteed to get bored and you subject yourself to a drop in attendance. If your organization is wondering why attendance has been down, take a look at the program the last few years. Has it been fairly similar? Are there a few easy changes that could make a difference?
7) Interact. A great way to change up your meeting is to make it more interactive. This basically includes anything that goes beyond the usual speaker and slides. Often a speaker will do live polling during a session or get out from behind the podium to walk among the audience. Social media also plays a significant role in meetings and events as speakers incorporate live Twitter feeds, Facebook Live video and plenty of hashtags.   
Assistance from Minneapolis Northwest Tourism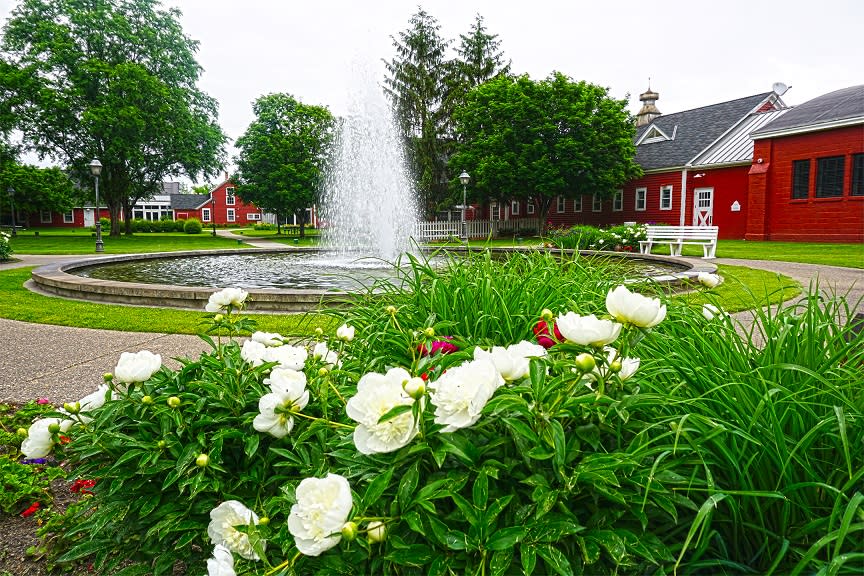 If you're considering hosting an event in Minneapolis Northwest, Mary highly recommends taking advantage of Minneapolis Northwest Tourism's Event Assistance Fund, a grant program that helps groups offset the cost of a venue rental, lodging fees, entertainment options and more. "We love the grant program, as it's a great tool to use to have the edge over our competitors," Mary says. "It has definitely made the difference to many groups that have booked with us."
She also utilizes Minneapolis Northwest Tourism's resources and support for her events, stating that "they are willing to come out to greet our clients, offer event support and they actually act as an extension of our sales team." From helping staff a welcome table or supplying gift bags to attendees, to providing expert recommendations on hotels, food and entertainment, Minneapolis Northwest is pleased to offer extra assistance for your event.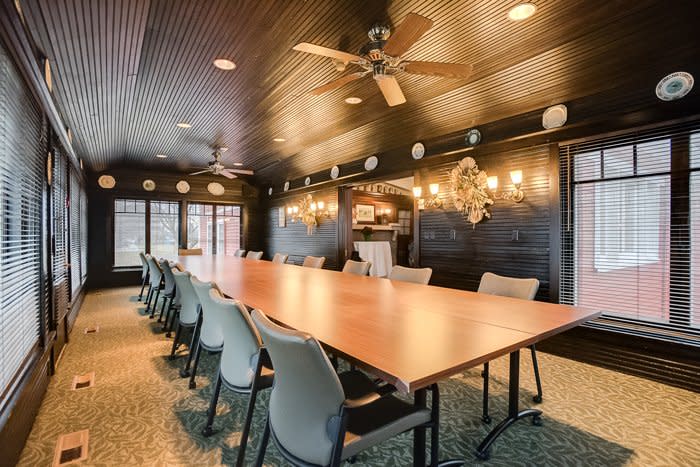 Mary has learned many lessons throughout her remarkable career. One of the keys to her personal success is continually placing relationships before the sale. Mary is not a schmoozer; she comes from an old-school train of thought that believes having good relationships with clients will reap its own rewards. Maybe someone books an event at The Heritage Center and maybe they don't – either way, Mary is more interested in making a connection and a potential friend for life. Relationships are also what make her an invaluable resource to her partners and clients, as she connects planners with all the right people.
She also can't give enough credit to the dedicated team she is surrounded by each day. "I work with a bunch of great people who play a large part in my success," Mary says. "We work hard, we make mistakes, we learn lessons and grow, and we still manage to laugh at the end of the day. I couldn't do it without them."
If you're interested in planning an event in Minneapolis Northwest, using the Event Assistance Program or simply want to learn more about the area, email Megan Diaz at megan@mplsnw.com. Also explore our Groups & Planners page for our top team-building ideas, best private event rooms, and how to plan the perfect retreat.
Stay up-to-date on the events and happenings in Minneapolis Northwest on Facebook, Twitter and Instagram.