In a milestone moment for the entrepreneurial spirit of Brooklyn Park, the city recently celebrated the launch of its Small Business Center, a hub designed to cultivate, support, and empower local ventures. This promising initiative holds the potential to reshape the economic landscape of the city, fostering innovation and driving community growth.
The inception of the Brooklyn Park Small Business Center is the result of concerted efforts by local leaders, visionaries, and community members who recognized the need for a dedicated space that nurtures small business development. The center aims to provide a comprehensive range of resources and services tailored to the unique challenges and aspirations of local entrepreneurs.
Senators Susan Pha and Amy Klobuchar with BP Small Business Center Partnering Operator Indred Alexander
Key Objectives:
Tailored Workshops and Training:

Entrepreneurs can look forward to a series of workshops and training sessions covering crucial topics such as business planning, marketing strategies, financial management, and more.

Networking and Collaboration Opportunities:

The center will serve as a vibrant hub for entrepreneurs to connect, exchange ideas, and potentially form partnerships that drive mutual growth.

Incubation Space and Resources:

A dedicated co-working space equipped with essential amenities will be available, providing a conducive environment for startups to flourish.

Access to Funding and Financial Resources:

The center will facilitate connections with local and regional financing sources, grants, and funding opportunities to help businesses secure the capital they need to thrive.
The launch of the Brooklyn Park Small Business Center has been met with enthusiasm and anticipation from the local community. It is anticipated that this initiative will not only create a surge in new startups but also bolster the resilience and growth potential of existing small businesses.
The Brooklyn Park Small Business Center stands as a testament to the city's commitment to fostering economic vitality and community well-being. This launch signifies the beginning of an exciting journey for entrepreneurs, innovators, and small business owners in the area.
As the center takes root and blossoms, it is poised to play a pivotal role in shaping the future of Brooklyn Park's entrepreneurial landscape. With boundless potential and endless opportunities, the Brooklyn Park Small Business Center is set to be a beacon of hope and growth for generations to come.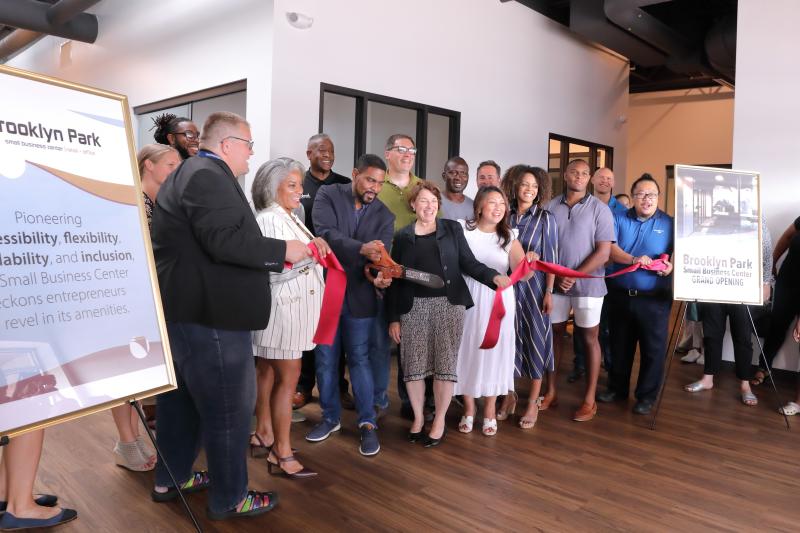 Brooklyn Park Mayor Hollies Winston cut the ribbon opening the BP Small Business Center to the public on August 23, 2023