Home to hundreds of miles of trails and greenways, Minneapolis Northwest is a perfect place for bikers and hikers who want to enjoy the great outdoors while practicing social distancing. The region has been named one of the country's most bike-friendly destinations thanks to its expansive network of trails and protected lanes, and the city's parks offer pedestrians and hikers plenty of places to wander. Here are five favorite destinations for bikers, hikers, and those who simply want to soak in the scenery.

Elm Creek Park Reserve
Explore Elm Creek Park Reserve on two wheels! As the largest park in Three Rivers Park District, Elm Creek features more than 20 miles of paved trails throughout its nearly 5,000 acres. Be adventurous and go off-road on more than 10 miles of singletrack, including "more difficult" and "most difficult" rated trails. (Don't worry, the trail also offers several miles of "easy" terrain.) 
The Elm Creek singletrack trail was designed with cyclists in mind. Literally. During its construction, volunteers from the Minnesota Off-Road Cyclists group worked with the city to ensure the 12.7-mile trail would be ready for all roadsters, including riders using adapted, hand-powered mountain bikes. The trail's sustainable design ensures less erosion and provides a closer, more intimate experience with the park's natural surroundings.
With over 50 miles of hiking trails, Elm Creek is also a wonderful place for a hiking excursion. The paved trails take you through woodlands, wetlands, and old farm fields rich in fall colors. You can also hike under the lights in fall on the Northern Lights Trail, which has lights on until 9 p.m. until winter trail operations begin (usually after 2-3 inches of snow).
Come November, the park turns into a winter wonderland with endless snowy fun at its Winter Recreation Area, complete with perfectly groomed cross-country skiing trails, downhill skiing and snowboarding, tubing and an all-terrain park. Added bonus: OMNI Brewing Co., one of the area's most popular breweries, is a short ride away and offers crowlers and growlers for pickup (and delivery within 0-5 miles).

Mississippi Gateway Regional Park
Bring your binoculars when you visit the 5.9 miles of trails that crisscross Mississippi Gateway Regional Park, providing plenty of opportunities to view wildlife. You may see hawks and ospreys in the trees surrounding the trail, and the path along the river is often traversed by otters and mink—as well as hikers and bikers. Two turf trails follow the river downstream from the dam and offer vistas of the islands and back channels. After exploring the 160-acre preserve, step onto the 12-foot-wide boardwalk crossing the river. From here, you can enjoy amazing views of the river while listening to the roar of the water below.
Refuel with curbside pickup at nearby Daily Dose Café & Espresso in Brooklyn Park where you'll find an impressive collection of locally roasted coffee, seasonal lattes, baked treats, breakfast wraps, and paninis.

North Mississippi Regional Park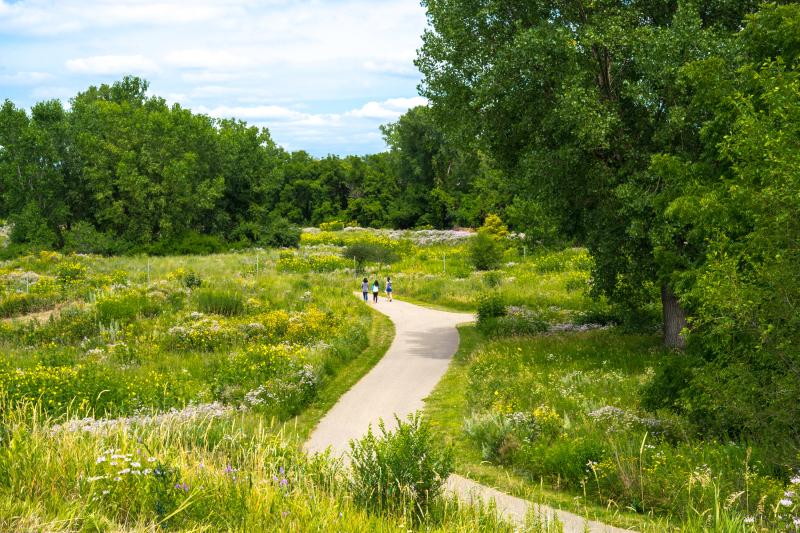 If you venture just off the freeway, you'll find a hidden captivating park with spectacular views of the Mississippi River and the surrounding woods and prairie, North Mississippi Regional Park. You'll be amazed at the wildlife so close to the excitement of a metropolitan area—a Great Blue Heron nesting on an island, deer foraging, a beaver felling trees, and hawks and eagles soaring overhead. In summer, the prairie flowers provide ever-changing color.
Hiking and biking trails meander through the prairie and along the shores of the river. The trails traverse the park and connect the North Mississippi Regional Trail, as well as Webber Parkway and several commuter routes into downtown. South of 57th Avenue, the park provides additional amenities, including picnic tables, shelters, a fishing pier, and a boat launch. 
Brooklyn Center 
You'll find almost 50 miles of pedestrian-friendly sidewalks in Brooklyn Center alone, as well as more than 20 miles of biking and cross-country skiing trails. Pedestrian-only overpasses and protected bike paths also keep you safe from the hustle and bustle of the city. Perhaps the area's most popular path is the Mississippi River Trail. This nationally designated route follows the mighty Mississippi from Mississippi Gateway Regional Park in Brooklyn Park all the way south to the Grand Rounds Scenic Byway in Hennepin County. Along the way, catch striking city views as well as the natural backdrop of spots like North Mississippi Regional Park and Riverdale Park. Another popular Brooklyn Center destination for hikers and bikers is Twin Lakes Regional Trail. This path takes you from the Mississippi River to the shores of Twin Lake Park where you can admire the picturesque view of Middle Twin Lake.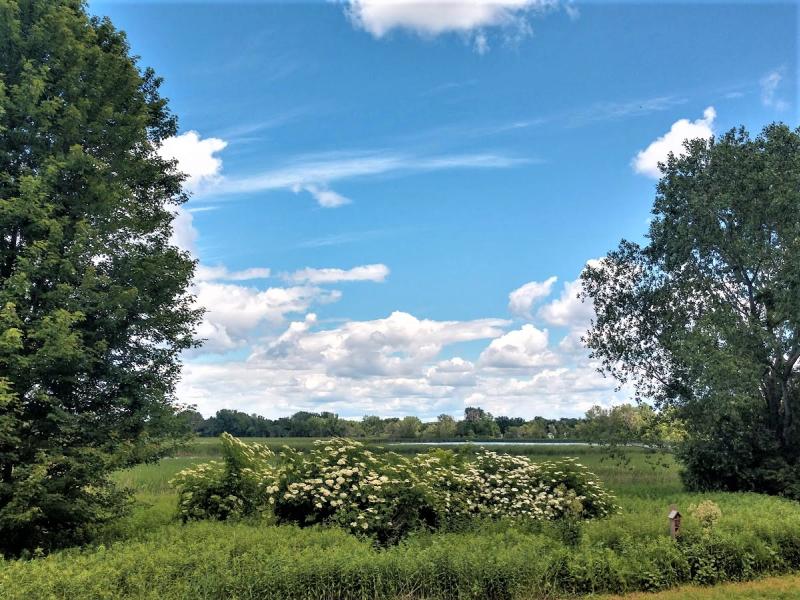 Finally, don't miss the Shingle Creek Regional Trail. The trail follows the creek through multiple cities and regional parks, including Palmer Lake Park, Brooklyn Center's largest environmental preserve. The lake's 271 acres of marshes and wetlands is the perfect place to train for your next 5K. A 3.1-mile path circles the lake and is flanked by giant trees, offering an array of colors. Keep an eye on the branches as you hike! And several unpaved trails give you an authentic off-road feeling. Be sure to take a moment to pause and listen to the many birds that congregate in the trees. The park is home to several species, including the northern cardinal, rose-breasted grosbeak, and gray catbird
Maple Grove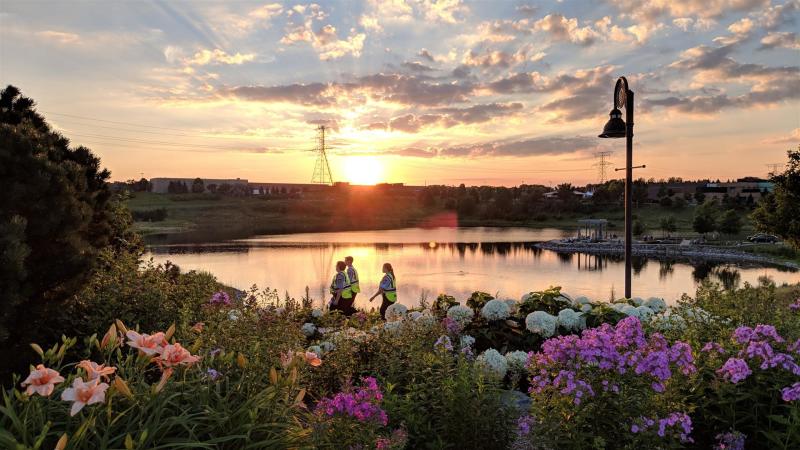 You'll find tons of trails in the nearby city of Maple Grove. From the area's Town Green you can embark on a hike around the hills of Arbor Lake. Maple Grove's Fish Lake Regional Park also offers miles of biking, hiking, and running trails. From Fish Lake, you can hop on paths that will take you to all the way to Elm Creek Park Reserve, almost 10 miles north. The city of Maple Grove is especially beautiful in the fall when you can admire the foliage from the Town Green lawn chairs by Arbor Lake. 
Show us your biking and hiking adventures on Facebook, Twitter and Instagram. Use the hashtag #WeLoveMNW for a chance to be featured on our website! 
Stay Safe and Healthy
Please remember to maintain your distance as you explore the biking and hiking trails in Minneapolis Northwest!