There's nothing quite like kicking back with friends and coworkers at happy hour. Good deals, cold drinks, and excellent food options are what make a happy hour great. From two-for-one drinks to $5 appetizers, these prime happy hours in Minneapolis Northwest will take you to your happy place.
Roasted Pear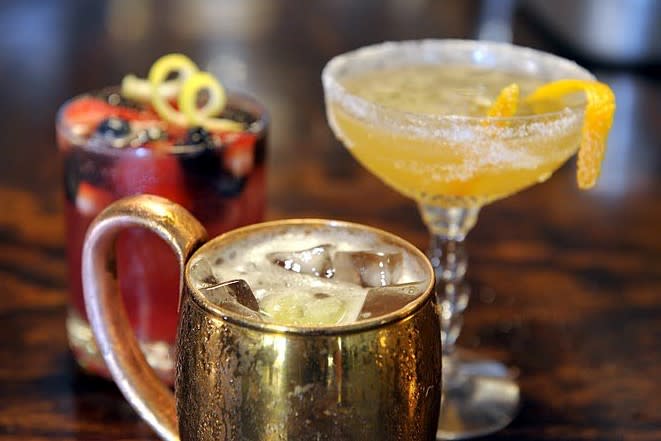 The happy hour menu at Roasted Pear offers some of the best deals around. From 3-6 p.m. during the week you get $2 off tap beer and $5 house wines. Appetizers complement the tasty drinks perfectly with $5-$8 options like the Roasted Pear's signature Cheesy Garlic Bread or Chicken Egg Rolls with a Thai peanut sauce. Then there are Meatloaf Sliders, Sweet Potato Fries or Waffle Fries with seasoned sour cream. Keep Taco Tuesdays in mind – buy any drink and get unlimited tacos from the impressive taco bar, and for late-night cravings, check out the late-night happy hour from 9 p.m.-close featuring $9.99 pizzas. Customer favorites include the Roasted Pear and Gorgonzola Pizza, the Rueben Pizza or the BBQ Chicken Pizza. 
Happy Hour
Monday-Friday, 3-6 p.m.
Monday-Saturday, 9 p.m.-close
$2 off tap beer
$5 house wine
$5-$8 appetizers

Claddagh Irish Pub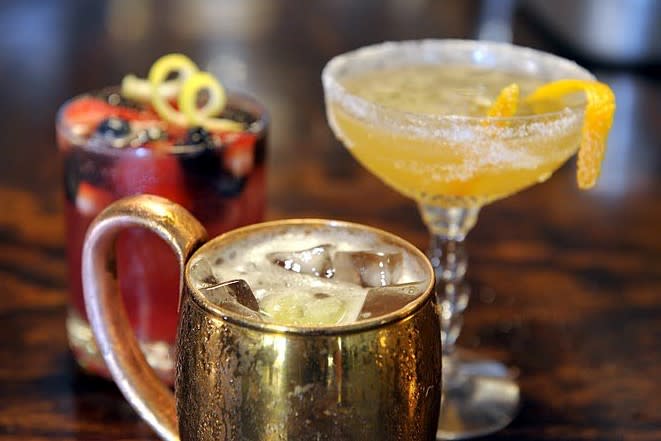 Claddagh Irish Pub brings the best of Ireland to Minnesota, transporting you across the pond to an exuberant yet laid back Irish pub. Its classic happy hour features $4 beer and wine and half-off appetizers, such as Scotch Eggs, Cheese Curds, Seafood-Stuffed Avocado, and the scrumptious Corned Beef & Cabbage Rolls. The menu is sprinkled with special drinks, too, like the Irish Mule (served in a cool copper mug), Pomegranate Margarita, Elderflower Collins, Kiss Me I'm Irish Martini, the Ginger Bush and the Guinness Bloody Mary. Any of Claddagh's drinks are sure to whet your thrapple! Keep in mind that you can also ease into your week with buy-one-get-one Fish n' Chips on Mondays. Bring a friend to enjoy happy hour and the delicious, award-winning battered cod filet with seasoned pub chips and house coleslaw.
Happy Hour
Monday-Friday, 3-6 p.m., 9 p.m.-close
$4 16 oz. tap beer
$4 house wine
$2.50 rail drinks
Half off appetizers (excluding wings)

Patrick's Bakery & Café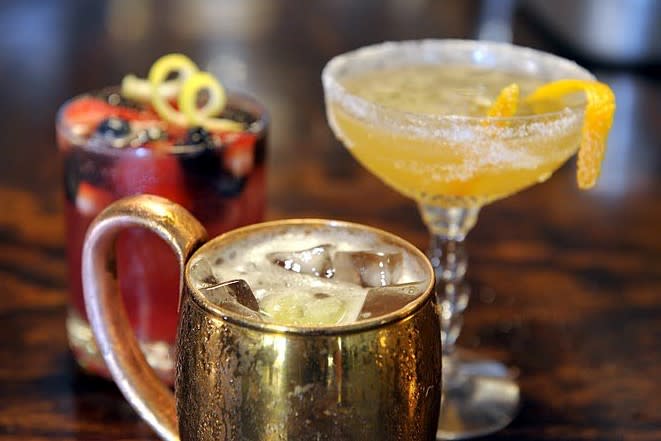 Patrick's Bakery and Café has excellent happy hour specials on beer, wine and spirits during the week, but it's worth visiting for the appetizers alone. For just $5 you can get the French Fry Cone, Baked Brie, Slider Duo, Crab Cake or Mini Tarte Flambe. The massive French Fry Cone easily feeds three people and is served with a delightful trio of ketchup, mayonnaise and béarnaise for dipping. The Slider Duo is also fantastic – Patrick's classic slider with brie, caramelized onions and aged cheddar. Remember to browse Patrick's decadent bakery case before you leave and take home a few tasty macaroons for later.
Happy Hour
Monday-Friday, 3-6 p.m., 9 p.m.-close
$2 draft beer
$4 bottle beer
$2 off wine by the glass
$3 rail drinks

Brick & Bourbon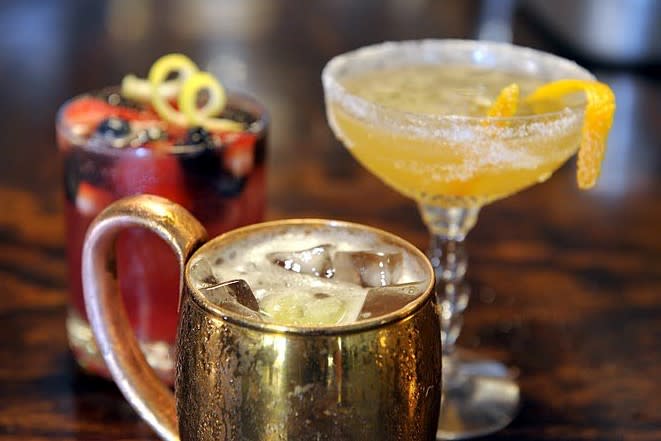 Brick & Bourbon is guaranteed to offer a stellar happy hour menu overflowing with great deals like $2 off whiskey flights and specialty drinks from $5-$9. You can stick with classics like a Manhattan, Sidecar or Aviation, but if you're feeling even a little bit adventurous, it's worth trying one of Brick & Bourbon's wine slushies or signature libations. For added ambiance, try a hand-crafted smoked ice ball paired with Applewood or Peach Bourbon Whiskey and enjoy the fog that rises from the combination. The shareable nibbles on the menu are on par with the fascinating drinks, too. Sample the Candied Bacon Flight, Duck Bacon Wontons, Cranberry Hummus and veggies, or Beer-Steamed Mussels – just to name a few. Here's a preview of some of the unique craft cocktails you'll find on the menu:
Floating Yoda – Vodka, Kahlua, Cream and a scoop of locally made Sebastian Joe's Mint Ice Cream
Yin Yang Martini – The best of both worlds includes Vanilla Vodka, Godiva Chocolate Liqueur, Cocoa and ice cream
Double Entendre Martini – Vodka, Rose, Champagne, Fresh Lime Juice, Cotton Candy and a dash of magic!
I Can't Believe It's Not Bloody – A fascinatingly clear Bloody Mary
Blackberry Bourbon Smash – Bourbon, Fresh Blackberries, Mint, Simple Syrup, Mineral Water

Wicked Wort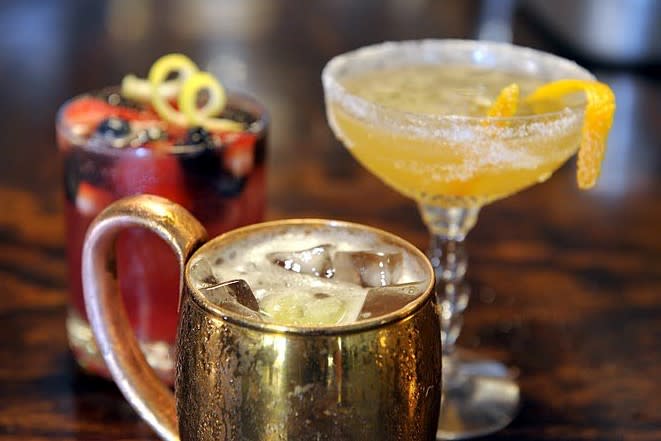 If you're in the mood for craft beer, the Robbinsdale brewery Wicked Wort serves up a great all-day Hoppy Hour Monday through Thursday. This destination tap room with a speakeasy vibe invites you to kick back with $4 pours of the Dark Helmet Schwarzbier, Birdtown Blonde Ale and Oatmeal Sweet Stout. On Mondays, you can relax even more with Bend + Brew yoga classes starting at 7 p.m. and sample a $10 beer flight afterwards. Also available are small plates like bacon on a stick, jumbo pretzel with cheese, bratwurst and Polish sausage, chicken wings and pizzas. And the popcorn is always free!
Hoppy Hour
Monday-Thursday, all day
$4 select beers

Pittsburgh Blue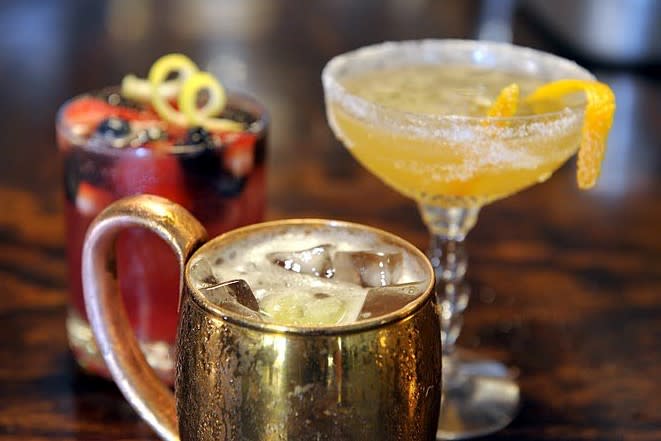 For a high-class happy hour at a can't-beat price, head to Pittsburgh Blue. Enjoy $3.50 tap beer, $4 well drinks and $5 house wines, $5.50 house cocktails and $8 martinis. You can also get some of Pittsburgh Blue's delicious appetizers like Short Rib Nachos, Buffalo Shrimp or Fresh-Shucked Oysters for a great price. Also, end your weekend on a high note when you come in for happy hour on Sundays from 3 p.m.-close. 
Happy Hour
Monday-Thursday, 3-6 p.m., 8 p.m.-close
Friday-Saturday, 9 p.m.-close
Sunday, 3 p.m.-close
$3.50 tap beer
$4 well drinks
$5 house wine
$5.50 house cocktails
$8 martinis

Lookout Bar & Grill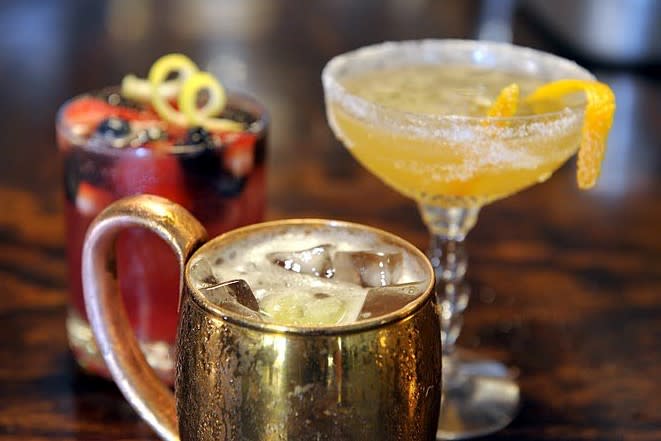 Happy hour is never more relaxed than at the Lookout Bar & Grill, a locally owned favorite tucked away in a residential neighborhood in Maple Grove. The bar is known for its impressive patio with a playground, volleyball court and fire pit, and daily specials make it an ideal casual spot to snag drinks and dinner. Happy hour means $3 rail drinks, $3.50 house wine, $3 22 oz. domestic tap beer and $5 premium or craft 22 oz. tap beer. Arrive at five o'clock sharp and enjoy the last hour of happy hour with one of the daily specials, like the All You Can Eat Broasted Chicken Buffet on Thursdays, or $6 burgers all day every Monday. And you can start your weekend off right at happy hour Saturday and Sunday morning with $4 Titos Bloody Marys and Screwdrivers.
Happy Hour
Monday-Friday, 2-6 p.m.
Monday-Thursday, 9 p.m.-close
Saturday, 10 a.m.-12 p.m.
Sunday, all day happy hour

Teresa's Mexican Restaurant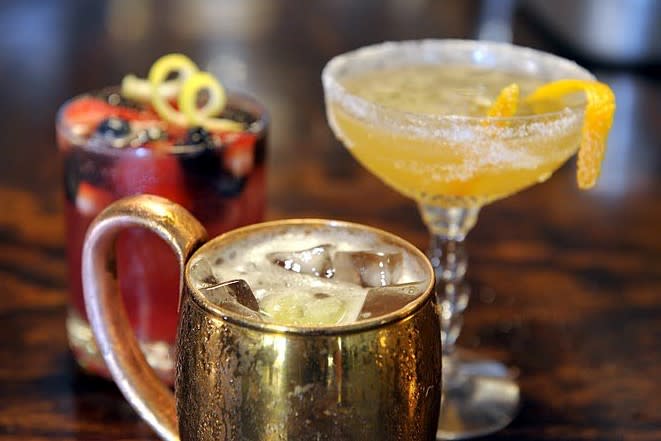 Teresa's Mexican Restaurant features happy hour every single day of the week, so there's no wrong time to arrive and partake. Teresa's ensures you'll never have a case of the Mondays again when you get on board with its Margarita Mondays when all margs are half price! The complimentary chips and salsa go along perfectly with this great happy hour, and you can then peruse the menu for traditional Mexican entrees like the Margarita Lime Chicken, Chile Verde or the offerings of shrimp, steak and steak and carnitas.
Happy Hour
Every day, 2-6 p.m., 9 p.m.-close
Wednesday, all day happy hour

Mad Jacks Sports Café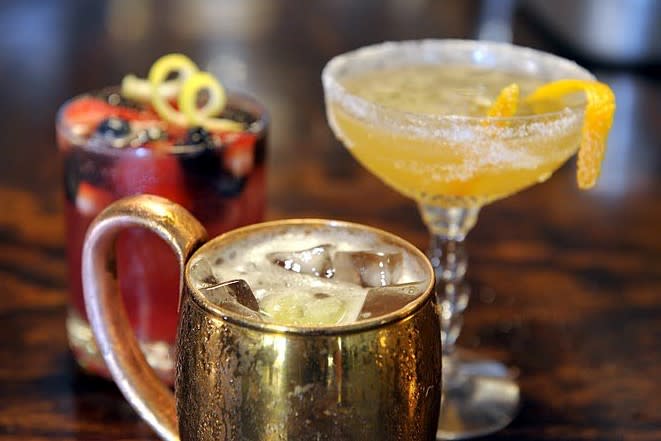 For another happy hour all week long, get your friends together and grab a table at Mad Jacks Sports Café. Mad Jacks has $1-$2 off all drinks, shots, beer, wine and appetizers; then there's early happy hour on the weekends with a $3.50 Bloody Mary bar and $3.50 screwdrivers and mimosas. Or come by on a Saturday afternoon for Frosty Mug Saturdays where you can enjoy a tap beer in a large frosty mug at $1 off all day. The bar and restaurant also has fun entertainment options like a weekly cornhole tournament every Friday beginning at 7 p.m. and every Sunday beginning at 1 p.m., and karaoke, Bingo and Ladies' Night.
Happy Hour
Monday-Friday, 2-6 p.m.
Saturday & Sunday, 9 a.m.-2 p.m.
$2 off domestic tap beer
$5 rail drinks
$5 select appetizers
Tell us about your favorite happy hour spots on Facebook, Twitter or Instagram using the hashtag #WeLoveMNW! For outdoor dining and drink options, browse Where to Eat and Drink in Minneapolis Northwest During Patio Season and don't miss Our Guide to Art Galleries & Breweries. Also, learn about the fun adults-only nights in the area with While the Kids Are Away, Adults Will Play!