Whether you're trying to stick to a healthy diet or have special dietary restrictions, we've got plenty of options in Minneapolis Northwest. From savory salads and lettuce wraps to veggie burgers and gluten-free treats, we've rounded up some of our favorite food picks that you can feel good about too!
Great Greens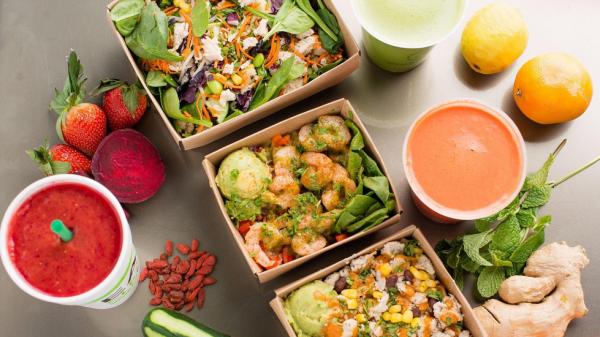 Take your pick of nutrient-rich and guilt-free delicious options at Grabbagreen, a healthy fast-food restaurant serving juices, smoothies, and green and grain-based bowls. This unique restaurant combines great tasting, healthy food with the speed and convenience of traditional fast food. The menu is based around super food ingredients and offers hormone and antibiotic-free chicken and beef provided by local farms.
Choose from a variety of unique combinations in its green and grain-based bowls including French Quarter, a mix of avocado, cucumber, shrimp, spinach and various spices; Mediterranean Sea, a combination of chicken, cucumber, Kalamata olives, red peppers, spinach and Mediterranean spices, served with a special pomegranate sauce; the southwest bowl, a cornucopia of southwest flavors with avocado, black beans, chicken, corn, cheddar jack and served with yogurt agave BBQ sauce; and Tokyo Bay, a fresh concoction filled with avocado, broccoli, carrot, cucumber, edamame and salmon, served with a Miso Ginger Sauce.
For more cozy, yet still healthy options, try the Moroccan Mac & Cheese, a unique blend of chicken, parsley, cheddar jack, feta and quinoa noodles served with harissa; or the selection of soups, including Chicken Noodle, Miso and Grabba Chili. It also offers fresh-pressed juices, handcrafted smoothies and acai bowls, breakfast and healthy kid-friendly items. Grabbagreen's Eat Clean menu is also preservative-free and GMO-free.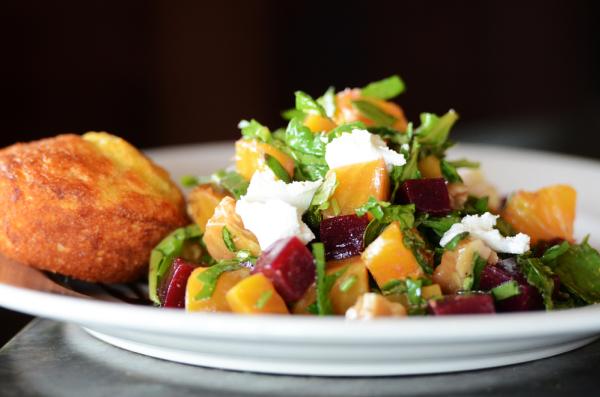 From savory and indulgent to light and delicious, 3 Squares Restaurant has plenty of unique options for both those who are looking for a hearty and healthy meal and those looking to eat more greens and stay on track with their healthy eating plan. One of our favorites of the lighter options is the Beet Salad, a delightfully refreshing mix of spinach, arugula, oranges, goat cheese, almond brittle, spring greens, herb vinaigrette and balsamic syrup. The Pear Salad is another favorite with poached pear, apple, organic spring mix, candied walnuts, Gorgonzola and cider vinaigrette. Craving some protein? Add chicken, steak or salmon to any of its salads.
For something a little more filling, but still vegetarian, 3 Squares has some great sandwiches. There is no end to the veggie-filled deliciousness of the Veggie Grinder! The signature sandwich is piled high with falafel, roasted tomato sauce, provolone, sweet peppers and pickles, all on a hoagie bun. If you're really craving something "meaty" without the meat, grab the Veggie Burger, an impossible vegetarian patty topped with cheddar, tomato basil mayo, caramelized onions, lettuce and tomato. Trust us, you won't miss the meat at all!
Tasty Tip: Another great veggie burger option is the Black Bean Burger at Malone's Bar & Grill, a black bean patty with lettuce, guacamole, Pico de Gallo and a creamy chipotle sauce served on ciabatta bread.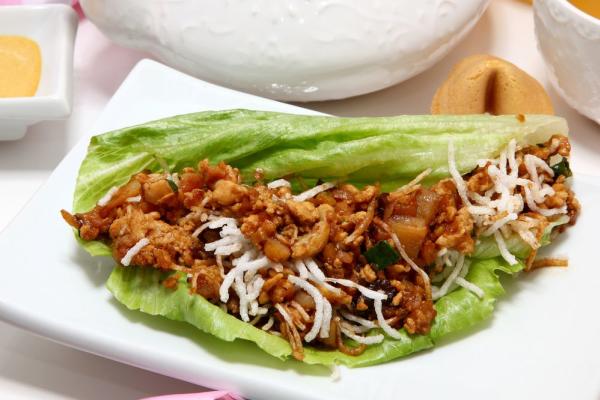 For a great low-carb Asian option, one of our top picks is the Chang's Chicken Lettuce Wraps at P.F. Chang's China Bistro at the The Shoppes at Arbor Lakes. A secret Chiang family recipe and P.F. Chang's signature dish, you get to build your own lettuce wraps using a fresh bed of lettuce and a sizable portion of chicken combined with green onions, seasoned with mint and served with rice sticks. This dish is also available in a vegetarian option. Another great, low calorie appetizer is the Edamame, which is steamed to order and tossed with kosher salt. The restaurant also offers a full gluten-free menu including many of its favorites, such as the lettuce wraps, Egg Drop Soup, Fried Rice, Chicken Pad Thai, Beef with Broccoli, Ginger Chicken with Broccoli and more!
Bonus Tip: Another great spot to get lettuce wraps is Malone's. Its take on lettuce wraps is filled with a tasty mix of chicken, cashews and water chestnuts! Or for a more southwest version of lettuce wraps, head to Dave & Buster's and try the Ancho Caesar Grilled Chicken Lettuce Wraps, filled with parmesan, bacon, avocado, diced tomatoes and an Ancho Chile Caesar dressing.
Vegan & Vegetarian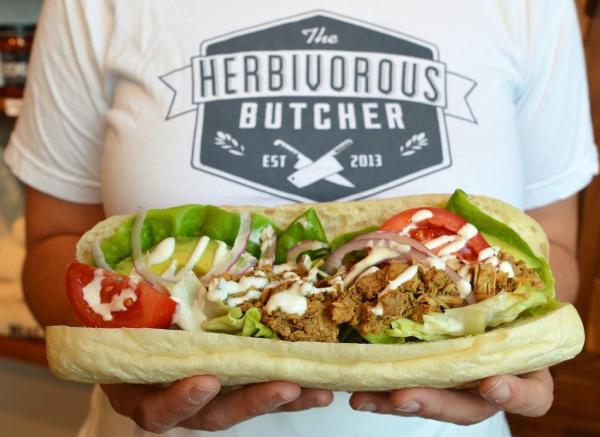 Who says you can't have "meat" without the meat?! The Herbivorous Butcher is a truly unique butcher shop, serving up deliciously deceiving meat-free meats. Its small-batch plant-based meats are always fresh, flavorful and protein-rich so you never feel like you're sacrificing anything for healthy and ethical eating. The menu includes meat-free meat, jerky and deli meat, cheese-free cheese and several gluten-free items. You won't believe how delicious and "meaty" these vegetarian options taste, especially the smokiness of the Korean Ribs and the signature spiciness of the pepperoni and chorizo. Equally surprising to the taste buds is the creaminess and very cheesy taste of the cheese-free cheeses, like the Garlic Pepper Havarti and Herbed Feta.
Tasty Tip: Stop in anytime and enjoy Herbivorous Butcher's Ready-to-Eat options, such as the Turkey Dill Havarti Sandwich, Italian Cold Cut Sandwich, Hot-pressed Meatball Sub or Hot Siracha Brat! You can also catch its food truck at various events and breweries and grab a meat-free brat during a Twins game at Target Field!
Gluten-Free
No dietary restrictions should hold you back from having a great burger! That's why The Lookout Bar & Grill offers gluten-free buns for all its burgers and sandwiches. The restaurant has been serving family recipes and seasonally inspired dishes for more than 55 years. One of the featured items at The Lookout is The Beast. This already unique 10-inch, double patty burger with 11 other ingredients is topped with a gluten-free bun upon request. The Lookout's made to order menu is ready to accommodate special food needs while satisfying your hunger and health requests.
Bonus Tip: For more gluten-free sandwich and burger options, check out Maple Tavern, a hot spot for made-from-scratch foods. Roughly half of its menu is available gluten-free. Many of its sandwiches come on a caramelized onion bun that is already gluten-free and each burger can be served with the Maple Tavern gluten-free bun. 
You can enjoy any pizza toppings you desire on a gluten-free crust at Rosati's Pizza. This Chicago pizzeria offers a 12-inch gluten-free crust that you can load up with your favorite toppings, from Italian sausage and Canadian Bacon to mushrooms and broccoli, and just about anything in between! For more gluten-free options, try the Gluten-Free Penne Pasta with your choice of sauce, a variety of salads and ribs.
Enjoy a plethora of unique low carb and gluten-free options at Malone's Bar & Grill! Its special diet menu section includes a low carb burger, topped with mushrooms and bleu cheese crumbles; grilled salmon; grilled chicken breast; and Skinny Chicken, a chicken breast sautéed in olive oil with green beans, roma tomatoes, avocado and feta. All meals, except for the Skinny Chicken, are served with your choice of fruit, veggies, cottage cheese, broccoli or a salad.
Being gluten-sensitive or gluten-intolerant doesn't mean you can't enjoy a good treat! Nadia Cakes offers gluten-sensitive cupcakes and cookies in two different flavors daily. Its entire menu of 135 flavors can be made gluten-free with an advanced order. Nadia Cakes takes pride in being able to create all flavors into an alternative option. These cupcakes are also the same price as the other beautifully crafted cupcakes. Even its Ice cream cupcakes are gluten-sensitive, so feel free to indulge without worry!
Bonus Brew!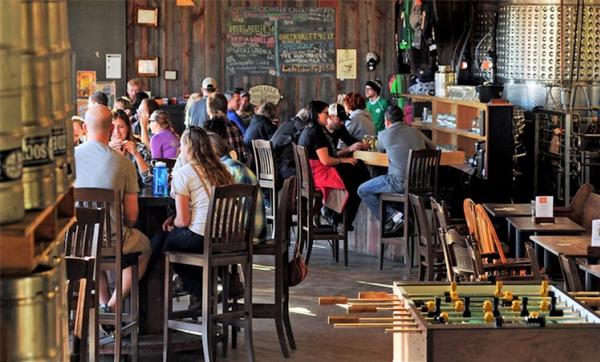 For a great selection of gluten-free libations, stop by Sociable Cider Werks. You can enjoy its full variety of ciders without worry, as all the ciders are gluten-free or gluten-removed. Sociable Ciders are well carbonated, dry and always made from real apples. Choose from the flagship brew, Freewheeler, a refreshingly tart and crisp classic cider; Hop A Wheelie, a hoppier take on the classic Freewheeler; Training Wheels, a hazy and sweeter cider; and Spoke Wrench, a cider and coffee hybrid that combines apple with chocolate, roast and caramel malts. Depending on when you visit, you can also choose from daily infusions and seasonal varieties, such as Fat Bike, the perfect mulled cider for a chilly fall or winter day; Road Rash, a shandy apple, combining the best of apple and lemon flavors; or Rusty Chain, a delightful and sweet cranberry cider infusion. Cheers!
Share your top pics of your fave dishes in Minneapolis Northwest by commenting on our Facebook, Twitter or Instagram pages using #WeLoveMNW and you could be featured on our website.