Rise and shine! Brunch is the perfect meal for celebrating a special occasion, recovering from Saturday night festivities or just enjoying a meal out. We've cooked up our favorite brunch spots in Minneapolis Northwest, so you can properly say goodbye to the week that was and say hello to the week ahead. From eggs Benedict to breakfast pizza, we've got you covered (in hollandaise)!
Mi-Sant Banh Mi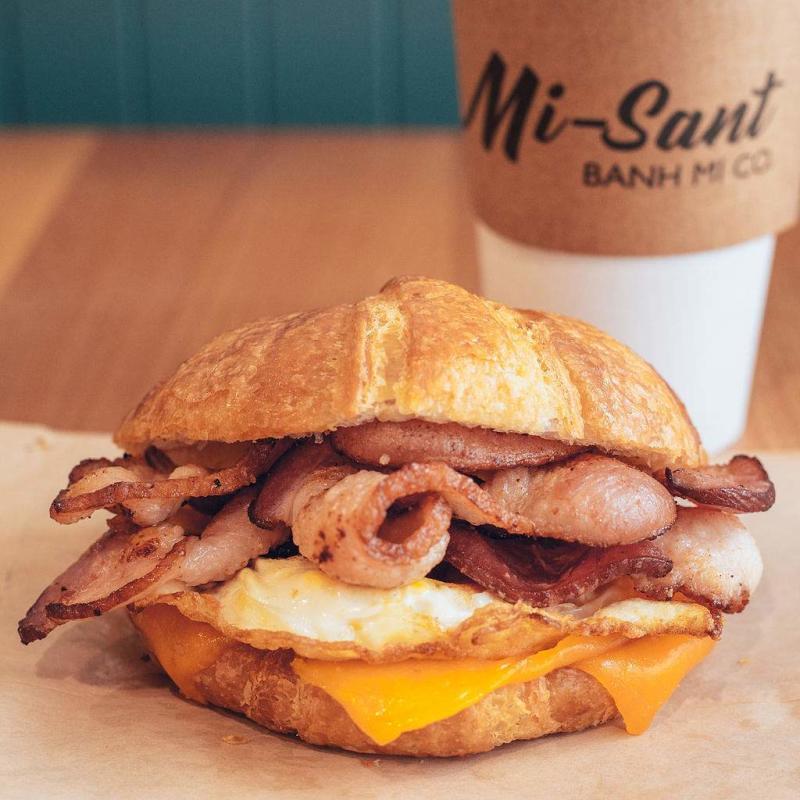 For another quick breakfast option, Mi-Sant Banh Mi serves the most delicious buttery, flakey croissants in the area with flavors like chocolate, almond and strawberry cream cheese. The croissants are also the base for outstanding breakfast sandwiches with a fresh fried egg, cheese and choice of meat. You can even choose spam!
Fat Nat's Eggs
Craving an old-fashioned diner experience? Head straight to Fat Nat's Eggs in Brooklyn Park. This well-loved, locally owned diner pulls no punches and packs no pretense with its menu of simple, hearty breakfast and lunch offerings. Choose from eight different kinds of Benedict including the Bacon Avocado Benedict or the David Benedict made with corned beef hash. Excellent specialties like Fat Nat's Slider and the El Jefe Omelette with homemade spicy salsa might also be up your alley. Sammy's Triple Fruit Fritter with apple, raspberry or blueberry is as sweet as can be – you don't even need syrup! The parking lot is always full on Saturdays and Sundays, but like any standout diner, the service is prompt and the cooks are efficient, so you never have to wait long.
Mad Jack's Sports Café
Known more for its wings and beer on game days, you can count on Mad Jack's Sports Café for brunch. Here you'll find a delicious Breakfast Pizza – a 12" pizza crust topped with Alfredo sauce, mozzarella cheese, scrambled eggs, bacon and sausage. Other breakfast options include the Steak & Eggs, French Toast, Mad Jack's Skillet and Jack's Mad Muffin. The Breakfast Sandwich, Breakfast Burrito and Jack's Mad Muffin are served with tater tots – and it's never too early in the day for tots!
Johnny Boy's Pizza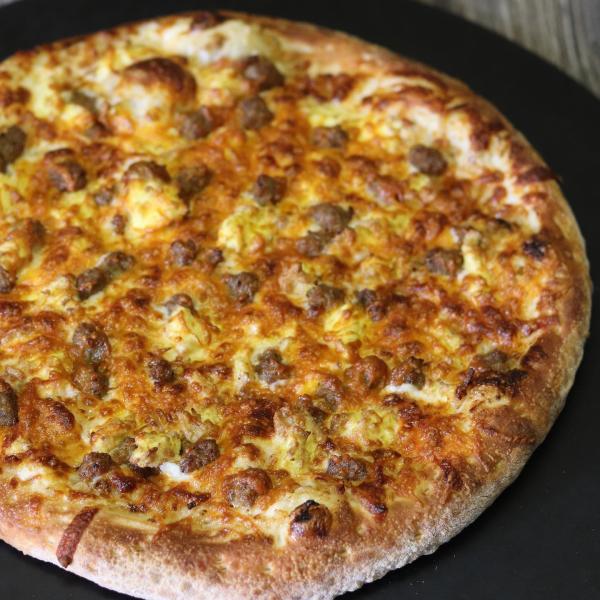 For another satisfying breakfast pizza, John Boy's Pizza delivers (literally). This locally owned pizza joint opens daily at 11 a.m. and features tons of unique and tasty pizzas, including a Sausage Breakfast Pizza with a garlic aioli sauce, Italian sausage, scrambled eggs, hash browns and cheddar cheese. YUM.
Daily Dose Café & Espresso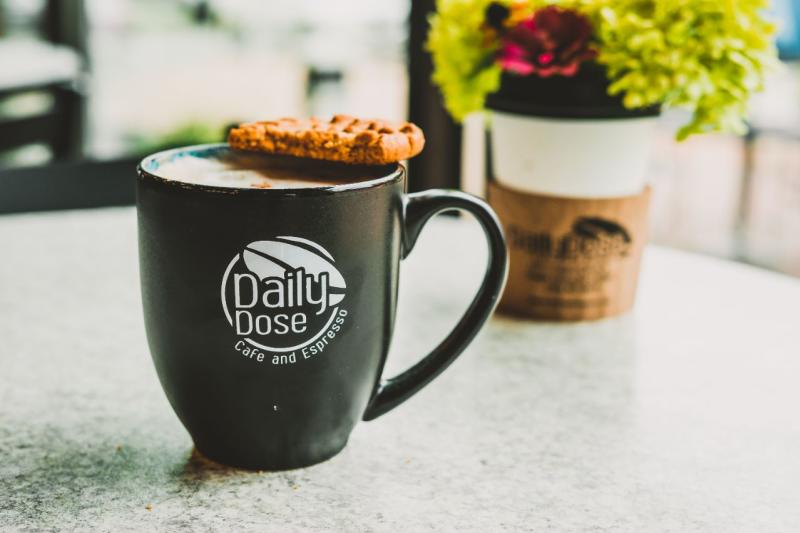 In need of a quick breakfast that you can grab-and-go but still want it to be fresh and delicious? Swing by Daily Dose Espresso and Café, with locations in Brooklyn Park and Maple Grove. Enjoy the Breakfast Panini, a savory combination of egg, sausage, cheddar, green peppers, roasted red peppers, onion and chipotle aioli all bursting with flavor. Lighter options include yogurt parfait, premium oatmeal and a plethora of muffins, scones and biscotti. Pair any edibles with a seasonal latte, cafe au lait, espresso, hot chocolate, cappuccino, mocha, Americano, cold press, chai tea latte or hot tea.
Granite City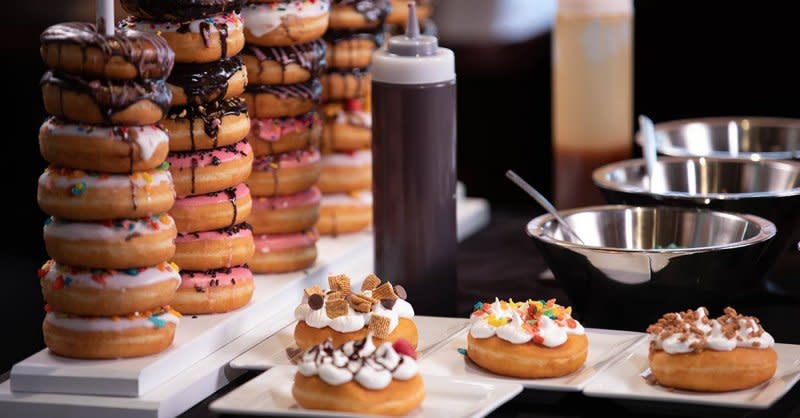 "Be the boss of your own brunch" every Sunday at Granite City with its Lawless Brunch, where whatever you say goes. At the Donut Creation Station, you can create the donut of your dreams. Start with a warm donut fresh from the oven and pile on your toppings – everything from sprinkles and coconut to your favorite cereals and bacon. Then drop by the Egg Creation Station to craft your own breakfast sandwich. Choose your bread, eggs and your favorite meats, veggies, cheeses and sauces. Don't forget about brunch beverages. Dive into The Bloody Mary Experience and select your heat level, vodka and garnish. For something less spicy and more sparkly, opt for the Infinite Mimosa. When the weather's warm and sunny, opt for refreshing patio dining!
3 Squares Restaurant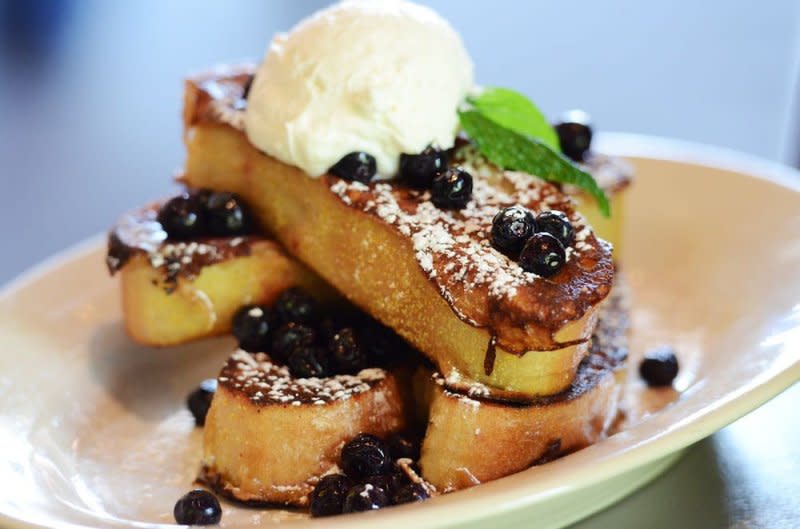 Whether you're craving brunch on the weekend or in the middle of the week, 3 Squares Restaurant will help you out with its always-available breakfast menu. Try the meatloaf hash with a creamy bearnaise sauce, the spinach frittata or the breakfast bowl with salsa and black beans. For a full-on carb-loaded brunch, enjoy the selection of waffles, cakes and French toasts, including its famous Dixie Chicken & Waffles with sausage gravy or Killer Banana Waffle with praline sauce. Take a walk on the spicy side with the breakfast burrito, the Chilaquiles with chorizo, pico de gallo, black bean puree and lime sour cream, or the Uptown Omelette with avocado-tomato salsa. The restaurant also features a nice patio for outdoor brunch; dogs are welcome, too.  
Rock Elm at The Grove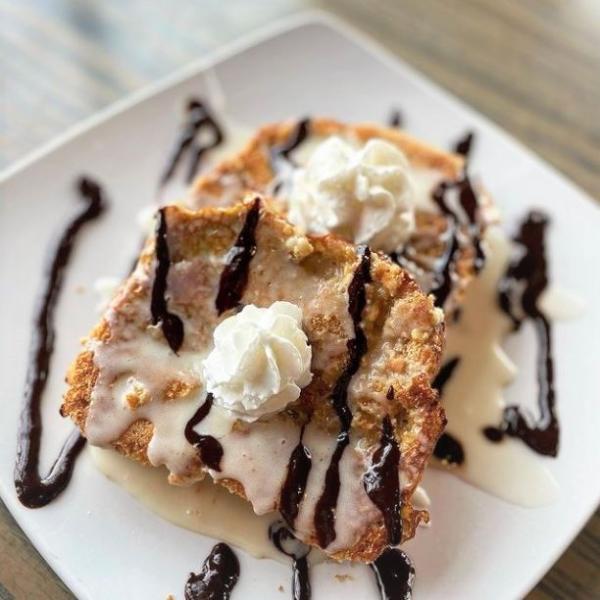 ​
Experience all the glory of brunch at Rock Elm at The Grove every Sunday from 10 a.m. to 3 p.m. You're sure to get your fill of eggs, biscuits, and bloodys! Try the Smoked Salmon Stack on marble rye with caper and dill cream cheese, scrambled eggs, arugula, red onion and lemon-chive creme fraiche. Indulge in the Tavern Hash with short ribs, red pepper, onion, scrambled eggs, cheddar and breakfast potatoes. The Tres Leches French Toast is unlike anything you've had before. Wafer-crusted milk bread, tres leches batter, vanilla glaze and spiced chocolate make this an unforgettable brunch option. Thirsty? Opt for the DIY Mimosas or DIY Bloody Marys. 
Pittsburgh Blue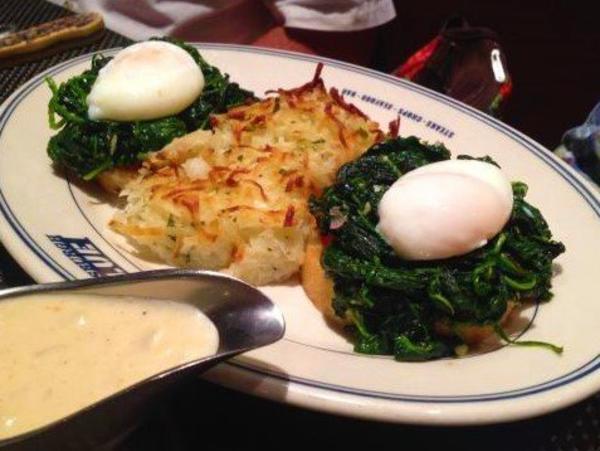 If it's been a hard week, you deserve to reward yourself with a classy brunch at Pittsburgh Blue. Savor the Prime Rib Benedict or Prime Rib Hash, and there's no wrong choice when it comes to the steak and eggs – choose from hanger, sirloin, ribeye, filet and bone-in NY strip. Start with an appetizer of Bourbon-Maple Glazed Bacon, a side of creamy bleu hash browns or house-made English muffins. And if you've been up for a while, Pittsburgh Blue's lunch menu is sure to satisfy. 
Mad Hatter Restaurant & Tea House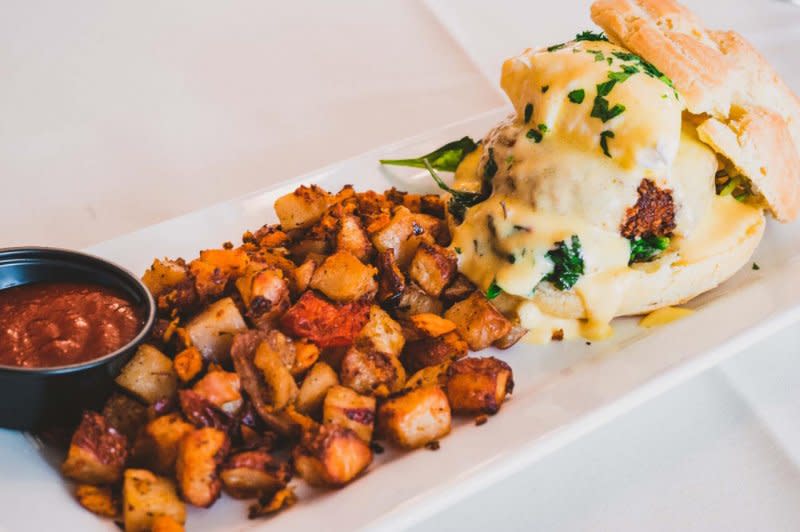 Another spot where brunch isn't reserved for Sundays is the Mad Hatter Restaurant & Tea House. Situated in a historic house on the banks of the Rum River in Anoka, Mad Hatter provides a unique dining experience with its fabulous high tea services and scrumptious brunch menu. A dish not to be missed is the Crab Cake Tweedle Puff – an herbed crab cake, poached egg, sautéed artisan greens and hollandaise sauce stacked inside a pâte á choux pastry puff, served with a choice of soup, honey-lavender dressed greens, brunch potatoes, sweet potato fries or grits. Wow! More options that will get your mouth watering include the Pulled Pork Stuffed French Toast, Pumpkin Apple Stuffed French Toast, Pepper Bacon-Sausage Benedict and the meat and veggie skillets. Everything can be enjoyed with a gigantic mimosa.
Let us know what your favorite brunch spots are in the Twin Cities. Share your brunchy adventures on Facebook, Twitter and Instagram with the hashtag #WeLoveMNW.