If you don't like the weather in Minnesota–give it a minute and it might change. And, when the snow eventually floats down, here are a few locations in "the Brooklyns" ripe for sledding fun for beginners and more experienced gliders.
8440 Regent Avenue North Brooklyn Park (763) 493-8333
Brooklyn Park has 60 amazing parks – that's 1,377 acres of recreation. Touting two golf courses, 50 soccer fields and 28 baseball fields for mild days, winter snow fans know that sledding at Central Park is the crisp outdoors at the height of convenient fun for the whole family.
If ice skating is your preference, Brooklyn Park offers pleasure and hockey rinks with warming house amenities. The lights at Central Park go on 30 minutes before sundown.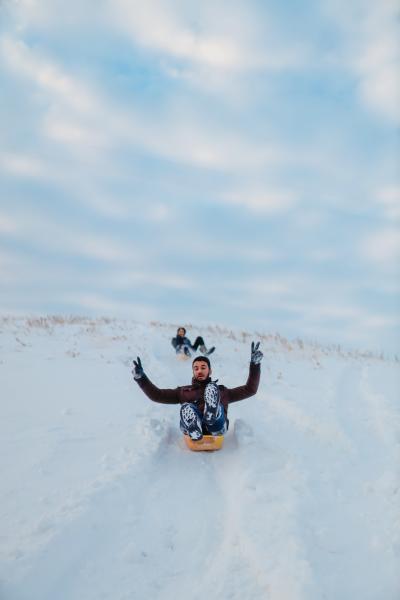 5501 Russell Ave N  Brooklyn Center (763) 569-3400
Snuggled between the Centerbrook Golf Course and multiple little league baseball fields, Lion's Park is great for sledding adventurers big or brief. And, with over 20 miles of trail system in Brooklyn Center extending to all neighboring communities, you can get to this park on foot from most southern parts of the city.  
Lion's Park has paved pathways and a playground in the middle, making it an easy spot for a few quick slides or a full afternoon of fun.