No adventure is complete without some equally adventurous or exciting flavors! While the biggest eating event in the state – Minnesota State Fair – has just ended, we've gathered a list of wacky and one-of-a-kind foods to continue your flavor journey! From unicorn poop cupcakes and a natural disaster-inspired ice cream sundae to intense flavor combinations and massive cookie sandwiches, we've got plenty of extreme eats to treat your taste buds to a workout in or near Minneapolis Northwest!
Terrifyingly Terrific Treats
Unicorn Poop
Nadia Cakes Cupcakes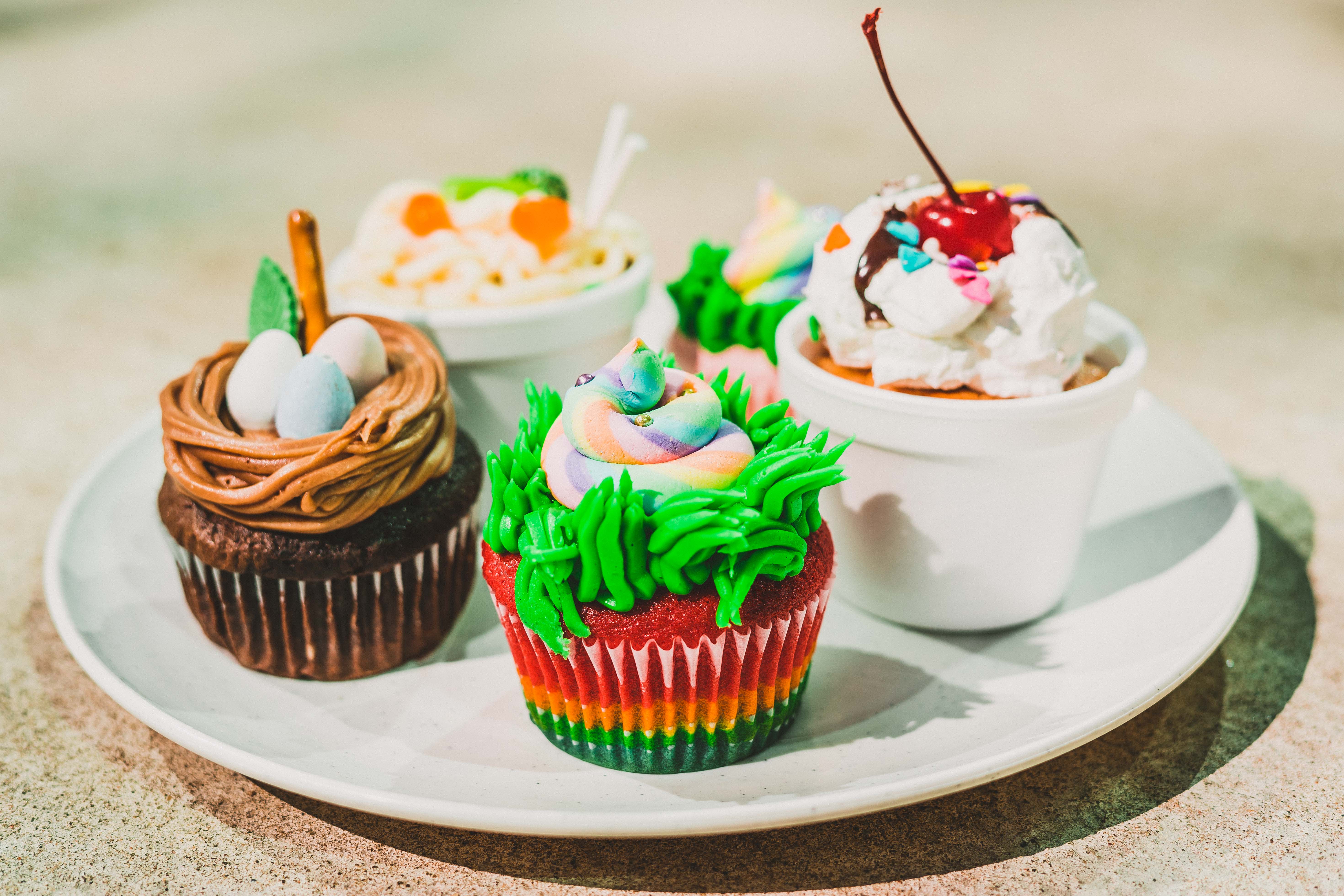 While you can only sample the crazy cake creations of Nadia Cakes' annual Unicorn Poop event for just a few days encompassing the April Fools holiday, it's well worth the wait! And don't judge a book by its cover when it comes to these deceiving treats, a cup of ramen could be a carrot cake with rich cream cheese frosting and what appears to be grotesque mini replica of a a cat litter box could be a decadent chocolate cupcake with delightful tootsie-roll "turds." Other visual masterpieces can include a cake hiding under the façade of a stack of flapjacks and or in a very convincing disguise as a bowl of Lucky Charms! We can't decide what's more fun and exciting, the designs themselves or the mysterious and delicious flavors that lay beneath!
Texas Doughnuts
Hans' Bakery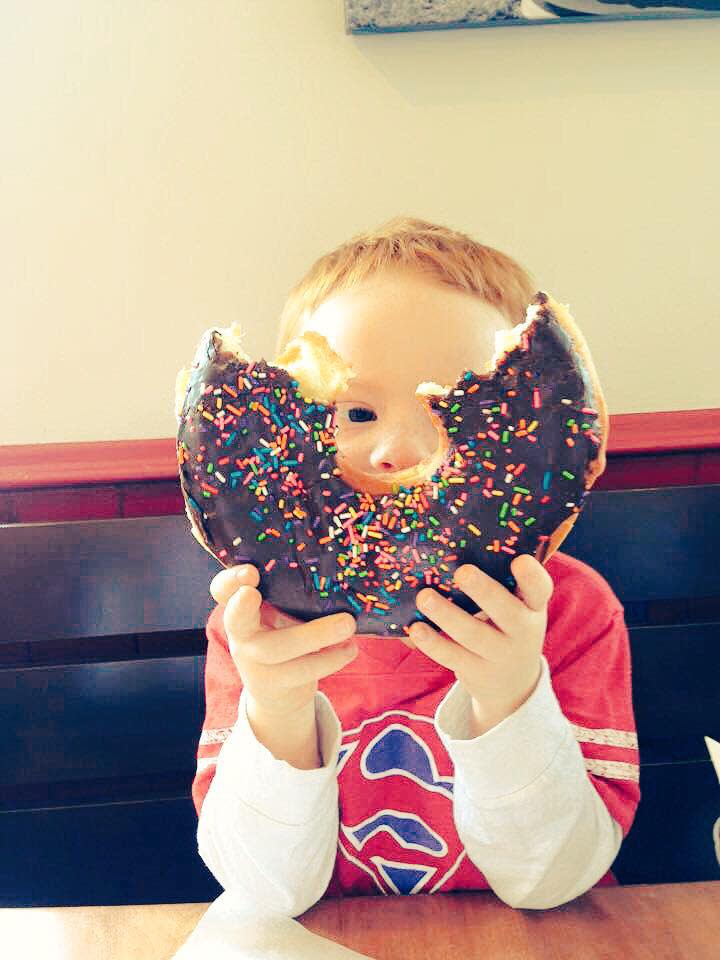 Nothing says challenge quite like eating a doughnut the size of your head! While most customers at Hans' Bakery share the infamous Texas Doughnut treat amongst several friends, there's no denying the truly extreme route is to tackle the entire sweet frosting-covered and delightfully sprinkled pillowy pastry all on your own. For another unique treat try the German Beehive – a yeast-raised cake baked, then split and filled with a pastry and whipped-cream mixture. The family-owned bakery has been open since 1973 and is known for its impressive and ornately decorated cakes and cookies too!
Tornado Sundae
Two Scoops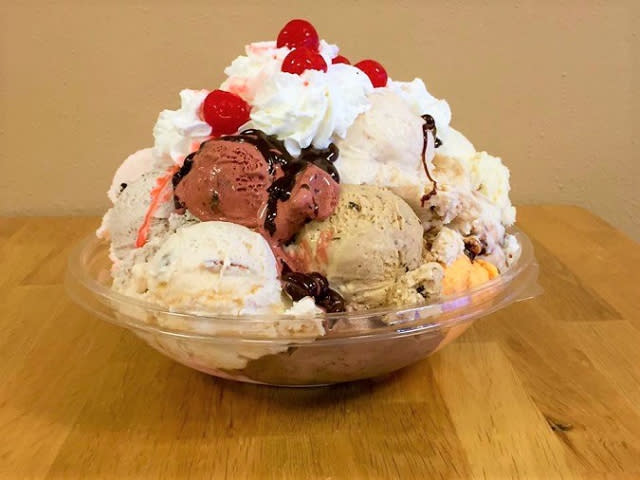 You may be a fan of ice cream, but it will take a true love of the dairy delight and endurance to make it through the mountain of frozen fun that is the Chase the Tornado Sundae at Two Scoops! Just like storm chasers, this treat requires a certain treat-seeker that is up to the challenge, or a flock of friends to make it much more enjoyable! This 20-scoop challenge has a scoop of every flavor available, all topped with hot fudge (or another topping of your choice), whipped cream and a cherry on top, the defining peak of the summit of sugary success!
Giant Cookie Sandwich
Hy-Vee, Brooklyn Park
The Hy-Vee bakery section is often referred to as the danger zone, for anyone who is on a diet! Embrace your sweet tooth with a wide variety of delicious and artfully-decorated baked treats or simply admire the treats from the bakery case, if you can avoid drooling! You really can't go wrong with any of these bakery creations, but if you're on an extreme kick, try this monster cookie sandwich and you won't be disappointed!
Super-sized Savory Eats
Pizza Pretzel
Maple Tavern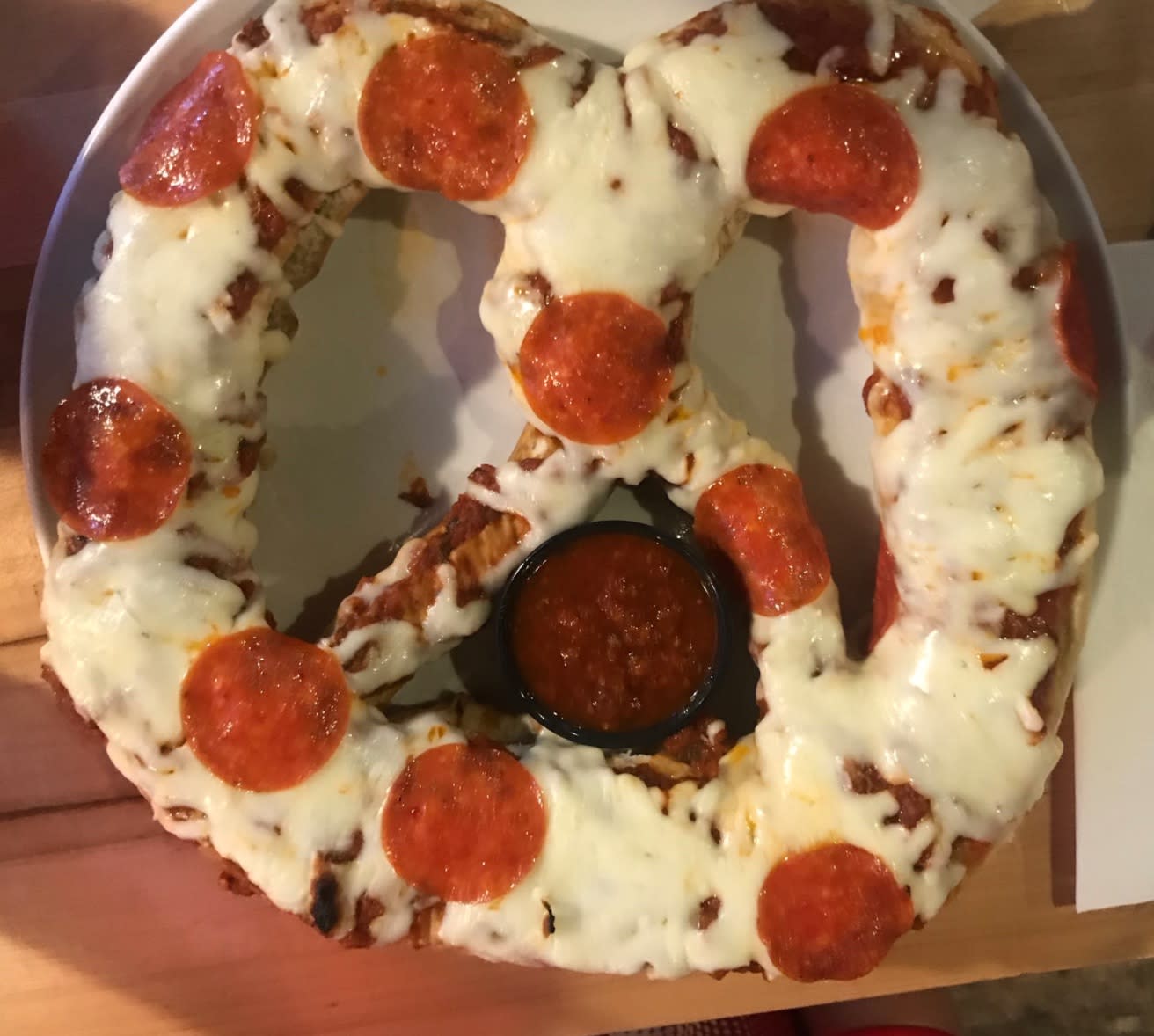 (Photo from @DerushaEats)
Who says you can't combine two of your favorite foods into a super-sized delight?! Imagine the softest, most giant salty pretzel covered with ooey gooey melted cheese and flavorful and crisp pepperoni, complete with a savory marinara dipping sauce. That's infamous Pizza Pretzel at Maple Tavern! No need to decide between ordering a pretzel or a pizza when you can have the best of both! Not your thing? Choose from its expansive, made-from-scratch, menu including delicious burgers, wraps, sandwiches and tacos as you relax on the patio and watch or play a game of sand volleyball.
Fish Boil (Crawfish)
Crazy Cajun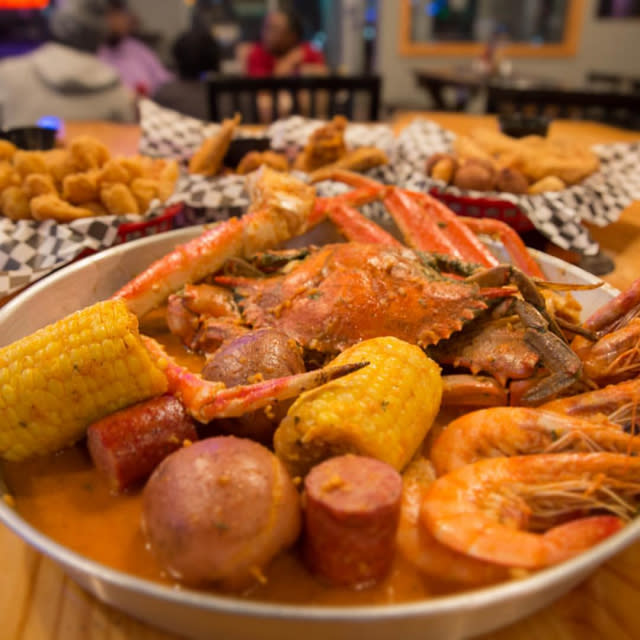 For many Midwesterners, crawfish can seem pretty adventurous, combine that with the size of the massive fish boil at Crazy Cajun for decent amount of extreme! Start by selecting your meat for the boil — crawfish, mussels, king crab, blue crab, snow crab, clams, and jumbo shrimp — than pick one of two sauces - the house garlic butter sauce (Cajun-style) or the coco sauce made of sweet coconut cream, garlic, butter, and basil leaf. From there you choose your heat level – mild, medium, hot, and fire. Mild has a kick and medium gets you sweating a few bites in!  Finish it up by adding your veggies: halved ears of sweet corn, hunks of potatoes, or pork sausage.
Grilled Pork Skewers & Pork (Bún Dậu Mắm Tôm)
MT Noodles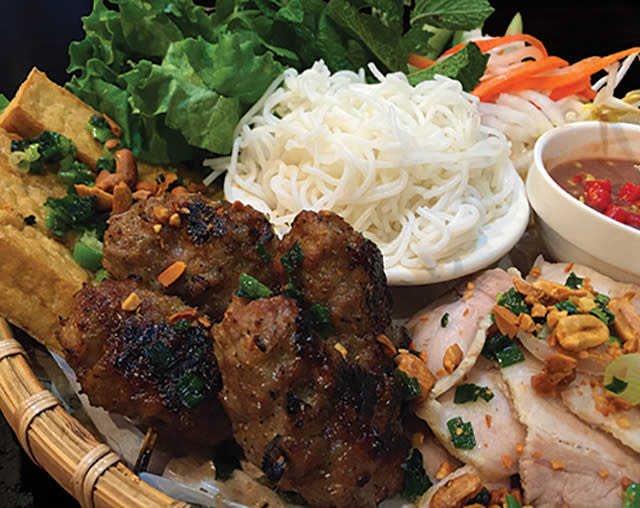 Bring a big appetite or a hungry group of friends if you are feeling up to the challenge of the Grilled Pork Skewers & Pork at MT Noodles! This cornacopia of meats, veggies and flavors includes seasoned grilled pork, thin sliced pork and fried tofu. This delicious blend of meats is served with vermicelli accompanied with pickled daikon,carrots, fresh greens,herbs and chef's shrimp paste sauce topped with peanuts and green onions. Got a carb craving? We suggest the giant Baguette Sandwich (Bánh Mì), a French baguette filled with grilled pork, pickled diakon, carrots, jalapeño peppers and cilantro. You can choose from endless options at this an authentic, locally owned Vietnamese restaurant, from chicken fried rice and Vietnamese Crepes to noodle soups and spring rolls. And don't forget to save room for the sweet rice with coconut!
Supremely Spicy and Fantastic Flavors
Enchiladas, Burritos, Tacos and More!
El Rancho Mexican Restaurant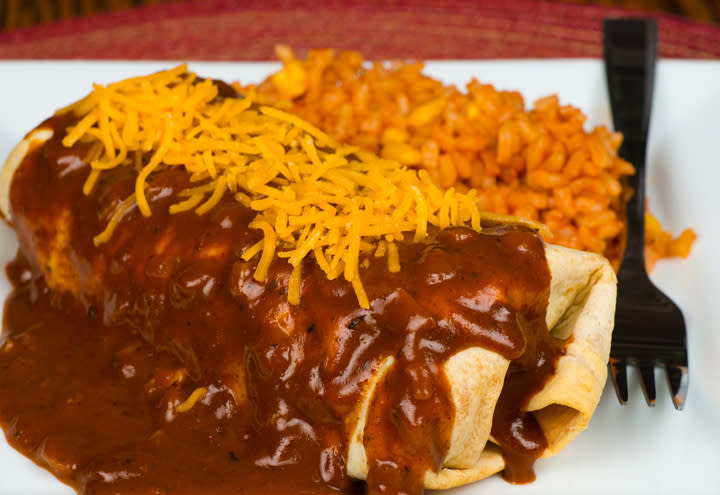 You can expect generous portions and enough food to share at El Rancho Mexican Restaurant, according to Yelp! From Enchiladas Verde to Fajita Nachos and from quesdillas to the California Burrito (basically the size of California!) there is something to delight your taste buds and fill you up! Wash it all down with a Texas Margarita (About the size of Texas, noticing a theme?)!
Chicken Pad Thai (Or anything on the menu, depending on the heat level!)
Thai Fusion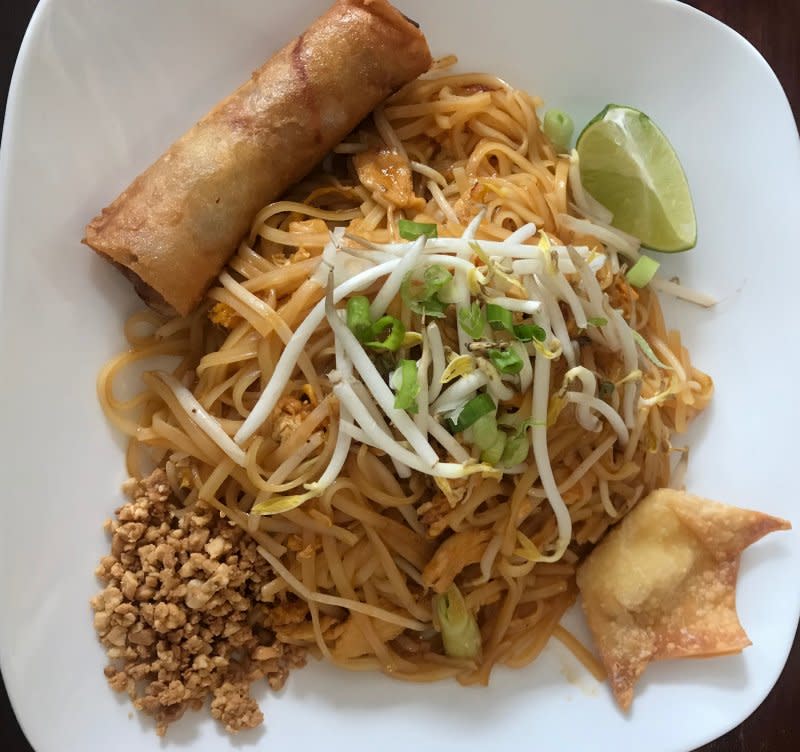 You can choose your own adventure when it comes to the spice at Thai Fusion! We recommend going about two spice levels lower than what you would typically get at another restaurant. You can't go wrong with the Pad Thai or any of the curries or stir frys. Be sure to order one of its delightfully crispy and flavorful egg rolls. 
Liberian/West African Tilapia Entrees
Jambo Africa Restaurant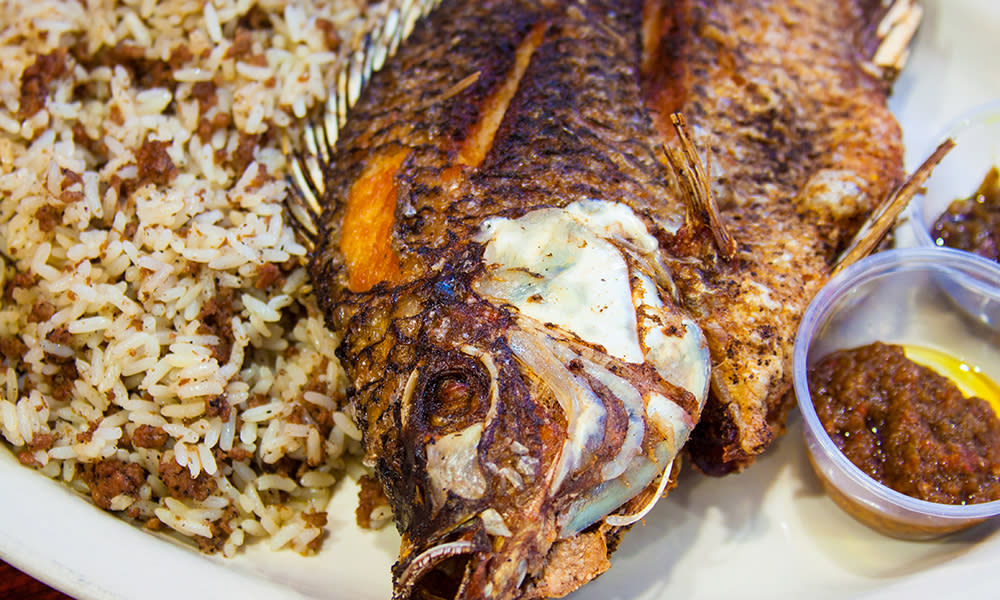 Take your tastebuds on a dining safari at Jambo Africa Restaurant in Brooklyn Center! Choose from a plethora of authentic dishes from across Africa, including Kenya, Liberia and Nigeria. In ordering these traditional resipes, you may encounter some unfamiliar territory, like getting the entire fish (head and all) when you order one of the Liberian Tilapia dishes! But don't let the appearances scare you away, the flavors will truly win you over!
Bonus Tip: Most dishes come with a side of mild sauce, but if you're looking to add some more heat, take it up a notch and ask for some hot sauce!
Rasta Pasta
Irie Vybz Jamaican Restaurant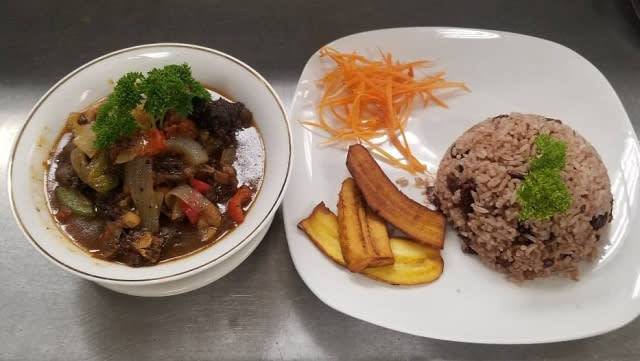 Order anything on the menu at Irie Vybz Jamaican Restaurant in Brooklyn Center, and you're in for a culinary adventure! Try authentic Jamaican cuisine like Jerk Chicken, Drunken Jerk Shrimp, Curry Goat, Oxtail or the Caribbean Jerk Chicken Wraps. For a very unique twist of Jamaican and American flavors, try the Rasta Pasta — penne pasta with broccoli, bell pepper and onions in a light yellow curry sauce with coconut milk. And if you happen to bring some not-so-adventurous friends along for the ride, they can choose from a wide array of American classics on the menu like BBQ ribs and burgers.
The Ultimate Extreme Food Event: Minnesota State Fair!
Now that you've made it through this extreme food adventure, you're ready to take on one of the biggest extreme culinary events in Minnesota — the Minnesota State Fair! This massive event, often referred to as the "Great Minnesota Get-Together," is one of the most popular tourist destinations in the region. This end-of-summer tradition that attracts around 2 million visitors annually, is always held the 12 days leading up to and through Labor Day.
From classics like corn dogs and lemonade to fried alligator and deep-fried candy bars, you'll find plenty of extreme treats to enjoy. Start studying up for the 2020 event with this list of "13 Must-Try Minnesota State Fair Delicacies" from Star Tribune. And don't forget you can get delicious egg rolls year round (Not just at the restaurant's Giant Egg Roll on a Stick stand at the Minnesota State Fair!) at Minneapolis Northwest favorite, Que Viet!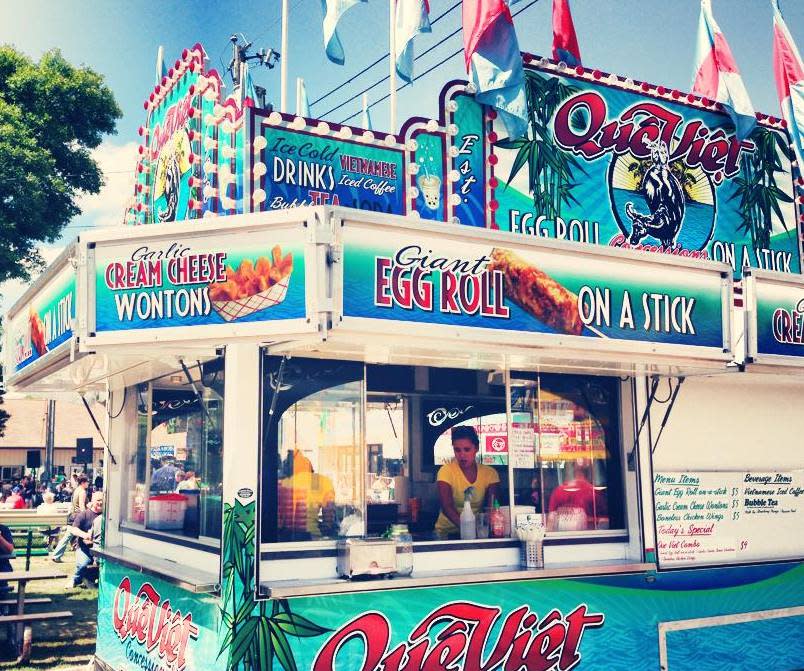 Continue your flavorful journey and Tease Your Taste Buds with 10 Locally Owned Eateries in Minneapolis Northwest and get out and enjoy patio season before it's over with our guide to Where to Eat and Drink During Patio Season. Share your culinary adventures with us on Facebook, Twitter and Instagram with the hashtag #WeLoveMNW!