No foodie adventure is complete without some equally adventurous flavors, and you don't have to wait for the Minnesota State Fair to roll around broaden your palette. We've gathered our favorite wacky and one-of-a-kind foods in Minneapolis Northwest to keep your flavor journey exciting. From a donut burger to duck feet, go ahead and excite your taste buds!
Crawfish Boil at Captain Crab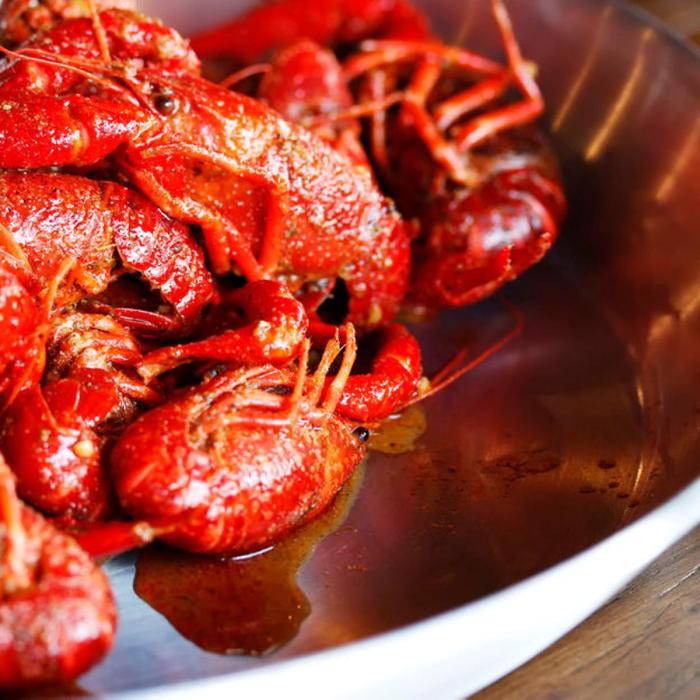 For many Midwesterners, crawfish can seem pretty adventurous, combine that with the size of the massive fish boil at Captain Crab for decent amount of extreme. Start by selecting your meat for the boil — crawfish, mussels, king crab, blue crab, snow crab, clams, and jumbo shrimp. The fresh catch is boiled in secret spices and blended with one of Captain Crab's signature seasoning. Choose from original Cajun, buttery garlic, lemon pepper, sweet juicy special, or get real crazy and do The Boom (a mix of all spices!). On top of all that, you pick your heat level, from mild to my-mouth-on-fire hot. Each pound of seafood comes with a potato and a corn on the cob and is served in a bag to preserve the flavors.
How do you actually eat crawfish? Take advice from the experts at Captain Crab: "The quickest way we have found is pinch off the tail, squeeze out the meat and eat it, leaving the crawfish head behind. Pro tip: The moisture and the flavor is all in the head, you are more than welcome to suck on it," chef Chris Shepherd says. "Yes, the tail is the meat, but the head is the essence of life."
West African Tilapia at Jambo Africa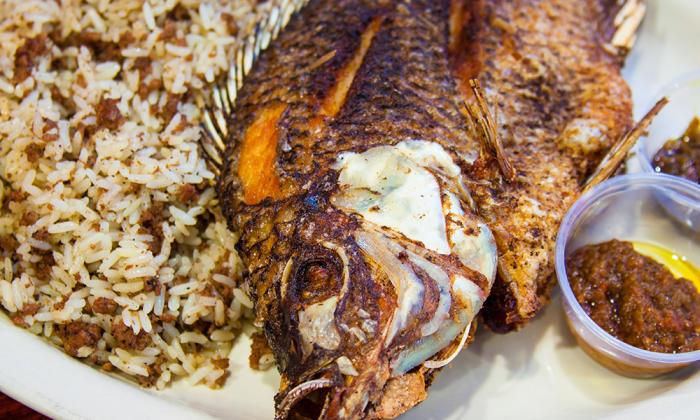 Take your taste buds on a dining safari at Jambo Africa Restaurant. Choose from a plethora of authentic dishes from across Africa, including Kenya, Liberia, and Nigeria. In ordering these traditional recipes, you may encounter some unfamiliar territory, like getting the entire fish (head and all) when you order one of the Liberian tilapia dishes. Don't let the appearances scare you away, the flavors will truly win you over!
Bonus tip: Most dishes come with a side of mild sauce, but if you're looking to add some more heat, you can ask for hot sauce!
PB & J Burger at Brick & Bourbon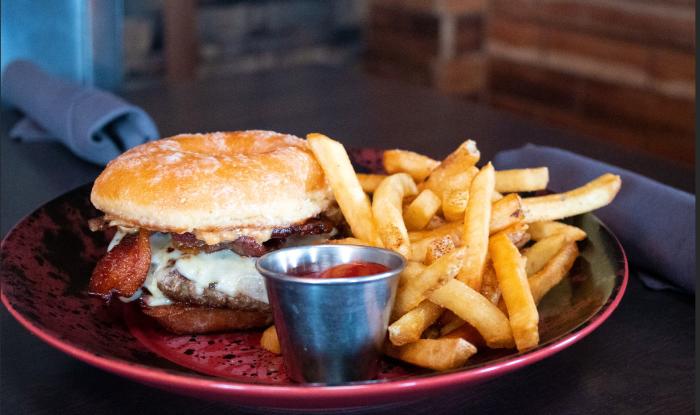 The famous PB & J Burger at Brick & Bourbon rivals any extreme burger out there. The restaurant is known for its unique twist on classic items, and this burger delivers. Start with a handcrafted burger patty covered in habanero jack cheese and topped with extra thick cut bacon. Sounds normal enough, right? This burger patty sits between a specialty honey glazed donut, which is lightly spread with mayo, tart sriracha pomegranate marmalade, and homemade creamy bourbon peanut butter. It's all included. Can you handle this flavor explosion?
Roasted Duck at Hip Sing BBQ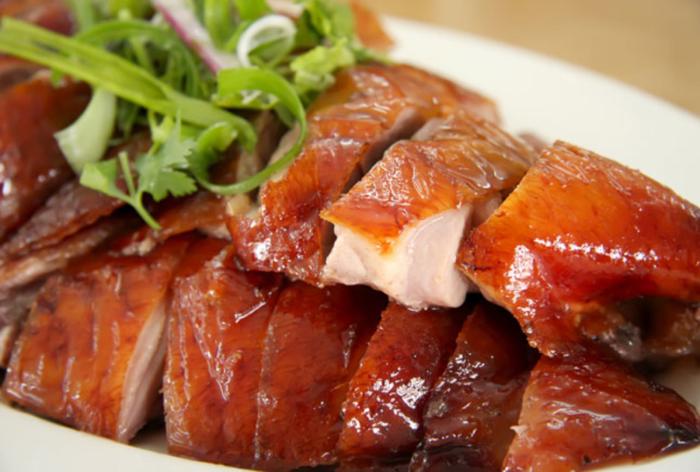 If you've always wanted to try roasted duck, Hip Sing BBQ is the place to go. This small eatery with chickens and ducks hanging in the window feels like it came straight from the far east. The large menu of authentic Chinese and Vietnamese cuisine is impressive, but the duck is really the star of the show. Juicy and succulent, enjoy dipping the meat in a special house sauce that actually comes from inside the duck when they cut into it. You can also check out the duck wings, feet, uterus, or stomach! Order a whole roasted pig for special events. 
Rasta Pasta at Irie Vybz

Order anything on the menu at Irie Vybz Jamaican Restaurant, and you're in for a culinary adventure. Try authentic Jamaican cuisine like Jerk Chicken, Drunken Jerk Shrimp, Curry Goat, Oxtail or the Caribbean Jerk Chicken Wraps. For a unique twist of Jamaican and American flavors, try the Rasta Pasta — penne pasta with broccoli, bell pepper and onions in a light yellow curry sauce with coconut milk. And if you happen to bring some not-so-adventurous friends along for the ride, they can choose from a wide array of American classics on the menu like BBQ ribs and burgers.
Unicorn Poop at Nadia Cakes

While you can only sample the crazy cake creations of Nadia Cakes' annual Unicorn Poop event for just a few days encompassing the April Fools holiday, it's well worth the wait! And don't judge a book by its cover when it comes to these deceiving treats: a cup of ramen could be a carrot cake with rich cream cheese frosting, and what appears to be mini replica of a cat litter box could be a decadent chocolate cupcake with delightful tootsie-roll "turds." We can't decide what's more fun and exciting, the designs themselves or the mysterious and delicious flavors that lay beneath. Check in with Nadia Cakes for unique daily flavors, like the controversial Dew-Rito cupcake: Mountain Dew cupcake with Mountain Frosting rimed with crushed Doritos!
Texas Doughnuts at Hans' Bakery

Nothing says challenge quite like eating a doughnut the size of your head. While most customers at Hans' Bakery share the infamous Texas Doughnut treat amongst several friends, there's no denying the truly extreme route is to tackle the entire frosting-covered pillowy pastry all on your own. The only thing that's crazy about the flavor is just how good it is. For another unique treat try the German Beehive – a yeast-raised cake baked, then split and filled with a pastry and whipped-cream mixture. The family-owned bakery has been open since 1973 and is known for its impressive and ornately decorated cakes and cookies too!
Tornado Sundae at Two Scoops

You may be a fan of ice cream, but it will take a true love of the dairy delight and endurance to make it through the mountain of frozen fun known as the Tornado Sundae at Two Scoops. Just like storm chasers, this treat requires a certain treat-seeker that is up to the challenge or a flock of friends to make it much more enjoyable. This 20-scoop challenge has a scoop of every flavor available, all topped with hot fudge (or another topping of your choice), whipped cream and a cherry on top, the defining peak of the summit of sugary success!
The Ultimate Extreme Food Event: Minnesota State Fair!
Now that you've made it through this extreme food adventure, you're ready to take on one of the most extreme culinary events in Minnesota — the Minnesota State Fair! This massive event, often referred to as the "Great Minnesota Get-Together," is one of the most popular tourist destinations in the region, attracting around 2 million visitors at the end of summer. Check out the complete New State Fair Foods list!
From classics like corn dogs and lemonade to fried alligator and deep-fried candy bars, you'll find plenty of extreme foods to enjoy. And don't forget you can get delicious egg rolls year round (not just at the restaurant's Giant Egg Roll on a Stick stand at the Minnesota State Fair!) at Minneapolis Northwest favorite, Que Viet!