What? You didn't know there was a distillery in Brooklyn Park? There's a reason for that. Skaalvenn provides such a rare, exclusive experience that they don't need to advertise. If you hear of this place, it's because someone raved about it within earshot.
Buried in the warehouse district off Boone Avenue and Highway 694, keep your eye out for a small sandwich board which marks the prize. Down the hall you'll find a portal to another world. A sign over the door reminds to "Pillage Responsibly", and the humor continues inside.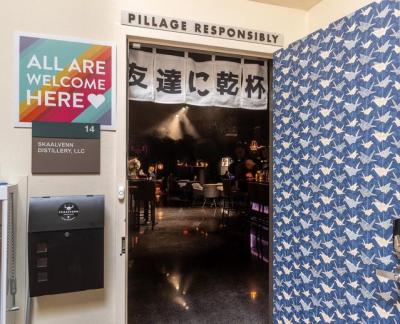 The ambience is unmistakably bespoke. Following a Japanese custom, guests are given a hot hand towel upon entry. If you've managed to get in the door, it's likely because you made a ninety-minute reservation. Proprietor Tyson Schnitker and his team serve only 45 people at a time, turning away 20-40 people a night who show up on the chance of grabbing a walk-in opening.
Patrons bask in this unpretentious cocktail lounge with a visceral sense of the value of their time. They enjoy craft distillations of vodka, aquavit, bourbon or rum made exclusively with small batch product. Skaalvenn's chef provides a unique menu of snacks, but the main event is the libation, and every employee has a deep understanding of signature and classic cocktails, and how to match an offering to their customer's tastes.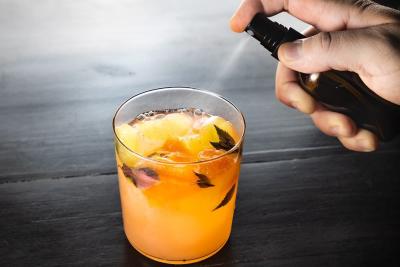 You'll find flavors here that reside nowhere else, marked by a consistency and quality in the base spirit made on the distillery floor within full view of the main lounge. Their habanero rum, infused with the real thing, provides a kick that won't leave a bruise, but will leave a mark on your memory. Or, try the Fjord Horse, containing aquavit, house ginger beer, ginger, lime and galangal, topped with lingonberry and hibiscus ice.
Many serious hours of work have gone into designing each signature drink, often incorporating hard to find ingredients. But everyone here is at ease. The name itself holds a telling sense of play, originating from the Norwegian word skaal, meaning "cheers", and venn, meaning "friends". A different amusing Viking graces each of their proprietary bottles of spirits which can be purchased on your way out the door as your ninety minutes wraps up.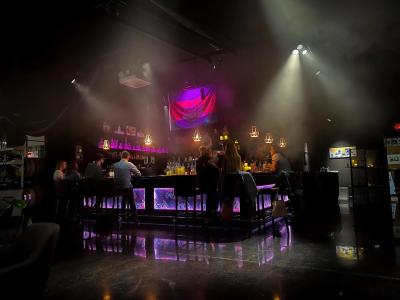 Pianist Loc Tran plays at Skaalvenn each Thursday from 5-8 p.m. He shares classical pieces as well as his own compositions.
Make a reservation at skaalvenn.com for Thursdays, 5-10pm; Fridays, 4-11pm or Saturdays 3-11pm.
Visit twice and you'll be recognized.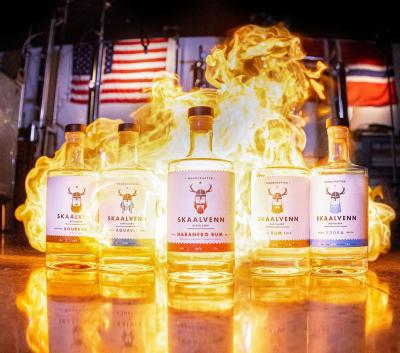 Skaalvenn Distillery, 8601 73rd Ave N, Brooklyn Park, (763) 762-7858