What better way to ring in spring than soaking up the sun on a patio with a refreshing craft beer in hand? Minnesota ranks in the top 15 of states with the most craft breweries per capita and with an overwhelming number of new breweries opening each year in the Twin Cities, there's always a new place to explore! We've gathered some of our favorite breweries to get you started on a beer-filled road trip in Minneapolis Northwest and beyond!
Stop 1: OMNI Brewing Co.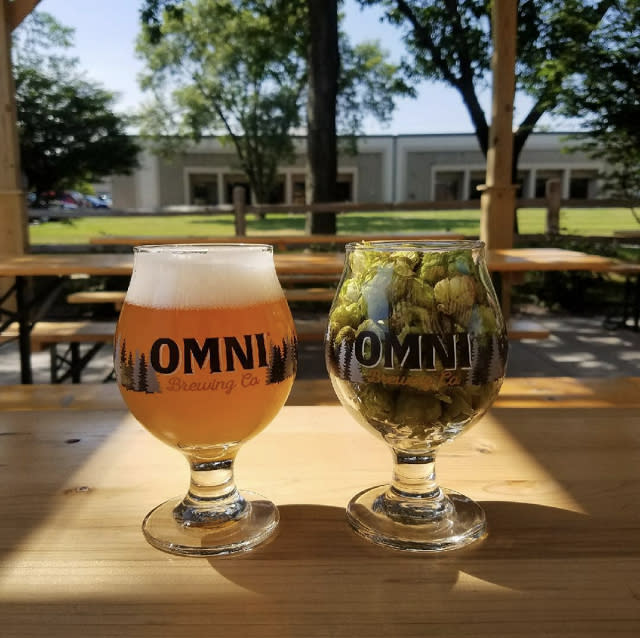 OMNI Brewing Co. is a great place to start, stop or finish at along any brewery adventure, with their philosophy of OMNI, meaning "all, every, of every kind," or essentially a beer for everyone. Whether you're relaxing in their cozy taproom or delighting in the spring or summer sunshine on their expansive patio, you'll find a beer and experience you will enjoy.
When it comes to the taproom beer menu, their mission is especially true with a wide range of beers that fit your flavor profile from clean and crisp to hoppy, or sour to dark and malty. Depending on when you go, you can find a rotating list with an American lager, golden ale, a wide selection of IPAs, brown or scotch ales and several stouts. Some of our favorites include the Daily Dose Coffee Cream Ale, a collaboration with the local coffee shop Daily Dose Café, the always refreshing summer beer, Lake Day, the hoppy and the incredibly unique Tropical Milkshake IPA. Stop by for Infuseday Tuesdays, and you can sample a unique take or infusion of one of their many unique beers.
Come for the beer, but stay for the fun! OMNI is known for endless opportunities to be entertained with their ongoing events calendar. Check out Yoga in the Taproom, Cribbage Sundays, Infuseday Tuesday and Taproom Trivia. And you can play shuffleboard and bean bag toss any time! If all that activity leaves you hungry, grab something to eat from the ever-changing array of food trucks!
Stop 2: Blue Wolf Brewing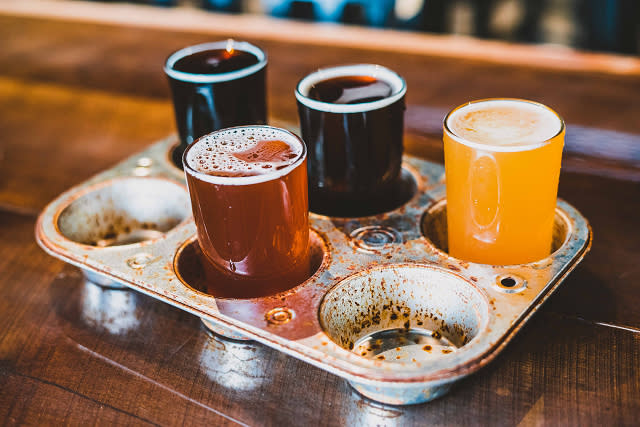 Blue Wolf strives to brew approachable and traditional session-style beers. In addition to the flagship brews, it offers rotating taps with various styles and seasonal varieties. The taproom is also food friendly, so you can bring your favorite foods to pair with a refreshing brew! Try the Wolf Cry Rye Ale, Wolf Bite American Bitter or the Wolf Spirit IPA. Wolf Bite is a cross between an American Pale Ale and an English Bitter.
Blue Wolf Brewing is also known for their unique and fun events including Tipsy Trivia, Blankets + Brews (a DIY blanket workshop), yoga, Hoops + Hops (a DIY Hoop Wreath workshop), Boots + Taps (a high energy workout) and more.
Stop 3: Surly Brewing Co.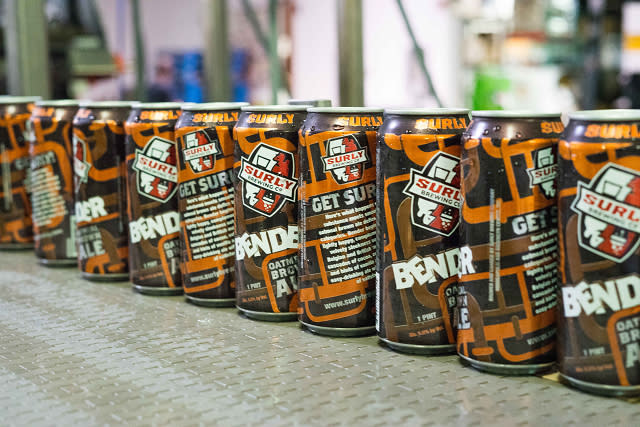 Surly Brewing Company is an infamous Minnesota brewery known for its world-renowned beer and quirky and outspoken philosophy, as well as being one of the fastest-growing breweries in the country. The Brooklyn Center brewery, which packages around 3,300 cans per hour, re-opened for monthly tours in 2018, making it a must-see on any beer lover's Minneapolis Northwest itinerary!
The Brooklyn Center location produces a variety of Surly beers, including Todd the Axe Man, Bender, Coffee Bender, Overrated, Cynic and many more of Surly's more than a dozen regular beers, plus some of their infusions and limited releases.
If this taste of Surly's history leaves you wanting more, check out one of their "Old School Tours" at the Brooklyn Center Brewery on the third Friday of every month. To get the latest info on the tour follow Surly on Facebook, Twitter and Instagram, where they'll drop notifications when sign up links are live on the tour page (Notifications are usually made Friday afternoons two weeks prior to tour.)
Stop 4: 10K Brewing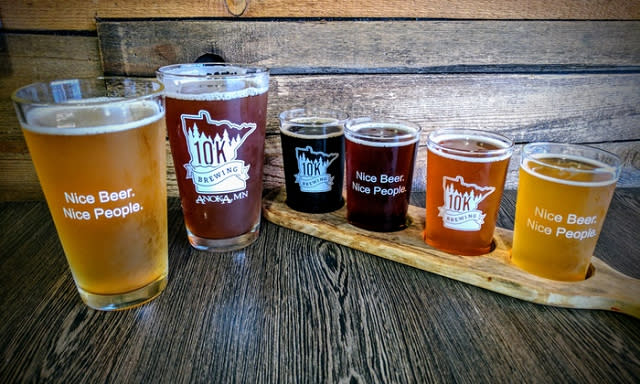 10K Brewing is 100% independently owned and operated where every recipe is one-of-a-kind. After over 500 batches of beer at one of the state's smallest brew houses, you can be assured that your pint was truly hand crafted. The name of the brewery is a constant reminder of their mission and values: Our beer is "Brewed in the Land of 10K Lakes", and that means something to us. It means Minnesota values. "Nice Beer. Nice People."
In brewing true small batch craft beer, 10K Brewing's brew system is 3 barrels in size, which is small in comparison to other craft breweries. By keeping the system small it allows their brewer to hand craft each brew to create truly unique batches of beer. With a rotating selection of beer on tap in the taproom, they're brewing something different each week, so each visit you can try fresh new beers.
And don't let the size of their cozy taproom fool you, they've got an expansive list of beers fitting all the genres, including light, balanced, malty, hoppy, dark, fruity, and funky and sour. For something light, you can't go wrong with the Northwoods Blonde, an easy drinking Belgian Blonde Ale. For something balanced and unapologetically Minnesotan, try the You Betcha' Amber Ale, a red ale with the perfect balance between hops and toasted malt undertones. For something truly different, try I Can't Believe It's Not Hard Cider, an apple ale with a deliciously sweet taste
10K is also a great spot to catch live music or take on Trivia Mafia!
Stop 5: Wicked Wort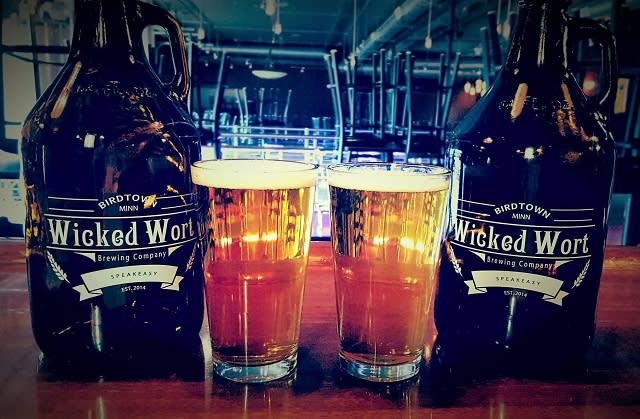 Wicked Wort Brewing Company is destination tap room located in Robbinsdale Minnesota. Established in 2014, with a 10 Barrel system providing 10 deliciously malted craft beers at all times. This family owned brewed includes a small bar with 10 tap handles, and a larger bar with 30 tap handles, an event center, a dog-friendly patio, and space for live music! The taproom also features two unique bars from the 1930's and 40's giving the space a speakeasy vibe. Come hungry and enjoy the snack menu with Polish sausage, jumbo pretzels, and pulled pork sandwiches, or order in from one of the nearby restaurants.
Wicked Wort isn't afraid to take some risks with flavor forward brews like the Showgirl Raspberry Wheat, their classic wheat beer base with more than 300 pounds of pure Raspberry Puree and their house Kolsch yeast; and Sour Pineapple Dreamsicle, a kettle spur with pineapple puree, vanilla, milk sugar and loads of oats, plus Amarillo and Citra hops make this beer an "adult dessert."
There's never a dull moment at Wicked Wort. Stop by on a Sunday for their Bend + Brew yoga series, enjoy an authentic Minnesotan experience at a Wednesday Meat Raffle, or be entertained by their variety of live music and open mic nights! If that's not enough, enter a cribbage tournament or purse bingo!
Stop 6: Forgotten Star Brewing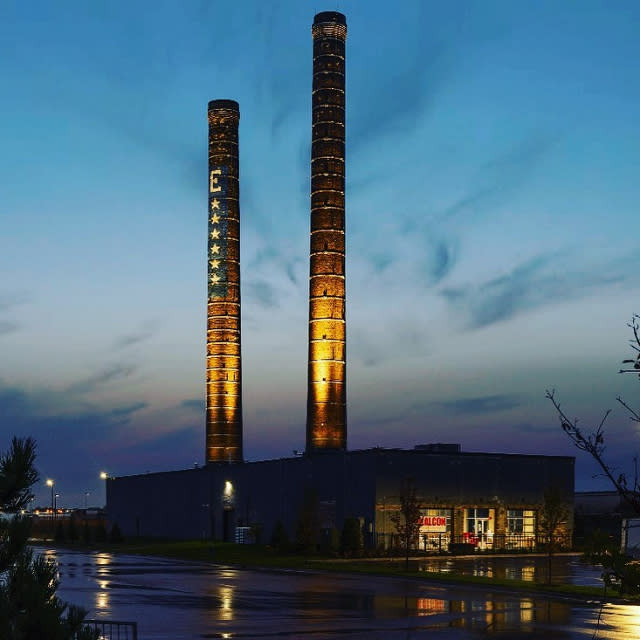 Historic, industrial, cozy and inviting are just a few ways to describe the unique atmosphere at Forgotten Star Brewing Co., Fridley's first brewery, and the perfect last stop on your brewery adventure. Located in the historic Northern Pump Company Building, the space encompasses the timelessness and tradition of the area.
Marked by tap handles that resemble the building's iconic smokestack, each of Forgotten Star's beers pay tribute to the building's rich history and geography, like the Northstar Cream Ale, named after the North Star train line that runs nearby. This refreshing brew is a lawnmower beer with more character than your typical American Light Lager. Brewed with 100% Minnesotan ingredients, it's light bodied and assertively carbonated, bready with a mild citrus and floral hop profile. And what says spring better than a little Liquid Sunshine?! This Belgian Session is a fairly simple beer that showcases Belgian yeast, with banana and clove. This signature brew is offered in a variety of styles with fruit flavors.
Choose from a variety of fun and active events at Forgotten Star, whether it's yoga & beer, bootcamp & brew, drumming and beers, puppy yoga (or cuddles that benefit local animal rescues), craft workshops and more! And if all that fun leaves you with an appetite, grab a bite to eat at one of their rotating food trucks, featuring a variety of favorites like BBQ, brick oven pizza and more.
Coming Soon!
Skaalvenn Distillery Tasting Room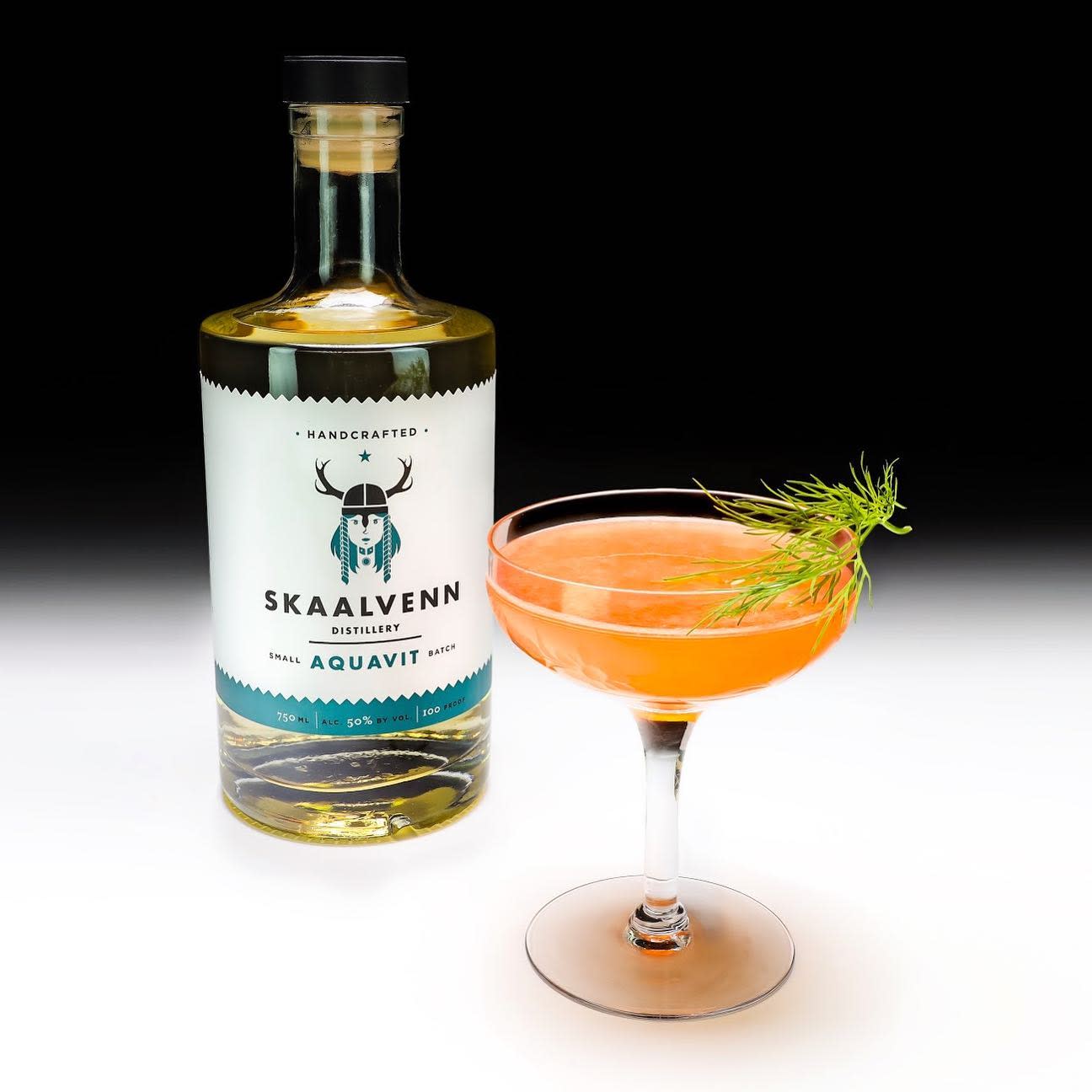 Combining the Norwegian terms for "Cheers" and "Friends," Skaalvenn Distillery is set to open their friendly taproom this spring! Skaalvenn was started by the husband and wife team of Mary and Tyson Schnitker, motivated by their sense of adventure, being in the right place at the right time and deciding to follow their dream.
The Skaalvenn brand represents their spirits for what they are: fun, adventurous and down to earth. Choose from vodka, run, aquavit, habanero rum or straight bourbon. Skaalvenn Vodka is Handcrafted in small batches from Minnesota wheat, it has a crisp, clean taste that mixes perfectly with other ingredients to create outstanding cocktails. If you're looking to kick it up a notch, try the Habanero Rum. The heat level is comparable to a hot summer day, your tongue buckles under the heat like a stretch of 35W, your eyeballs sweat like a flanneled hipster at the State Fair and your throat feels as hot as the steering wheel of a minivan parked at Southdale all day. 
Whether you wear flannel or Chanel, drive an Escort or an Escalade, live in a mobile home or a model home — you'll always feel welcome at Skaalvenn Distillery.
More to explore nearby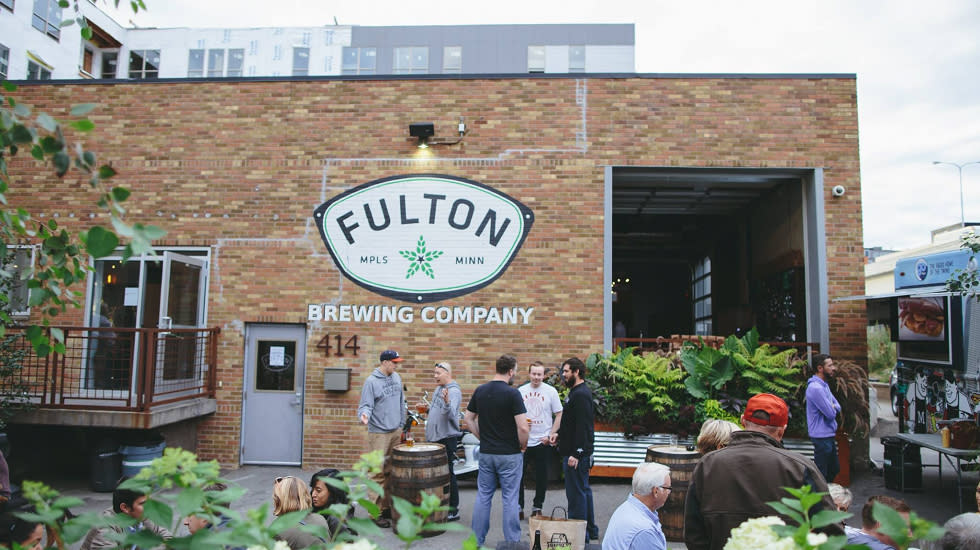 There's really no end to the brewery adventures to explore in and near Minneapolis Northwest. Head over to Blaine and check out Invictus Brewing, located adjacent to the National Sports Center. Where you can enjoy refreshing brews like the Beautiful Buzz, a blonde ale featuring additions of Lemon Peel and local Honey from Bar Bell Bee Ranch and citrus notes or Apple Shine, a dry, crisp, and effervescent apple ale.
Hit the road and take a short drive to Northeast Minneapolis where you can sample a plethora of trendy breweries. Enjoy a refreshing cider at Sociable Cider Werks, put your "Short Pants" on at Bauhaus Brew Labs with the Shortpants lemon shandy, and be a "Daytripper" Indeed Brewing, with their signature Day Tripper Pale Ale, made with notes of grapefruit and marmalade. And just a hop and skip away in the North Loop you'll find plenty of great options like Fulton Brewing Company's classic Lonely Blonde, Number 12 Cider's unique rotation of sweet and dry ciders,  and One Fermentary & Taproom's unique sampling of wine, beer and cider!
To continue your brewery adventure, check out our guide to breweries, tours and more or find the best brewery and art studio pairings we've gathered for Our Guide to Art Galleries & Breweries Near Minneapolis Northwest. Share your beer-filled escapades with us on Facebook, Twitter and Instagram with the hashtag #WeLoveMNW!