Since 2010, Maple Grove's charming gourmet balsamic and olive oil store has been a place to find inspiration for your own cooking and party-hosting, as well as thoughtful gifts for everyone on your list – from friends and family, to kids' teachers, to office Secret Santas. It's also the perfect place to browse (and taste!) if you're debating which appetizer to bring to Thanksgiving or what dish to make when the in-laws are in town. Whatever you're looking for, you'll love what you find at Love That Olive.
Love That Olive is the only gourmet food store in Minnesota that imports its quality olive oils and balsamics directly from Italy. In recent years, the store extended its product line to include an eclectic assortment of goodies for your kitchen, including baking products, soups, specialty foods, kitchen ware, gift items and olive oil beauty products.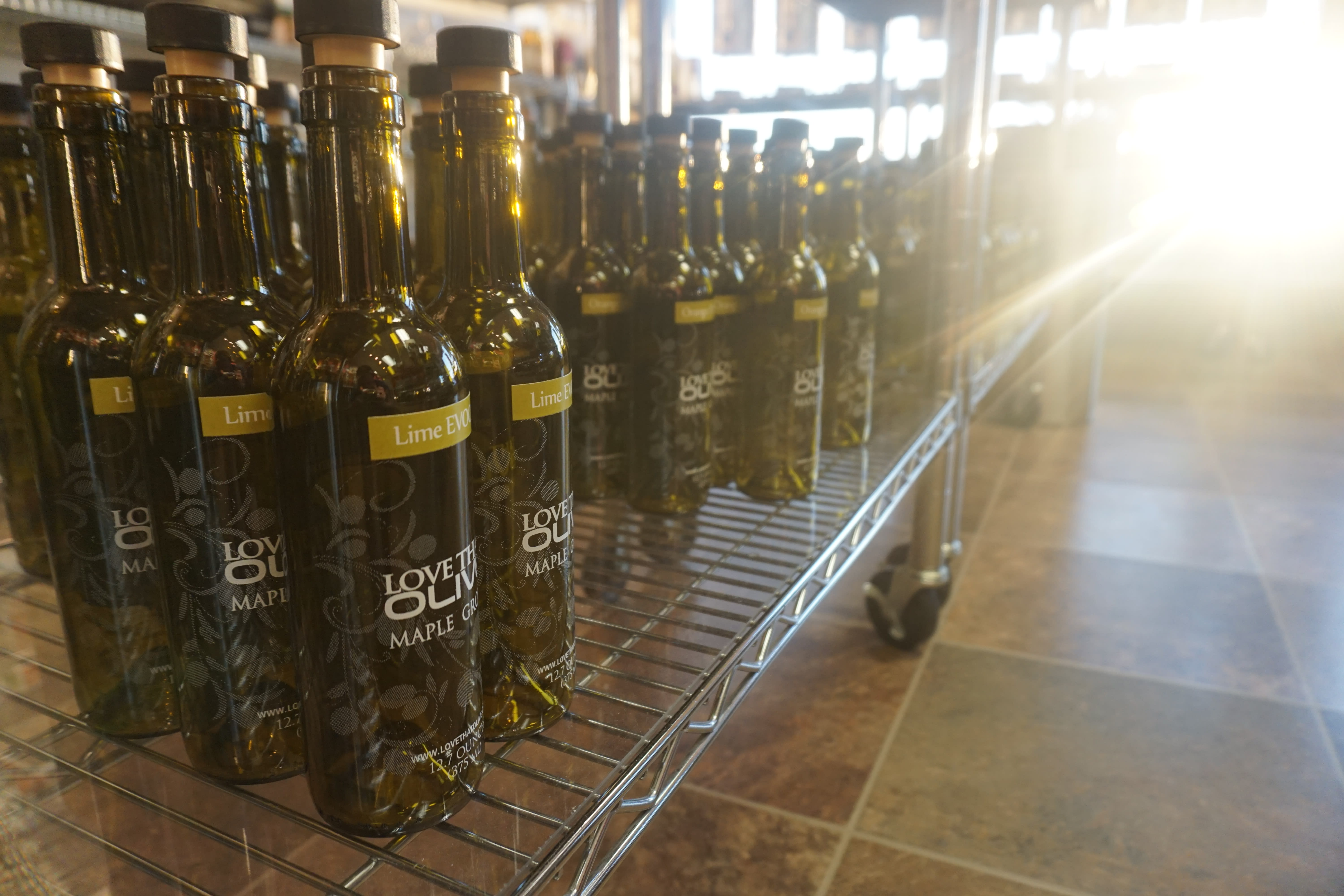 Whether for cooking or gifting, you can't go wrong with Love That Olive's Aged Balsamic. It's their best-selling item, selling four times more than any other product in the store, and you'll understand why once you taste how smooth and flavorful it is. For your Thanksgiving meal, try incorporating the dazzling Cranberry Balsamic for a unique take on the classic cranberry flavor people love. Your guests will become addicted to its perfect balance of tart and sweet. Another balsamic that will make your taste buds dance is the Strawberry Balsamic, which won Best in Show in its category at the 2017 Fancy Food Show in New York City. Fresh strawberries are added right into this aged white balsamic vinegar, giving it a deliciously refreshing flavor. Staff members recommend fruit balsamics like these in the winter because they are perfect for those times when you're craving the taste of fresh fruit.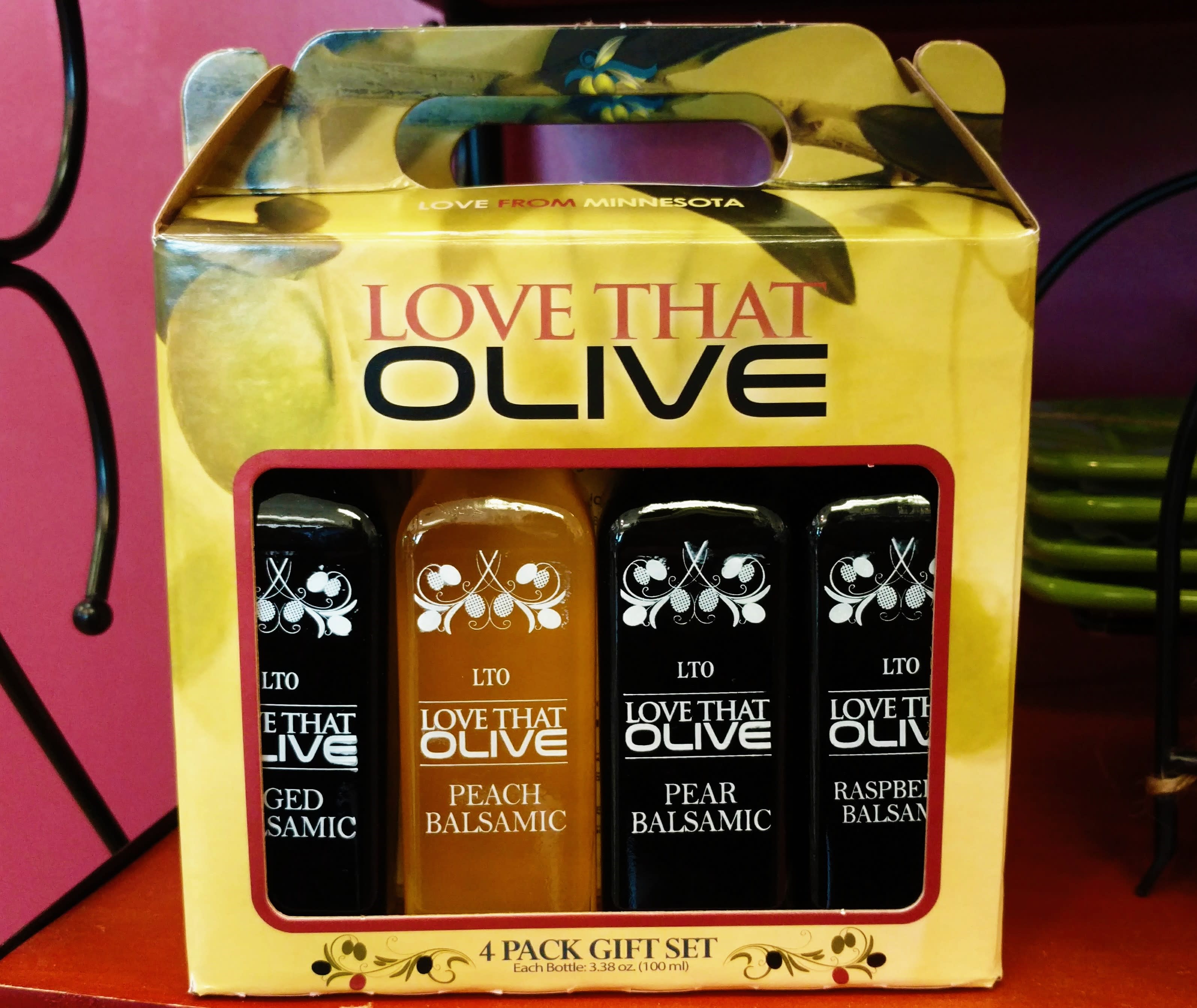 Sample packs are always a hit if you're having trouble deciding which specific balsamic or oil to gift someone. Love That Olive balsamic gift sets include the Aged Balsamic along with their Peach, Pear and Raspberry Balsamics. Olive oil gift sets include the Fiore Fiore Extra Virgin Olive Oil, and Garlic, Lemon, and Rosemary EVOO's.

A fun alternative to a balsamic or oil is Love That Olive's new wine sauces – which are exactly what they sound like. Come into the store to sample the Chocolate Cabernet Sauvignon Wine Sauce, Amaretto Cream Sherry Wine Sauce and Strawberry Cream Chardonnay Wine Sauce. Each of these adds decadence to ice cream, French toast or pancakes, crepes, fresh fruit, pork, salmon, and you can even add a splash to your coffee.

Another sauce to consider adding to your holiday meals is the Maruso® Soy Sauce, which has been on the shelves since the store opened. Made by a family in Taiwan who have used the same family recipe for more than 100 years, it is brewed without wheat, making it gluten-free, and is also low-sodium, preservative-free and alcohol-free.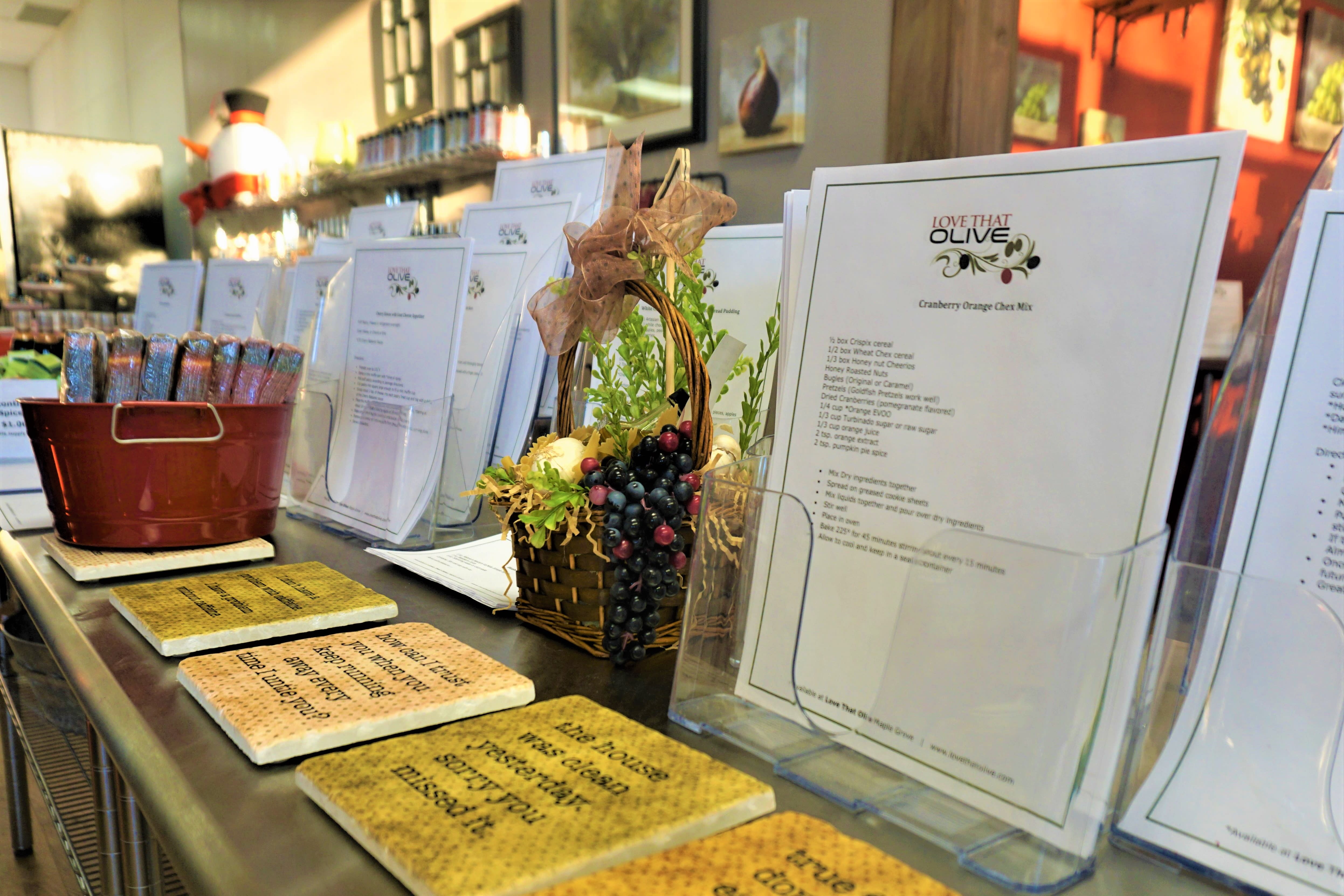 When it comes to finding a new recipe to try for the holidays, it's best to pop into the store and see what they're currently featuring. Recent in-store recipes include their Caramel Apple Cream Cheese Spread, Raspberry Balsamic Meatballs, Portobello Shallot Pork Chops and Pineapple Scallop Bites. With a little help from the welcoming and knowledgeable staff, you'll create a snack or dish that will have your whole party talking! And as Owner Terri Chaffer says, you don't have to be a professional chef to add a little vinegar or oil to a meat, salad or fruit dish.

​Cooks and bakers at all levels also need the right tools in the kitchen, and Love That Olive is stuffed with fun and practical products to help folks get there. Choose from their wide selection of veggie and fruit peelers, including the corn stripper, flexicado (a.k.a. avocado slicer), cherry pitter, apple slicer, orange peeler, garlic chopper and veggie brush. They also boast cleverly cute appetizer dishes and cheese plates, beautiful hardwood products from the Pacific Northwest, bamboo flatware, and wood cutting boards that you can have personalized.




Love That Olive hosts public events during the holidays that you'll want to check out. On November 24-26, the store will offer special tastings and pairings throughout the weekend and folks are encouraged to stop in any time.

Mark your calendar for Love That Olive's Open House on Saturday, December 9, where visitors can try a variety of unique and always-delicious appetizers and desserts. You can also pick out items and the staff will put everything together in a gift basket for you. Try a themed gift, for example a lemon-themed basket that includes Lemon EVOO, Lemon Garlic Seafood Sauce and a Lemon Pepper Grinder. Or how about a bacon basket with Peppered Bacon EVOO, Bacon Aioli and Bacon Salsa?!

When the new year starts, check out Love That Olive online and in store for what classes they'll offer throughout 2018. Some classes are open to the public and others require reservations. You can also schedule a private class or tasting with friends, family or coworkers – perfect for a birthday celebration or team-building activity.

Bonus tip: Stop in the week before Christmas to pick up a copy of Love That Olive's first cookbook – filled with delicious recipes and pairings!
Popular Products
Read on for additional recommendations from Love That Olive – whether you're looking to spruce up a holiday meal or dish, or give a unique (and delicious) gift!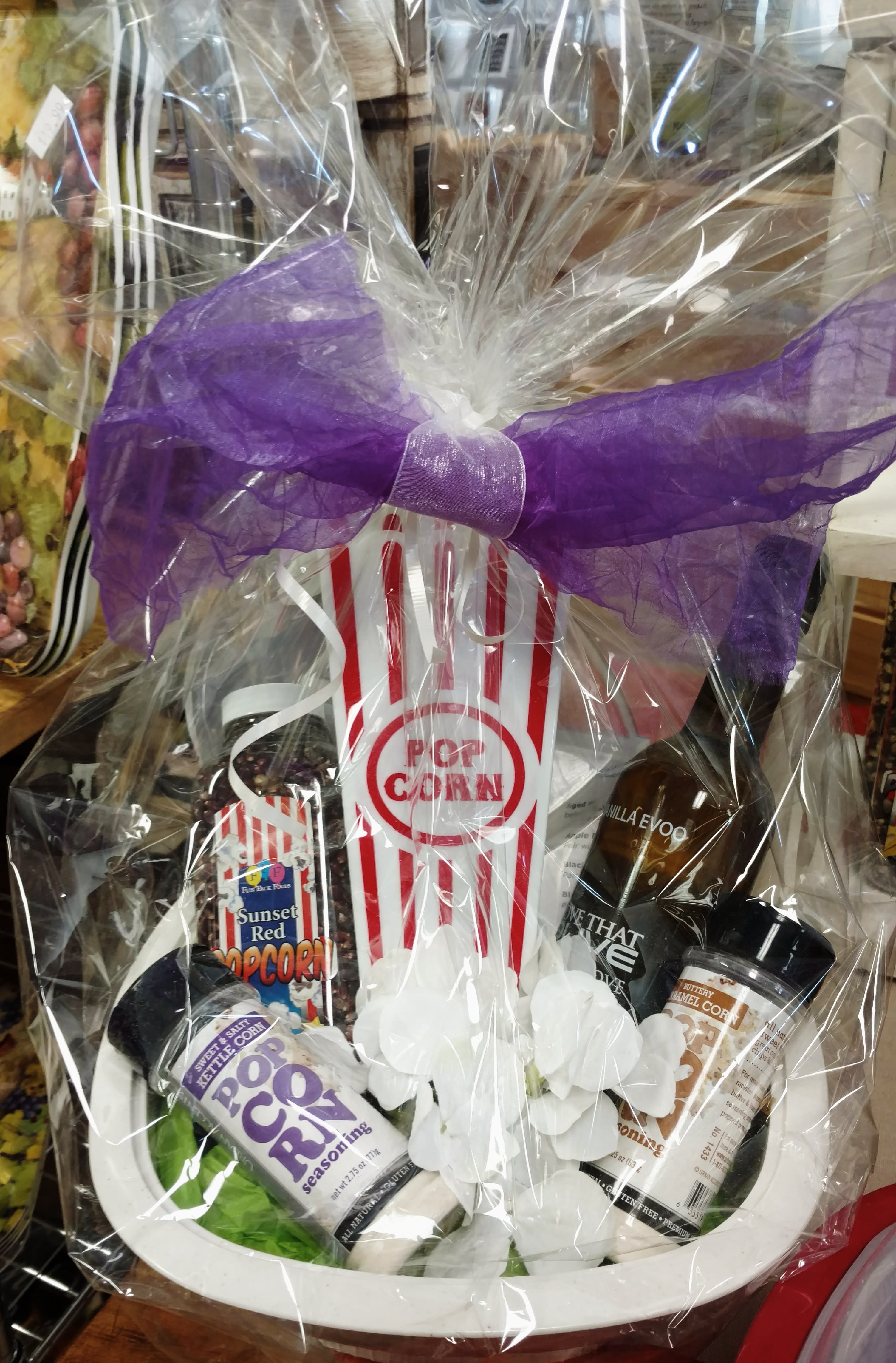 For the snacker: The Sweet Cream Butter EVOO tastes, quite literally, like melted butter, and staff recommend mixing this EVOO with a little maple syrup and drizzling it on freshly made popcorn. You can also find different types of popcorn, seasonings and poppers, crackers, hummus, and olives at Love That Olive.

For the grillmaster: The Apricot Ginger Teriyaki Glaze is the store's most popular glaze, and coming in at a close second is the Pineapple Coconut Mango Tequila Glaze – a great match for those with a sweet tooth. There is an endless line of marinades, wing sauces, barbeque sauces and rubs, as well.

For the baker: Love That Olive has several great items for those who enjoy baking. For something wild, try the Blood Orange Olive Oil Brownie Baking Kit! There are also maple products and specialty sugars available, such as Lime Sugar and Sweet Onion Sugar. A pinch of either will liven up any baked good!

For the pasta-lover: Your eyes will sparkle when looking over the colorful and uniquely shaped artisan pastas on display – they're almost too pretty to eat. Lemon Pepper Linguini, Spinach Fettuccini, and Garlic Angel Hair are just three of the tempting selections you'll find. And there are plenty of sauces to complete a meal. Try the Artichoke Walnut Pasta Sauce!

Gifts for your skin: In recent years, Love That Olive expanded their product selection to include skin care and bath products that are made from olive oil and contain all the health benefits. Items like the Silky Lip Balms and Olivella Body Lotion make excellent stocking stuffers.

Whatever you're in need of, Love That Olive is the place to be, especially during the holiday season. Let us know what you love most about Love That Olive, including any new recipes you try out, by sharing your photos on Facebook, Twitter and Instagram using the hashtag #WeLoveMNW. You may be featured on our website!

Also check out Five Reasons to Love Minneapolis Northwest During the Holidays for more ways to enjoy the season!