If you haven't tried fat biking yet, come visit Minneapolis Northwest, and try out the popular winter sport at one of the top single-track trails in the entire state of Minnesota – Elm Creek Park Reserve in Maple Grove!
Take in the beauty of the snow-covered trees and endless winter wonderland scenery that surrounds you at Elm Creek Park Reserve, as you feel the crunch of fresh snow beneath your tires and breathe in the invigorating winter air! Whether you are riding during the day or at night, fat biking is a great way to enjoy the beauty of winter and the great outdoors, while getting a good workout! And you may even get to see some of the wildlife native to the area, such as owls, hawks, eagles, rabbits and deer.
Already experienced the adventure? Then why not put your skills to the test at a fat bike race? Challenge yourself in a time trial format, racing a 10- to 14-mile single-track loop through trees and snow after sundown at the Frozen Frolic Fat Bike Race on Feb. 7. Warm up at the trailhead after for awards, door prizes and good times! Not feeling up to the challenge just yet? Come watch the event as a spectator and learn more about this fast-growing sport!
We talked with Brent Hennen, Recreation Program Specialist at Three Rivers Parks District, to get the scoop on the Frozen Frolic events, the growing popularity of fat biking and tips on how to get started.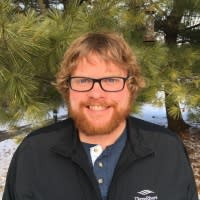 When did the Frozen Frolic Fat Bike Races start and how many participants are there? The Frozen Frolic Events have been going on for about seven years now. I would say throughout the six races we hosted last year, there were an average of 25-30 riders per race.
Fun Fact: The last race at Elm Creek Park Reserve drew in more than 70 riders.
How much snow is needed for a fat bike race? Ideally, there would be enough snow for a good base, but the races will go on as long as the conditions are frozen, and not too treacherous and icy.
Are the races open to all abilities (beginner, intermediate and advanced)? The race is definitely open to all abilities. The race does go through the most technical parts of our single- track trails, but are manageable by most, if taken in a slower manner. The race is in time trial format, during which the riders self-seat (meaning they provide an approximate speed or projected finish time, allowing the faster riders to go in the front and the slower riders in the back). There are men's, women's and U-17 classes, and we can take up to 100 riders that day!
Did you know? In 2013, Maria Leijerstam became the first person in the world to reach the South Pole by cycling. She completed the expedition, known as the White Ice Cycle, on a tricycle with fat bike tires!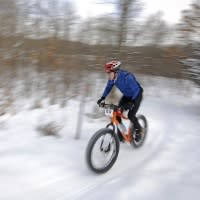 How has the sport grown or changed throughout the past few years? The sport has grown quite a lot in the last 10 years. On any given weekend, with ideal snow conditions, it can be a challenge to find a parking spot at the trail heads of the single-track trails. Within the fat bike world, you could find a race on every weekend of the season, depending on how far you want to travel.
MNW Bonus Tip: Allow plenty of time to find a parking spot, especially on the weekend!
What other fat bike races or programs are coming up? Currently, we have 13 mountain bike/fat bike races that range from citizen-style races up to elite races. Some of the races are time trial and others are mass starts, with eight individual races (with separate classes) within the day of events, such as the Big Woods Classic. We are hoping the Quality Bicycle Products Fat Bike Rennet on Jan. 20 will draw a good crowd. There are two separate races that day, the Otso 39K Illuminated Fat Bike race and the 45NRTH 13K Fat Bike race.
Did you know? Three Rivers Parks District offers Maintain Bike Camps in the summer that welcome both mountain bikes and fat bikes.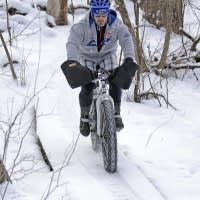 How do you get started in fat biking? The best way to get involved with fat biking would be to find a group ride that is organized by a local bike shop. You can typically get in the loop by finding them on social media. Most bike shops will let you demo or rent a fat bike before you buy it. The advantage to going on a group ride is being able to take in some of the knowledge of the other riders.
Where should you go to find out if fat biking is right for you? I would say that any bike shop that sells fat bikes would be a good place to go. Make sure to shop around and find exactly what you want (price range, quality of components, etc.). It can be as complex as buying a car, if you want it to be. Every fat bike manufacturer has a niche or specialty that you may or may not like.
MNW Bonus Tip: Some great local options are Maple Grove Cycling, Erik's Bike Shop in Maple Grove and Trailhead Cycling in Champlin.
What kind of gear or accessories should you get? Just like purchasing a bike, buying accessories and clothing is totally an individual preference thing. First off, a typical bike could mean anything from BMX to fat bike to a road bike. Obviously, with a fat bike you have a lot more tread on the ground, which gives you more stability with ground contact, but makes the bike less maneuverable and slower than a skinny tire mountain bike.
Come out and get a sense of the adventure by watching or participating in the Frozen Frolic Fat Bike Race on Feb. 7 at Elm Creek Park Reserve. It's a great event for families and people of all ages and abilities! Registration starts at 5:30 p.m. and the race starts at 6:30 p.m. 
For more info on the Frozen Frolic Fat Bike Race on Feb. 7, visit https://www.minneapolisnorthwest.com/events/frozen-frolic-fat-bike-race2/. Also, if you're looking for more ways to enjoy the winter season, both indoors and outdoors, check out our "Best Ways to Capitalize on the Cold."