Located in the heart of The Shoppes at Arbor Lakes, Olfactory Scent Studio provides the perfect spot to create your own fall candle with all the scents you love, including cinnamon, cider, baked bread, caramel, leaves and bonfire. This one-of-a-kind shopping experience that's perfect for girlfriends, couples, parent/child, and anyone willing to try something new. Step into the scent studio for a memorable outing and leave with a premium scented product that will fill your home with the fall spirit. 
The Olfactory Experience

Scent is a powerful tool in creating a tranquil home, as well as lasting memories. Why not pin-point your favorite fall scents and blend them into a fragrance that is truly unique? You can do just that at Olfactory Scent Studio, where experiential shopping is at its finest. When you arrive at Olfactory, a friendly Scent Stylist will greet you, show you around and walk you through the process. The experience begins by smelling more than 100+ premium, hand-poured natural soy candles in order to discover your favorite scents, and a form is provided for you to write them down as you go.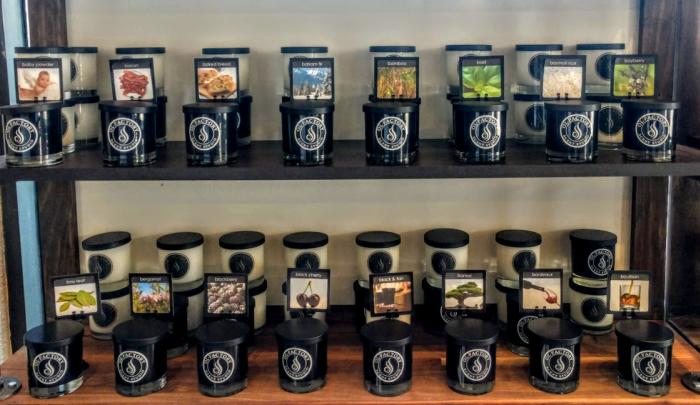 Take as much time as you like while browsing and savoring the wonderful fragrances. They are organized alphabetically and showcase a wide variety of scents, from delicate florals (rose petals, jasmine, lavender fields, magnolia blossoms), herbs (basil, rosemary, ginger, lemon grass) and woods (mahogany, cedar, balsam fir, teak wood) to food (bacon, basmati rice, maple syrup, watermelon, wasabi), sweet treats (cake batter, whipped cream, dark chocolate) and adult beverages (red wine, bourbon, champagne, spiced rum, absinthe).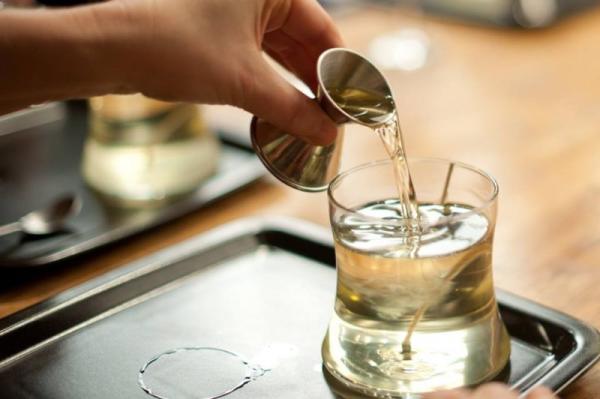 When you're ready to start blending, grab a seat at the blending bar and a Scent Stylist will help you choose the perfect combinations from your list of favorites. The stylist will supply the materials you need and demonstrate how to pour the fragrances in layers. Then it's your turn! When your custom scent is blended to perfection, add it to a product of your choosing. Choose from candles, room and linen sprays, reed diffusers, or take home one of the many bath and body products available, such as bath salts, body scrubs and body sprays.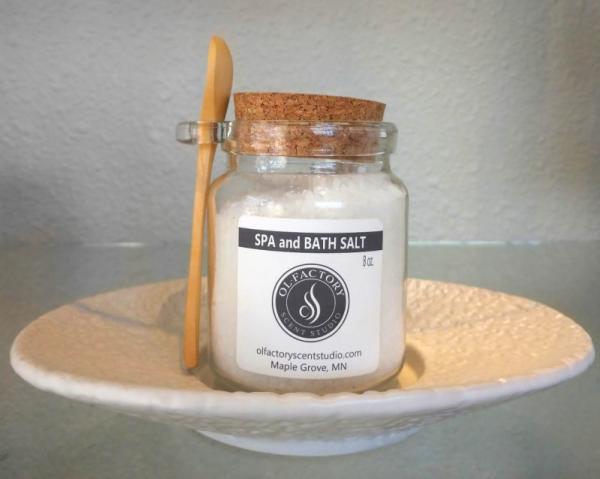 Your Olfactory experience can take anywhere from 30 minutes to a couple of hours, depending on the number of people you're with and how much fun you're having. If you're making a candle, you do need to wait an hour for the soy wax to set before bringing the candle home. That's where Olfactory's location is perfect within The Shoppes at Arbor Lakes. While you wait, do some shopping at Goodthings or try on a new outfit at Apricot Lane. Get your hair or nails done at a nearby spa like Woodhouse Day Spa, or take your friends for a drink at Redstone American Grill or Biaggi's Ristorante Italiano. Candles combine all-natural, soy-based wax and cotton paper wicks to make long-lasting and clean-burning candles.
Group Outings at Olfactory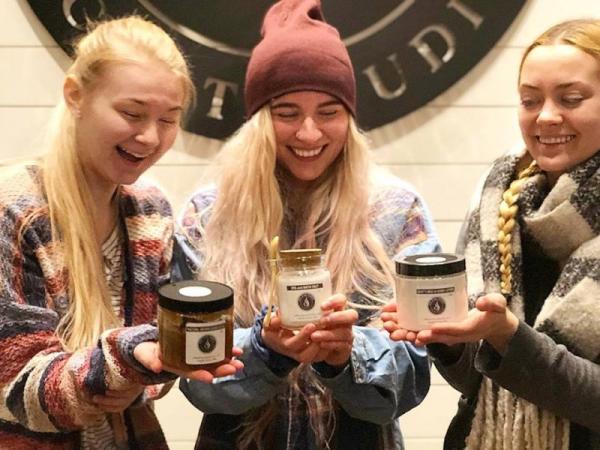 Olfactory's in-store gatherings are perfect for a variety of occasions. The Olfactory experience creates endless laughs and smiles for a unique night out, birthday celebration, bridal shower or bachelorette party. It's also a fun experience for couples looking to create a meaningful scent together. For a staff outing or team-building activity, Olfactory is a great excuse to get out of the board room and think outside of the box. 
A special event is also a perfect time to create a fragrance that makes the day extra special. Custom scented and packaged candles are offered in a range of styles and sizes to match the theme of your event, such as a wedding or holiday party. Olfactory will also create a custom label for each of the products. The Scent Stylists can also recreate a specific scent from your special event. For example, they can recreate the scent of a bride's bouquet or the flavor of wedding cake!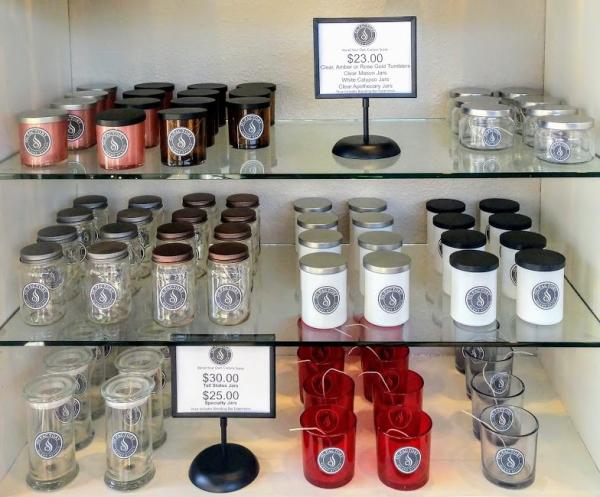 Blending a scent for someone also makes a special gift. Think of the scents your loved one enjoys the most, or the environment they like to be in, such as a garden, a library or the outdoors, and create a meaningful fragrance. 
For the bookworm: old books, red wine, leather and rain
For the autumn-lover: caramel, campfire and red wine
For the gardener: tomato plant, basil, earth and honeysuckle
For the spa aficionado: lavender, cucumber, sea kelp and chardonnay
For the coffee connoisseur: coffee bean, chai tea, hazelnut and whipped cream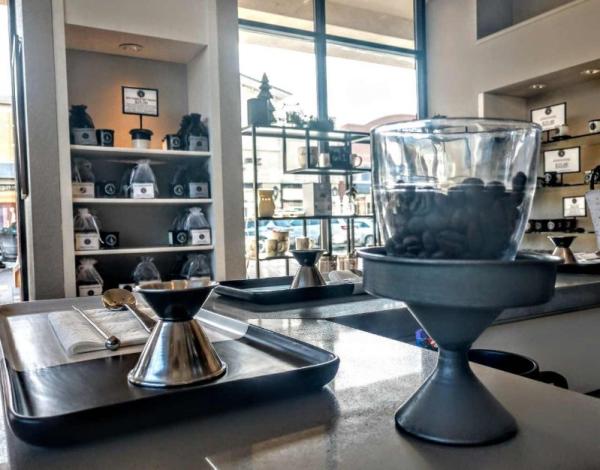 If you're not interested in creating a fragrance, you can buy candles off the shelf. Choose one or two from the large selection or opt for one of the gift packs that come with four smaller candles and reflect a specific theme. Previous fun gift packs include:
Minnesota Soy Candle Gift Pack: pine needles, maple syrup, fire snow and campfire
Herb Garden: mint leaf, rosemary, basil and lavender
Night Out: black & tan, bourbon, hops and absinthe
Citrus Grove: key lime, grapefruit, orange zest and yuzu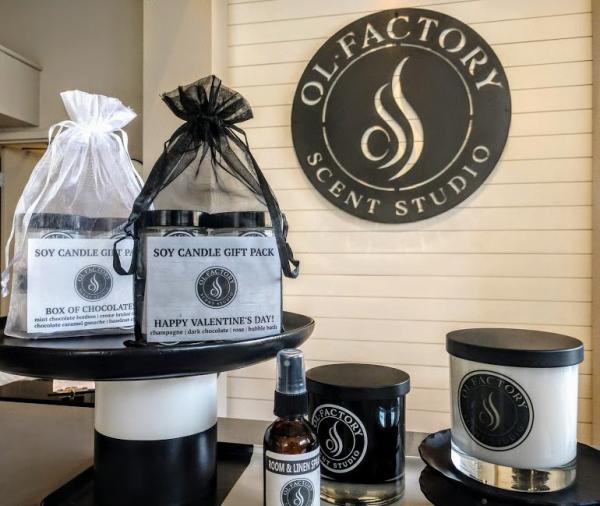 Share your Olfactory experience with us on Facebook, Twitter and Instagram using the hashtag #WeLoveMNW! To keep you fueled for fun, discover our top 15 dining destinations in the area, as well as our favorite places to get a good drink.