Hamburger or cheeseburger, mayo or mustard, onions or pickles – however you like 'em, burgers are a staple of American cuisine. And when you're in the mood for a hot and juicy patty, no substitute will do. "Ketch-up" on the best burgers in and around Minneapolis Northwest and kick your burger enthusiasm up a notch!
50's Grill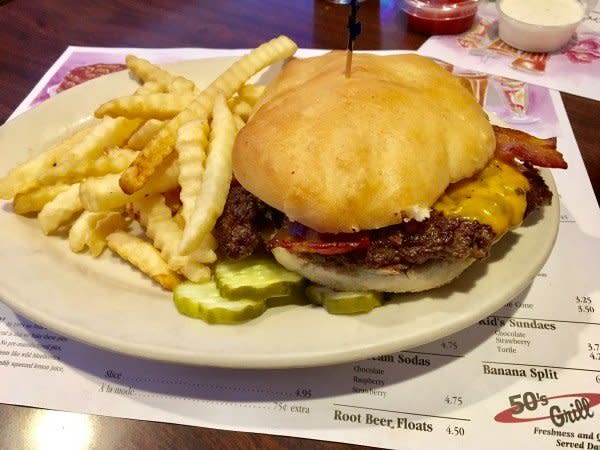 Burgers become the ultimate comfort food when they're devoured at 50's Grill, a long-standing diner that honors traditional, classic dishes. Enjoy classics like the Mushroom & Swiss burger, California with cheese, Guacamole burger, or opt for the multi-gran melt or the patty melt. All burgers are made from fresh ground beef that's custom ground for the 50's Grill and pattied fresh daily in the kitchen. Savor a simpler time when you kick back with a burger and a malt while you're serenaded by the jukebox tunes of Patsy Cline and Buddy Holly. 50's Grill also serves bison burgers, and all burgers come in 6 oz. and 4 oz. patties – great for those with smaller appetites. The dining room is open with limited seating, and reservations are required. Curbside pickup is also available.
Malone's Bar & Grill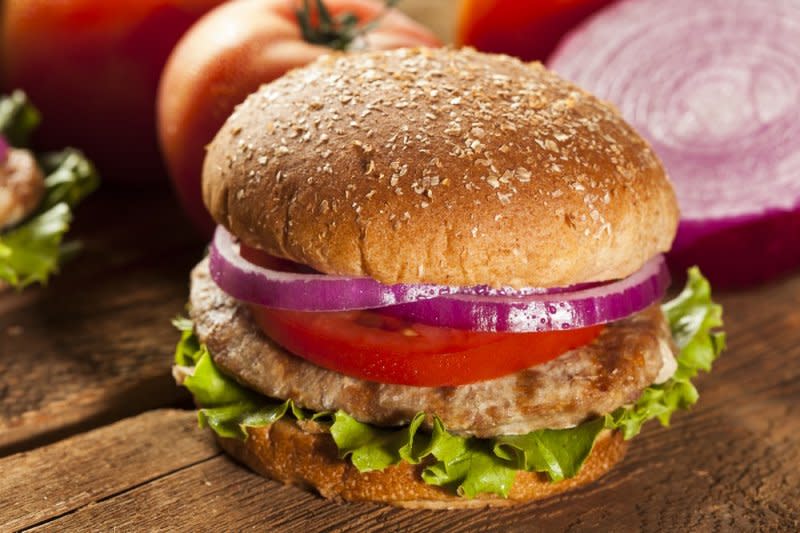 A great sports bar can only be great if it has fantastic burgers. Malone's Bar & Grill delivers with excellent burgers, including a fantastic turkey burger. Their signature burger, The Mr. Jimmy, comes with fried onions, lettuce, tomato, a double dose of cheese (American & cheddar) and Malone's secret Jimmy sauce. Save room for Malone's famous waffle fries and seasoned sour cream. Order online for pickup! Malone's is also offering indoor service in compliance with state guidelines for restaurants, including a rigorous cleaning schedule, and contactless menus and payment.
Wagner's Drive-In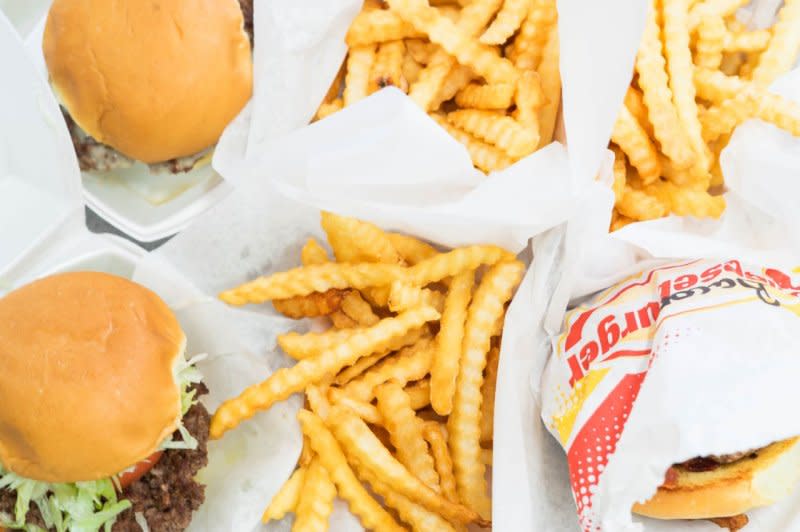 A local favorite for decades, Wagner's Drive-In has perfected the art of the hamburger. They're trusted for delivering delicious hand-pattied, never frozen burgers that are tender, juicy and flavorful. Order your burger pretty much however you like it and "relish" the flavor. Wagner's is a perfect spot to maintain your social distance, too. Pull up to one of the order boxes and order from the comfort of your own car. On warm-weather days, enjoy a seat at the nearby picnic tables.
Brick & Bourbon
Are you daring enough to try the PB & Jay Burger at Brick & Bourbon? Take on a handcrafted burger patty covered in habanero jack cheese and topped with extra thick cut bacon. And it gets even better with a specialty honey glazed donut that is lightly spread with mayo, tart sriracha pomegranate marmalade, and homemade creamy bourbon peanut butter. The flavor combinations in this burger are out of this world!
5-8 Grill & Bar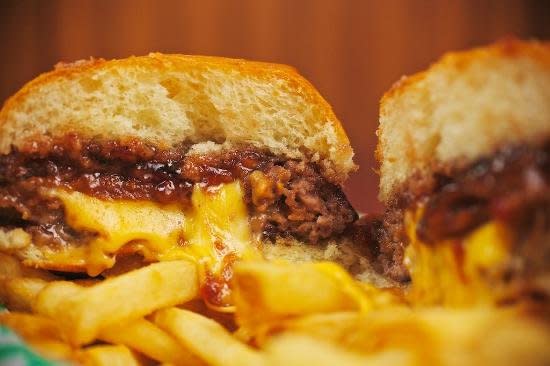 No burger experience in Minnesota is complete without a Juicy Lucy – the famous hamburgers stuffed with melted cheese. The 5-8 Grill & Bar offers a full menu of Lucys to choose from. Opt for the wildest of them all – the PB&J Lucy stuffed with creamy peanut butter and American cheese and topped with strawberry jam. It's as good as it is messy! The Montana Jack Juicy Lucy is also wild, stuffed with Bleu cheese and topped with Heinz 57, chipotle mayo, shredded lettuce and 5-8's famous onion straws. Warning: the cheese in a Juicy Lucy is very hot, so be careful and take your time. It'll be worth the wait! The 5-8 Grill & Bar is also home to the Twin Cities one and only Garlic Cheese Burger – a classic cheeseburger served on a toasted garlic French roll. You can sub any regular burger bun with a gluten-free bun or pretzel bun. Limited capacity seating is available in the restaurant, and these yummy burgers are available for takeout, curbside pickup, or delivery via DoorDash.
Topgolf
Construct the burger of your dreams at Topgolf. For the Classic Burger, choose a beef or veggie patty, and dress it up however you like with crisp lettuce, sliced avocado, or even a fried egg! You can even add blue cheese to make your burger truly unique. You also can't go wrong with the Smokehouse Burger, which include savory bacon and BBQ sauce. No matter what kind of burger you create, it will pair perfectly with a basket of tater tots.
Red Cow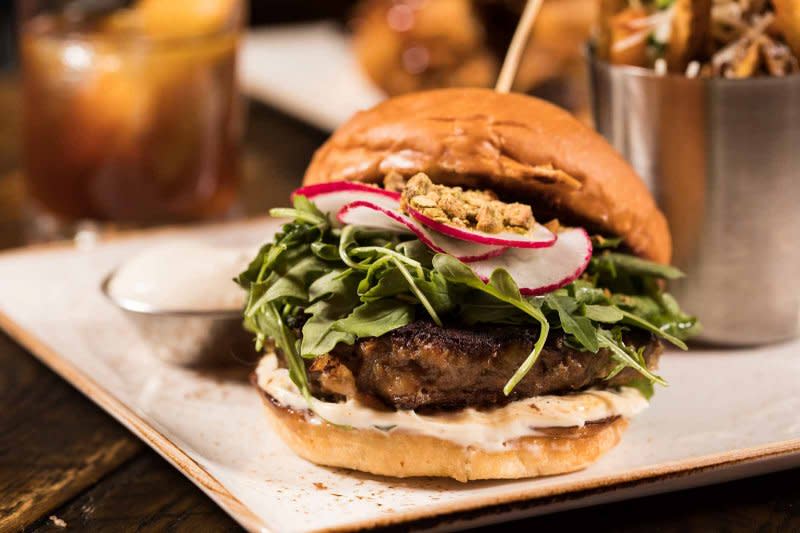 For a sophisticated twist on burgers, head to Red Cow in the North Loop in Minneapolis. Red Cow focuses on gourmet burgers made with local, certified Angus beef. These burgers need to be tasted to be believed. Each one has a special twist, such as Red Cow sauce, candied bacon, manchego cheese, merlot mushrooms, or apricot-rosemary black pepper jam. The 60/40 burger is 60 percent certified angus beef, 40 percent ground bacon patty with Wisconsin aged cheddar, beer mustard, and candied bacon. Other burger options include the Barcelona Burger with manchego, prosciutto, piquillo pepper and smoked aioli, and the turkey burger with avocado, sliced radish, and crushed pistachios. Red Cow is open for dine in, takeout, curbside pickup, and delivery via DoorDash.  
Let us know which burger in Minneapolis Northwest is your favorite by sharing your experience and photos on Facebook, Twitter and Instagram with the hashtag #WeLoveMNW. Explore more of Minneapolis Northwest's impressive dining scene with Where to Eat and Drink During Patio Season.