Don your brightest shade of pink and celebrate Girl's Night Out, The Shoppes at Arbor Lakes' premier shopping fundraiser benefitting Hope Chest for Breast Cancer. You and your gal pals or mother, daughter or granddaughter will be showered with special shopping deals, wine, goodies and endless fun when you attend this unique event during Breast Cancer Awareness Month. This year's event features the OMNI Brewing Co. Mobile Taproom and yard games, and FREE apple cider mini donuts from North Star Donuts (for registered attendees).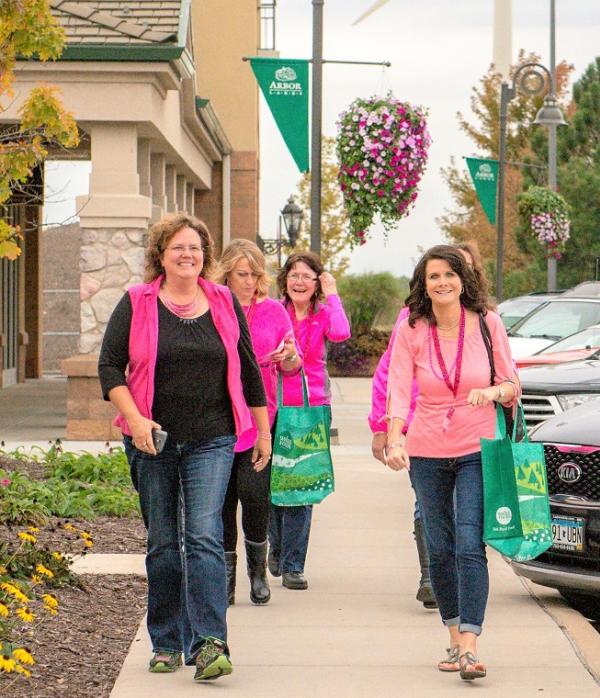 Girl's Night Out Details
WHAT: Girl's Night Out, benefitting Hope Chest for Breast Cancer
WHEN: Thursday, October 14, 2021; check in 3-7 p.m.
WHERE: Throughout the Shoppes at Arbor Lakes! Check in is at Space B4, across from H&M and next to White House | Black Market
COST: $10 per person in advance; $15 per person day of the event. Tickets are available online or at Guest Services at the Shoppes at Arbor Lakes, Monday through Friday, 8:30 a.m. to 4:30 p.m., building G, next to the parking ramp. All ticket sales go directly to Hope Chest for Breast Cancer!
The History of Girl's Night Out
The idea for Girl's Night Out, benefitting Hope Chest for Breast Cancer, began more than a decade ago when community leaders and The Shoppes at Arbor Lakes brainstormed ways they could give back to the community. Suggestions were tossed around, and it was decided that hosting an event in the fall made perfect sense to tie into Breast Cancer Awareness Month and bridge the gap between summer events and holiday festivities. "We were interested in really helping folks in Minnesota dealing with breast cancer and helping fill their immediate needs," says Jennie Zafft, former Marketing Director for the Shoppes at Arbor Lakes and one of the founders of Girl's Night Out. The committee narrowed their search until they came upon Hope Chest for Breast Cancer and were instantly captivated by its mission of helping breast cancer patients and survivors meet their non-medical needs.
Hope Chest founder Barbara Hensley lost two sisters to breast cancer before channeling her heartbreak into positive action in 2002. As her sisters battled the disease, Barbara witnessed firsthand the urgent and often overlooked needs that breast cancer patients have, such as affording care for their kids while they attend treatments, putting healthy meals on the table and paying for gas to drive to the doctor. Barbara started Hope Chest with the goal of helping to relieve these types of everyday costs that insurance doesn't cover. "No one should have to lose their home, car or not be able to take care of their kids because they're dealing with breast cancer," Jennie says.
Hope Chest for Breast Cancer's business model is a combination of a nonprofit foundation and for-profit resale shops that generate income to support its emergency assistance programs. The resale shops sell high-end women's clothing, accessories, furniture and home décor, all of which are donated. There are currently three resale shops in Twin Cities: Bloomington, Orono and Eden Prairie.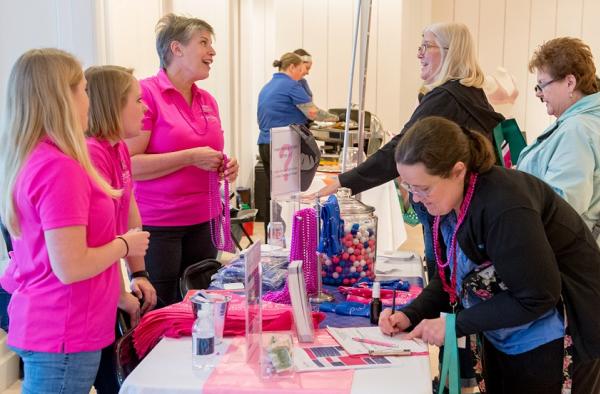 Girl's Night Out has been wildly successful since its first year in 2008, with a solid and steady number of participating stores and bustling crowds each year. Even during the inaugural event, when there was a torrential downpour, large numbers of shoppers and supporters came out and had a great time despite the rainy situation. Jennie said that, in general, those who attend Girl's Night Out are troopers, and they're people who have a positive outlook no matter the weather. The partnership between The Shoppes at Arbor Lakes and Hope Chest has also flourished during the last decade. "We try to take on as much of the heavy lifting as we can," Jennie says, "since they have their own retail stores and other events to promote. We just want to help them."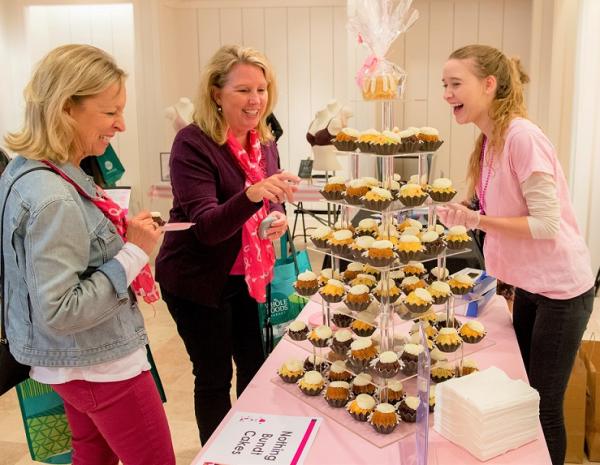 The unique shopping fundraiser brings together breast cancer survivors, women and men currently in treatment, family members affected by breast cancer, and those who simply want to support a wonderful organization. It has become a tradition for many girlfriend groups, and many moms, daughters and grandmas attend as a family. Jennie notes that people staying at the Arbor Lakes hotels who go out exploring or shopping stumble upon the event and are quickly swept up in the spirit. It's also a hard event to miss when a sea of pink floods The Shoppes!
What Can I Expect at Girl's Night Out?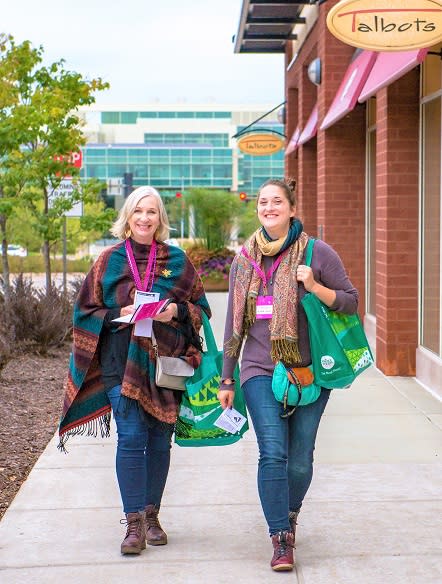 "Any time you can wear pink and get your girlfriends together is fun," Jennie says with a bright smile, and if you attend Girl's Night Out, you can expect lots of food and drinks, laughter, complimentary goodies, a supportive and festive atmosphere, and amazing shopping deals at your favorite stores. A $10 advance ticket ($15 at the door) gets you a goodie bag filled with discounts and special offers from participating shops in Arbor Lakes, as well as fun freebies (think nail files, mirror compacts, makeup bags, playing cards, phone chargers, key chains and more).
Your ticket includes a highly coveted pink lanyard and shopping passport. Head into participating stores wearing your lanyard to receive great deals, participate in fun activities, like wine tasting at Trader Joe's or cocktails at The Woodhouse Day Spa, or purchase limited edition merchandise of which the proceeds go directly to Hope Chest. As you hop from store to store, get stamps in your passport and turn it in before you leave to enter drawings for prizes donated by local businesses.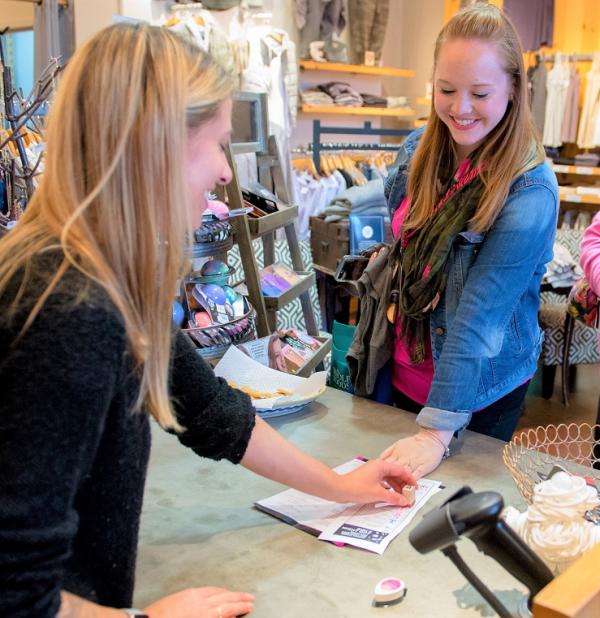 Before you begin shopping, you're encouraged to enjoy wine and beer samples and peruse the local business vendors who provide their own raffles and giveaways. Plenty of nibbles and bites will be available, such as Nothing Bundt Cakes with their delicious bund-tinis, and cheese, bread and fruit plates. Each year, Girl's Night Out highlights a special food item, and you'll have to attend this October to see what it could be. Past treats include mini donuts and Champagne-flavored cotton candy whipped up on site, and past fun extras include photo booths and props, a dedicated Snapchat filter and other ways people can support the event on social media. This year, the Maple Grove Ambassadors will be on hand to distribute gift bags to the first 400 attendees.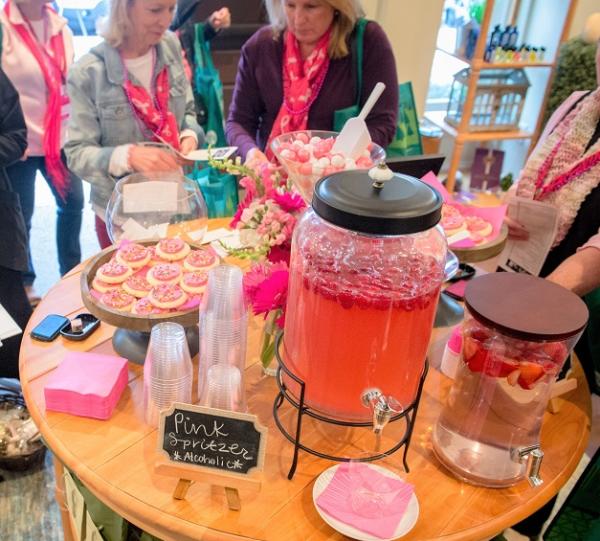 The Shoppes provides a beautiful mix of retailers and boutiques, national chains as well as local concept stores, and Girl's Night Out is a fantastic way to highlight stores people may not have known were in the area, such as the boutique Apricot Lane, or the popular lingerie store Soma. For businesses, Girl's Night Out is a fun and unique opportunity to show off their space, their products and get to know their customers. For shoppers, it's a unique experience and chance to connect with the community and businesses they love. Most importantly, each ticket sold to Girl's Night Out makes a direct impact on the lives of those battling breast cancer.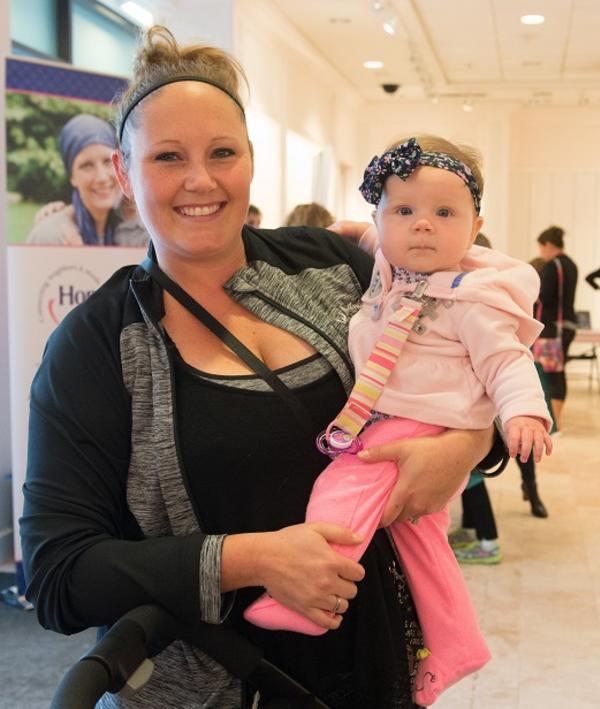 Girl's Night Out is a smoothly run operation, with many stores and volunteers having participated throughout the years. The event has dealt with every challenge you can imagine, and rain or shine, the turnout and feedback is always positive. "It's powerful when people come up to you and share how they have been helped by Hope Chest," Jennie says, adding that "men suffer from breast cancer, too, and are welcome to participate; they also benefit from Hope Chest." If you can't attend Girl's Night Out, you can still buy a ticket, which makes a valuable donation to the cause. Remember, 100 percent of ticket sales go directly to Hope Chest, so the more tickets sold, the more money is raised and the more breast cancer warriors you can help. 
During Girl's Night Out, be sure to post your photos on Facebook, Twitter and Instagram to offer optimal support for Hope Chest for Breast Cancer! Then discover our guide to a fantastic girlfriend's weekend getaway this fall in Minneapolis Northwest.