Oktoberfest – the world's largest Bavarian beer festival – revs up each September and into October. Raise your stein at 10 Oktoberfest celebrations throughout the Twin Cities. Savor the still-warm weather with family friendly activities, polka dancing, dachshund racing, beard contests and special brews. Everyone can find something they love!
1. Oktoberfest at OMNI Brewing, Co.
Saturday, Sept. 7, 2019
Oktoberfest kicks off in Minneapolis Northwest at OMNI Brewing, Co. where a special limited-release Oktoberfest beer will be introduced. Sandy's Grill will serve up German-themes foods, and Dale Dahmen & The Polka Beats will keep you on your toes. Step right up and try your hand at the stein-holding contest, too! 
2. St. Paul Oktoberfest at Schmidt Brewery
Friday & Saturday, Sept. 13 & 14, 2019


The St. Paul Oktoberfest festival is a tried and true seasonal celebration. The main stage features a variety of bands and non-stop music, including the Bill Koncar Band, Dale Dahmen & The Beats, and the Concord Singers. Kids will love the Kinder Carnival with bouncy inflatables and free face-painting, and join in the fun of the bed races, dachshund races, Steinheben (Stone Lifting) Competition, and an Oktoberfest Wedding Vow Renewal. The large beer hall will host a beer chug contest, yodeling contest and "wiener dog" limbo. 
3. Gasthaus Oktoberfest in Stillwater
Friday through Sunday, Sept. 13 - 15, 2019; Friday through Sunday, Sept. 22 - 24, 2019
Oktoberfest at the German restaurant Gasthaus Bavarian Hunter involves a huge festival tent with German food, beer and live music. Friday and Saturday admission is $5.00 from 5:00 p.m. to 11:00 p.m. Sundays are family days with all ages welcome from 12 – 6 p.m. Activities include free face-painting, balloon twister, music and dancing. Be sure to taste the giant pretzels, cinnamon roasted almonds, brats and chops, and, of course, lots of imported beers. 
4. Gasthof's Oktoberfest in NE Minneapolis
Friday, Sept. 20 through Saturday, Oct. 12, 2019


Gasthof's Oktoberfest party is legendary. Maybe because it spans four weekends! At any point you'll spot leiderhosen, lively dancing and sausages galore. One of the few truly authentic German restaurants in the Twin Cities, Gasthof's is the perfect place to hoist your stein. It is also one of the only Oktoberfest parties where you can bring your own beer stein. Food options include German potato salad, apfelstrudel and soft pretzels. 
5. Delano Oktoberfest
Saturday, Sept. 21, 2019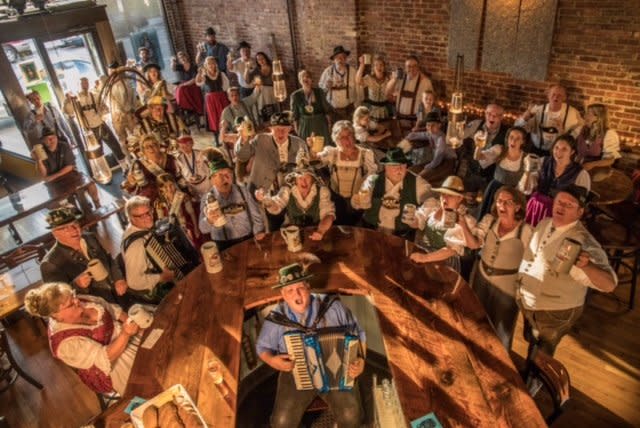 A short drive west of Minneapolis Northwest, you'll find the quaint town of Delano with all its Oktoberfest charm and festivities. Sample delicacies from Deutschland Meets Food Truck, get a taste of Lupine Brewing beers and check out the beautiful new riverfront park area. There will be a market where you can shop a wide variety of farm and crafty folk items. The first 500 attendees will receive a limited edition 15 oz. mug with paid admission ($5 for ages 21+). 
6. Renaissance Festival Oktoberfest Weekend
Friday & Saturday, Sept. 28 & 29, 2019

Immerse yourself in a world of old-school Oktoberfest fun at the Minnesota Renaissance Festival during its Oktoberfest weekend. One of the hottest attractions is the beard competition, where patrons of finely trimmed and manicured beards can enter. Prizes will be awarded to the longest beard, grizzliest (fullest) beard, most unique beard, best mustache and best trimmed beard. Additional celebratory contests include the lederhosen and dirndl costume contest, dachshund races, bier pong and a sauerkraut eating contest. 
7. Oktoberfest & Sleepwalker LTD Brewing Block Party
Saturday, Sept. 21, 2019
Close the street and pitch a party tent for Oktoberfest at LTD Brewing. Test your knowledge of German-themed trivia and gorge on German-themed foods from the mouth-watering New Bohemia food truck. Enjoy the release of the 2019 Sleepwalker IIIPA and Oktoberfest beers, and get an official LTD stein for $5. Bag tournament, and kids games and activities will be available, too. 
8. Oktoberfest at The Black Forest Inn
Friday, Sept. 27 through Sunday, Oct. 6, 2019

Ten days of Oktoberfest are happening at The Black Forest Inn, a long-standing German restaurant and beer garden in Minneapolis. Each day features a different Deutsch-tastic celebration filled with alphorns, accordions, food specials, photo opps for your social media, and beer, beer and more beer! 
9. Twin Cities Oktoberfest
Friday & Saturday, Oct. 4 & 5, 2019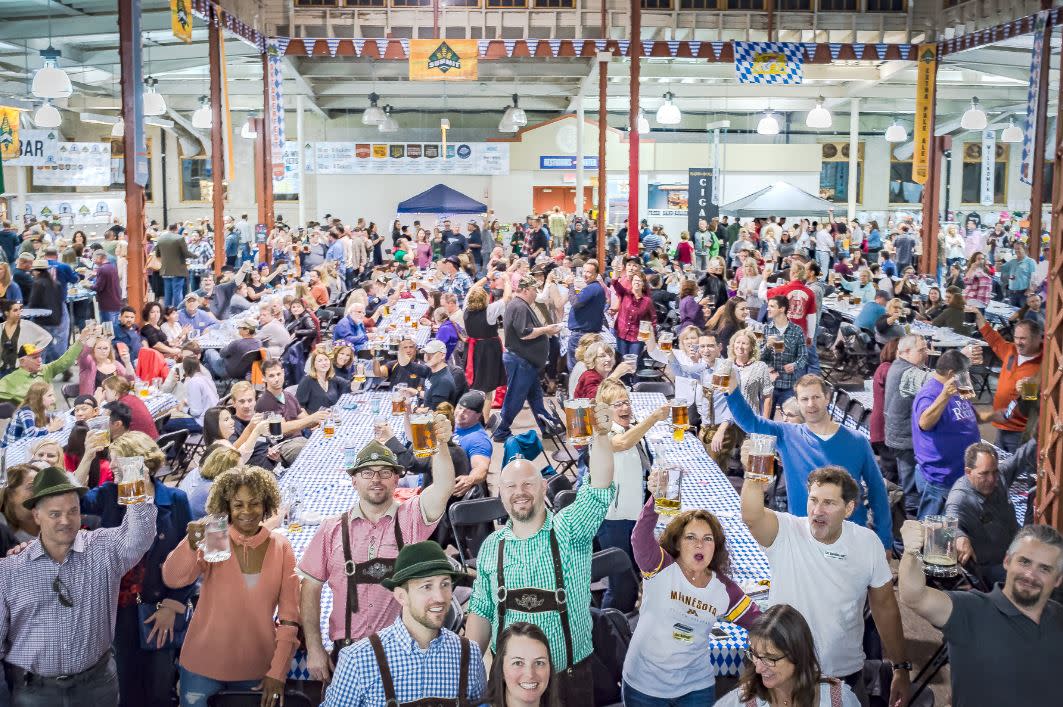 Celebrate the 10th anniversary of Twin Cities Oktoberfest at the Minnesota State Fair Grounds. This rollicking two-day event features brews from Summit Brewing Company, including the award-winning Keller Pils, an exclusive brew for Twin Cities Oktoberfest called Dekade, and many other Summit beers, St. Croix Vineyards wines and Sociable Cider Werks. Hearty food vendors will satisfy your stomach (think brats and chickenwurst, potato pancakes, German potato salad and rotisserie chicken) with Sara's Tipsy Pies on hand offering sweet and savory boozy pies. Enjoy entertainment from Alpensterne (Traditional German band), S.G. Edelweiss (dance group) and Doctor Kielbasa (polka music). 
10. Oktoberfest Tent Party at Wicked Wort Brewing Company
Saturday, Oct. 5, 2019
Wicked Wort Brewing Company busts out the tents for its raucous Oktoberfest celebration, with beer inside the brewery and outside at the tap trailer. Expect lots of live music, food and fun. At 5:15 p.m., Big Five Combo delivers electric blues with a bit of Texas and R&B thrown in. At 8:30 p.m., The Cobras take the spotlight with more rhythm and blues vibes – don't miss the classic washtub bass! 
Share all your Oktoberfest adventures with us on Facebook, Twitter and Instagram with the hashtag #WeLoveMNW, and Get Your Harvest On with more seasonal events and festivals to keep you in the fall spirit!