Oktoberfest – the world's largest Bavarian beer festival – revs up each September and into October. Raise your stein at Oktoberfest celebrations throughout the Twin Cities. Savor the still-warm weather with family-friendly activities, polka dancing, dachshund racing, beard contests and special brews. Everyone can find something they love!
1. St. Paul Oktoberfest
Friday, Sept. 10, and Saturday, Sept. 11, 2021


The St. Paul Oktoberfest festival is a tried and true seasonal celebration with a few new twists this year! First, the celebration is headed to the beautiful grounds of the Germanic-American Institute in Saint Paul. Second, this year's food selection is going international. You'll be able to get your bratwursts and pretzels, but save room for tacos, too. The full schedule of events is coming soon - watch for live music and dancing, polka bands, dachshund races, stone-lifting competitions, yodeling contests and much more. The event is family-friendly; guests 21+ can buy an alcohol wristband for $5. 
2. Delano Oktoberfest
Saturday, Sept. 18, 2021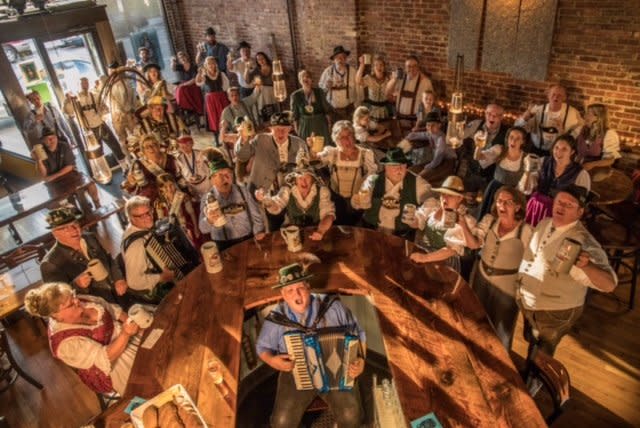 A short drive west of Minneapolis Northwest, you'll find the quaint town of Delano with all its Oktoberfest charm and festivities. At Delano Central Park, sample delicacies from Deutschland Meets Food Truck, get a taste of Lupine Brewing beers and check out the beautiful riverfront park area. Live music includes The Bavarian Musikmeisters and The Brass Barn Polka Band. Festival admission costs $5 for those 21+; the first 500 paid adults receive a complimentary Commemorative Bier Mug! 
3. Oktoberfest Block Party
Saturday, Sept. 18, 2021
Close the street and pitch a party tent for Oktoberfest at LTD Brewing. Test your knowledge of German-themed trivia and gorge on German-themed foods from the mouth-watering Run Tell That BBQ food truck. Enjoy the release of the 2021 Oktoberfest and Sleepwalker IIIPA beers and get an official LTD stein for $6. A bags tournament, stein holding contest, kids games and other activities will be available, too. The block party is free to attend, but wristbands are required for all drinkers.
4. Oktoberfest at Blue Wolf Brewing Company
Saturday, Sept. 25, 2021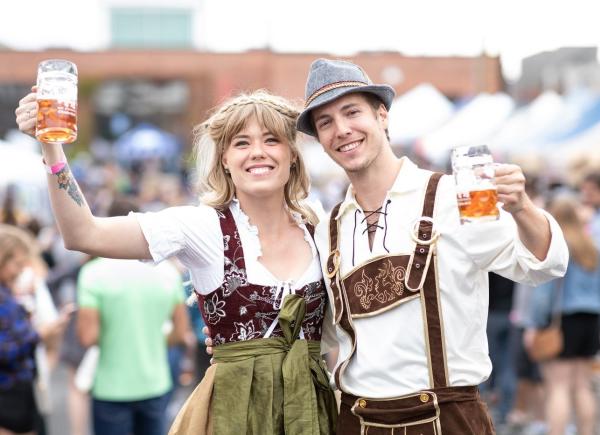 Come out for Blue Wolf Brewing Company's first ever Oktoberfest celebration! Of course there'll be a specially brewed Oktoberfest beer, as well as brats, sauerkraut and cotton candy. Try your hand at axe throwing throughout the day, and participate in other activities like cornhole, beer chugging, and pretzel necklace-making!
5. LumBEARjack Day at OMNI Brewing
OMNI Brewing Co.'s Oktoberfest celebration is taking pause this year in lieu of LumBEARjack Day on Sept. 25, 2021! This event celebrates OMNI's 6th birthday and will feature on-site log rolling, axe throwing, and other woody activities throughout the day. Get a pint (or two) of OMNI's Oktoberfest beer, which was brewed back in March and aged throughout the summer.
6. Rotary Beer Fest
Saturday, Sept. 25, 2021
Though not technically an Oktoberfest event, the Rotary Beer Fest in Brooklyn Park will have plenty of craft beer on hand to make it worth your while. Enjoy craft beers, ciders, and even wine tasting. Tickets are $35 and include a bratwurst lunch, souvenir tasting glass and a free concert. Proceeds are dedicated to support recreation, education and job opportunities for Brooklyn Park youth. 
7. Renaissance Festival Oktoberfest Weekend
Saturday, Oct. 2, and Sunday, Oct. 3, 2021

Immerse yourself in a world of old-school Oktoberfest fun at the Minnesota Renaissance Festival during its Oktoberfest weekend. One of the hottest attractions is the beard competition, where patrons of finely trimmed and manicured beards can enter. Prizes will be awarded to the longest beard, grizzliest (fullest) beard, most unique beard, best mustache and best-trimmed beard. Additional celebratory contests include the lederhosen and dirndl costume contest, dachshund races, bier pong and a sauerkraut eating contest. 
8. Oktoberfest at Wicked Wort Brewing Company
Saturday, Oct. 2, 2021
Wicked Wort Brewing Company busts out the tents for its Oktoberfest celebration with beer inside the brewery and outside at the tap trailer. Expect live music from Codesweat Entertainment, The Cobras, and Jackknife and the Sharps.
9. Twin Cities Oktoberfest
Friday, Oct. 8, and Saturday, Oct. 9, 2021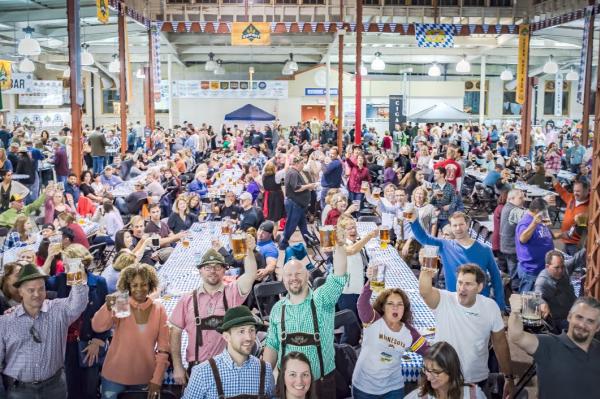 Celebrate Twin Cities Oktoberfest in the Historic Progress Center building on the Minnesota State Fair Grounds. This annual event is proud to be entirely local - local drinks, local food, local entertainment, and local merchants. This year's festivities feature four new beer/cider sponsors: Utepils Brewing, Waconia Brewing Company, Castle Danger Brewery, and Sociable Cider Werks. Together, they will present 16 different beer/ciders for you to enjoy. Look for brats and German potato salad from Gerhard's Brats, traditional German pretzels and European pancakes from Burbach's, savory and sweet pies from Sara's Tipsy Pies, and rotisserie chicken from Big Guy's BBQ. Regarding COVID-19, Twin Cities Oktoberfest is monitoring current guidance from federal, state, and local health officials.
10. Oktoberfest at the Black Forest Inn
This event returns 2022!

Ten days of Oktoberfest are happening at The Black Forest Inn, a long-standing German restaurant and beer garden in Minneapolis. Each day features a different Deutsch-tastic celebration filled with alphorns, accordions, food specials, photo opps for your social media, and beer, beer and more beer! 
Share your Oktoberfest adventures with us on Facebook, Twitter and Instagram with the hashtag #WeLoveMNW.