By Rick Nelson
Say what you will about the redesign, one of its most successful elements is its ability to make room for sidewalk cafes.
The bulk are huddled around 9th Street. McCormick & Schmick's (800 Nicollet Mall, Mpls., 612-338-3300, mccormickandschmicks.com), home to one of the area's biggest bargain happy hours (3 to 6:30 p.m. weekdays, 4 to 6:30 p.m. weekends and 9 p.m. to close daily), has a comfortable stretch of seats. Ditto its across-the street neighbor Zelo (831 Nicollet Mall, Mpls., 612-333-7000, zelomn.com), a source for uncomplicated, Italian-inspired fare, including some of downtown's most impressive pizzas.
Newcomer Haskell's Wine Bar (901 Nicollet Mall, Mpls., 612-638-0926, haskellswinebar.com) sits outside what is arguably the mall's most distinguished and Instagramable backdrop, the Young Quinlan building.
On the same block, there's a lively collection of tables at the triple threat that is Randle's, a glossy sports bar that also sports an impressive rooftop patio (921 Nicollet Mall, Mpls., 612-351-1234, johnrandles.com); Barrio, home to first-rate tacos and tequila (925 Nicollet Mall, Mpls., 612-333-9953, barriotequila.com); and the jovial Irish pub and restaurant that is the Local(931 Nicollet Mall, Mpls., 612-904-1000, the-local.com). To add to the festivities, there's a long, skinny patio across the street, outside the All-American News Room (990 Nicollet Mall, Mpls., 612-343-0073, thenewsroommpls.com).
One floor up
There are plenty of rooftops worth exploring, from the unexpected hideaway at Moto-I (2940 Lyndale Av. S., Mpls., 612-821-6262, moto-i.com), which specializes in ramen and house-brewed sake, to the Loring Park views (and Southern-accented seafood) at 4 Bells (1610 Harmon Place, Mpls., 612-904-1163, 4bells.com). One worth watching is the mammoth setup at Seven (700 Hennepin Av. S., Mpls., 612-238-7770, 7mpls.com), if only to sample the changes (for the better) from new chef Sameh Wadi.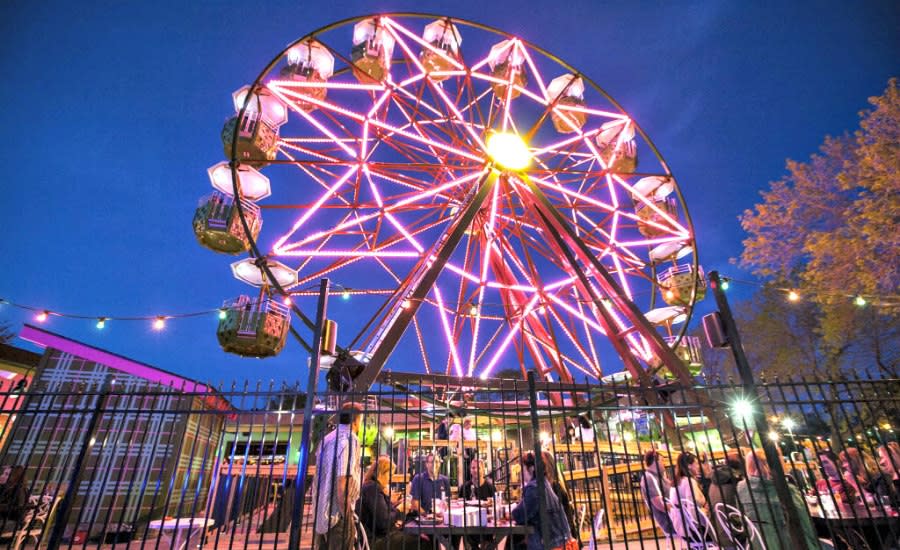 The vertically revolving patio (Ferris wheel) is a popular draw to Betty Danger's Country Club in Minneapolis.
Fresh-air classics
Is there anything more charming than the secluded garden at Jax Cafe (1928 University Av. NE., Mpls., 612-789-7297, jaxcafe.com), with its gurgling trout stream and canopy-covered patio? Or the enormous patio at W.A. Frost & Co. (374 Selby Av., St. Paul, 651-224-5715, wafrost.com), a standard-setter for decades, with its one-of-a-kind mix of historic urban architecture and leafy canopy?
Although the patio at Esker Grove(723 Vineland Place, Mpls., 612-375-7542, eskergrove.com) is only in its second summer, the Walker Art Center has a long and distinguished outdoor dining history, going back to its Gallery 8 days. Today, the museum's outdoor dining venue is the place to impress out-of-towners, with its views of the Minneapolis Sculpture Garden and downtown skyline, and chefs Doug Flicker's and Dennis Leaf-Smith's sophisticated but approachable cooking.
On the subject of views, the Campus Club at the University of Minnesota's Coffman Union (300 Washington Av. SE., Mpls., 612-626-7788, campusclubumn.org) uses the summer months to open up its terrace to the general public during weekday happy hour (4 to 7 p.m., through Aug. 31), offering affordable libations and small plates. The extraordinary vistas are free.
The winner of the Most Urbane Sidewalk Cafe award surely belongs to Meritage (410 St. Peter St., St. Paul, 651-222-5670, meritage-stpaul.com), given the architectural riches (Landmark Center, the St. Paul Hotel, the Hamm Building) in every direction. A close runner-up are the tables that Brenda Langton sets out in front of her Spoonriver (750 S. 2nd St., Mpls., 612-436-2236, spoonriver.com), which really come alive during brunch on Saturday mornings when the adjacent Mill City Farmers Market is in full swing.
When restaurateurs also own nurseries, beautiful patios are a natural outcome. That's certainly the case at the locavore-minded Wise Acre Eatery (5401 Nicollet Av. S., Mpls., 612-354-2577, wiseacreeatery.com), which is the inspiring work of Tangletown Gardens co-owners Scott Endres and Dean Engelmann.
And while it's also a relative newcomer, there's an instant-classic aura surrounding "The Danger," the state's only Ferris wheel/vertically revolving patio, at the fun-loving Betty Danger's Country Club (2501 NE. Marshall St., Mpls., 612-315-4997, bettydangers.com).
The dramatic solar panels that hover over (and shelter) the patio at Tiny Diner (1024 E. 38th St., Mpls., 612-767-3322, tinydiner.com) are definite conversation-starters. Ditto the well-tended working garden that surrounds the place.
On the screen porch front, nothing tops the Mad Hatter Restaurant & Tea House (1632 S. Ferry St., Anoka, 763-422-4160, madhatteranoka.com) and its parklike setting.
Check out the full Star Tribune article here.