By Amy Rea (Photos by Brianna Stachowski)
We thought this must be a good omen, and so it was.
What we'd heard specifically about Lemon Grass Thai was that we should check out the Lao menu items. The owners/chefs are Laotian, and have apparently been adding Lao-specific dishes in recent months. Our server told us that most of the Thai dishes have a Lao twist to them, but yes, there are items more overtly Lao in nature.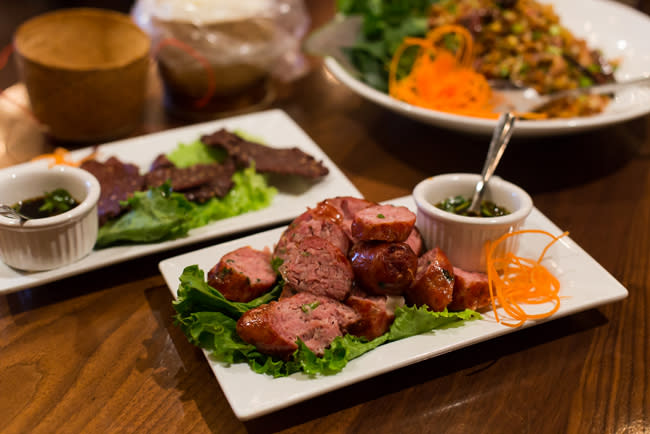 The dishes she recommended on that line included two appetizers, Sai-Oua E-sane ($9, above) and Nuea-Sawan ($9). Sai-Oua E-sane is a Lao sausage, made in-house from ground pork with a tinge of lemongrass and other herbs, flavorful but not hot-spicy.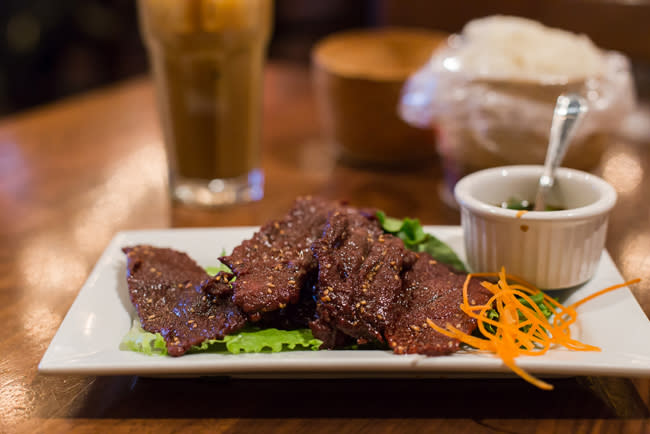 The Nuea-Sawan is the Lao equivalent of beef jerky, if beef jerky was cooked to order. The beef is cut thin and cooked somehow until it's got that jerky chewiness, and yet was still slightly pink inside. Ginger and garlic were abundant, giving the pieces of meat just a slight heat level.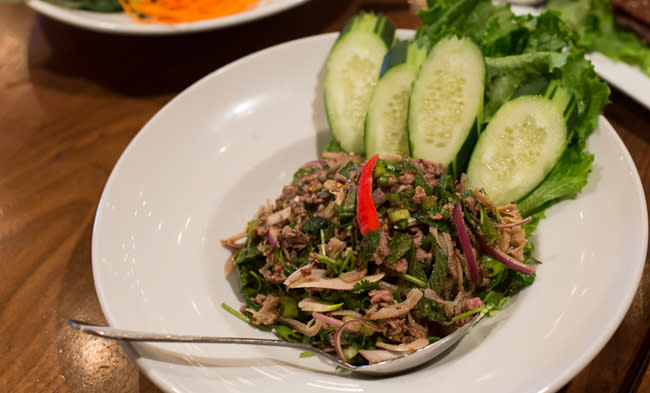 The Laab beef salad ($14) came with our choice of heat, ranging from 1-5. We chose a 4, and they did not dumb it down. We were also given the choice of raw, medium, or well-done beef, and we went with medium. The meat was still tender, and there was a hint of lime juice, but the chiles were the star of the dish, and the side of sliced cucumbers and lettuce was most welcome. Still, the heat didn't obliterate the flavor of the meat, although it was powerful.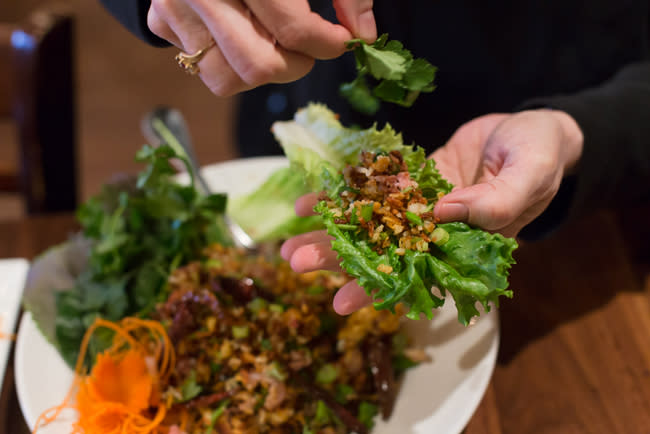 The final dish we tried was not on the menu, but is available upon asking: Nam Kao ($14). This is also technically a salad, comprised of rice balls that have been fried until crispy, then tossed with ground pork. onions and cilantro. It's served with chopped peanuts and what could have been a frightening amount of whole chiles, but the dish itself was much milder in heat than the Laab. Texturally, it was the most fun to eat; the crisped rice and peanuts against the soft meats and herbs balanced well, especially when spooned into the lettuce leaves to make a wrap.
It also came beautifully plated, with flowers of carrots, and included some greens we weren't familiar with. Our server explained that they were Vietnamese mint, which we found addictive to nibble on by itself, with a spicier, earthier taste than the mint we're used to. The other was a sturdy, peppery green that was bitter but not unpleasant, and somewhat similar to kale both in flavor and texture. Together, the bitterness they offered was a sharp contrast to the general mildness of the rice and pork, and added some depth of flavor.
Lemon Grass Thai
Lao and Thai foods in Brooklyn Park
8600 Edinburgh Center Drive
Brooklyn Park, MN 55443
763-494-8809
HOURS:
Mon-Thurs 11 a.m.-9 p.m.
Fri-Sat 11 a.m.-10 p.m.
Sun noon-9 p.m.
BAR: Beer and wine
RESERVATIONS / RECOMMENDED?: No
VEGETARIAN / VEGAN: Yes / Limited
ENTREE RANGE: $9-$20
NOISE LEVEL: Comfortable
PARKING: Lot
View the full article on Heavy Table here.