Leaves changing colors, crisp air, apples, pumpkins, sports and Halloween fun are just a few of the things that make fall such a wonderful season! I'm Jen Durdahl-Johnson, Office Administrator at Minneapolis Northwest Tourism, and I am excited to share some of my favorite things about fall in Minneapolis Northwest!
Sports Season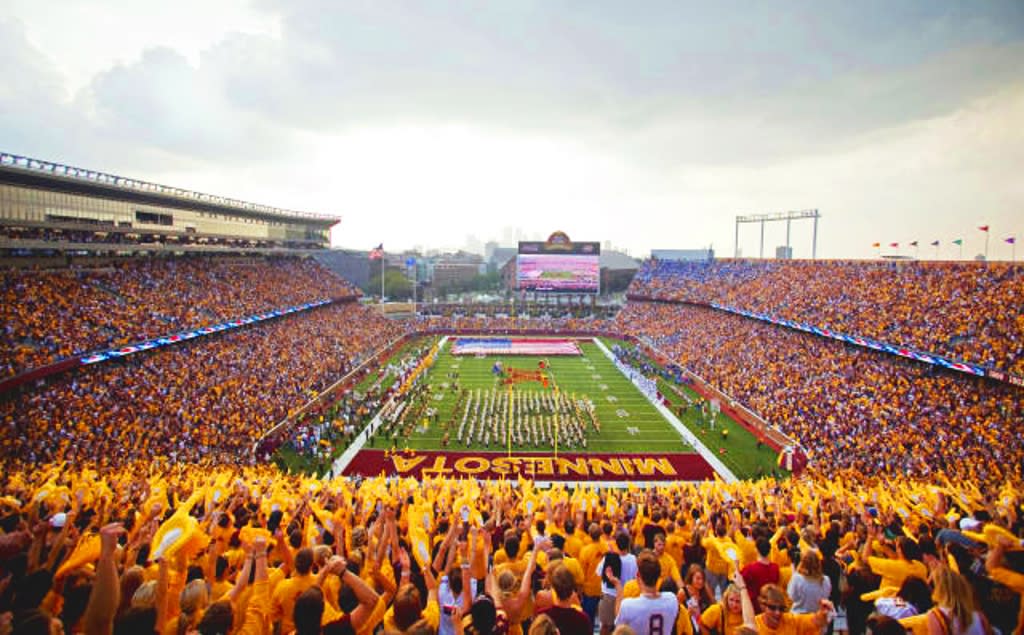 If you're a football fan, like me, you know fall is the best season for sports! And with two active sons, I am either cheering them on or bringing the whole family to see a professional sports game most days throughout the busy season. As a Minnesota Vikings fan, nothing compares to catching a game at U.S. Bank Stadium.  When we're not representing the purple and gold, we love to participate in the excitement of our favorite college team at Minnesota Gopher football games. There's nothing like watching a game, surrounded by the fun college atmosphere, and taking in the crisp autumn air at TCF Bank Stadium. We also love watching Minnesota United soccer games and look forward to catching a game at their new stadium in 2019.
Harvest Fun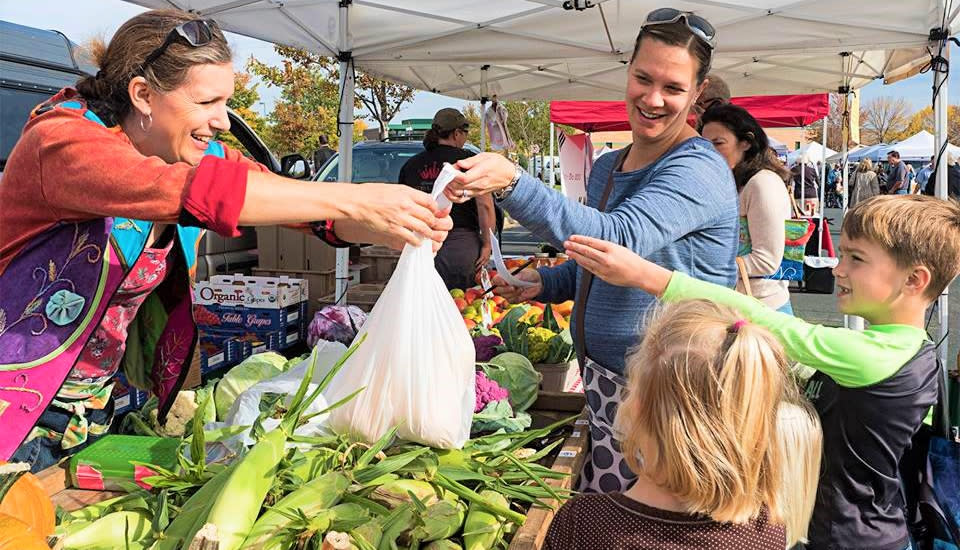 It's hard to imagine autumn without thinking of apples or pumpkins — two of my favorite seasonal things! I love to go to the Maple Grove Farmers Market or the Brooklyn Park Farmers Market and pick out fresh squash, apples and pumpkins. Both markets offer a great way to purchase locally grown produce and locally made specialty foods and it's fun to enjoy live music while you shop!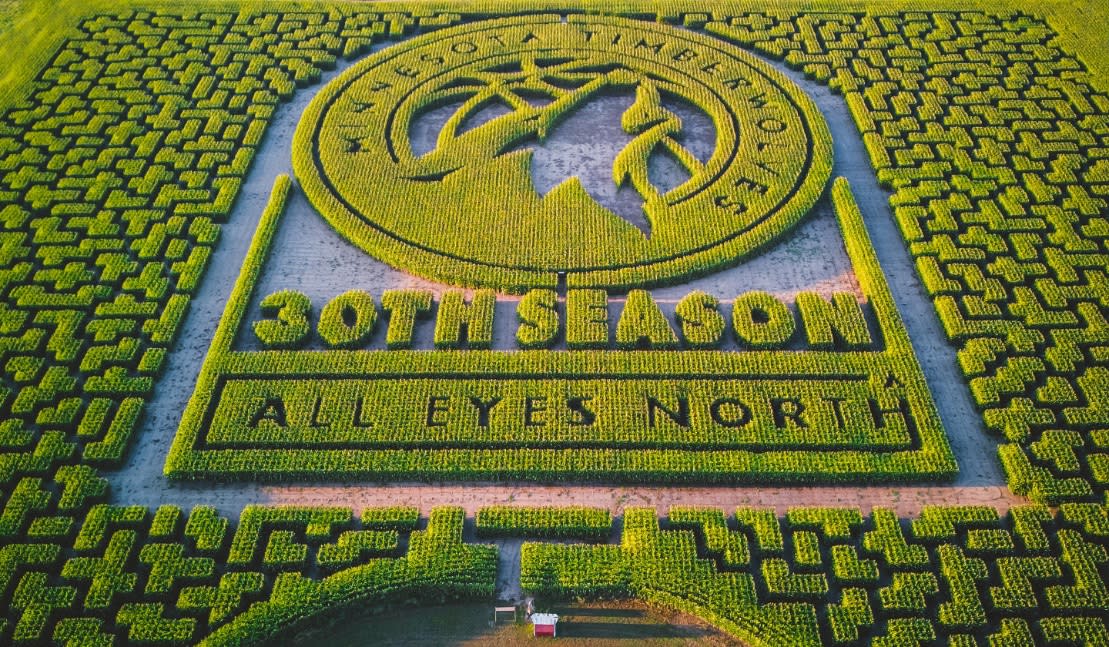 Wandering Minnesota's largest maze and jumping into the corn pit at Twin Cities Harvest Festival and Maze is a coveted annual tradition for my family! We're also big Minnesota Timberwolves fans, so we are looking forward to this year's new Timberwolves design, which includes Timberwolves trivia throughout the maze. And the corn maze adventure wouldn't be complete without a run through the hay bale maze and picking out some pumpkins in the pumpkin patch. We're also eager to check out the animal shows, which are new this year!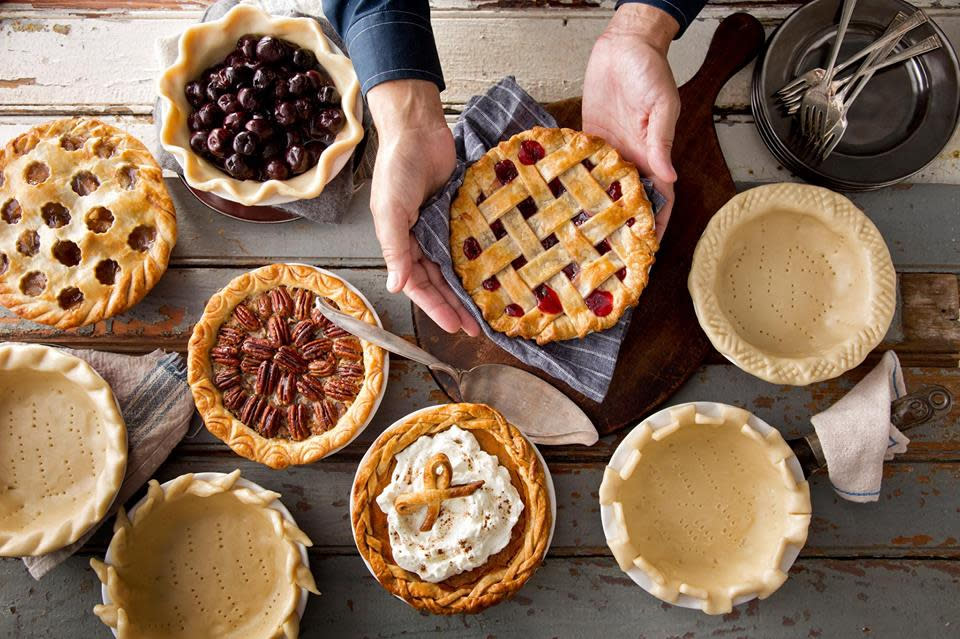 Nothing beats hayrides and apple cider making at Fall on the Farm at Eidem Homestead. This ten-acre living history farm transports you back to the turn of the 20th century with its beautifully restored Victorian house and barn, complete with farm animals. The kids can have fun and learn about history at the same time! You can also harvest the garden and cook fall goodies in the kitchen. And if you've got a little aspiring baker or canner, they can enter the Eidem Homestead Bake Contest. The contest includes categories for sweet treats, pastries and breads, canned items and potato items. It's fun for both adults and kids, since the contest is broken down into two age groups: 10-17 years old and 18 and up.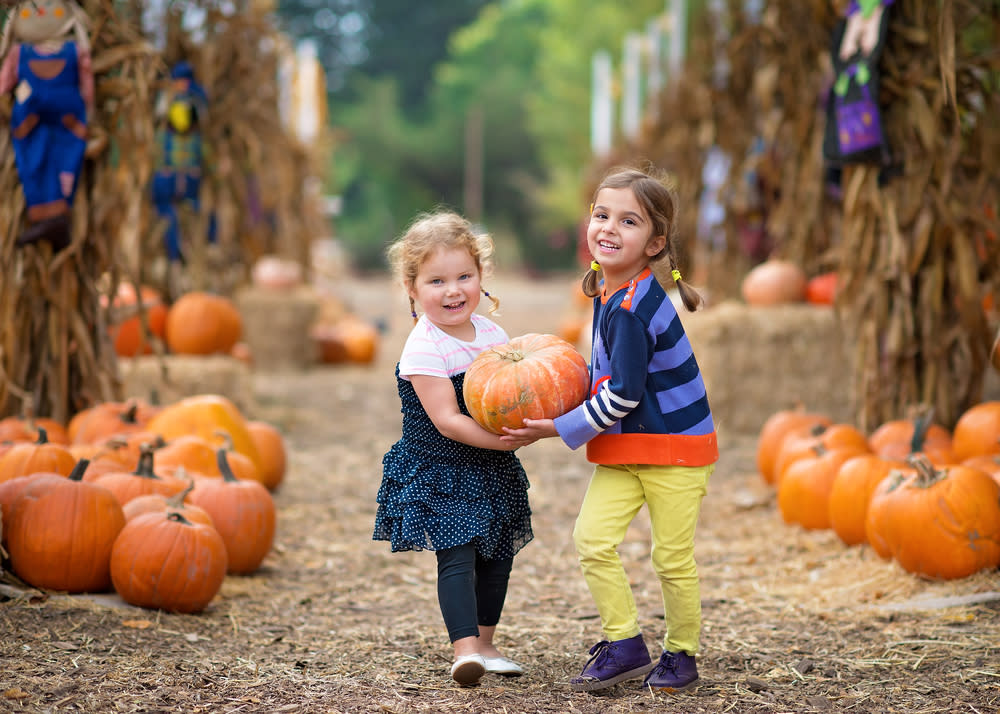 Picking the perfect pumpkin to carve is a must, so my family loves a good trip to one of the local pumpkin patches. Dehn's Pumpkins is one of the best pumpkin patches around and offers lots of opportunities for fall fun, including a corn maze, giant slide, hayride and pumpkin jumper. For a one-of-a-kind corn maze adventure, check out their night time flashlight corn maze.
Outdoor Adventures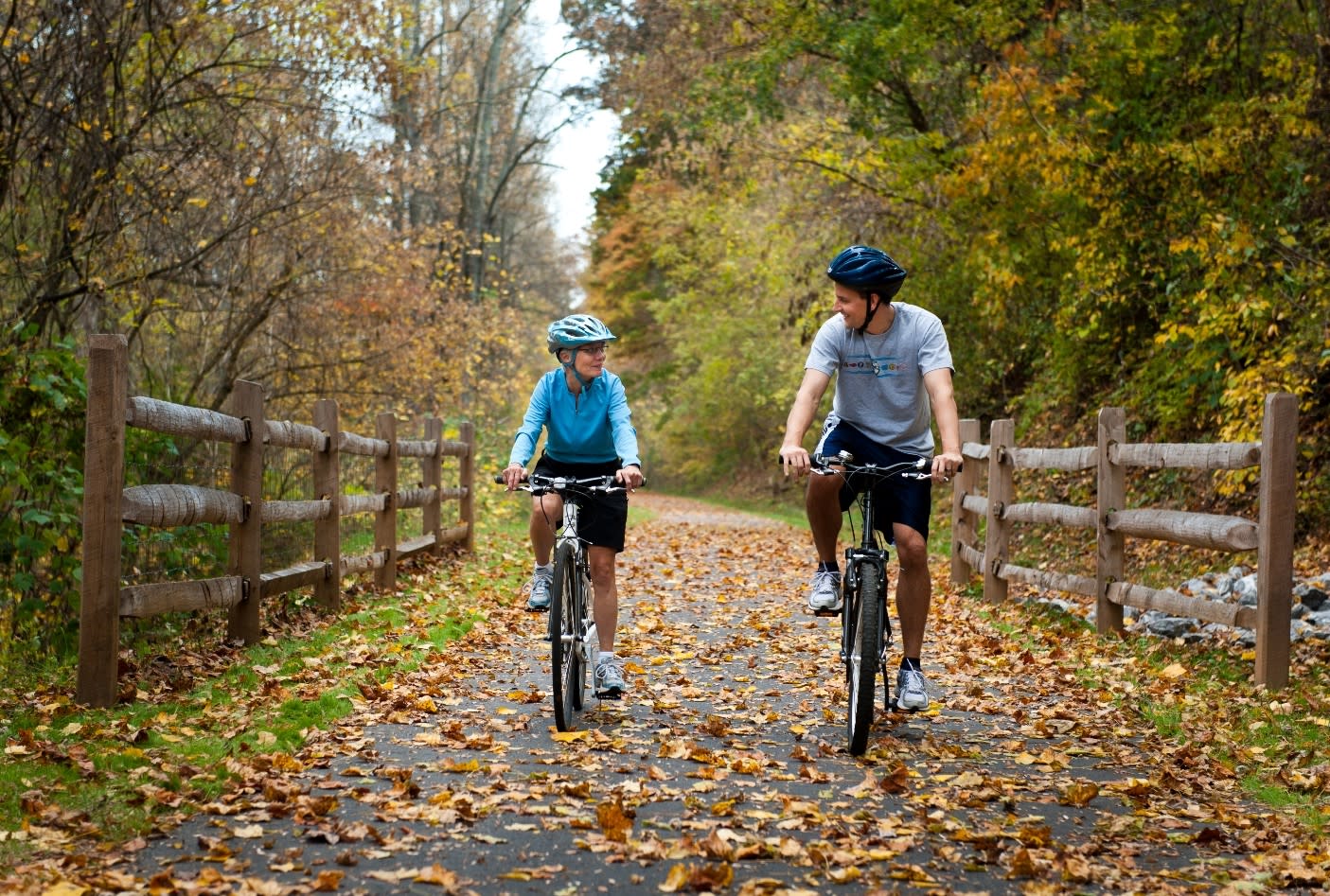 There is something so comforting about the crunch of leaves beneath your feet! My family savors this feeling as we take in the beautiful fall colors along the Shingle Creek Trail through Brooklyn Park and Brooklyn Center. The trail is great for an autumn hike or a bike ride.
If you're looking for fall-themed outdoor fun and activities, Eastman Nature Center has got you covered! They've got a wide range of seasonal events including honey harvests, apple cider demos, bonfires and game nights. Another favorite spot for watching the seasons change is Coon Rapids Dam Regional Park. Bask in the tranquility of the Mississippi River and get lost in the woods. The park offers fall wildlife hikes, guided by naturalists who can help you find mink, beaver, hawks, deer, turtles and more, and learn about their behavior and habitats.
Nearby Excursions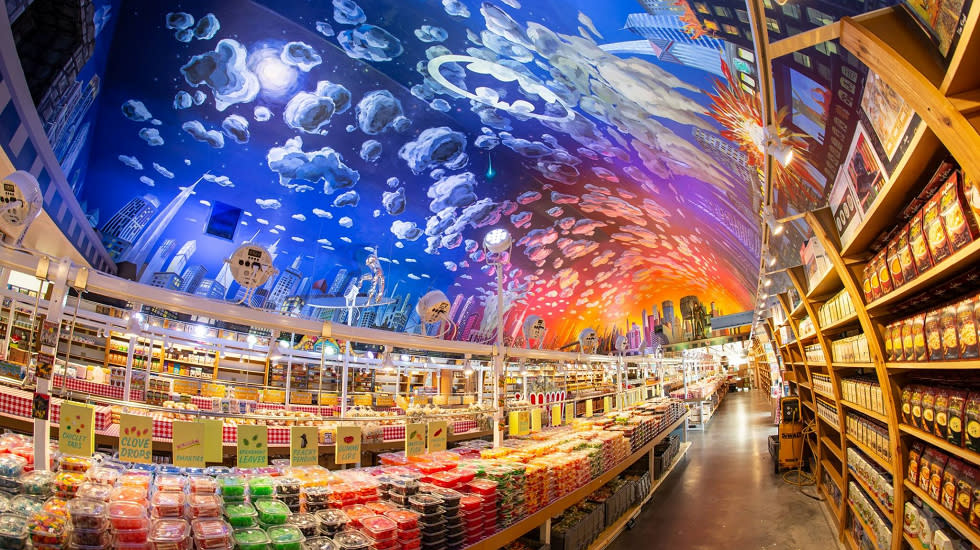 There are some great regional fall attractions just a short drive from Minneapolis Northwest. One of Minnesota's most unique attractions, Minnesota's Largest Candy Store, is one of our must-visit spots in the fall. This seasonal family store is open every day from mid-May through November, and features varieties of candy and chocolate, fall produce, baked goods, popcorn, pastas, meats and cheeses, nostalgic candy, and products raised or made locally by the farm's surrounding neighbors.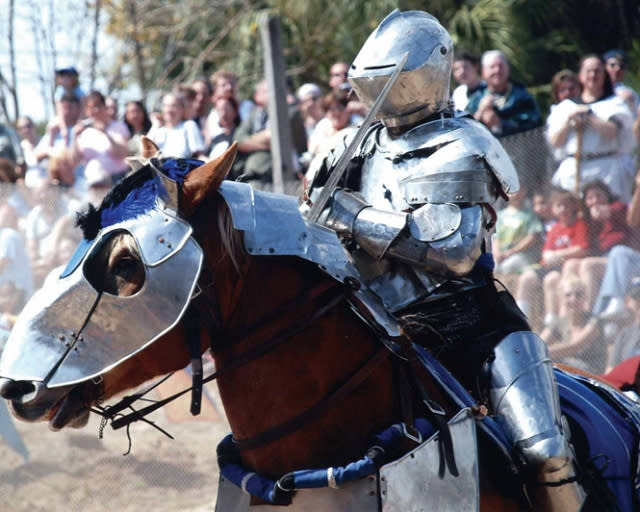 Huzzah! The fall wouldn't be complete without a trip to the Minnesota Renaissance Festival. Travel back to the medieval times while you eat, drink and interact with more than 250 artisans and interesting characters from that time. Don't miss the live jousting and endless entertainment including magicians, musicians, jugglers, acrobats, fire dancers and more. Take a hike through the mystical glade of Fairy Wing Forest, meet some friendly mythological sea creatures at Mermaid Cove, and grab a photo on the Throne of Swords!
Halloween Events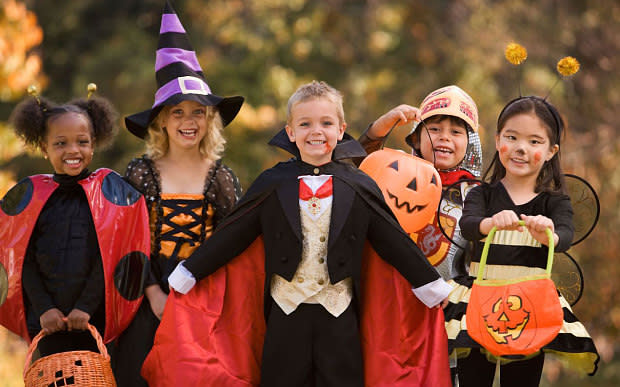 One of the reasons I love fall so much is that it includes my favorite holiday – Halloween! There are so many great Halloween events and activities in and near Minneapolis Northwest, so it's hard to pick just a few. Big Woods Halloween at Eastman Nature Center is a fun Halloween event for the whole family with carnival games, a pumpkin scavenger hunt, giant web walk, costumed animals, a silly puppet show and more.
We are lucky to have the Halloween Capital of the World, nearby in Anoka! The city offers an endless variety of Halloween events for all ages. Our family favorite is the Light Up the Night Parade, where you can watch decked out and lit up Halloween floats glimmer in the night as they make their way down Main Street in historic downtown Anoka. It's a popular event, so you may want to get there as early as 4 p.m. to stake out a great spot.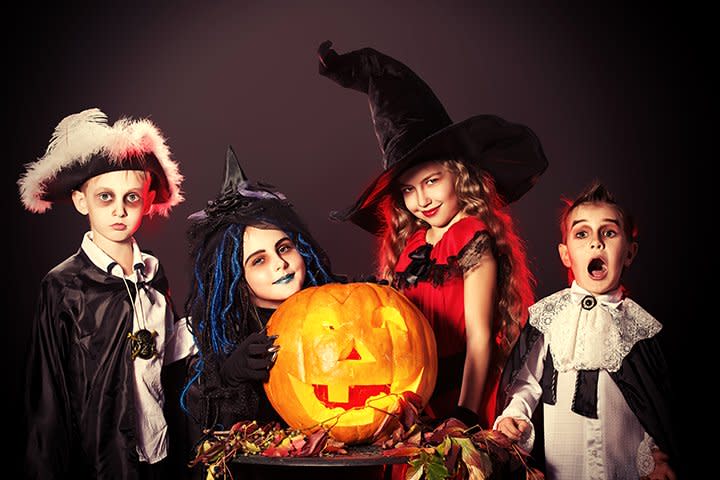 All three cities in Minneapolis Northwest – Brooklyn Center, Brooklyn Park and Maple Grove – have spectacular Halloween events. Kids can explore the trick-or-treating trail through Centennial Park at Brooklyn Center's Halloween Party and dance away their treats with some BOOgie with the Kidsdance DJ. For more tricks and treats, take the kiddos to Brooklyn Park's Trick or Treat Spooktacular for games, crafts, music and inflatables, or take them over to Halloween Family Fun Day in Maple Grove for a howling good time, including candy corn bowling, pumpkin rolling, fishing in the Bottomless Well, Skull Island treasure hunting and more. Another one of our favorites is Pumpkin Night in the Park at Springbrook Nature Center, an exciting spooky event that features a 1,000 pumpkin-lit trail, pumpkin carving and fire dancers.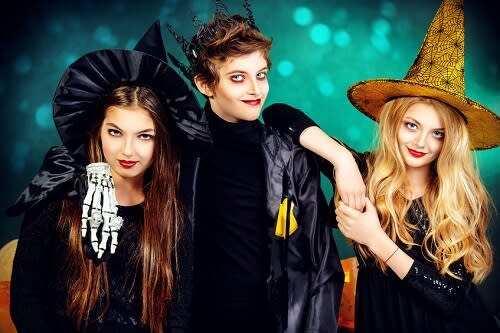 Now that my boys are middle-schoolers, they enjoy the Hallowteen Dance at Zanewood Community Center in Brooklyn Park. This annual event gives them a chance to be with their friends, show off their costumes and, of course, dance to some cool music. And when the kids are away, we enjoy some adult Halloween celebrations like First Avenue's Annual Halloween Party and Costume Contest and the Zombie Pub Crawl.
I hope my list of fall favorites gives you some inspiration on your next adventure to Minneapolis Northwest. For more fall family fun ideas check out our list of the Top Things To Do With Your Family in Minneapolis Northwest This Autumn and for more harvest fun, check out our guide to the best festivals, orchards and wineries in Minneapolis Northwest.
Let us know what you love to do in the fall by commenting on our Facebook, Twitter or Instagram pages with the hashtag #WeLoveMNW. You may even be featured on our website!