Visitors to Minnesota embrace our winter activities, but if you're craving a little indoor time, there are endless activities and performances to keep you entertained in Minneapolis Northwest, even on the coldest of days. Win prizes at the arcade, make a splash at an indoor waterpark, catch a production of Mr. Popper's Penguins and so much more! There are good times waiting for you and your family all around the area, so shed those coats and scarves and get ready to have some fun!
Active Adventures
Bowlero Brooklyn Park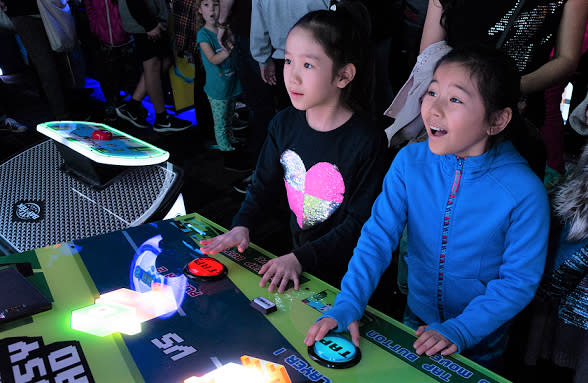 Time slips away when you're having fun at Bowlero, a bowling and entertainment complex in Brooklyn Park. You can aim for the pins on one of the 48 bowling lanes available, but you might have the most fun hopping from game-to-game in the arcade. Play the world's largest Pac-Man, race cars against your friends, escape zombies via The Walking Dead game and shoot some hoops against the clock. For an adrenaline rush, try laser tag in the state-of-the-art arena! And after winning big on the games, turn in your tickets to get great prizes. Once you've exhausted the arcade, take advantage of the happy hour specials with half-price appetizers and drinks. The menu is inventive and sure to satisfy everyone in your group.
7545 Brooklyn Boulevard, Brooklyn Park
WhirlyBall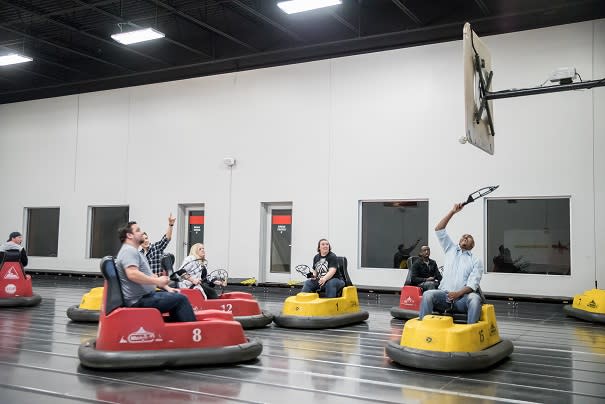 You'll have endless hours of fun with WhirlyBall, an activity that combines bumper cars with basketball, lacrosse and hockey. That's right; you race around in specially designed bumper cars, called WhirlyBugs, and use scoops to toss a whiffle ball at backboards at opposite ends of the court. Each team needs five players, so gather your family and friends and venture out to WhirlyBall in Maple Grove. Continue the fun with a round of laser tag in the largest area in the state! The location also has a bar and grill with homemade pizzas, so you can refuel as the day goes on. If you still have energy left, check out the escape room located in the same venue. In the Istanbul Gambit room, your group is transformed into CIA field agents in an old soviet-era bunker, on the hunt for the infamous criminal syndicate, Red November.
13644 80th Circle North, Maple Grove
Venetian Waterpark at the Holiday Inn Hotel & Suites – Maple Grove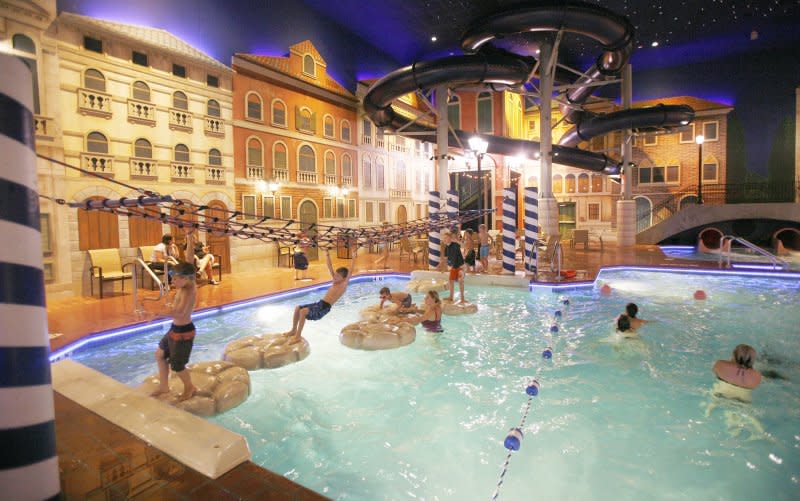 Rain or snow, the indoor Venetian Waterpark offers a Mediterranean-style retreat for you and your family to enjoy quality time together. Located in the Holiday Inn Hotel & Suites – Maple Grove, the water park is 25,000-square feet and features two four-story waterslides, a floating obstacle course, basketball hoops and plenty more. At the Bambini Piscina, toddlers and young children can enjoy the pool in this area designated just for them. Kids can enjoy games at the arcade whenever they need a break from the water.
11801 Fountains Way North, Maple Grove
Topgolf
For an experience like no other, bring your family to Topgolf in Brooklyn Center. The new golf and entertainment venue features more than 100 open-air bays for driving and chipping. You may think it sounds a bit cold but have no fear – the bays are climate-controlled with two heaters in each bay, ensuring you can be outside while still enjoying indoor comforts. All experience levels are welcome to hit golf balls towards the giant light-up targets on the field; then mosey to the venue's full-service restaurant for a piping hot meal. There's even a rooftop terrace with a fireplace where you can gaze at the downtown skyline.
6420 North Camden Avenue, Brooklyn Center
Minneapolis Bouldering Project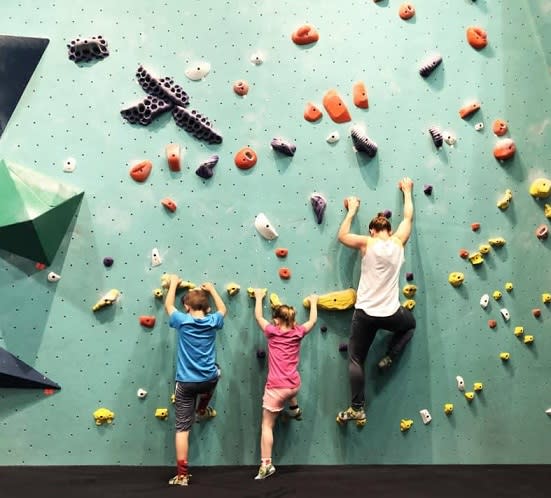 Get your climbing fix at Minneapolis Bouldering Project (MBP), which features more than 20,000-square feet of climbing terrain and complimentary introductory bouldering lessons. At this state-of-the-art facility, which opened in 2017, there are no ropes or harnesses—only a 16-inch foam floor to cushion the fall. The facility has dedicated youth and family climbing areas, a treadwall, a yoga studio and a fitness studio with weight lifting and cardio equipment, so you can keep up with your fitness regimen during the cold-weather months. MBP comes with full-service locker rooms, showers and saunas. Purchase a day pass if you're in town for a short visit and don't want to miss out on the climbing fun.
1433 West River Road North, Minneapolis
Can Can Wonderland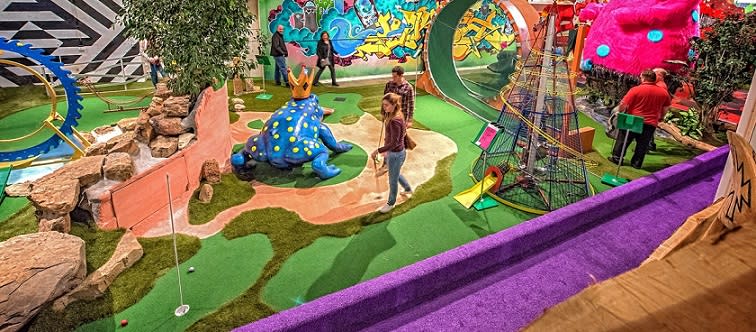 Enter a whimsical wonderland of entertainment for the whole family at Can Can Wonderland! Enjoy this 18-hole family friendly mini golf course, along with its vintage arcade games, delicious eats, art, live performances and more. With holes featuring themes like natural disasters (try the tornado or volcano) and a Wonderwall that challenges you to putt the ball through a waterfall, there's a different experience at every turn. Can Can Wonderland is also home to Boardwalk Arcade, where you can get lost in time playing one of its 20 vintage games, including a variety of pinball machines. The venue offers events Thursday through Sunday, including "Tappy Hour," group tap dancing lessons on Fridays as well as karaoke, retro game show night, comedy improv shows and crafting classes.
755 Prior Avenue North, Suite #004, Saint Paul
Indoor Events
Winter Beach Party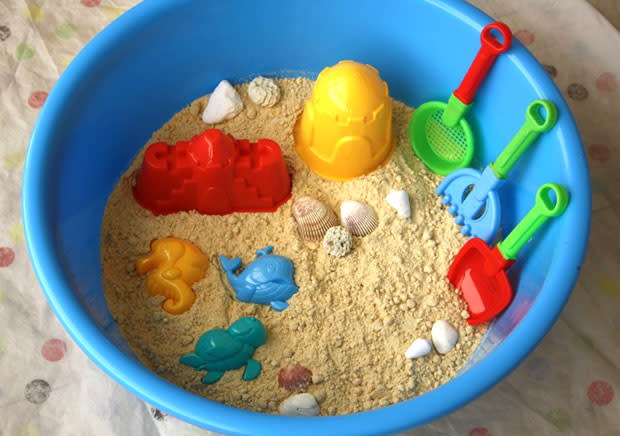 It may be winter but don't put away your swimsuit just yet! Grab the kids and their favorite beach toys and head to Eastman Nature Center for a tropical Winter Beach Party on Jan. 24 and 25! Kiddie swimming pools are brought in and filled with sand, creating an indoor beach ideal for building sandcastles and sculptures and digging for seashells. Expect papier-mâché palm trees and beach balls bouncing around the room as your family enjoy beach games, fun face painting and a tropical craft. You even get a prize for wearing a swimsuit! A small snack is provided, and families are welcome to bring their own summer picnic to dine on. You can drop in anytime but reservations are recommended for this popular indoor event.
13351 Elm Creek Road, Dayton
 
Local Picks for Indoor Fun
Maple Grove Community Center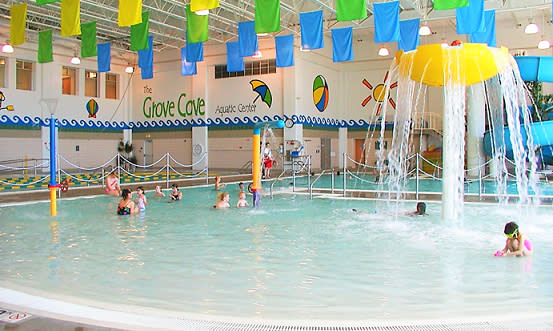 Whether you're planning a birthday party or a reunion, Maple Grove Community Center is a perfect place for indoor fun. You can swim all year long at The Grove Cove Aquatic Center, and kids can enjoy its Flotation Fun days on Fridays 7-8 p.m., and on Saturdays and Sundays 3-4 p.m. The Maple Maze indoor playground is an epic play area for children under 12, featuring a rock wall, pogo sticks, a tree house, slides, hoover rings and multiple routes to discover the jungle inside the maze. At the Teen Center, kids in grades 6-12 can enjoy pool, air hockey, video games, card games, play Xbox 360, try the karaoke machine or just hang out with friends.
12951 Weaver Lake Road, Maple Grove
Maple Grove Farmers Market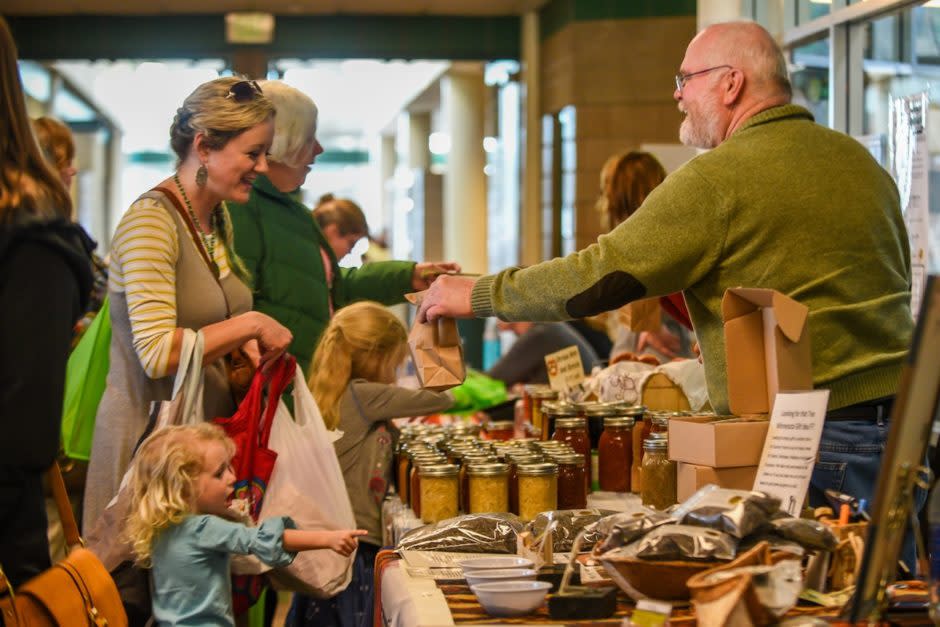 Located in the community center from November through May, the Maple Grove Farmers Market showcases a wide variety of vendors selling fresh, seasonal produce and specialty goods. Live music will serenade you as you browse the market and stock up on gifts and goodies for your Super Bowl party and winter celebrations. Sign your kiddos up for the Power of Produce Kids' Club (PoP) to help them discover a world of healthy, local produce. This program is specially designed for kids ages 4-12. Each child receives a reusable PoP Club shopping bag upon signing up and a $2 token to purchase fresh fruits and veggies. Check in each market day to receive a new token!
12951 Weaver Lake Road, Maple Grove
Brookdale Library
Brookdale Library in Brooklyn Center hosts a Teen Geekery Club for teens interested in meeting fellow fans of anime, manga, Sherlock and Supernatural, where teens can watch videos, listen to music, share fan fiction, dress in cosplay and, best of all, meet other fans! It also offers a Learn Together series of events where families participate in a hands-on activity that fosters learning and curiosity. On Jan. 19, attend Learn Together: Create a Star Wheel where the night sky comes to life and families hear legends about the stars and how people used to navigate them. Then, kids can create their own star wheel to bring home. If you've ever wanted to try your hand at comedy, come to the Intro to Improv class on Jan. 22. This class is for adults only and teaches you to apply improv skills to real-life situations in work and life. You'll even learn from an experienced Guthrie Theater teaching artist. No experience is necessary but be ready to participate!
6125 Shingle Creek Parkway, Brooklyn Center
Brooklyn Park Library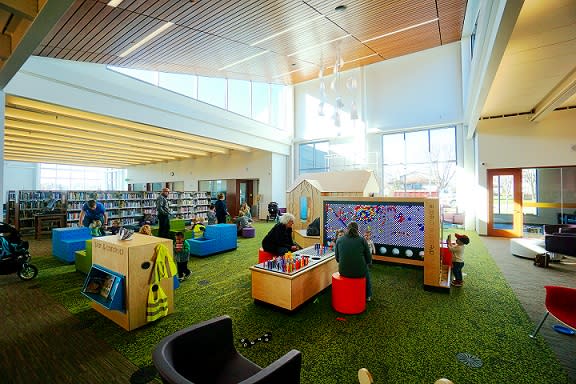 Also, make a stop at the Brooklyn Park Library for a bit of quiet reading time or for a fun class. Join one of the fun book clubs like Historical Fiction Book Club or Read the Book, See the Movie club. There are teen clubs for your teens to geek out over fandoms like Harry Potter, Doctor Who, Star Wars, Pokemon and more. And for your little ones, check out On Screen for Families: Movie Night each month to watch a family friendly movie. Catch Wreck-It Ralph on Dec. 26, Kubo and the Two Strings on Jan. 30, and Inside Out on Feb. 27.
8500 West Broadway Avenue, Brooklyn Park
Looking for more fun winter activities? Discover our favorite ways of Making Holiday Traditions in Minneapolis Northwest, and explore the great shopping in the area with our Holiday Shopping Favorites. Let us know all about your winter adventures when you post on Facebook, Twitter and Instagram, and use the hashtag #WeLoveMNW. You may be featured on our website!