Halloween's spooky and often mysterious atmosphere can be the perfect setting for a cuddly date night. Whether you're clutching your partner in a haunted house, getting lost in a corn maze, or taking cute selfies along an illuminated pumpkin trail, there are plenty of options for a spooktacular date night in and around Minneapolis Northwest.
1. Halloween Haunt at ValleySCARE
Fridays and Saturdays, Oct. 2 - 31, 2021
Fear and fun are waiting for you and your date at ValleySCARE's Halloween Haunt with thrills and chills to last all night. The usually bright amusement park transforms into the upper Midwest's most terrifying Halloween attraction with more than 75 rides, haunted mazes, walkway scare zones and monsters prowling the park. Get lured into the Blood Suckers Brew Bar and get a taste of tempting beer, wine, mixed drinks and tasty snacks. If you want a dinner date, head to the Blood Suckers all-you-can-eat buffet for a Haunt-themed dinner experience. Afterward, you'll have no choice but to clutch each other when you wander through a number of haunted houses with dank smells and mysterious sounds…and creatures!
2. Twin Cities Harvest Festival & Maze
Open daily, Sept. 18 - Oct. 31, 2021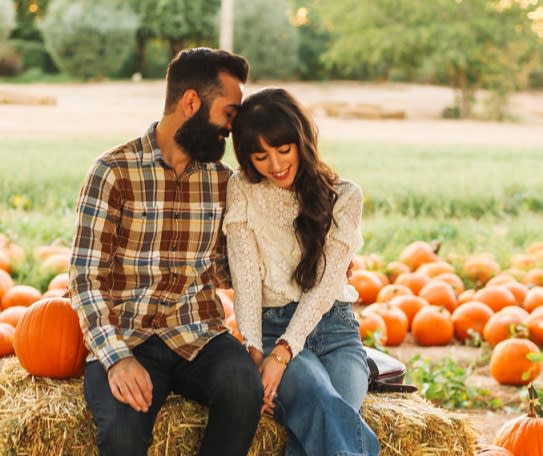 Looking to get in the Halloween spirit without the blood-curdling screams? Make a day date out of the charming Twin Cities Harvest Festival & Maze, which shows off one of the state's largest corn mazes! Each year, the maze is designed with a different theme in mind; this year it celebrates the nearby University of St. Thomas. Meander through the maze and put your heads together to tackle the maze trivia and win prizes. Stay warm with hot chocolate or apple cider and split a bag of fresh mini donuts while listening to live music on the grounds. End your date with a friendly competition at the Pumpkin Slinger! And on your way out, take home a pumpkin from the patch to design and carve together. 
3. Minnesota Zoo Jack-O-Lantern Spectacular
Oct. 1 - Nov. 7, 2021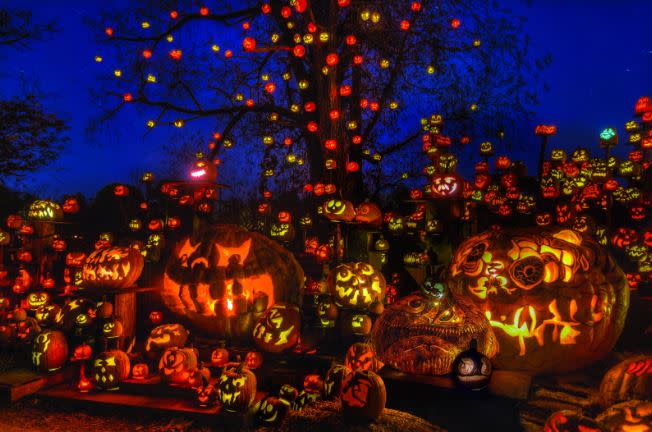 Snap the perfect selfie with your date against a backdrop of thousands of lighted pumpkins at the Minnesota Zoo's Jack-O-Lantern Spectacular. Stroll hand-in-hand through the Pumpkin Promenade, a fall wonderland of 5,000 pumpkins of different sizes, shapes, faces and designs, creatively carved from ground to tree-top. LED lights ensure the pumpkins never go dark. Throw in the delightful musical vignettes and fog, and you've got a truly boo-tiful date night. The entire experience is outdoors, rain or shine, so dress comfortably – matching flannels, perhaps? 
4. Walking Ghost Tours and Anoka Halloween
Select dates Sept. and Oct. 2021
Discover the history and experience the mystery of the Ghosts of Anoka Walking Tours! The historic city of Anoka brings about costumed guides to lead groups through old neighborhoods where odd happenings and eerie encounters occur every year. Catch a glimpse of the rocking chair that rocks with nobody in it and window displays that change on their own. All tours originate at the Anoka County History Center. Get Tickets to view available dates and times.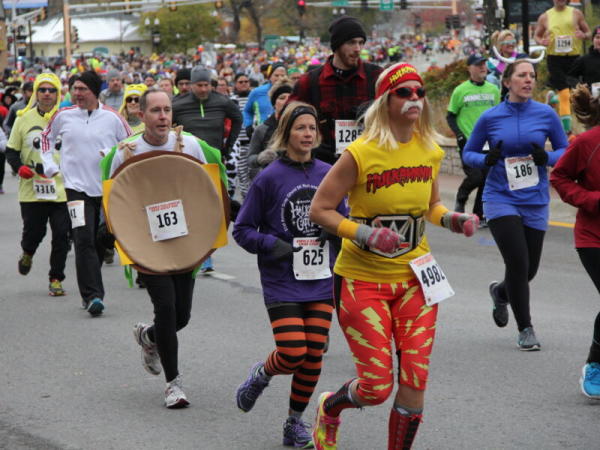 Famous for being the official Halloween Capital of the World, Anoka Halloween offers lots of activities throughout October. Don a couple's costume and partake in the 35th annual Gray Ghost 5K Run & One Mile Fitness Walk on Saturday, Oct. 30. Awards will be given to the best five individual and group costumes. Dress as 20's flappers or gangsters, Mario and Luigi, zombies, pirates or skeletons. Get creative! 
5. Fun Under the Full Moon
Oct. 2021 dates coming soon!
Either spooky or mystical, the full moon can enhance any evening. Together, you and your date can experience the beauty, serenity and mystery of the full moon during Walk When the Moon is Full at Eastman Nature Center in Elm Creek Park Reserve. Stick close together as you explore the woods and their eerie and sometimes startling surroundings. For an extra added adventure, rent a canoe and Canoe When the Moon is Full at Fish Lake Regional Park. Be right on the lake as the moon reflects brilliantly on the water, looking like a scene out of a storybook.
6. Como-Harriet Streetcar Line Trolley Rides
Select dates Oct. 2021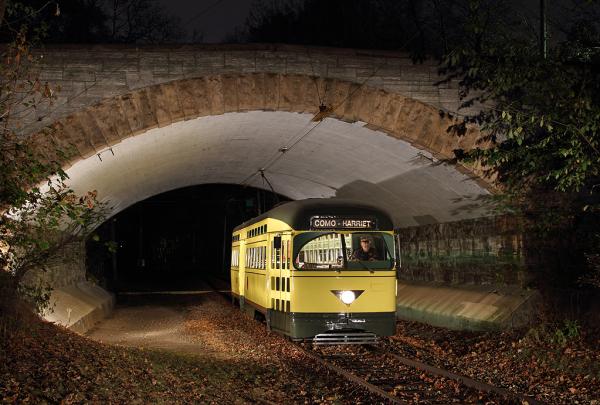 Step aboard one of the unique Como-Harriet Streetcar Line Trolleys during October for special Halloween themes. The Graveyard Ghost Stories trolley ride on Friday, Oct. 22, features well-known Twin Cities storytellers reading classic ghoulish tales in the dark as you pass by local cemeteries. (Note: This event is one night and one show only.) Then there's The Late Show: The Car Barn Murders, a ride not recommended for children or the humor-impaired! This trolley ride uncovers little-known chapters in streetcar history…with something slightly off. What could go wrong?
7. Twin Cities Horror Festival
2021 dates TBD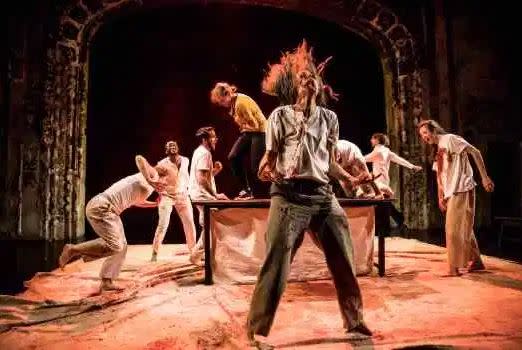 You're guaranteed a fang-tastic date night when you take in an original terrifying show during the Twin Cities Horror Festival at the Southern Theatre. This ultra-cool cult event features 11 days of onstage horror expressed through theater, dance, music and film all delivered by performers dedicated to the macabre. The shows are delightfully perverse and epic in their storytelling. See a play inspired by Mary Shelly's Frankenstein and other monsters, witness unimaginable horrors in space, and explore the wicked line between infatuation and obsession. 
8. Haunted Basement
2021 dates TBD
Thrilling and chilling memories are guaranteed at the Haunted Basement. Since 2005, this seasonal attraction has been terrifying the Twin Cities with absurdist psychological horror created by a community of avant-garde artists and ghouls. Couples and groups are sent into the depths of Roseville Center armed with only a flickering flashlight and a rope to guide the way. The adults-only (18+) haunted experience goes beyond the usual vampires and chainsaws, and the performers might even touch you! Be prepared to sign a waiver before inching downstairs. Couples may actually be split up during the experience (because it's that immersive), but you'll have plenty to laugh about afterward when you're reunited.
9. First Avenue Halloween Party and Costume Contest
2021 dates TBD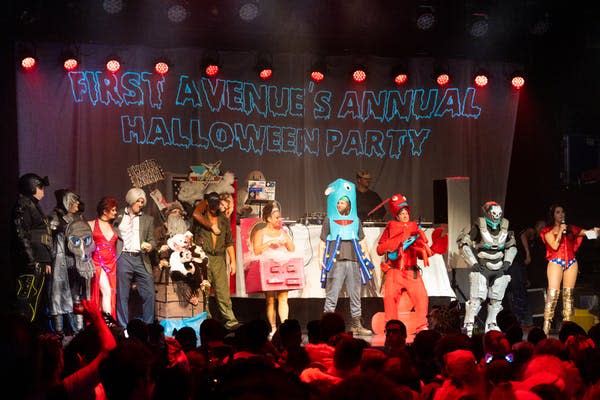 Looking for a wild date night at the hottest Halloween party in town? Look no further than the legendary music club First Avenue in Minneapolis. Each year, First Ave's Halloween bash brings down the house with an epic costume contest with $1,000 in cash prizes. Impress your date with your creativity or come up with a couples' costume together. Take advantage of drink specials as you dance the magical night away to multiple DJ's, including DJ Espada, DJ Keezy, DJ Smitty and more. This is arguably the best Halloween party in the Twin Cities!
10. Victorian Ghost Stories at the James J. Hill House
2021 dates TBD
Hear dramatic readings of 19th-century ghost stories in the dimly lit parlor of the James J. Hill House – a beautiful mansion that transforms into a spooky setting with mystery behind every door. Cuddle up to your date as you listen to chilling stories with creaking floorboards, hooded figures, creepy servants and flickering candles. The one-hour program includes works by Edgar Allan Poe, Oscar Wilde and Bram Stoker, as well as lesser-known authors of the period, plus some "true" ghost stories.
Share your stories with us on Facebook, Twitter and Instagram with the hashtag #WeLoveMNW!