Each year for April Fools' Day, Nadia Cakes (winner of Food Network's "Cupcake Wars") unveils a slew of creatively designed treats, with no fewer than three of their cupcakes this year depicting something you'd find in the potty (another one references vomit).
"We have a sick, twisted sense of humor," said Erin Campbell, general manager of the Woodbury store.
So do their customers, who drive from as far as Colorado to pick up one of the specialty cupcakes sold only for four days, this year from March 29 to April 1.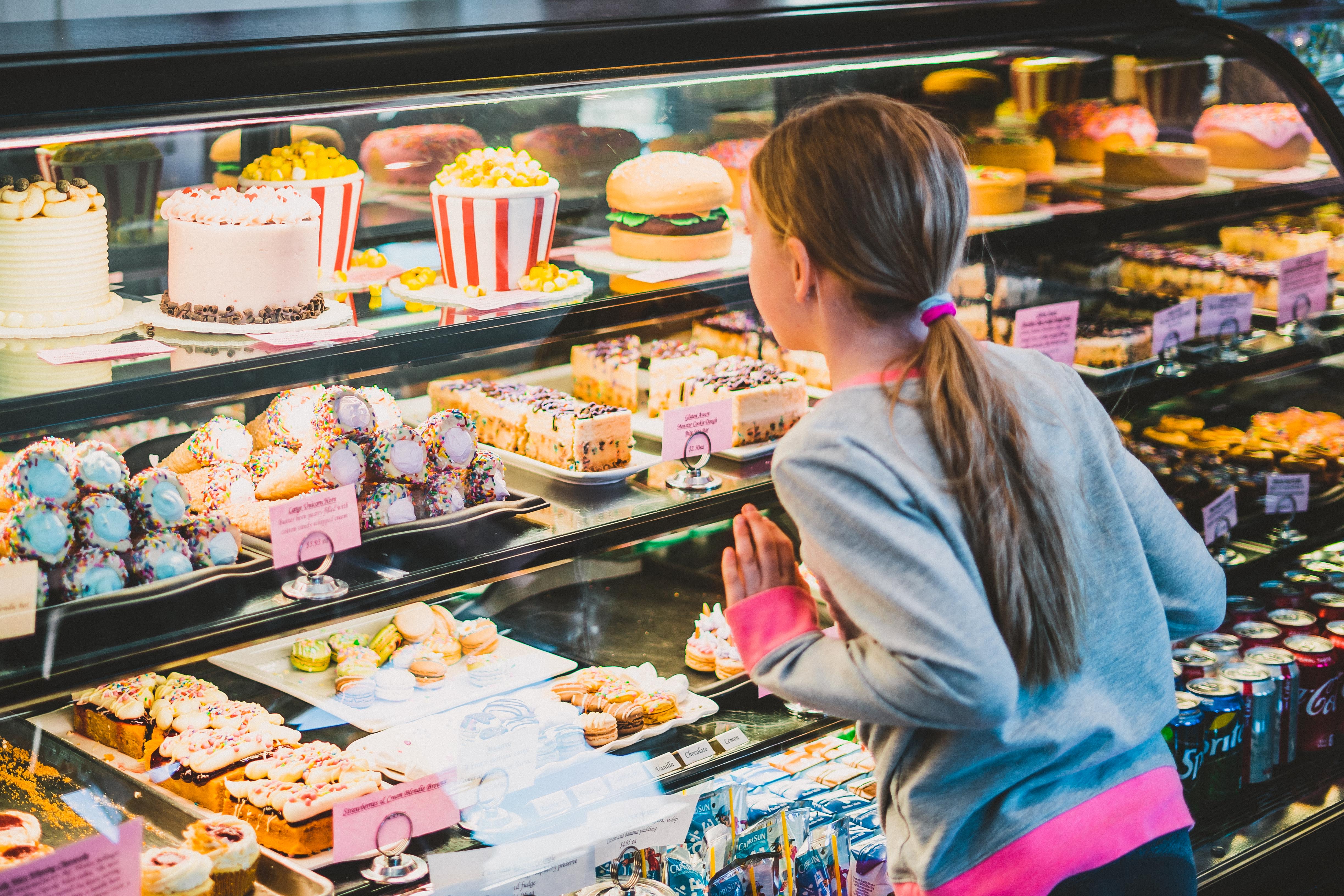 For 2018, the lineup includes a cupcake that looks like a bowl of lo mein, a bucket of popcorn, a bird's nest and a "bunny butt." But the Unicorn Poop — a rainbow cake topped with green grass frosting and a rainbow swirl of fondant meant to stand in for the excrement of those magical creatures — remains their signature item.
"There's one thing we know our customers like," Campbell said. "Poop and rainbows."
Nadia Cakes April Fools' cupcakes are the latest over-the-top food to be featured in our video series, Outta Control. Watch past videos about a doughnut the size of your head here and another about a 15-pound ice cream sandwich here.
Nadia Cakes (11650 Fountains Dr. #207, Maple Grove; 429 Commerce Dr., Woodbury) got into April 1 stunt cupcakes nine years ago when it first designed the Unicorn Poop cupcake. The event has only gotten bigger, but they can't seem to do away with that original rainbow treat.
"For a lot of people, this is a sacred thing," Campbell said.
They thought about replacing the favorite with a pastel, fruit-flavored cupcake this year (keeping the fondant swirl), but faced an uproar on social media. So, they decided to add the new fruity cupcake to the unicorn line. Filled with confetti sprinkles, it's called the Party Pooper.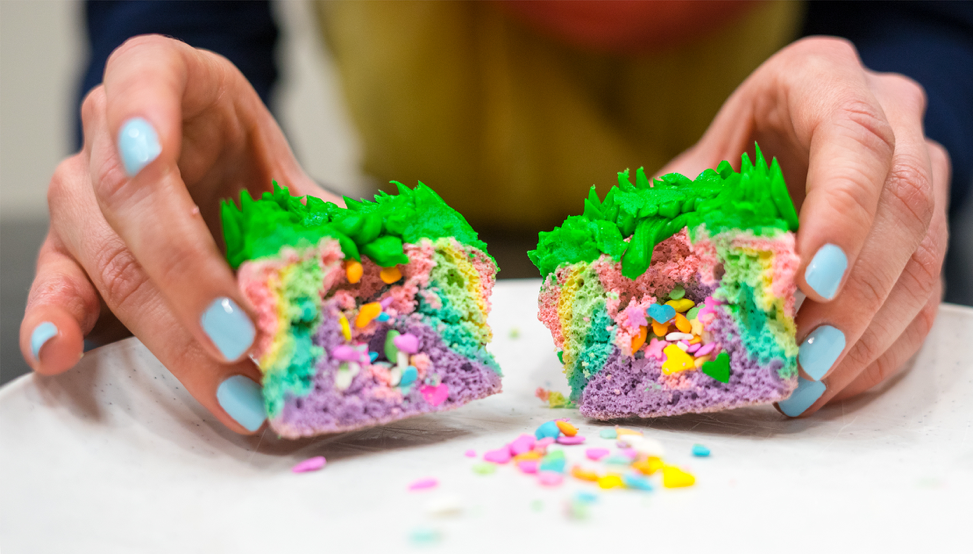 There's also Unicorn Barf, a rainbow confetti cupcake topped with confetti frosting and a dollop of white chocolate and sprinkles that evokes, uh, well, you get the picture.
Another classic is the Kitty Litter cupcake. It's a chocolate cake with vanilla frosting rolled in blue/green cake crumbs and sanding sugar, and topped with a chocolate Tootsie Roll.
Nadia Cakes also made some news earlier this year when they designed a cake to look like a geode — a sparkly, pink geode that some say resembled an intimate female body part. It sold out on International Women's Day.
Poop and barf not your thing? The Popcorn is a vanilla cupcake in a little red paper bucket, topped with vanilla frosting and yellow marshmallows that look like freshly popped puffs. A few seconds of a blowtorch give the look of the brown kernels.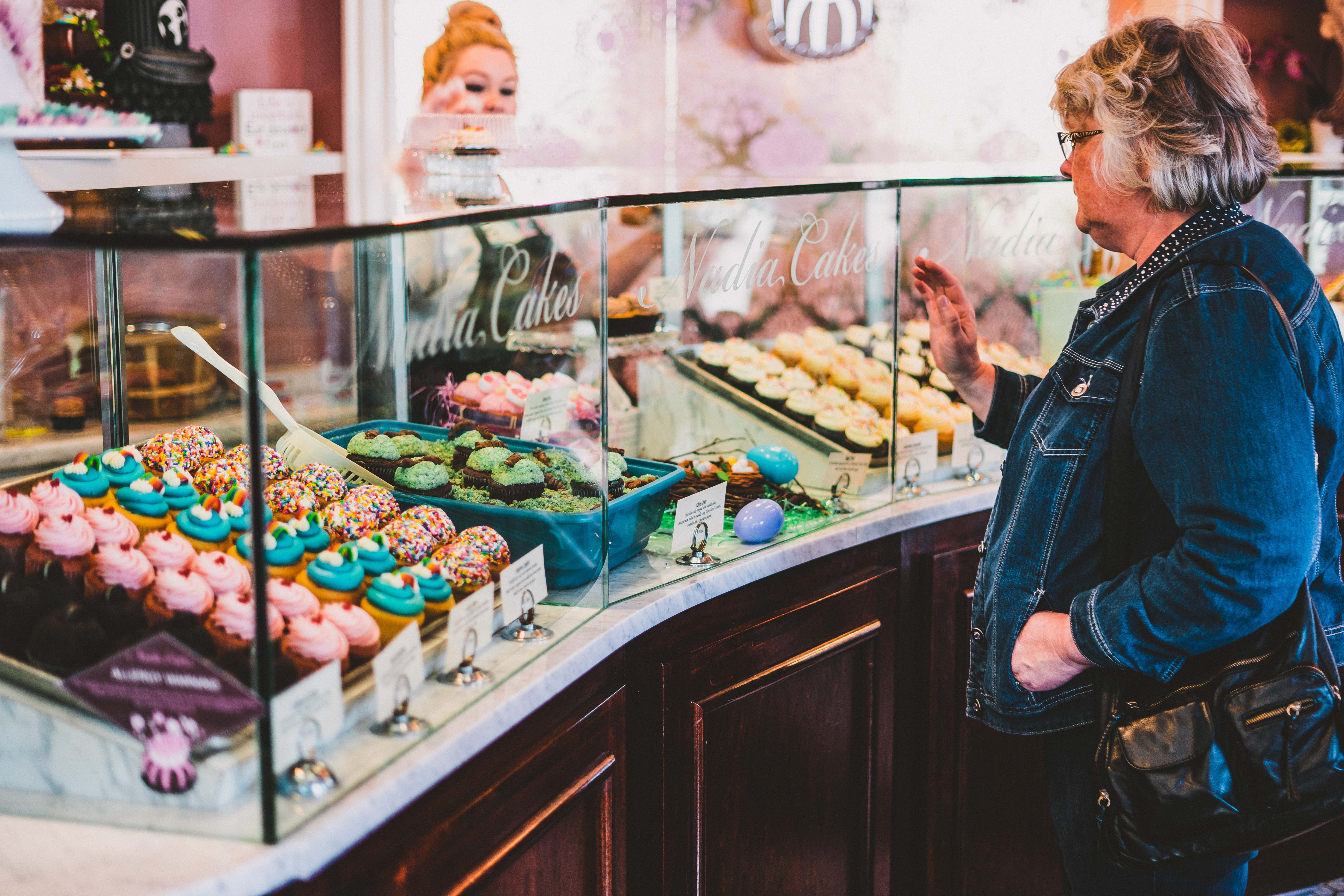 The Lo Mein is a lemon cupcake topped with strands of cream cheese frosting, a green Tootsie Roll dipped in nonpareils to look like broccoli, and orange Mike & Ikes cut in half to look like carrots.
With such precision in the decoration, each cupcake takes some time to put together. And by crafting between 2,000 and 5,000 of each flavor, prep for the whole April Fools' event takes around six weeks. Bakers started doing overnight shifts two weeks ago.
Campbell believes Nadia Cakes to be the first cupcake shop to take on such a task every April 1. Each year, she spots a competitor coming into the store wearing a hat and sunglasses, and, she surmises, trying to snatch ideas. For that reason, she said, "we have a trademark lawyer on payroll."
Check out the full article here.