Newly minted super-middleweight world champion Caleb Truax wowed actors at a recent rehearsal for "The Royale," a boxing-themed play being produced by Yellow Tree Theatre in Osseo, the boxer's hometown.
The rare visit of a real-life champ to a theater rehearsal room elicited oohs and aahs, especially after Truax took out his championship belt from a metal case.
The champ showed it to the cast, including New York-based David Murray, Twin Citians Charles Fraser and Tamala Lacy and the father-son combo of James and Santino Craven.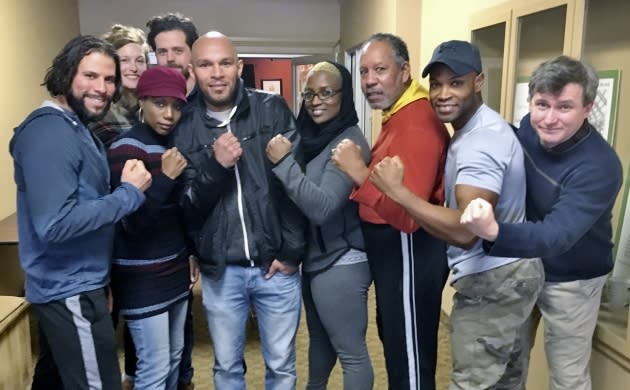 "The Royale," written by TV writer Marco Ramirez ("Daredevil," "The Defenders") and running Feb. 2-March 4, is inspired by Jack Johnson, the first African-American boxing champion and someone who changed the sport.
Truax shocked the sports world in December by beating IBF super-middleweight champion James DeGale in a bout in DeGale's native London. He told the "Royale" cast that after studying film for hundreds of hours, he knew that he would win the fight after the first rounds because DeGale was fighting on terms that Truax had set.
"He's a pretty boxer, a classic boxer, who doesn't like to be in a rough fight," Truax said. "That's the kind of fighter I am. I'm not a super-talented, superfast boxer. I just like to go out there and not so much slug it out but be in a rough-and-tumble type of fight."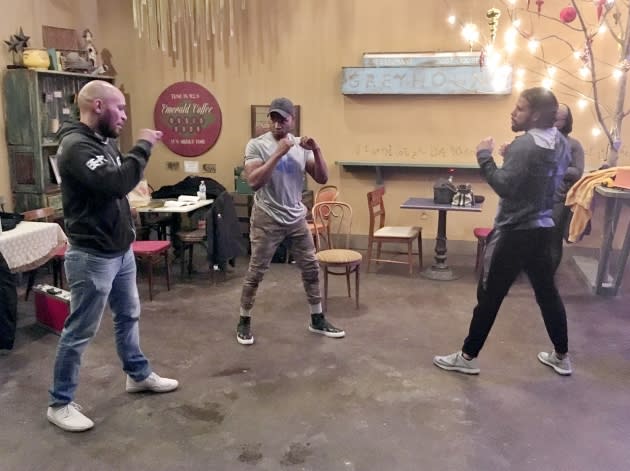 Boxing champ Caleb Truax gives tips to actors David Murray, center, and Santino Craven.
The actors and director Austene Van peppered Truax with questions about boxing technique and psychology, getting advice that will help them bring "Royale" to life. Van asked him if it was beneficial to have a good sense of rhythm to be a boxer.
"If you don't have any rhythm, then you're gonna look like a goofball boxer," he said. "Everything, like jumping rope, is about rhythm."
Truax noted that before Jack Johnson, most fighters just stood there and pounded each other. Johnson danced, he said. "He was Muhammad Ali before Muhammad Ali," he said.
The actors took selfies with Truax. Giddy and smiling, then they bundled up and walked into the wind on a bleak Minnesota winter day.
Check out the full Star Tribune article here.