Minnesota is uninhabitable in winter. At least, that's how the legend of the St. Paul Winter Carnival begins. As the story goes, a group of reporters from out east visited St. Paul in the fall of 1885.
"They went back home and reported that St. Paul is the worst place to live and uninhabitable in winter," said Deb Schaber, president of the St. Paul Festival & Heritage Foundation. Minnesotans — who are a lot like Wisconsinites in their winter hardiness — weren't about to let that claim go unchallenged.
A group of St. Paul business owners created the city's first winter carnival, with outdoor activities — including the first ice castle — that showcased and celebrated the weather. Now, 134 years later, the carnival is bigger than ever. The carnival, which will take place Jan. 23 through Feb. 2, attracts 250,000 visitors each year, and contributes between $3 million and $5 million to the local economy.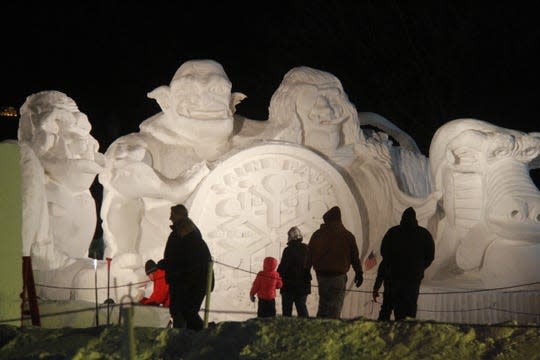 "We call ourselves the coolest celebration on earth," said Schaber. "It's important to be outside, talk positive about the weather and have fun."
A variety of outdoor activities are scheduled for the two-week carnival. Most events take place in three places: in St. Paul: Rice Park, 109 W. 4th St., Landmark Plaza, 379 St. Peter St., and the Minnesota State Fairgrounds (known as Vulcan Snow Park during the carnival), 1265 Snelling Ave. N.
More Things To Do in Winter Around the Twin Cities
Twin Cities winter fun goes beyond the winter carnival. If you're looking for something else to do during the carnival, or if you'll be in town at a different time this winter, Natalie Conrad, public relations and communications manager for Minneapolis Northwest Tourism, points out that there are lots of other things to do around the Twin Cities.
"Sometimes people go through a stage where they're not ready for winter yet, but you get out there and it's so much fun," Conrad said. "There are so many great things we get to do in the winter that we can't do when it's 'nice out.' "
One of those things is the Central Park ice skating trail in Maple Grove, about 17 miles northwest of Minneapolis. Rather than skating in circles like at a typical ice skating rink, the 800-foot trail winds through the park, making the experience more like a stroll through the park, except on skates.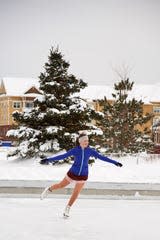 The parks in the northwest suburbs of Minneapolis also plan special events to embrace the season. Eastman Nature Center, in Maple Grove, is holding a Winter Beach Party on Jan. 24. Kids can build sand sculptures and dig for seashells at an indoor beach. There will also be beach games, face painting, a tropical craft and a snack. Families can bring picnic lunches and get prizes for wearing swimsuits. West Palmer Lake Park, in Brooklyn Center, about 10 miles northwest of Minneapolis, hosts The Big Chill on Jan. 31. There will be a candy scavenger hunt, ice skating, s'mores and glow-in-the-dark sports. 
Central Park of Maple Grove will hold Wonders of Winter on Feb. 8. The tagline of the event says it all: "They say the best way to get through winter is to get out in it." There will be ice skating, horse-drawn wagon rides, ice carving, s'mores, hot beverages and a performance by the Maple Grove Skating School.
For families looking for an indoor activity, Playground Plaza, in Maple Grove, is an indoor playground with multiple play structures and artificial grass for playground games. Single day passes are $10 per child and must be bought online, as the space is staff-less.
Read the full Milwaukee Journal Sentinel here.